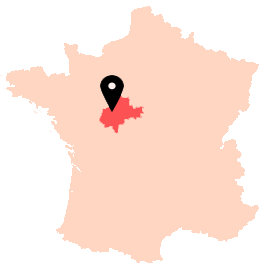 The Loire Valley - Castles & Wine
There is nowhere better in France than the Loire Valley to give you a real taste of the sweet way of life. The mildness of its climate, the flavorful local cuisine and wines, and the hearty welcome of the Touraine people are guaranteed to make this a trip of a lifetime.
Perhaps one of the most magnificent things you'll see during your time here is the freestone chateaux strung out along the Loire river, from Chambord to Amboise, from Chenonceau to Chinon, built with all the greatness of the Middle Ages and Renaissance. Officially there are about 42 "Chateaux de la Loire" but if you are ready to venture away from the Loire River, you'll discover hundreds of architectural gems that have remained unknown to most travelers. This magnificent region will take you back to a more romantic time, characterised by balls, banquets, and power struggles.  You will feel like Kings and Queens walking up and down the spiral staircases and along the tapestry galleries, royal bedrooms, and large courts and gardens.
However, our Loire Valley tours are not only about castles. There are plenty of other activities here that can make your trip even more special: hot air balloon rides, wine tasting, outdoor activities (such as kayaking or cycling along the Loire River), enjoying the tantalising array of local food and so much more. For something a bit more relaxed, visitors are encouraged to go for a wander off the beaten track, following the twists of the Loire River as it winds between breathtaking chateaux, vineyards, beautifully manicured gardens and dense forests.
Loire Valley

Map
The most interesting part of the Loire region - also known as Castle Country - spreads along the Loire River from Blois (upstream) down to Saumur.
In 2000, the Loire Valley was listed as a UNESCO protected site for its natural beauty from Sully sur Loire to Chalonnes. The area envelops the remarkable cities of Tours, Orléans, Blois, Saumur and Chinon and of course the Loire Valley castles Chateau de Chambord, Chenonceau, and so many more.
The most famous and most visited sites of the Loire Valley are in the North-East part of the region, closer to Paris. Chambord and Chenonceau are in constant battle with each other for the title of 'the most visited site of the region' with about 800,000 visitors a year. Due to their popularity, we provide some tips on how to see these gorgeous places whilst avoiding the crowds as much as possible on our Loire Valley tours.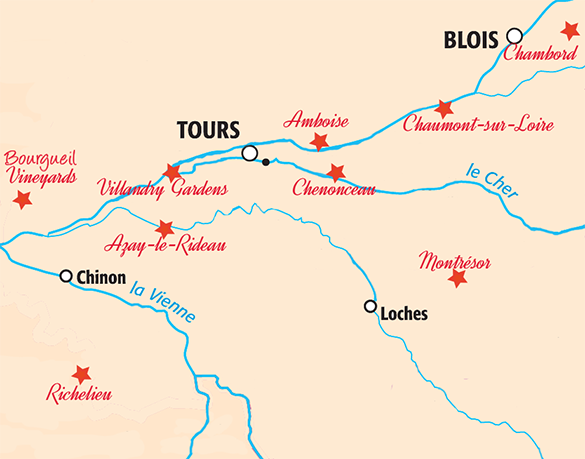 Less famous but still fascinating is Cheverny castle. This chateau inspired Belgian comic book creator Hergé to design Moulinsard castle, which featured in The Adventures of Tin-Tin. It is one of the few places where you can see hunting hounds (still hunting in the Sologne woods) and the castle is sure to blow you away as its interiors are exceptionally well preserved. Chaumont castle has also gained fame for its annual International Garden Festival, which brings together and delights flower lovers from all over the world.
Amboise is one of the easiest base camps from which to explore the Northern Loire Valley. The city itself is charming and has a beautiful castle, the Clos Lucé – the final residence of Leonardo Da Vinci. It also has some nice restaurants and a vast array shops. Amboise is also the home of the best chocolate and pastry maker in the whole region as well as a relatively unknown cellar where you can choose from a staggering selection of old wines (you might even be able to buy a bottle of wine from the year you were born).
For those who want to get off the beaten track, allow us to present to you the Southern Loire Valley, passing the city of Tours. Even if the castles might not be as big and impressive as in Northern Loire, this region is sure to delight visitors with its small villages, hillside vineyards and beautiful gardens such as those at Villandry. History lovers will also be impressed by Loches fortress or Fontevraud Abbey. If you have a penchant for castles, you're in for a treat; Azay-le-Rideau, Langeais, Candé, Montrésor are just a few of the many you will find here. We are more than happy to tailor your castle experience according to the type of architecture and history you like best. 
Getting to the Loire Valley
The Loire Valley is very easy to reach from Paris. From downtown Paris or CDG Airport, the Loire is only around 3 hours by car. With a quick stop somewhere to stretch your legs, it will be an easy journey. The Loire is also only 1hr on the High Speed Train (TGV) from Paris - however it is difficult to get automatic cars in Tours and therefore we usually recommend that our travelers pick up a rental car in Paris. 
For those who want to see several different regions, the Loire Valley is just a 3 and half hour drive from the Normandy Landing Sites and the Bordeaux Vineyards. For those who want to continue their trip by heading to Provence, there are some direct trains from Tours to Avignon in Provence. 
Loire Valley Hotels,  B&Bs, Castles
The Loire Valley is a popular region of France and, unless you are just there on a day trip from Paris, you will be able to choose from a selection of fantastic local accommodations. The most famous hotels are located in Blois, Amboise or Tours, right in the middle of the best-known areas.
We have selected accommodations away from the crowds - mostly Bed & Breakfasts and boutique hotels - in the Loire region so our travelers can feel at home, have the opportunity to interact with the locals and are perfectly located to drive around the Loire Valley.
For those who dream about staying in a French chateau, we have handpicked a few chateau hotels so your dream can finally become a reality. For one night (or several) you will feel like the Kings and Queens of France!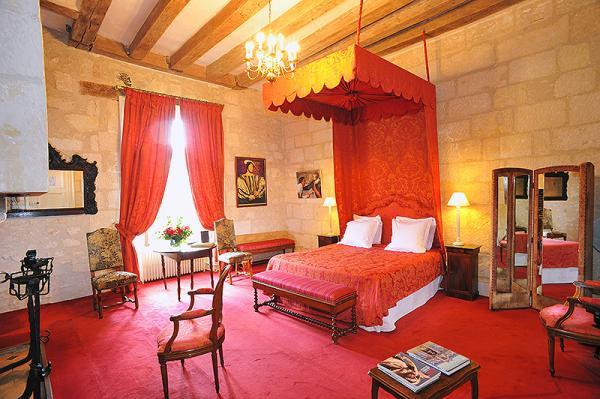 Castle accommodation in the Loire Valley
What to do in the Loire Valley
Now it's time to talk about the most famous Loire Valley castles. There are certainly some that should take priority on your itinerary. We live in the Loire region and are therefore well positioned to recommend the best castles in the region, both on and off the beaten track. Let us know what interests you and we will design a schedule that matches your wishes for your Loire Valley tour. Do you like medieval or Renaissance castles? Or are you more interested in religious sites, such as chapels, churches, abbeys and cathedrals? Perhaps you would rather spend your time visiting wineries, cheese producers and restaurants? We love sharing the best our region has to offer with foreigners so tell us what interests you and let us do the rest.
Castles, Castles... but not only Castles...
For history or heritage lovers, the Loire Valley is pretty much Heaven on earth. If you would like to see some of our favorite Loire Valley castles, you check our Loire castles pictures.
However, the Loire Valley has much more to offer than just its castles and we will make sure your daily itineraries are varied and balanced so you won't get overwhelmed with French history.

Brézé Castle in the Loire Valley
Gardens in the Loire Valley
The Loire Valley hosts some of the most beautiful gardens in France. The French style gardens in Villandry are very academic and a true marvel. But garden lovers can also tour many other sites such as Valmer, Candé or St Cosme and be really surprised by the quality of the gardens. Mixing art and gardening, the International Garden Festivals in Chaumont sur Loire is also makes a great day out. 

Villandry Gardens in the Loire Valley
Wine Tasting in the Loire Valley
For wine lovers and connoisseurs, driving through the magnificent Loire Valley is an unforgettable experience. Vineyards fringe the road and stretch out as far as the eye can see. An impressive range of wines can be found in this region, from the red wines of Chinon to the sparkling white wines of Vouvray.
We have selected several wineries to include in our Loire Valley tours where visitors can enjoy wine tours with a qualified English-speaking winemaker or sommelier. White wines from Saumur or Montlouis, rosés from Anjou or red wines from Chinon, Bourgueil or Touraine are all on offer, so sip away until you find the one you like best.

Wine Tasting in the Loire Valley - ©Stevens Frémont
You can enjoy simple wine tastings, or advanced wine and cheese tastings matching the local wines with some local delicacies. Most of the tastings take place in the cellars where the wines are aged so you will be able to enjoy an authentic ambiance while you sample these regional specialities.
If that's not enough, you can also spend some time with a passionate wine guide who will take you to several wineries for a unique wine experience. The program can be tailor-made according to the types of wines you like and a driver will be provided so you don't need to worry about getting yourself home.
Loire à Vélo Bike Tour
The Loire Valley is a flat region offering pleasant biking trails along the Loire River and its tributaries. Many of the Loire Valley castles are quite close to each other and easily reachable by bike so this is a great way to get outside and see the best of the region. 
"Loire à Vélo" was recently created to offer trails along the Loire River, designed to allow cyclists an easy passage from Blois to Nantes.
For those who are particularly interested in cycling holidays, we have a great day biking tour along the Loire River – we provide you with all the information you need to make the most of this beautiful route.

Biking along the Loire River - ©David Darrault
Loire Valley Cuisine
The Loire is not just about wine. The Loire River has always been a mean of transportation, especially in the past centuries, this is why the Loire cuisine is very rich and varied, benefitting from the commerce relations that have always existed in the area.  
You can learn more about the fouées, the rillettes or poires tapées checking the Loire Valley Gastronomy page.  

Rillettes de Tours - ©Stevens Frémont
Hot Air Balloon Ride 
The Loire region is one of the few regions of France (along with Dordogne and Provence) where you can easily go on a hot air balloon ride thanks to it being relatively wind-free. For insurance purposes (and weather constraints) we do not include hot air balloon rides in our packages. However, we have been on a ride with a great English speaking pilot and will be happy to put you in contact with him if you are looking for this type of experience.  
Morning flights (starting about 6 a.m.) are usually quieter and more beautiful as you get to see nature waking up. Evening flights are also very pleasant though as you will be able to enjoy the sunset.

Hot Air Balloon ride in the Loire Valley - ©David Darrault
Self guided tours including a stay in the Loire Valley