Stay at Premium Bed & Breakfasts
Traveling is more than just going from an attraction to a museum, so we organize package itineraries where you will have the chance to interact with French people.
What makes France Just For You so special is that we, Guillaume, Laura and Emilie, have a meticulous selection process for the Bed & Breakfasts we use in our tours.
We personally know each family whom will take care of you during your stay.
Enjoy a Warm French Welcome !
Interact with French People
You will feel like a cherished guest in a friend's home. Your hosts will be available to spend some time with you.
Enjoy a high level of comfort
Large beds, Italian showers, rooms with independent access, English speaking hosts, all in lovely and unique locations. 
Stay in charming and intimate B&Bs
French B&Bs are limited to 5 rooms. Stay in a safe, reduced-Covid-risk environement.
Have you ever had dinner at a "Table d'Hôtes" ?
A "Table d'Hôtes" is a full 3-4 course home-cooked dinner, including the house wine.
It is an opportunity to have dinner with your host at their home, enjoy a local meal, and interact with fellow guests from many different countries. Since everybody is sitting at the same table, this is an excellent way to make friends with people you would have never met otherwise. You might also exchange some insiders' tips and decide to adjust your plans for the following day!
A Table d'Hôtes is always a memorable experience!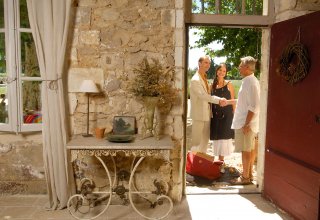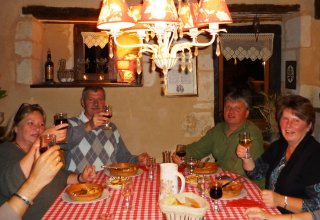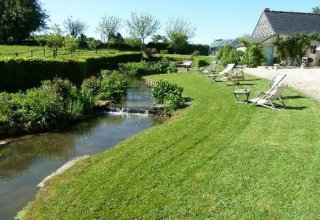 FAQs about French Bed & Breakfasts
What is the difference between a Bed and Breakfast, a self catering and a country inn?
Self catering called Gîte in French : An independent house/appartement rented for several days. It is equipped with a kitchen and you do not interact with the owner.
Country Inn called Auberge : An owner-operated establishment providing lodging and meals (generally breakfast and dinner). Some provide dinners to overnight guests only, others have full-service restaurants open to the public. Typically 10 or more guest rooms.
Bed and Breakfast (B&B) called chambres d'hôtes : An owner-occupied dwelling with 1 to 5 guest rooms, plus common areas for guests, usually separated from the owner's quarters. Sometimes you can have homemade diner at the host's table. You feel like you're staying with friends or family.
What is the usual room standard?
Bed & Breakfast we selected for you are all of a high level of comfort, always with private bathroom.
As we know that it matters to you, we have ONLY selected places with wider beds (queen size, at least).
Your hosts will take great care of you but, contrary to hotels, do not expect « room service », valet de parking and sometimes there are no TV in the room.
Do B&Bs have to be licensed and inspected?
French Bed and Breakfasts are inspected and rated by different government agencies or associations that check the level of comfort, health codes and the quality of the welcome. However, do not forget that you are at people's place, not in a hotel.
While inspections remain a significant tool for measuring the quality of a B&B, our frequent visits are generally the best review.
Can I bring a pet?
For all travelers' comfort, pets are not allowed in most places, we are sorry.
Are towels, sheets and hair dryer provided or should I bring my own?
Of course, towels and sheets are always provided. 
All B&Bs and boutique-hotels we select have hair dryers, however, they are not always "professional hair dryers". 
Shampoo and soap will be provided in 95% of the places.
Do I need a cell phone in France?
If you can, we recommend to have a cell phone with you - it is easier for you to reach us or your hosts if you get delayed on the road. Check in your home country, you might be able to get an International Plan for the length of your trip. 
If you can't have a cell phone or an internet device, you can give our contacts to your relatives at home and in case of emergency, we will reach you at the B&B.
Will my hosts speak English?
We select accommodations with hosts who can communicate in English. 
Some of our hosts are fluent and other can interact with you if you speak slowly - more importantly all of them are happy to meet with travelers...and happy to communicate.
France Just For You is rewarded with the 2023 Trip Advisor Certificate of Excellence.
We keep working hard for our travelers to have the best experience in France.
Discover what they think about us