As part of the service we offer to our travelers, we plan itineraries according to your personal interests and requests. Will you be celebrating a birthday or wedding anniversary in France? Tell us how you'd like to celebrate and we will make it a day to remember! Here are some ideas below, or contact us and we'll give you a list of ideas for romantic getaways to France - just for you!
Paris is known throughout the world as being the world's romantic capital, and understandably so. But the rest of France also has so much to offer: medieval villages, castles, stunning gardens, culinary delights to seduce your taste-buds, wine and cider tasting, boat-trips surrounded by incredible scenery and so much more to make your wedding anniversary truly special!
Many couples reach out to us for ideas on how to spend their wedding anniversary in France, so we've put together this list of ideas. We have tried to include inspiration for everyone here.
If you are thinking of spending your wedding anniversary, birthday or any other special date in France, please reach out and let us know what you'd like to do and leave the rest to us!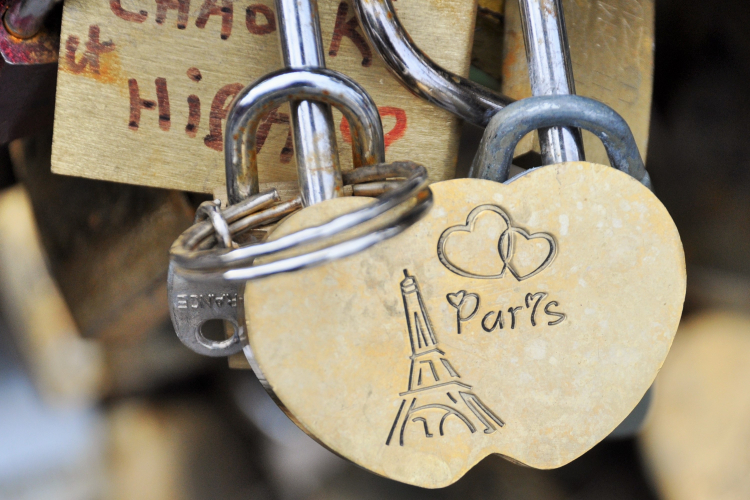 Padlocks that used to adorn the Pont des Arts bridge in Paris (Photo: Pixabay)
Paris
1.     A dinner cruise on the Seine
If you're looking at romantic city breaks, you really can't go wrong with Paris! Dinner on the Seine River ranks high on the list of romantic things to do in France.
Relax to the soft sound of the violin and piano, as the city of lights slowly unveils itself to you from either side of the boat.
If you book one of our Paris tours, we will make sure the menu caters to your tastes and dietary requirements. All you will need to do is decide which of the delicious dishes to order, and then enjoy your meal as you gently sail along the shimmering waters of the Seine.
What a way to celebrate your wedding anniversary!
2.    A Night at the Opera
As well as enjoying a special meal with your loved one, you may like us to arrange a special outing for you.
From the famously flamboyant cabaret at the Moulin Rouge, to a classical opera or a ballet at the opulent Palais Garnier, let us know what you would like and we will make it happen!
If you prefer something more low-key, we would be happy to plan for you to attend a nice concert in a very small church, get you tickets to a fun comedy show such as Olivier Giraud's 'How to become a Parisian in One Hour, make a reservation for you at one of our favorite special restaurants, order flowers or help organize a surprise for your loved one.
Click here for a list of our Paris tours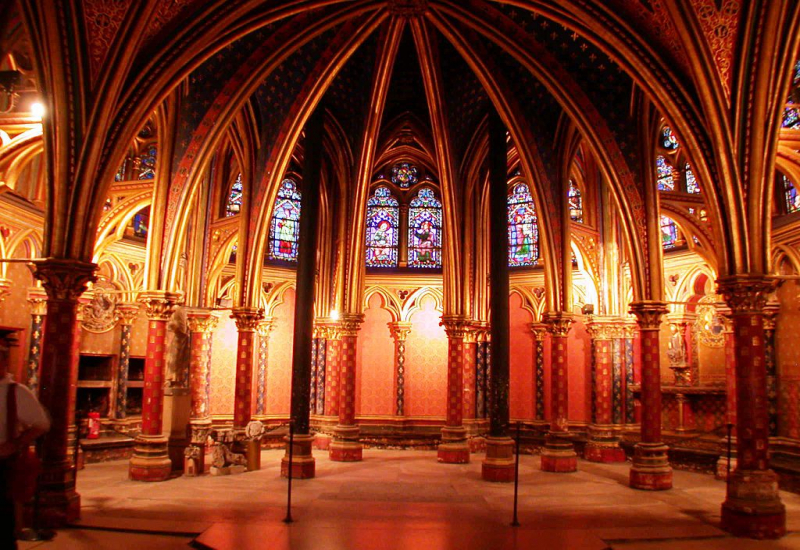 Sainte Chapelle Church in Paris (Photo: Riggwelter, Wikimedia Commons)
Normandy
3.    A stroll in the hinterlands and a special anniversary lunch
If you and your other half are fans of the great outdoors then you can't go wrong in Normandy.
Its rolling green hills, grazing cows, and apple orchard lend the region a very special character. It also offers some of the most beautiful villages in France with quaint, half-timbered houses.
Normandy is affectionately called the "butter-land of the gods" because of its role in producing the finest dairy products. We would be delighted to arrange a special cooking class with a local lady in the Normandy countryside, including samples of Normandy's finest seafood, a selection of tasty gourmet cheeses and some of the region's famous apple brandy.
A very French experience!
Click here for a list of our Normandy tours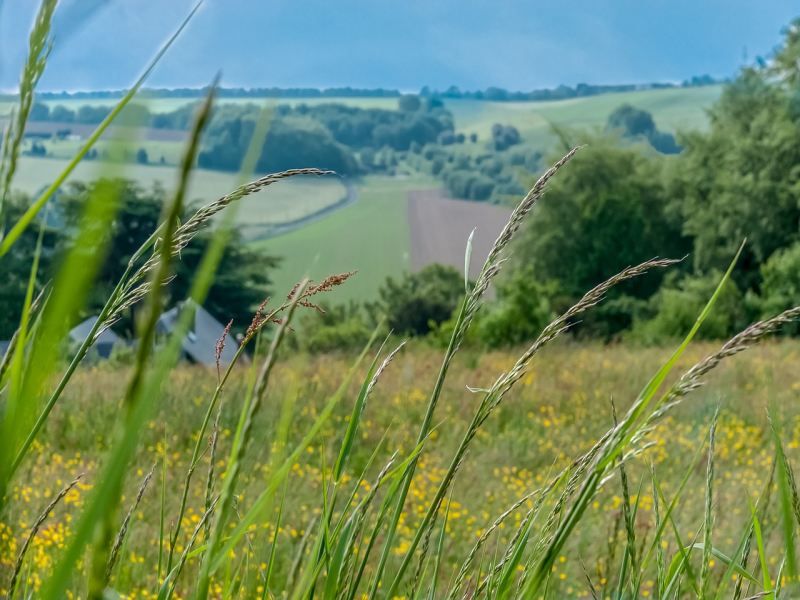 The Normandy countryside (Photo: Pixabay)
The Loire Valley
4.   A fairy-tale wedding anniversary: castles and wine-tasting
Allow us to arrange for you to stay in a gorgeous castle to celebrate your wedding anniversary. Enjoy first class hospitality, relax in a tastefully restored room and gaze across the lovely garden with views over the Loire valley.
From there, explore the wonders of the Loire Valley: the castles of Chambord, Chenonceau and Azay-le-Rideau and the old cities of Saumur, Chinon and Amboise.
Then discover the Loire Valley's best vineyards and wineries with Vincent, one of our wine experts. Raise a glass and sample the wine to your heart's content – Vincent will be driving!
Click here for a list of our tours in the Loire Valley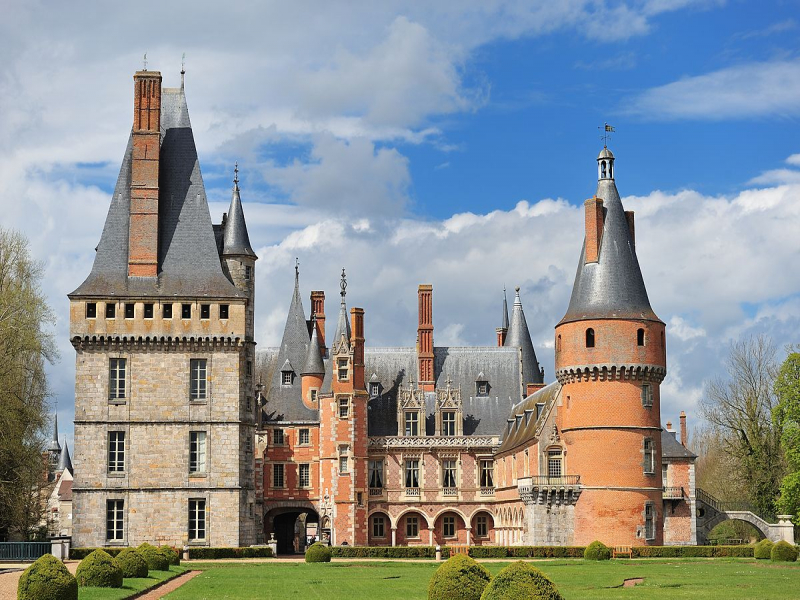 A castle hotel in the Loire Valley (Photo: Eric Pouhier, Wikimedia Commons)
Burgundy
5.    Wine-tasting and a romantic meal in a beautiful French village
The wine connoisseurs among you will know that Burgundy is famous for its Pinot Noir and Chardonnay wines, and has some of the most famous vineyards in France. Our local guide will take you off the beaten track to lovely vineyards which are not included in the typical wine-tasting tours, where you'll be able to raise a toast to your special day!
Alternatively, you may prefer a scenic drive through the countryside (we will provide you with maps of the most scenic routes) to the beautiful little town of Beaune. Enjoy a stroll through the medieval part of the town, and we will arrange a romantic meal for you here or in one of the lovely nearby villages, far from the tourist crowds.
Enjoy a real taste of authentic France.
Click here for a list of our Burgundy tours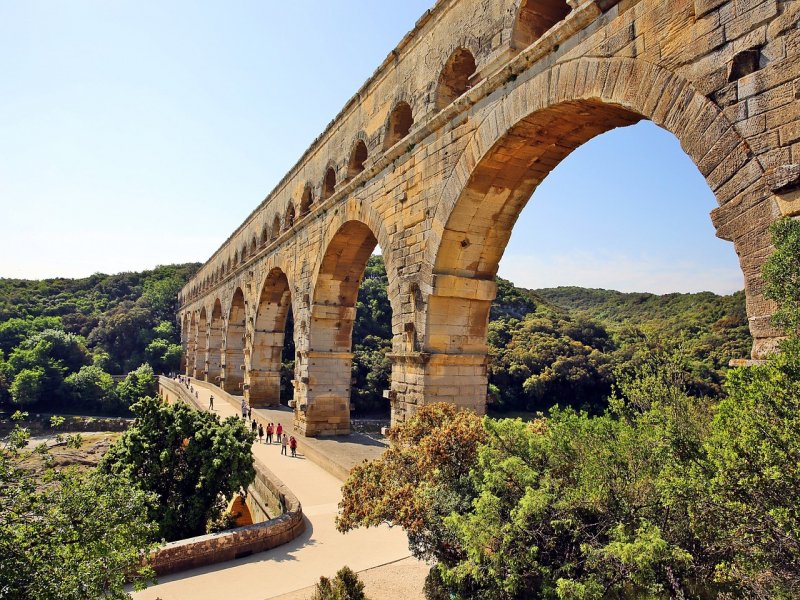 The Pont du Gard Roman bridge in Provence (Photo: Pixabay)
Dordogne
6.   Explore medieval Dordogne with a special celebratory lunch and boat tour
Mark your special day with a journey through time to the gorgeous medieval village of Sarlat. On one of our favorite romantic getaways in France, you can savor a delicious, traditional Perigordian lunch. Enjoy a mouth-watering duck confit and walnut cake for dessert, some of Dordogne's specialties!
In the afternoon, take a gabare boat tour along the most scenic part of the Dordogne river. You will fall in love with fairy-tale views of castles and countryside.
End the day in the magnificent Marqueyssac gardens overlooking the river – the perfect end to a special day!  
Click here to find out more about Dordogne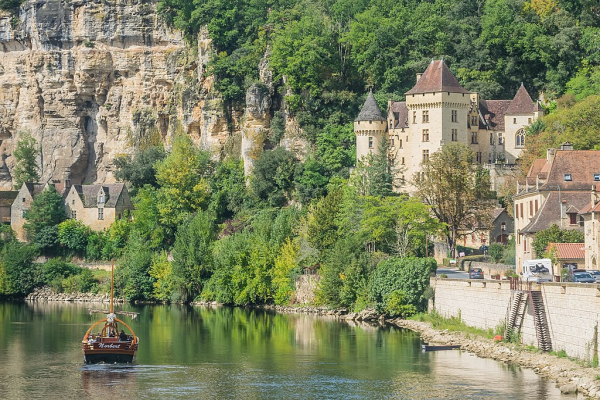 A traditional gabare boat on the Dordogne River (Photo: Krzysztof Golik, Wikimedia Commons)
Bordeaux
7.    A picnic lunch and private wine tasting in beautiful Bordeaux
If you and your loved one enjoy a glass of wine, book a memorable romantic tour of Bordeaux. We recommend staying at French B&B accommodation in the vicinity of the peaceful St. Emilion vineyards.
From there, you will be perfectly located to tour the whole region: from St. Emilion to the city of Bordeaux, from Medoc vineyards to the Arcachon basin.
On our tours, when wine-lovers are celebrating a special occasion, we recommend a private tour of a famous wine estate. After visiting the cellars, the vats, and passing by the vineyards to learn about the different varieties of grapes, our travelers can enjoy a special picnic lunch with a wine-tasting in a beautiful setting.
Click here for a list of our Bordeaux tours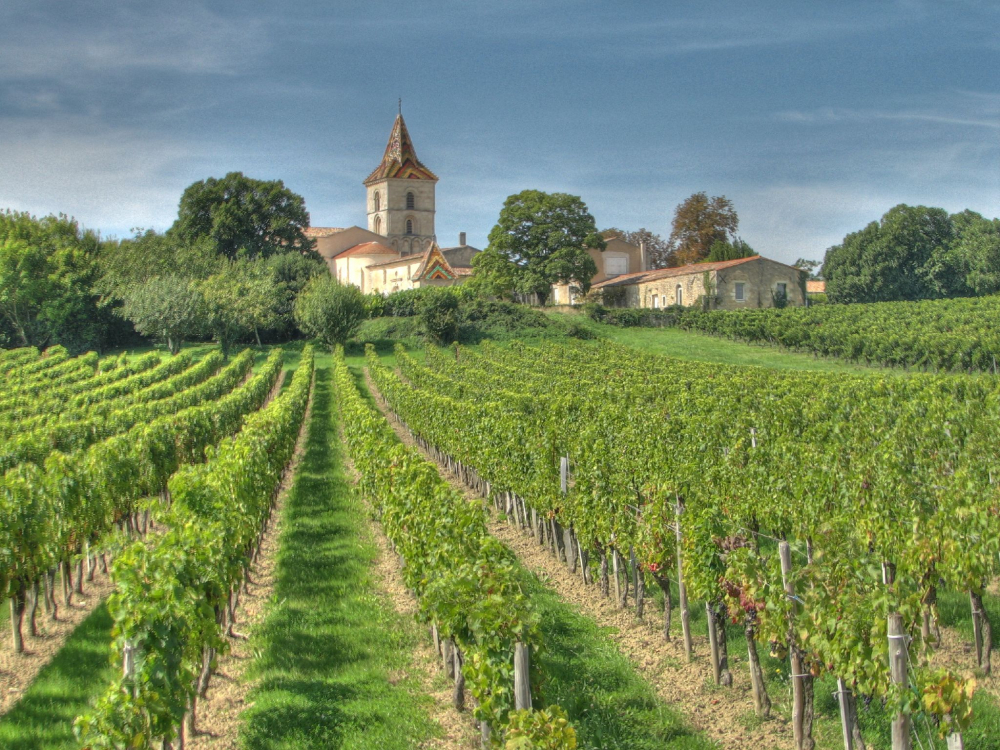 A vineyard in Bordeaux (Photo: Michael Clarke, Flickr)
Carcassonne
8.   History and Hiking in Carcassonne
Hiking might not be the first thing that comes to mind when you're planning something romantic! But we believe that true romance comes from spending quality time together doing something that you both enjoy.
History lovers will feel inspired by the cathar history and the picturesque medieval town of Carcassonne.
Lovers of the outdoors will be charmed by breath-taking landscapes and fortresses such as Quéribus and Perpeytuse.
If you have something special in mind or would like some ideas on what to do for your anniversary or birthday in France, let us know and we will do our best to find something perfect - just for you!
Click here for a list of our Carcassonne tours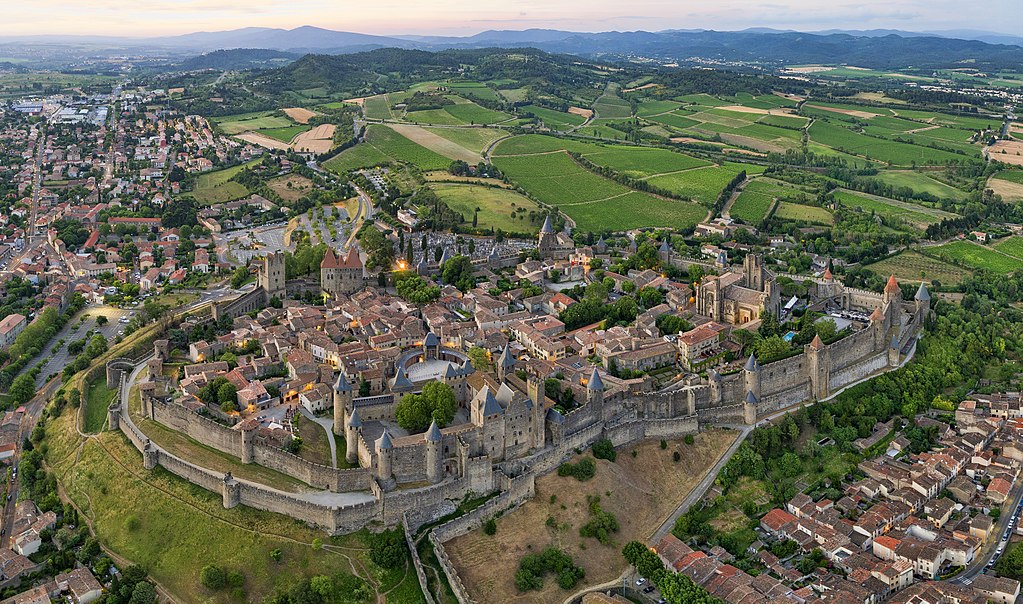 The fortress town of Carcassonne (Photo: Chensiyuan, Wikipedia)
Provence
9.   Celebrate with the colors & flavors of Provence – a sensational experience!
A journey to Provence is a unique experience for all the senses. You'll fall in love with the timeless and truly romantic, sun-drenched landscapes, and you'll be amazed by the seemingly never-ending lavender fields which stretch out to the horizon.
Spend your days here playing boules in the hilltop villages of Provence, followed by a refreshing rosé wine and a crisp baguette with fresh tapenade (olive paste) at a local bistro.
When we're helping our travelers mark a special occasion, we plan these based on their interests.
If you like art, you might enjoy a private tour of Vincent van Gogh's favorite landscapes in Provence.
If you're a fan of gastronomy, we can arrange a private cooking class for you with experienced chef, Jacques. He will help you to prepare delicious dishes of your choice, which you will be able to savor during the special dinner after.
Or if you prefer to leave the cooking to the experts, enjoy an evening meal at one of the region's best bistros. Our favorite bistro has a perfect view of the sunset from the terrace, with scents of lavender and olives in the air. If it's romance you're looking for – or just a truly special day – welcome to Provence!
Click here for a list of our Provence tours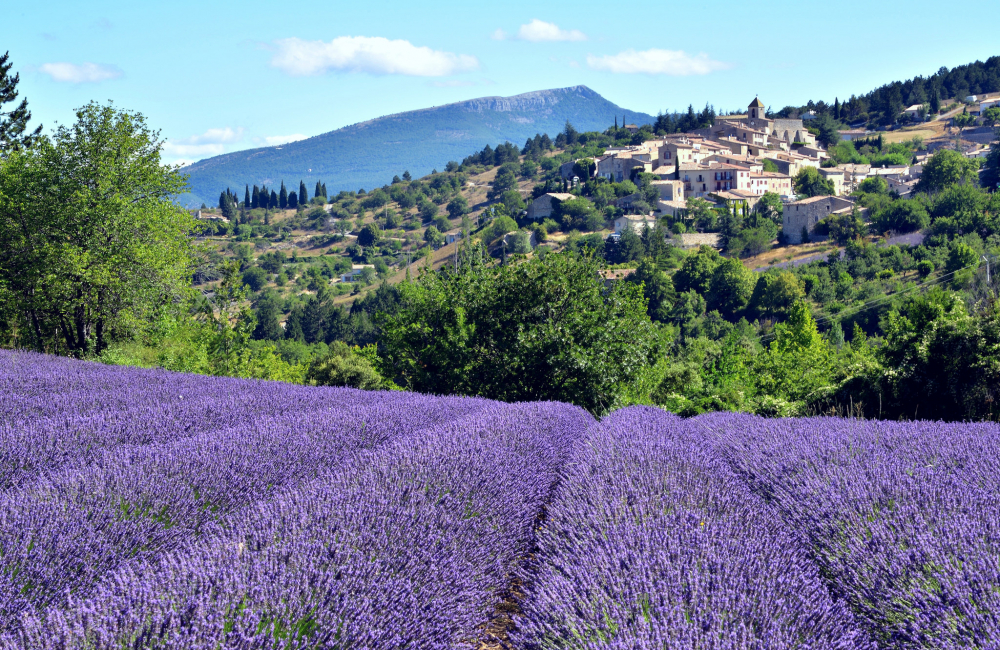 Lavender fields in Provence (Photo: CC BY-SA 2.0, ER Bauer, Flickr)
The French Riviera
10.     Create your own special ceramic masterpiece or signature perfume
Most couples and close friends will want to spend special occasions doing something together that you'll both enjoy. The French Riviera offers an awesome range of different activities.
Perhaps you and your other half both have an artistic streak and would enjoy discovering some of the region's most beautiful ceramic art, sculptures and painting. If this sounds appealing, step into a glassblower's shoes and produce your own masterpiece as a souvenir of your special day!
Masterpieces can take many different forms. For designer Coco Chanel, this could have been her famous fragrance Chanel No. 5. For Christian Dior, it might be the enchanting J'adore perfume. While you're in the French Riviera, take the opportunity to visit the Fragonard perfume factory, and create your own signature perfume.After selecting from hundreds of different ingredients with the help of a perfume specialist, you and your loved one will develop 100ml of a perfume to take home with you. They say that the sense of smell is closely linked to memory; may your perfume transport you back to your special day again and again!
Click here for a list of our tours in the French Riviera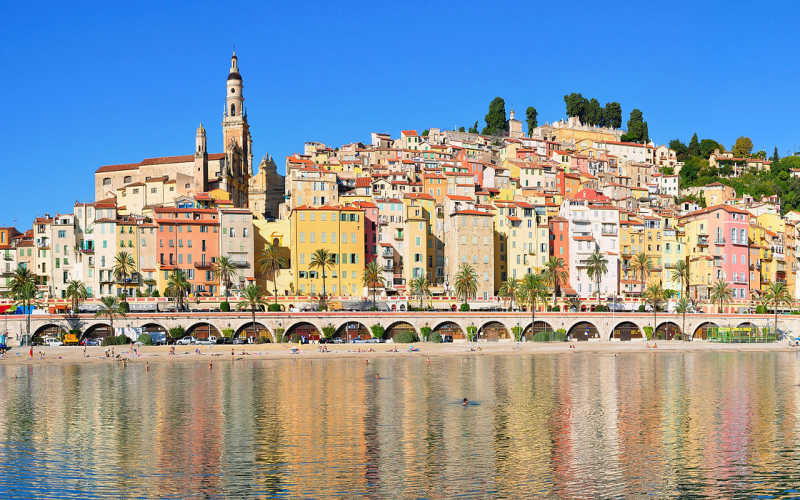 The beautiful coastal town of Menton on the French Riviera (Photo: Tobi 87, Wikipedia)
Email us via our contact form and let us know about your dream trip to France (whether you're celebrating a wedding anniversary or not!)! We will arrange a personalized trip just for you, taking into consideration your interests, your budget and any special requirements you may have. 
If you have any special interest that would make your time in France a more unique experience - a particular type of music, a preferred dish, a type of art or an artist in particular that you really admire, or anything else you have dreamed about while preparing for this trip or which you know would make your loved one really happy - don't hesitate to let us know and we will do our utmost to make this a trip you will remember forever.
A Short Selection for a very unique Honeymoon Trip in France