The legendary Leonardo Da Vinci had many talents and mastered many fields: art, science, engineer, philosophy and architecture. His incredible work affected all the generations that followed. As an architect, Leonardo Da Vinci left behind many marvelous sites and inventions in the Loire Valley. One of its most remarkable pieces in the Loire Valley is in the Chateau de Chambord: the double helix staircase, an architectural prowess.
Leonardo da Vinci was a visionary, making blue prints for advance engineering (such as the automobile or helicopter). His scientific and philosophical works show the infinite creativity of his brilliant mind. However, Da Vinci could also be simpler, asking practical question of everyday life which were still unanswered.
Leonardo Da Vinci was born on April 15th, 1452 in Florence. His father was a notary and art lover. During his childhood, he spent time with him in the academic library and started painting lessons. Later on, Da Vinci used science to improve his art.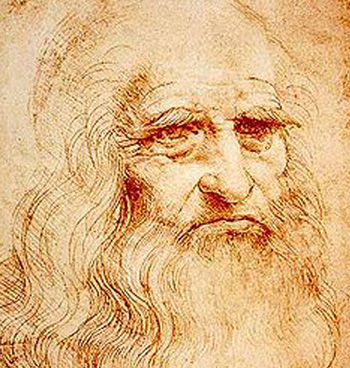 In 1516, Leonardo Da Vinci arrived in the Loire Valley under the protection of the King of France, Francois the 1st. He was given the Manoir du Clos Lucé in Amboise, where he could practice his art at ease and free from specific orders. Cherishing the Italian Renaissance, Francois the 1st promoted Leonardo Da Vinci to be its architect, painter and engineer…he also called him "my father". Da Vinci died in May 2nd, 1519 and is now resting the Chateau d'Amboise in the Saint Hubert chapel.
April month is a great time to visit the Loire Valley, find out what to do in France in April.