Self-Guided Tours in Alsace
On the border with Germany lies the Alsace region, along the Rhine river and stretching from Strasbourg to Colmar. 
Alsace has everything a wanderer will like: so many colorful half-timbered towns built along a scenic vineyards route. Always in the background, the Vosges mountains add to the picturesque scenery and you can reach the foothills in less than 30 minutes to have unlimited walking and hiking options. 
Munster and its cheese will give foreign travelers a real introduction to uncompromisingly tasty French cheeses, while the local pizza called Flammekueche as well as the famous Choucroute will get everyone to agree - food in Alsace is delicious! 
How to Get to Alsace
If you are driving, Burgundy is a 2hr45 drive south from Alsace, the Verdun region is a bit less than 3hrs west. We do not recommend driving directly from Paris or CDG Airport to Alsace, as it is about a 5hr drive on the highway.
If you plan on reaching Alsace via train and then rent a car, you need to plan for Strasbourg, which is the main city of Alsace. From Paris Gare de l'Est station, you can catch a direct TGV high speed train and in 1hr45, you will arrive in Strasbourg.
The train is the best way to get to Alsace if you don't plan to stop over in Reims for Champagne or in Verdun for the World War I sites on the way.
Where to Stay in Alsace
Most of the sightseeing in Alsace lies between Strasbourg in the North and Colmar in the South. The 2 cities are 45 miles (73 kilometers) apart and the drive is about 1hr drive.
Parallel to this North-South road you will find the famous Alsace Wine Route with all the gorgeous typical little towns on the foothills of the Vosges mountains. It is easy to enjoy wine tours from Colmar, if you're interested in wine-tasting.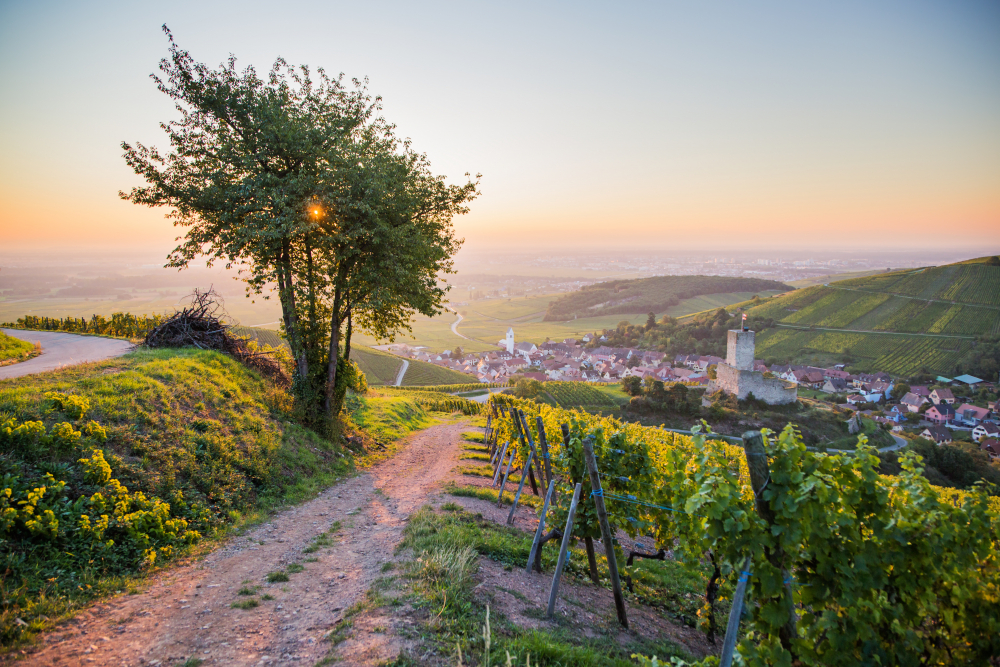 Katzenthal vineyards - ©Tristan Vuano - CDT Alsace
For this reason, we have selected premium Bed & Breakfasts on the Colmar–Strasbourg axis, perfectly located to tour the Alsace region driving. 
Alsace Christmas Markets
Alsace Christmas markets make this French region very special. Nowhere else in the world will you enjoy such a charming, very special Christmas ambiance than strolling Colmar, Eguisheim or Riquewhir in Christmas market season.
You will enjoy tasting fresh pretzels with hot mulled wine while walking around, or you may sit in a traditional winstub to taste sauerkraut or braised ham. For beer or wine lovers, Alsace has a lot to keep you busy !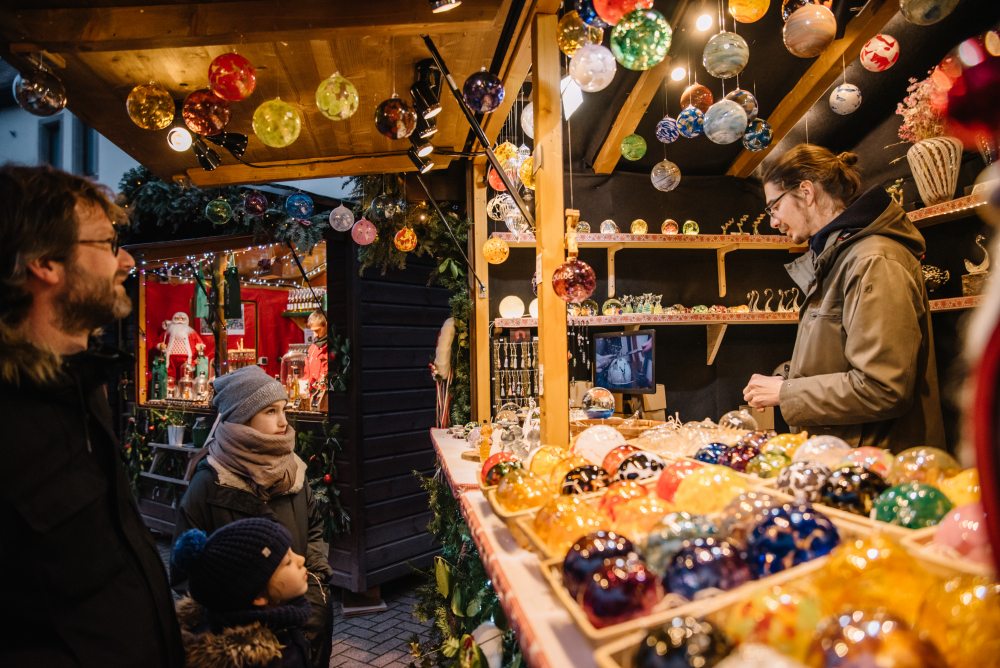 Alsace Christmas Markets - ©Lois Moreno - CDT Alsace
Maybe what we enjoy the most about Alsace Christmas markets are the nice decorations all over the places: on the streets, in the windows of all the homes . . . everywhere you look! And if you get lucky with a bit of snow, it is magical! 
Now, visiting Alsace Christmas markets requires some logistics and you need to be an early bird for reserving. While the Christmas market season starts in late November and ends on the first days of January, most accommodations are fully booked a year ahead. Thus, based on this, please plan ahead and do not hesitate to contact us.
Self-drive wine-tastings Alsace: The Alsace Wine Route by Car
The vineyards of the Alsace wine region are postcard landscapes with the half-timbered towns and the Vosges mountains in the background. It makes a really pleasant drive with gorgeous photo stops. Several of the Alsatian towns are "most beautiful villages of France" and we also recommend exploring less famous, less touristy towns that we have selected for our travelers.
Most Alsace wines are white wines, in the German tradition. Alsace's vineyards are famous for the Sylvaner, Riesling and Gewurztraminer varieties. These are wines that are not produced anywhere else in France. Along the Alsace Wine Route, there are lots of wineries you can just walk into and taste the wines.
Wine Tasting in Alsace - ©Lez Broz - Visit Alsace
Alsace has long been known for Gewurztraminer wines, especially those known as "vendanges tardives", meaning late harvested grapes which produce strongly savored wines that are excellent as an aperitif. Tastes tend to change and people now drink wines with less sugar and Alsace also makes some nice dry Pinot Noir or Pinot Gris wines. So every traveler should find a wine they like !
Alsace's Very Special History
Being located along the German border, the Alsace region has had a very eventful history. It was torn between Germany and France many many times in history. So while Alsace is a French region, you can get a real taste of Germany in Alsace through the architecture, the gastronomy, and the traditions.
It makes the region very special and unique. To the west of Rhine river, from Strasbourg to Colmar there are so many wonderful historical, gastronomic, and cultural self drive experiences in Alsace for you to discover!
One great witness of this history is undoubtedly Haut-Koenigsbourg castle, which stands on the top of the hills between Colmar and Strasbourg. There are lots of other medieval castle ruins in this area but Haut Koenigsbourg was rebuilt in the early 20th century by William the 2nd of Germany, so it is "complete".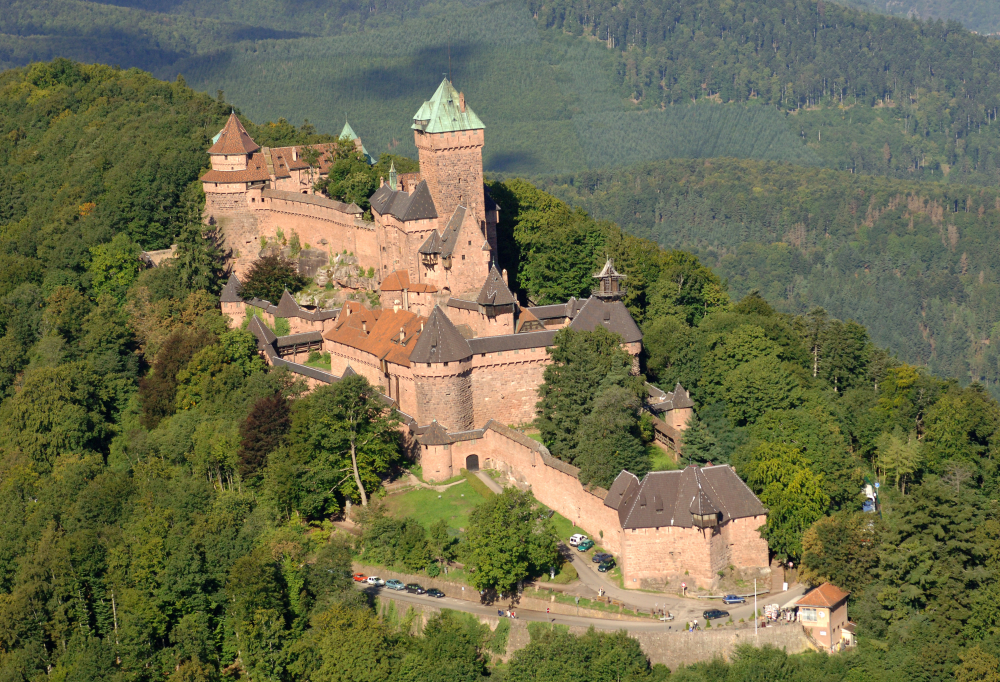 Haut Koenigsbourg Castle - ©JL.Stadler - CDT Alsace
Made in Alsace
Storks are the symbol of Alsace. While they almost disappeared in the 70's, the repopulation efforts are working and you will see stork nests everywhere. Legend says that if a stork flies above a house, then a baby will come soon. If you want to see the storks, come during the summer season, in winter, they are in Africa.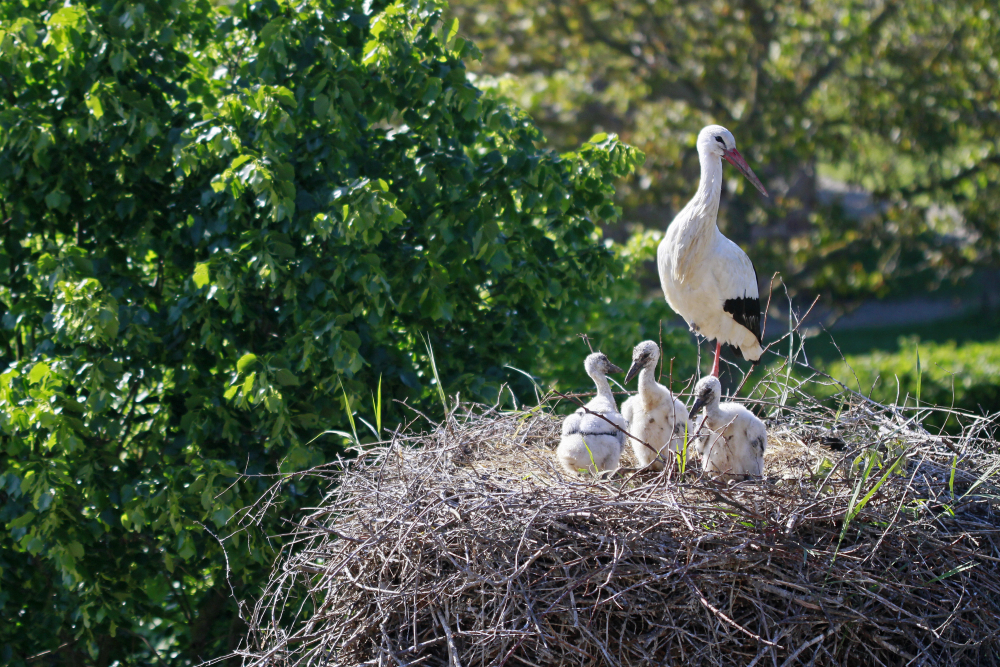 White Stork Nest in Alsace - ©Marc Solari - CDT Alsace
Pottery is traditional in the Alsace region, with colorful and generous shapes. While Soufflenheim is famous for its clay and potteries, you can find shops selling these all over Alsace. In Kayserberg, a local workshop makes gorgeous pottery decorations for the Christmas tree . . . just saying!
Alsatian traditional costumes are also part of the culture. They are no longer worn in the streets since the end of WWII but in all the festivals, you will see people with the Alsatian costumes.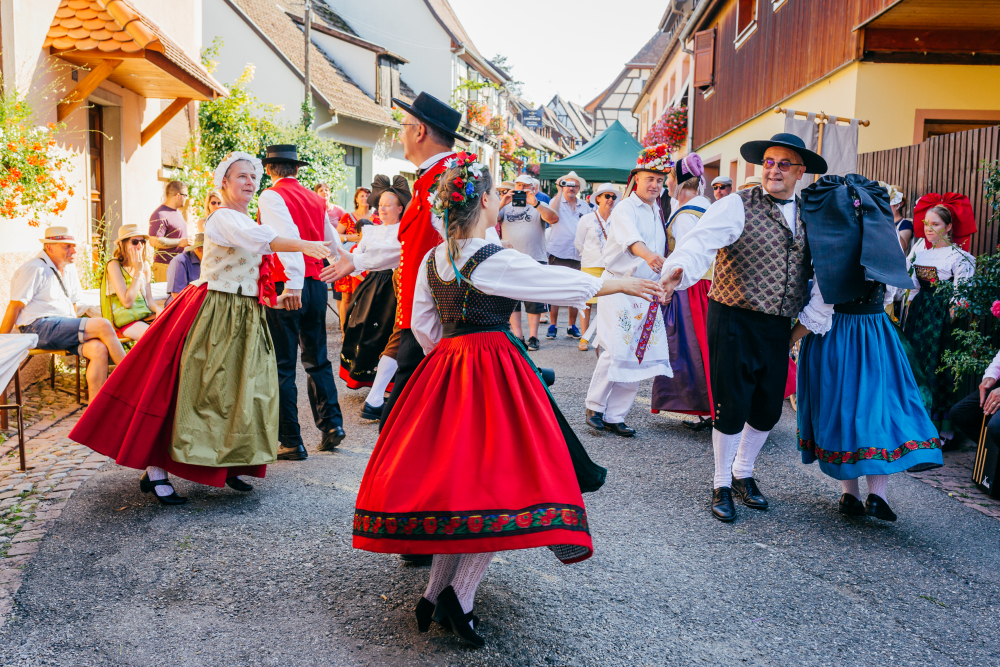 Wine Festival in Eguisheim with traditional costumes - ©V.Muller - Visit Alsace
Alsatian gastronomy is very rich: you can tell this is a cold region in winter: pork meats, potatoes, cabbage make delicious baeckeoffe, sauerkraut, spaetzles. Apple strudels or cherry bettelmann should definitly be on your list to taste, while the Kougelhopf brioche is a must for breakfast or teatime.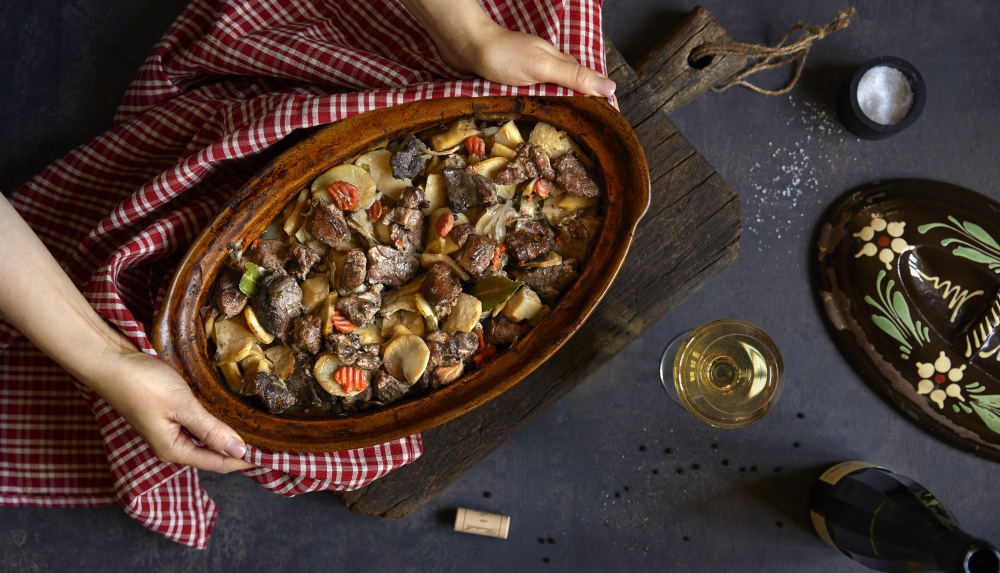 Alsatian Baeckoffe - ©Klaudia IGA - Visit Alsace
FAQ about Alsace
What is Alsace known for?
Alsace is most famous internationally and in France for its Christmas markets in December! The whole region turns into a fairytale landscape, with Christmas decorations, lights, markets and the aroma of mulled wine wafting through the Alsatian villages and towns.
Alsace also has a fascinating history. It was fought over between France and Germany for centuries, and having belonged to one or the other at different points in history. Now, Alsace is part of France, but if you visit, you will notice the many German influences on the culture, architecture, food and traditions (including the Christmas markets).
The region is also famous for the Alsace Wine Route, with some delicious white wines for you to try. 
How many days do you need in Alsace?
At the very minimum, we recommend spending 3 days in Alsace. This will give you the chance to visit one of the region's main towns - Colmar or Strasbourg; enjoy a day driving along the Alsace wine road, including some stops in beautiful Alsatian villages with colorful half-timbered houses; and visit the gorgeous medieval Haut-Koenigsbourg castle.
Is Colmar France worth visiting?
Absolutely! It's worth spending at least a day in the beautiful town of Colmar, so you can enjoy a stroll or a boat tour along its canal and enjoy a delicious meal in a typical Winstub with a nice beer or glass of wine. It's true that many small group tours of Alsace include visits to Colmar - but we'll always explain how you can avoid the biggest tourist crowds!
What food is Alsace known for?
Alsatian gastronomy is known for being rich, and very warming during the winter months. Munster cheese is a tasty and strong-smelling French cheese. Another very cheesy dish is the local pizza called Flammekueche. The famous Choucroute is sauerkraut with sausages and other cured meats and charcuterie, and often potatoes. Baeckeoffe is a typical savoury casserole dish. You'll also find plenty of pretzels, apple strudels and 'Bettelmanns' (an Alsatian cherry casserole) to try. We recommend trying a Kougelhopf brioche for breakfast or tea-time; it is made from the yeast-based dough with added raisins, almonds and sometimes hazelnuts. Yummy!