Paris, Burgundy Gastronomy & Loire Castles
10 days
Paris, Burgundy & Loire Valley
Wine Tasting
Heritage & History
US$ 2,930
Per traveler, including taxes, based on double occupancy.
Book now
This itinerary will have you discover the French gastronomy in 3 regions which are worldwide famous for their food and wines: Burgundy and the Loire Valley are actually arguing about where the Coq au Vin was invented first. Burgundy is famous for the wine sauce and the Loire Valley for the river fishes, the fruits and the goat cheeses. Eventually Paris is just heaven to the gourmets: this is true: you'll find in Paris among the best boulangeries in the world and the food markets are amazing.
Few Days in Paris
This itinerary starts in Paris but if you wish, we can easily turn it the other way around. For the first 2 nights of your trip, you will be living the Parisian life. Comfortably accommodated in a charming boutique-hotel in a quiet street of the bustling Marais district, you will discover the French capital city's must sees and hidden beauties.
For a half-day, follow a private guide in the heart of Paris to get oriented and learn more about the history, art, culture or architecture. We will taylor make your program based on your wishes. 
Being based less than 10 minute walk to Notre Dame Cathedral, we will prepare for you different itineraries to explore Paris by foot, by boat or using public transportation. We also recommend our favorite restaurants and patisseries in different districts of the capital city so you'll know where to take a break.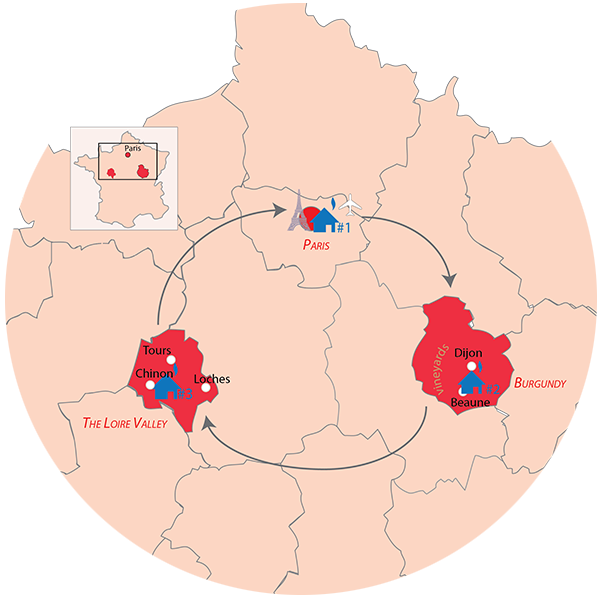 BURGUNDY gastronomy
On the 3rd day, you will pick up a rental car at the closest agency from the hotel and drive 3 hours to Burgundy. We will recommend a gorgeous castle on your way.
In Burgundy, you will reside for 3 nights in a beautiful B&B house owned by a wine maker family and located in one of Burgundy most famous wine towns. Situated in the heart of Burgundy, near Beaune, this is the perfect place to learn about the local wines. Explore all major vineyards of the region and have a chance to taste red and white wines among the best in the world, directly at the winery!
To discover Burgundy vineyard trails, we plan for you to spend a day with Flo who will take you on a bike to discover Burgundy wines. You will make several stops on the way to taste wine and even have lunch at the table of a renowed wine maker. 
We will provide you with all detailed itineraries to discover the authentic and charmful Burgundy. This region is much more than the vineyards: winding roads leading to tiny timeless villages - some of them "Most Beautiful Villages of France" - will give you a real feel for this region. Taste some local cheeses, the "Epoisse" at the cheese factory or stroll around Beaune from cellars to ramparts.
THE LOIRE VALLEY castles & gardens
On the 6th day, you will drive for 4 hours to the Loire Valley where you will spend the last 4 nights of this itinerary. Stay in a restored 15th century farmhouse where you will be warmly welcomed by your Hosts. They know the Loire Valley inside out and can give you some tips on finding places that tourists usually miss. 
Located on the south banks of the Vienne River, this charming B&B is within short driving distance of Chinon and Saumur, beautiful historic cities.The Loire is also famous for its wines: white from Vouvray or Montlouis, red from Chinon, Bourgueil or Saumur.
One day, let the owner of a 12th century abbey guide you in this amazing and totally off the beaten tracks historical site.
You will also wander off the beaten path into tiny villages and get a taste of French gastronomy in restaurants and local markets we have tested for you. We will recommend you how to visit Chambord or Chenonceau castles away from the crowds…We will also recommend smaller castles and hidden places, less famous and with a lot of history and beautiful settings. If you like gardens, don't miss Chaumont or Villandry.
On your last day, you can drive 3hrs back to Paris downtown or 3 hour 30 to CDG Paris International Airport.
 Strong or lighter wines, cow and goat cheeses…pastries, chocolates, farmers markets…this itinerary will delight the food lovers! 
This itinerary includes
Activities included in this tour