Region
in Bordeaux, Loire Valley, Burgundy & Champagne

France Wine Tasting Tours

Gourmet Food Tours
Countryside Tours
This itinerary is designed for gourmet travelers who aim at discovering and learning more about French wines. Our tours also mix heritage, culture, nice walks, gardens, etc. 
In this tour, you will stay in wineries, by vineyards & in wine towns. An absolute must for wine lovers ! 
Price
US$ 4 340
Per traveler, including taxes,
based on double occupancy.
Your accommodations
Pictures of the specially selected accommodations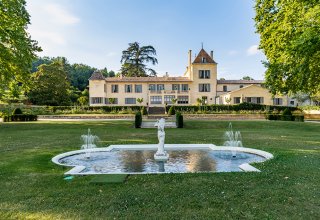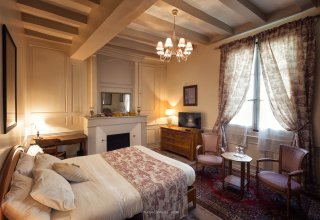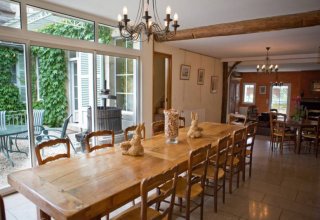 Step by step
This tour starts in the Bordeaux area, at the most convenient car rental pick-up for you. If you arrive in Paris, we can organize the TGV high speed train if needed.
Saint Emilion Vineyard
Start your trip with 3 nights is a Grands Crus Classés wine chateau. Experience Saint Emilion by staying at one of the places where everything happens, in the heart of the vineyards. Away from the crowds, you will enjoy what Saint Emilion wines have to offer. 
Built along the banks of the Garonne river, the opulent merchants' homes are very specific to Bordeaux. You will find everything you need: from villages nestled into the Medoc or St Emilion vineyards, to the bustling night life in Bordeaux. Also, keep in mind that Bordeaux's Sainte Catherine Street is the longest shopping street in Europe!
Very near Saint Emilion, we have planned a private tour of a famous wine estate: after visiting the estate from the vineyards (to learn about the different grape varieties) to the cellars, you will enjoy a picnic lunch together with a tasting of 3 different wines.
On the 4th day, drive about 3hrs north to the Loire Valley. 
The Loire Valley Wines
Spend the following 3 nights of your journey in the lively town of Chinon by the river, where Joan of Arc once met her future King of France. The B&B is at the foot of the medieval fortress and you will be within walking distance to the restaurants and wine bars. 
 Touraine is famous for its vineyards – Chinon, Bourgueil, Vouvray, Amboise and many more –  you will visit a Chinon winery run by a charming couple who come from generations of winegrowers. Enjoy a commented tasting of the wines with some locally produced snacks. 
Discover the marvels of the Loire Valley. We will make recommendations on how to visit Chambord or Chenonceau castles, away from the crowds.
We will also recommend a few smaller castles and hidden places in beautiful settings. These places are less well-known but are steeped in history and well worth escaping the crowds of tourist. If you like gardens, don't miss Chaumont castle or wonderful Villandry.
On the 7th day, drive east from the Loire Valley to the Burgundy region.
Burgundy : La Bourgogne
In Burgundy, you will reside for 3 nights in a beautiful B&B house owned by a wine maker family and located in one of Burgundy's most famous wine towns. Situated in the heart of Burgundy, near Beaune, this is the perfect place to learn about the local wines. Explore all major vineyards of the region and have a chance to taste red and white wines amongst the best in the world, directly at the winery!
Sébastien, a real passionate, will take you for half a day on a 4-wheel drive to tour around the Burgundy vineyards, following itineraries that no other tour can do. You will taste wines directly at the winery and ride over dirt roads in Nuits Saint Georges and Vosne Romanée. Sebastien is very friendly and you will feel like a relative with whom he wants to show his favorite places.
Discover Beaune, a beautiful medieval town that has been completely preserved from modern constructions. You should definitly try to be there on market day - the local products are truly delicious. Taste some local cheeses, the "Epoisse" at the cheese factory or uncover the mysteries of the French Kings in Dijon. Burgundy has a lot to experience.
Vive le Champagne !
End your wine trip in the area around Reims: the Champagne region. 
You will stay in a Champagne town, in a house owned by a lovely couple: she spent her entire working life at Bollinger and he was a vineyard owner . . . so you are in good hands. From here, you are perfectly located to enjoy Champagne wines and tour the beautiful old town of Reims. 
We plan for you to spend a half day with a private Champagne guide : the program can be customized to match your wishes, so don't hesitate to let us know what you like.
We will also recommend Champagne wineries you can visit on your own, as well as some local attractions including fossiles, belle epoque architecture, a lively food market and many restaurants from simple to 3 stars with the Michelin guide. 
We plan for you to return the car to Paris CDG airport, which is only a 1hr30 drive, or near Paris - whichever is more convenient. 
As we say in French....A votré santé !
Activities included
Tour a St Emilion Winery
Visit a wine estate near St Emilion with a private English speaking guide. After the tour, you will enjoy a picnic lunch together with a tasting of different wines from the estate.
A Winery Visit & Tasting in Chinon
Visit a Chinon winery run by a charming couple who come from generations of winegrowers.
Enjoy a commented tasting of the wines with some local-product snacks.
Burgundy Wine Tasting
Spend a half-day with Seb who will drive you in his 4WD in the back tracks and the dirt roads of Burgundy vineyards. He will take you like a friend would do to several wineries in some of the most famous vineyards in the world. 
Private Champagne Tour
Spend a half-day with a private guide touring the Champagne vineyards and learn about the geography, visit intimate wineries and of course taste a lot of Champagne!