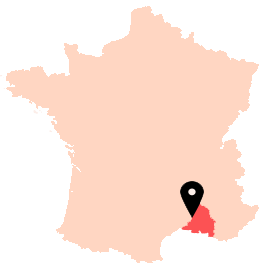 Colors & Flavors of Provence
A journey to Provence is a unique experience for all the senses. Try as you might, you won't be able to resist falling in love with the timeless landscapes bathed in sunshine and being amazed by the violet oceans of lavender fields. Spend your days here playing boules in the Provencal hilltop villages or enjoying a refreshing rosé wine at a bistro whilst sampling some tapenade (olive paste) on a fresh baguette.
During you stay, why not learn a bit about the history of seven different Popes, the British author Peter Mayle and post impressionist artists such as Vincent Van Gogh and Paul Cézanne – all of whom called Provence their home at one point in time.
In the evenings, watch the sunset from the terrace of one of the region's many bistros and embrace the warm breeze, filled with the gentle scents of lavender and olive groves. Stroll through the most beautiful villages in France, such as Roussillon or Gordes - and many others that can be found off the beaten track – and discover the vineyards that produce the exquisite Cote du Rhone wines, including the world-renowned Chateauneuf du Pape.
Map of Provence
The Provencal region is situated in the South of France. Bordered by Marseille and the Camargue in the southern part, Provence spreads north along the Rhône river.
From the Mount Ventoux area in the North, to the famous Roman city of Orange, the Chateauneuf-du-Pape vineyards and Avignon, the region boasts a vast array of delight just waiting to be explored. On the right bank you will find must-sees such as Pont du Gard or Uzès town while the left bank (our personal favourite) is home to much wilder and more dramatic landscapes as well as with the Dentelles de Montmirail and the vineyards surrounding Mont Ventoux.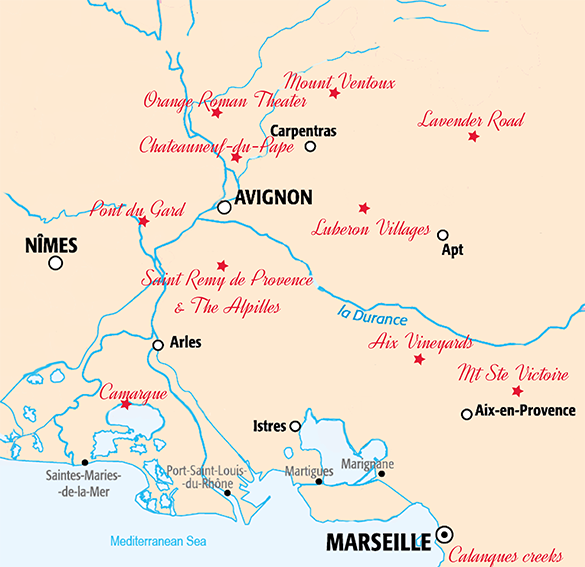 Avignon was and is still today one of the major cities in Provence, its charming streets and the bustling theatre festival that takes place every year attract a lot of visitors. The Palace of the Popes can also be found here and is well worth checking out. 
Following the river to the South is the Rhône river delta, which marks the border of the Alpilles region with Saint Remy de Provence, Les Baux and the olive oil production region. The Western part of the delta is made up of salt marshes, rice paddies and Camargue with its very particular landscapes and culture (with the gypsies in Saintes Maries). Arles is the proud capital of this unique area. Nîmes, its sister city is also worth a visit for its Roman heritage.
East of Avignon, lies the Luberon chain with its lovely hilltop villages and orchards – with some of the most sublime sunsets on the continent. Cross the Luberon chain and you will get to the famous Aix en Provence city. Continue another 20 minutes to the East and you will get to the top of the Sainte Victoire Mount (painted multiple times by Cezanne) and be able to enjoy a superb view over the whole area, right down to the Mediterranean Sea. From "Aix" as locals call it, you are only 30 minutes to the bustling port of Marseille.
Sea lovers, will especially enjoy spending an afternoon at one of the calanques creeks near Cassis - the ones that are more difficult to access are generally less crowded so we will let you decide what appeals to you more.
Getting to Provence
A trip from Paris to Provence only takes a couple of hours on the TGV (High Speed Train). TGV trains are very convenient and depart either from downtown Paris or Paris CDG Airport and take you to central Provence in Avignon, Southern Provence in Aix-en-Provence or Marseille. There are also direct trains to Nice on the French Riviera.
You can also fly in to Marseille (or Nice) International airports from Paris.
Where to stay in Provence?
From luxurious villas to camping sites, there is a wide choice of accommodation in the south of France. Away from the crowds and the tourist hotspots, we have handpicked a range of hotels that will offer you a great night's sleep as well as the chance to experience a more authentic France.
Our selection process is very meticulous: we select comfortable accommodations in spacious mansions, with English-speaking owners so that you can interact with French people as well as other fellow travelers without too much of a language barrier.  Staying at a premium Bed and Breakfast in France is the best way to get to understand French culture and live like a local.

You will fall in love with the cozy and welcoming maison de Provence (Provence house) or mas (traditional Provencal farmhouse) and their friendly owners. 
Things to do in Provence
The Provence region is an explosion of colors and delicious smells that can be discovered by wandering through the farmers' markets, tasting the exquisite Provencal cuisine as you go and admiring the numerous varieties of soaps and traditional pottery made in the South of France.


Roman Ruins
Around the end of the 2nd century BC, the Romans invaded Provence. Over the next centuries, they established dramatic monuments, rebuilt cities and enriched the region. Nowadays, Arles and Nimes are the two most significant remains of the faded Roman glory age. Some of the most noticeable roman ruins that have survived through to modern times are the engineering masterpiece Pont du Gard (an ancient Roman aqueduct), the lovely town of Vaison la romaine, the reputed Théâtre d'Orange (Orange Theater - see picture below) and the Glanum site in Saint Remy de Provence.

However, the Provencal region also has a number of exceptional monuments that are hidden away from the public, such as Le Pont Julien, La Maison Carré in Nîmes or Barbegal aqueduct. We are happy to include these places in your itinerary so you can see some of Provence's hidden gems.


Mediterranean cuisine
The sunny weather of the region allows an abundance of fresh sun-ripened vegetables and fruits to grow. Provence combines the best of Mediterranean cuisine, including spices and seafood, to create a mouth-watering array of dishes. La cuisine du soleil (sun cuisine) is a type of cooking that focuses on fresh ingredients and is renowned for being fantastically healthy (recognized by the Unesco as a world intangible heritage). Farmers' markets are a bouillabaisse of colors, flavors, and a feast for the senses. Omnipresent ingredients in Provencal recipes are the famous Herbs de Provence and olive oil.

Along your travels, you will discover many regional specialties and sites renowned for their production such as Cavaillon, which is famous for melons; St Didier, which produces nougat; Alpilles, home of olives; Venasque, which is surrounded by cherry and almond orchards and Apt, which is known for its candied fruit. You will also get your own personal guidebook, which contains some typical Provencal recipes that you can try out at home. If you would like to take a cooking class while visiting Provence, let us know and we can organise it for you. 
Stroll villages, wander in narrow streets and have a coffee in a terrace
A trip to Provence is simply not complete if you don't take the time to step back, relax and enjoy the "farniente". Relax at your B&B, take a dip in its swimming pool or in have a wander around its quiet garden. You can also sit at a terrace café near the fountain in Luberon's central square and indulge in a spot of people watching.



Farmers markets
Provence - and France in general - is renowned worldwide for its traditional, local farmers' markets. In the Southern France Provencal region, the most famous ones are those in Avignon and Apt. However, we can recommend some smaller, more intimate markets if you're looking to get off the beaten track. Markets only take place in the morning while the products are still fresh, most of the stalls close around noon. You can, however, also find non-perishable goods in the markets, such as Provencal fabrics and tablecloths, Provencal pottery as well as soap and beauty products from the South of France.
For antiques lovers, l'Isle sur la Sorgue holds an antiques market which - even if extremely touristy – shouldn't be missed.



Enjoy dramatic sceneries
There are so many ways to discover the varied landscapes in Provence and we will help you explore the region either by walking through old cities or going on short, easy hikes in the countryside; driving along scenic roads; or by doing something a bit more adventurous like biking or canoeing.



Provencal Pottery and Handicraft
Due to its Roman heritagr, Provence has a long history of making pottery using regional clay. Back in the day, the pottery was used to transport and store merchandise. Nowadays, you can still lay eyes on beautiful faience, a colourful, regional type of Provencal pottery.

The Santons of Provence are miniature characters that are traditionally part of the Christmas crèche (nativity scene). Today, very few artisans still hand-make them.
Many other handicraft products are famous in Provence such as hunting knives, olive wood and the famous Provencal dried lavender. Visitors will also be able to see glass blown products, authentic French soap, Provencal fabrics and more. We can recommend some very nice shops that sell good quality products for a reasonable price.
Wine Tasting in Provence
Provence wines might not be as famous as Bordeaux or Burgundy red wines...but there is a lot of be excited about! From the simple and good table wines from Luberon, towards Rognes in Aix en Provence area...up North with Chateauneuf-du-Pape Côtes du Rhône worldwide famous wineries...all the way East to the Gigondas, Beaumes de Venise rosés or Côtes du Mont Ventoux...

We know the best ways to discover the wines of Provence, which include having a picnic in a local winery; taking a sand buggy tour of the vineyards; spending a day with a French sommelier; or taking a cooking and wine pairing class with an oenologist. Allow us to create a bespoke itinerary based on your interests to help you make the most of Provence.
City Tours & Heritage
The region of Provence comprises several cities, which really deserve a visit. From Aix en Provence with its shops, fountain squares and art galleries to Avignon with its impressive Palace of the Popes, there is beauty around every corner. The Roman cities of Arles, Nîmes and Orange are also incredibly impressive. For those who like to wander, take photos and feel the ambiance of a shady street in the morning sun, this region is perfection. If you want to learn more of the history and culture of these places we personally know a couple of English speaking guides who can fill you with local knowledge.
Truffle Hunting in the Luberon Hills
This experience is perfect for travelers with a taste for the gourmet. For about 2 hours, usually in late afternoon when the heat starts to subside, you will follow a local "trufficulteur" and his dogs and hunt for truffles with the gorgeous Luberon landscape as your backdrop. After that, you will have the chance to sample several appetizers made from Provence truffles. A true delight for the taste buds!

Self guided tours including Provence