Normandy & the Loire Valley Loop
13 days
Normandy & Loire Valley
Wine Tasting
Heritage & History
Sceneries
US$ 3,500
Per traveler, including taxes, based on double occupancy.
Book now
Normandy: Giverny & Bayeux area
Your journey starts in Giverny. This tiny unchanged village takes you back to the 19th century when the great painter Claude Monet created a new art movement: impressionism.Monet's gardens are beautifully maintained exactly as they were when Monet painted them. We include in this itinerary a by-pass ticket that enables you to avoid the lines at Monet's house and gardens. In Giverny we have planned a 2-night-stay in a historical domain from the 13th century which has been beautifully restored, only few minutes' walk to Monet's House & Gardens. This will give you enough time to recover from jetlag and discover the Seine Valley.
The second leg of your journey takes you to peaceful countryside house, located between Bayeux old town and the Landing Beaches. Your hosts travel a lot and we plan for you to enjoy a delicious table d'hôtes dinner with them one night. Spend 3 nights there and jump into the local history: from William the Conqueror in the 11th century whose adventures are illustrated in the Bayeux tapestry, to the Battle of Normandy in 1944. Many remains of the WWII landings are still visible everywhere and you can quickly access Gold and Juno landing beaches as well as the artificial port of Arromanches or the WW Caen Memorial. To help you better understand the events of the Battle of Normandy and bring them to life, we have planned a private guided tour with a specialist in WWII history. You will be shown all the main landing sites and learn in detail about what happened here on D-Day. 
Mont Saint Michel & Eastern Brittany
On your way to the Loire Valley, stop over for 2 nights near Mont Saint Michel: this ancient beautiful abbey sitting on top of a tidal island in the middle of Mont Saint Michel Bay. A true wonder! Stay in a former presbytery from the 18th century, located half-way between the famous town of Mont Saint Michel and the lovely port of Saint Malo. One night, enjoy a delicious dinner prepared by your host who is also a Chef. 
In Cancale area, experience the Breton sailormen's life on board of a nice wooden boat. The Captain will tell you many stories and have you discover the finest local products with a gastronomic aperitive.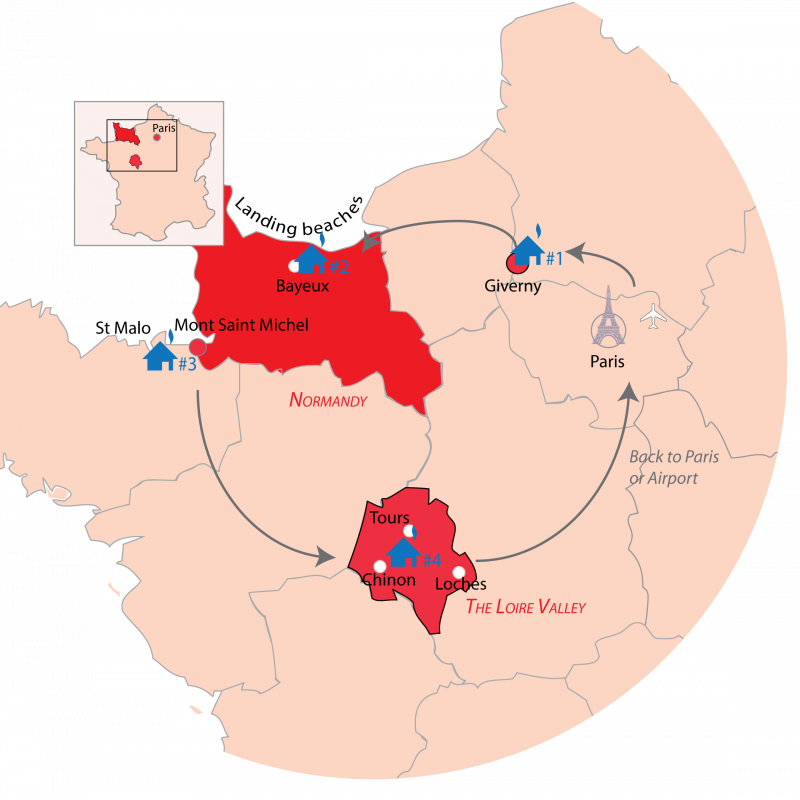 The Loire Valley
The Loire Valley will welcome you with its renowned "sweet life", its Renaissance castles and gardens, and its famous gastronomy and wines. 
You will stay there for 5 nights at Flo & Phil's in their beautifully restored 15th century farmhouse built around a peaceful garden. They know the Loire Valley inside out and can give you off-the-beaten-path addresses and tips on finding places that tourists usually miss. 
From there, discover all the marvels of the Loire Valley: the castles of Chambord, Chenonceau and Azay-le-Rideau, the old cities of Saumur, Chinon and Amboise.
Cruise along the Loire river as a passenger aboard a vintage sidecar : explore the little towns and enjoy the landscapes
History, culture, gastronomy, "the sweet life": this is France!
This itinerary includes
Activities included in this tour