Lyon City Tours
Lyon is an old city which was founded by the Romans in 43 BC. Now the France's third largest city is famous for rich history, world-famous cuisine and impressive architecture.
Lyon is an easy city to explore on foot. Like Paris, Lyon is divided into nine arrondissements. Each one has its own identity and vibe, making exploring Lyon very diverse and fun. The Renaissance architecture of old Lyon, the heart of Lyon surrounding the Place Bellecour, the lively neighborhood around the Place des Terreaux, the Croix-Rousse with the locals shopping in little markets, the newly-developed contemporary Confluence district . . .
And of course, the food! It is not a surprise that France's most famous chef, Paul Bocuse, was born and based here!
How to Get to Lyon
A nice stop between Burgundy & Provence
Lyon is perfectly located for a stop between Burgundy (2hr drive from Dijon) and Provence (2hr30 drive to Avignon).
If you want to drive from Paris to Lyon, it is about 4hrs30 and in this case, better to take a train.
Getting to Lyon by Train
Lyon is a 2hr high-speed train ride from Paris, there are several direct connections per day from downtown Paris, as well as to Paris CDG Airport.
There are 2 main train stations in Lyon: Lyon Part-Dieu and Lyon Perrache. You should be very careful if you connect in Lyon to do it in the same station. We handle these details for our travelers. 
The History of Lyon
It is believed that Lyon was first inhabited over 40,000 years ago. But the city we know today started with the arrival of the Romans who, wanting to conquer Gaul, saw Lyon as the ideal site. Multiple vestiges from this period remain on Fourvière Hill and in the Croix Rousse. We can help you discover more about the history on a self-guided walking tour of Lyon's old town.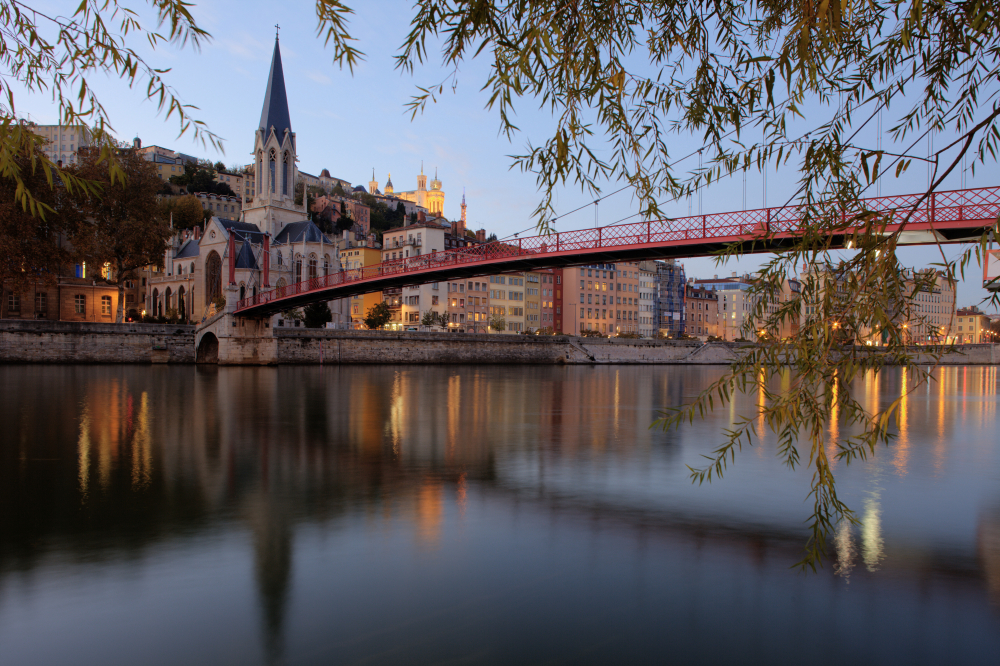 Fourvière Hill from the river - ©T.Deschamps - OT Lyon
Lyon - during the Renaissance
During the Renaissance, Lyon became an important trade center. Merchants and bankers from Italy came, building beautiful houses in the "Vieux Lyon" that still exist today. Printing and silk-making became important industries. The "Canuts" silk workers created passageways for carrying the products down to the river and not get rained on. These "traboules" still exist, and were used by the French Resistance during WWII to quickly and secretly get around the city.
Lyon - during World War II
During WWII, Lyon was one of the main sites of the Resistance movement (Jean Moulin operated here), as well as a stronghold for the SS (Klaus Barbie's headquarters were in Lyon). The Resistance and Deportation History Center is located in the buildings occupied by Barbie and is an important site serving the memory of this time.
Lyon - constantly moving
The Lumières brothers who lived in Lyon invented the cinema in the 1890s. Since then, the city has constantly developed with great modernity. Jean Nouvel designed the opera house in 1990, the banks of the Rhone river were refurbished in the mid-2000s, and the new Confluence district has regenerated the southern Presqu'île with contemporary architecture and sustainable development.
There is so much to discover when it comes to tours and sightseeing in Lyon. In your France Just For You guidebook, we'll recommend the most popular places to visit on Lyon city tours (based on your interests). We'll also suggest some hidden gems that other tourists don't know about.
The Food, oh the Food!
Lyon is the gastronomical capital of the top gastronomical country in the world! Tummies get ready, and let the adventure begin!
The city is surrounded by areas provided top quality products : meats from the Monts du Lyonnais and the Dombes, fish from Savoy, chicken from Bresse, wines from the Rhone valley and the Beaujolais, and tons of local cheese. All of these are on display at the numerous outside markets or at the famous Les Halles indoor market - a great place to enjoy food and wine tasting in Lyon. The markets are a must-see on a Lyon self guided walking tour.
Here are some self-drive trip ideas for gourmet travelers.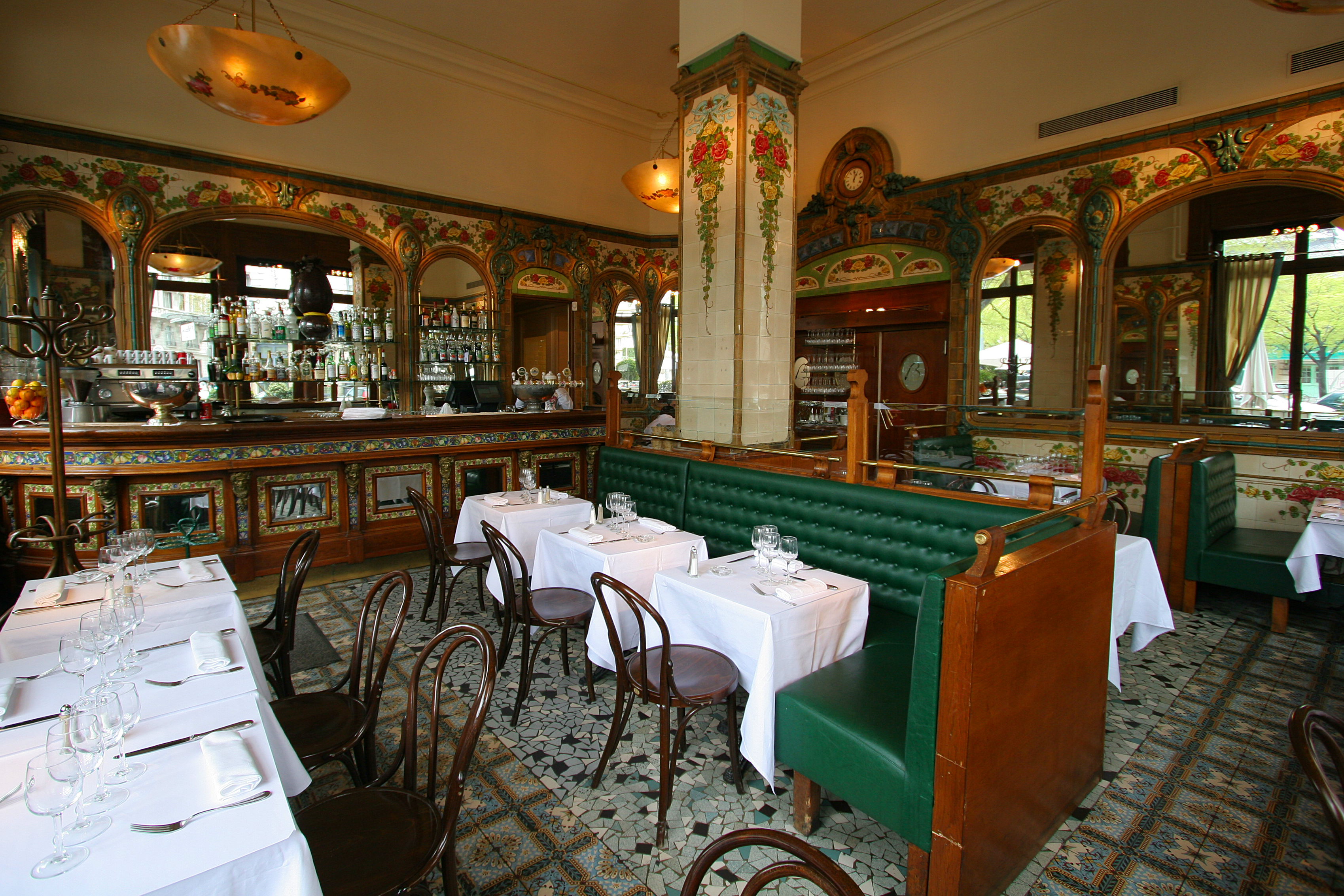 Typical Bouchon Lyonnais brasserie restaurant - ©OT Lyon
Some of the specialties that should not be missed (and this is only a small sample. . .), be it either in a typical bouchon restaurant or at a Michelin starred establishment:
Quenelles : a pike dumpling soufflé often covered in Nantua sauce made with crayfish from nearby Nantua lake, then baked in the oven
Saucisson brioche: a sausage made with pistachios and surrounded by a soft brioche
Salade lyonnaise : you will be surprised as to how delicious a simple salad can be (frisée lettuce, lardons, croutons and a poached egg)
For the more adventurous, the Tablier de sapeur : cooked beef tripe, marinated in white wine, then covered in breadcrumbs and fried. It is usually served with steamed potatoes and sauce gribiche, made from hard-boiled eggs, mustard and chives.
Cheese : creamy Saint Marcellin and St Félicien, the Cervelle des canuts (fromage blanc seasoned with herbs, shallots, olive oil and vinegar usually served as a starter), and the Arôme de Lyon (dried cow's milk cheese that is macerated in wine for 3 weeks, with the grapes encrusting the final product)
Sweets: Coussin de Lyon (from Voisin chocolate shop) and the Tarte à la Praline (a cream tart covered in delicious pink pralines)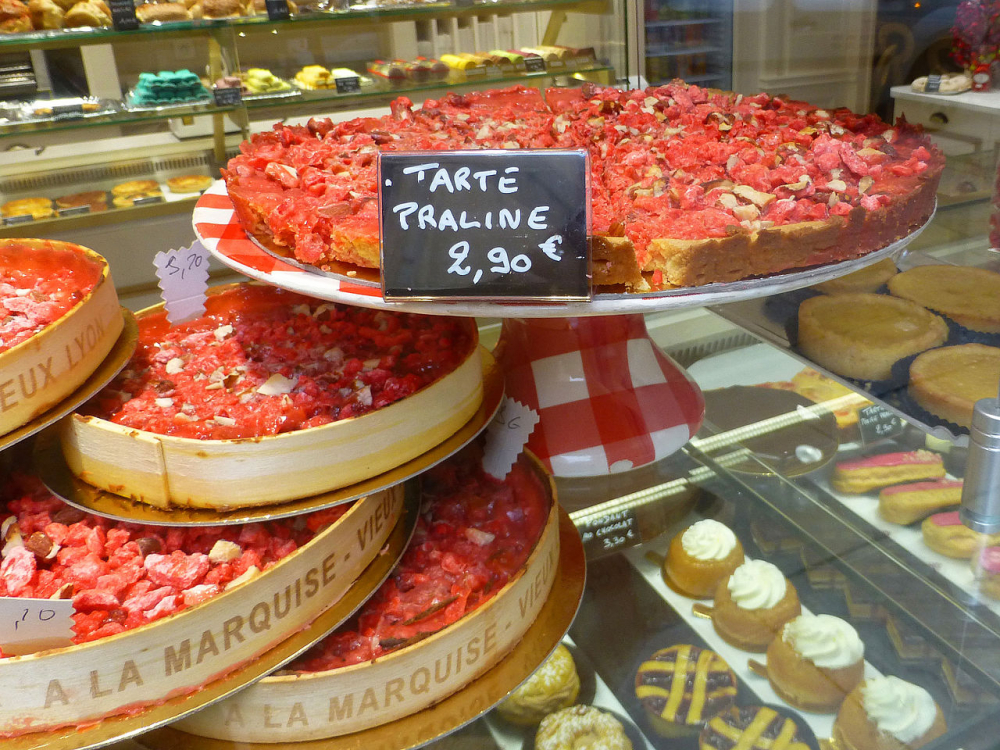 Tarte à la Praline - ©Ji-Elle, CC BY-SA 4.0 - Wikimedia Commons
Where to stay in Lyon
As with Paris, to optimize your stay, we recommend staying in the heart of Lyon, on its "presqu'île". We have selected boutique-hotels very central that will enable you to easily explore and make the most of your time in "the other city of lights".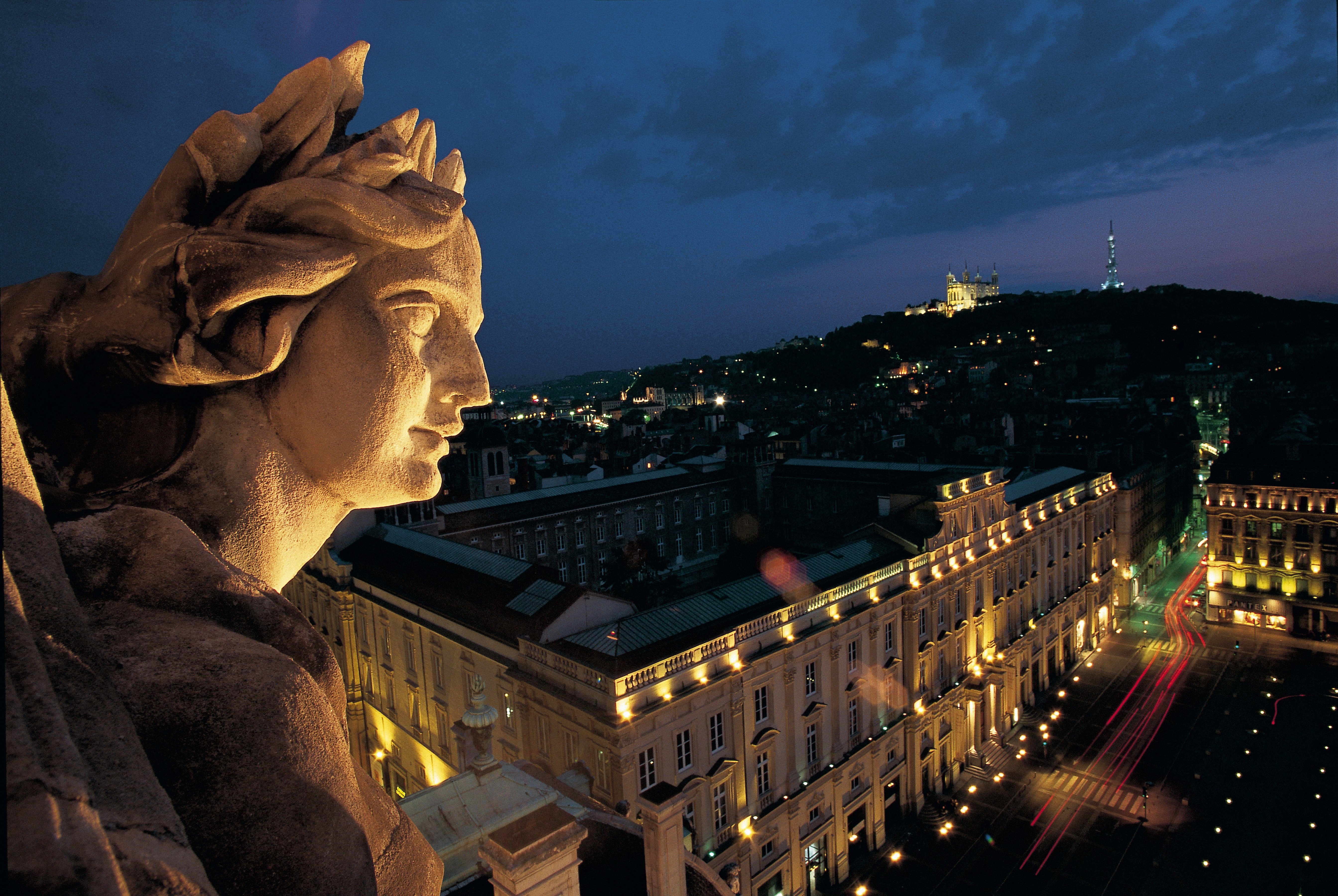 Staying in the very heart of Lyon is the best way to make the most of your stay - ©T.Deschamps - OT Lyon