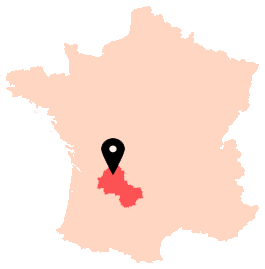 Dordogne: Heritage & Nature
From the rugged limestone plateaux down to the luxuriant valleys, Perigord and neighbouring Quercy are lands of contrasts.
Nestled around its 3 rivers: Dordogne, Lot and Vezere ; this region takes you through history from prehistoric times to medieval and renaissance most glorious periods.
Taste authentic duck and goose food, walk through middle-ages bastide-towns and discover the beauty of the countryside and its countless caves. With all these attractions, Dordogne sums up very well everything you will see, taste and experience anywhere in France.
How to Get to the Dordogne
While it is possible to get a train from Paris to Dordogne, it is far from the most desirable option. There are no TGV trains straight to Périgueux so journeys from Paris often take between 4.5 and 5.5 hours. A better alternative is to get the TGV high speed train down to Bordeaux and then we'll hire a car from there. If you don't need to go to Paris at all, fly directly in to Bordeaux or Toulouse and hire the car from there – you will be at a 2 to 3 hour drive from Dordogne, with a lot to see along the way.
If you decide to drive to the Dordogne then be sure to have someone in the passenger seat who knows how to handle a camera as you will be cruising past some of the most breath-taking scenery in the world. The drive from Paris to the Dordogne takes a little over 5 hours but we will plan for you to stop over in the Loire Valley and this is well worth it for the sights you can spot along the way. Stop off in a little village somewhere en route for lunch and a coffee and those hours will simply fly by.

Make your own savory picnic lunch from one of Dordogne farmers markets
The Caves of the Dordogne
The Dordogne has a lot going for it, with its abundance of gorgeous architecture and natural beauty, but even more spectacular than all of this is its collection of mysterious, prehistoric caves. Filled with images that are believed to have been drawn or painted over 12,000 to 20,000 years ago, the caves have become one of the most fascinating attractions in the country.
While many of the caves are closed to the public for conversation purposes, there are a number of them that can be visited, most will only accept a limited number of visitors per day. For instance, Font de Gaume only allows a very small number of travelers to enter each day. It is also likely to be closed within the next 5 to 10 years in order to preserve the drawings. With this in mind, it is worth doing everything you can to try and catch a glimpse of the wonders that reside within these grottoes before they are cordoned off from the public forever. It usually requires to be book about 8 months in advance and we will do our best to get your tickets.
We are well acquainted with the caves of the Dordogne and are happy to recommend a mixture of some more popular caves and chasms such as Lascaux or Padirac along with a few that are less frequently visited by tourists...our favorites. This way you will get a taste of this incredible part of our history.

These bisons were drawn about 12,000 to 15,000 years ago
The Dordogne's Medieval Fortresses
For those of you who would rather spend your holiday visiting the sights and sounds of the Dordogne that sit above ground, this region boasts an astonishing number of castles, chateaux and fortresses, dating as far back as the medieval era.
The Dordogne is known as being the region of a thousand castles and while that sounds impressive, it probably isn't an exaggeration (we haven't counted them all but there are a LOT!) Unfortunately, many of them are not open to the public but those that are, are well worth seeing, such as Castelnaud la Chapelle, Beynac or les Milandes once owned by Josephine Baker. These can be toured on foot or seen from the unique vantage point of the Dordogne River. We are happy to organise canoe trips or excursions on a comfortable gabarre boat – depending on your preference.
Walking through the majestic halls and climbing the magnificent staircases of these chateaux transports you back hundreds of years to when the feudal system reigned supreme.

Gorgeous view over the Dordogne Valley & Castelnaud medieval fortress
The Dordogne's Gardens
While the castles that pepper this region are certainly a wonder to behold, some of the most beautiful parts of the Dordogne can be found outside. The hanging gardens of Marqueyssac are the very definition of a sight for sore eyes and plenty of peaceful hours can be spent wandering through its leafy avenues. If you decide to visit in the summer, you can take advantage of its candlelit Thursday nights.
Not only are the gardens themselves spectacular, but from certain points in the walking routes visitors will be treated to outstanding views of the Dordogne region and its chalky cliffs.
Of course, Marqueyssac is not the only garden tourists can visit. The Eyrignac Gardens are another example of the great outdoors, sculpted and manicured to perfection. The entire complex consists of 7 different gardens, each with its own charm and delights. Spend your time admiring the staggering hedge sculptures, exploring the gardens around the Chinese pagoda and discovering the various herbs and spices in the Kitchen Garden. If the sun is shining and the sky is blue, there is nowhere on earth better to be than one of the Dordogne's stunning gardens.
Mouth-Watering Local Produce
When it comes to cuisine, the Dordogne ranks pretty high on the list of the best regions in the world. There is a huge array of local produce that can be sourced at one of the many farmers' markets that take place every day of the week in different towns. Take your time wandering through the market, stopping at as many stalls as you like to try a sample of what they have on offer. We guarantee you will leave laden down with delicious treats.
Of particular note in this region is cabécou goat's cheese, foie gras, duck confit, walnut cake and a special dish known as pomme de terres sarladaises, which consists of three ingredients: potatoes, garlic and goose fat. Simple yet satisfying. You can also find plenty of truffles in this region along with products that have used this luxurious product as a base like truffle oil. If you have a taste for the gourmet then let us know and we can organise a fantastic day out, hunting for truffles and sampling truffle-based goods.

Go truffle hunting in Dordogne with a local producer
Authenticity Without Equal
It is well known throughout France that this region has the highest concentration of the "most beautiful villages" in the country: from Sarlat to Saint Amand de Coly...from Rocamadour to Martel. Visitors to the Dordogne can relish in their alluring ambiance as they stroll along their cobbled streets, stopping for a pastry in one of the quaint cafés and sitting outside as they feast on their treat and watch the world go by at its slow, provincial pace.
While we know the wonder and enchantment of the Dordogne, this marvelous region has not gained very much international recognition. This is a blessing in disguise for visitors as it means they won't have to vie for space with hundreds of other people or be disappointed as the atmosphere is ruined by an influx of tourists.
The Dordogne looks like it has been pulled straight from the pages of a fairytale. Thick swathes of green fringe the glistening river that runs through the region, speckled with stunning chateaux that stand proudly before hidden caves.
A favorite getaway for both tourists and French holidaymakers, the Dordogne holds enough beauty and charm to enthrall even the most reluctant visitor – so what are you waiting for?
See a short movie made by Mary & Charles who traveled with us
Self Guided tours including Dordogne region