The Basque Country: Beaches & Mountains
The Basque Country (called Euskadi in the Basque language, and in French Pays Basque) spreads from southwestern France into northern Spain. As well as having its own language, it also has a unique climate and a very distinct cultural identity. We think our travelers will be enchanted with this region!
The French Basque Country is unlike the rest of France. The Basque people (who call themselves euskaldunak) are very proud of their history and heritage. Although people in the French Basque country can speak French, many people also speak Euskara. On our Basque Country tours, we'll help you discover this wonderful and unique culture - and give you plenty of opportunities to interact with the locals.
Basque Country Geography
A beacon of beauty, the Basque Region captivates all who visit. Every landscape is like a postcard, from the dramatic cliffs to the sandy beaches of the Bay of Biscay. In just one hour you can go from the foothills of the Pyrenees Mountains to the Atlantic Coastline. The Basque coast gets some strong waves, making it a popular spot for surifing and other watersports. Biarritz, Hendaye, Anglet, Saint-Jean-de-Luz and Ciboure are among the most famous surf beaches in France.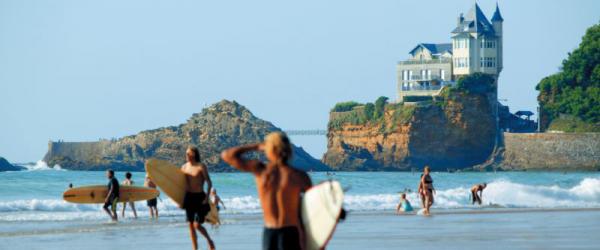 Surfers on Biarritz beach - surfing is part of the Basque culture
Straddling the Franco-Spanish border, the widest part of the Basque country lies on the Spanish side, including the Pais Vasco and Navarre. Most of the places in our self-drive tours will be in the French Basque Country or close to the French border. A stay in the French Basque country therefore allows you to tour the entire region, from Bayonne to San Sebastian.
From the area of St Jean-de-Luz, you are less than 30 minutes by car from the beautiful seaside town of San Sebastian. This town is famous for its promenade, which is home to numerous gourmet restaurants and high-end boutiques.
With regards to climate, the Basque Country is a mixture of sunshine and rain, which is why the vegetation here is always such a lush, vivid green. You'll need to bring a hat, sun cream and a waterproof jacket on any excursions you do.
Getting to the Basque Country
The main stations on the French side of the Basque Country are Biarritz and Saint Jean de Luz. Both of these stations are accessible via TGV from Bordeaux and taking between 2 and 2.5 hours. There is also a small airport in Biarritz, which sees a few seasonal international flights. For a more reliable connection, it is better to fly in to Bordeaux or Toulouse and then travel by car.
We are sure that once you have finished in the Basque Country, you will want to see more of France. Why not consider adding Dordogne, Bordeaux or Carcassonne to your itinerary? These are all less than a half-day drive from the Pays Basque.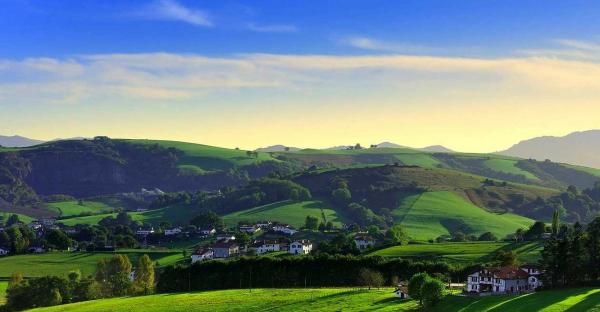 Basque Country Landscapes
Basque Culture and traditions
The Basque cultural identity is very distinct and on our tours you'll learn more about the Basque customs and traditions. The first notable feature of the Basque Country is its language, Euskara. Although stretches across the Franco-Spanish border, Euskara bears no similarity to French or Spanish. In fact, it bears no proven relation to any other language, and as such is Europe's only language isolate. There were fears of the language dying out but conservation efforts have increased language use through extra teaching in schools. Unlike other parts of France, English is not widely spoken in the Basque Country. It will therefore be a good opportunity to practice your French and Spanish. That said, all of our B&B hosts speak conversational English.
Another interesting feature of Basque cultures is its plethora of colorful festivals. Both religious festivals and other festivals include plenty of music, dancing, singing, force basque and pelote basque games. These are a wonderful way to experience Basque culture if you are in the area when there's a festival.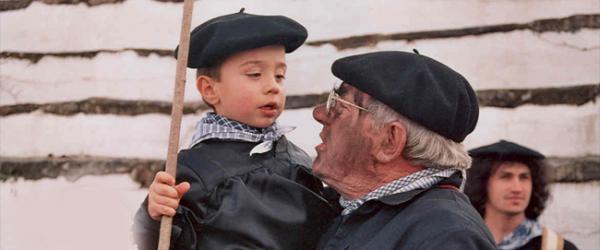 Traditional Basque Beret
If you would like to learn more about Basque culture and traditions, we recommend the Basque Museum in San Sebastian. The museum has thousands of artefacts dating back millennia, showing how the Basque people's daily life has evolved.
The Basque Cuisine
If you consider yourself a foodie then you're in for a real treat when you visit the Basque Country. This region has an exceptionally high concentration of restaurants with Michelin stars, making it a truly gourmet destination. The local gastronomy of the Basque Country is a combination of French and Spanish dishes, including pintxos (tapas).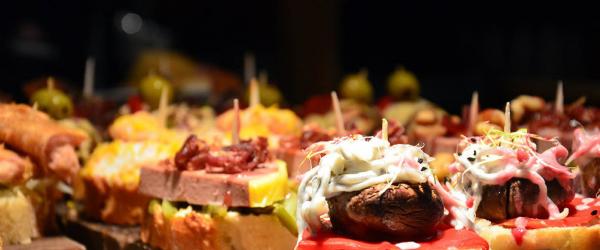 Traditional Pintxos (Tapas) you enjoy with a glass of wine in bars
You will soon discover that the food served in Basque restaurants is mouth-watering. This is partly thanks to the Basque Country's fantastic markets and local food stores. Local produce includes pork from the Aldudes Valley, Ossau-Iraty sheep cheese and Espelette peppers used in the delicious Piperade recipe. 
The Basque region even has its very own wine with a small appellation called Irouléguy. The micro-climate in the Basque Country produces grapes that result in a rather characteristic wine.  We warmly recommend trying a glass or two on your trip. We will tell you the best places to go for Basque wine-tastings in the area.
Typical Basque Villages
San Sebastian is incredible, but we want to give you an insight into Basque culture away from the tourist crowds. A day trip to one of its beautiful villages is a wonderful way to experience it. Espelette is one of the most well-known villages, due to its famed peppers.The houses here are built in the traditional Basque style and the streets are lined with boutiques and artisanal markets selling homemade chocolates, among other delights.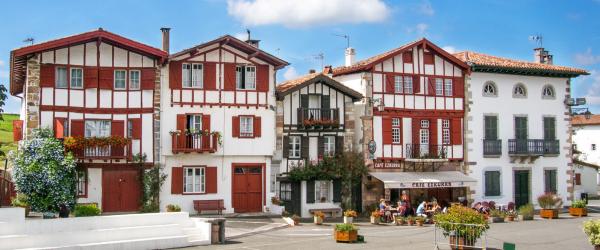 Basque houses in Ainhoa 
Saint-Jean-de-Luz is another village worth visiting if only for its beautiful beach. This golden, sandy beach is centrally located and perfect for enjoying the sun and the gentle sound of the sea. Golf fans will be pleased to know that this region is one of the best in France for golf. There are various courses within close proximity of Saint-Jean-de-Luz which we can recommend.
Around 40km (30 miles) east of Saint-Jean-de-Luz is Saint-Jean-Pied-de-Port. This town is historically significant because it's a strategic point on the Camino de Santiago de Compostella pilgrimage route. The town is relatively quiet and specializes in catering to the pilgrims who pass through.
We will also take our travelers off the beaten track to lovely villages they would not find on their own. Some examples include Sare and Zugarramurdi, which are in breath-taking valleys away from the main tourism routes. You will see some beautiful traditional architecture and magnificent decorative facades. We're confident that you will love these villages as much as we do.
Handicrafts from Pays Basque
Do you want to take some unique souvenirs home with you after your trip through France? The Basque Country has you covered.
There is a strong weaving tradition in Euskadi and a popular gift to take home is a pair of authentic Basque sandals or some traditional household linen. You will even get to visit the workshop where they are made.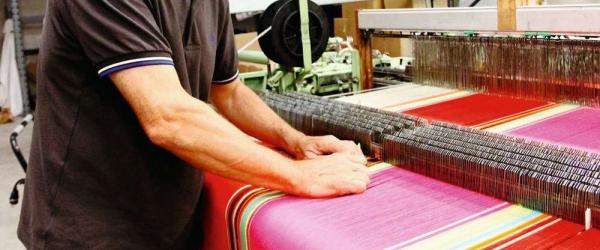 Traditional household linen fabric
Alternatively, there are a number of other local traditional handicraft places that open their doors to travellers and help you to better understand the way they work and their history.
Products available in these boutiques include include leather goods, ceramics, pottery, cutlery and food of course. Buying a traditional product in the Basque Region allows you to take a part of this fascinating region home with you, together with great memories from France.
Where to Stay in the Basque Country
Whether you like cities or the countryside, we will plan for what suits you best. If you wish to stay in a bigger town, Saint Jean de Luz is without a doubt, your best bet. Now, during the very high season, it is impossible to park and drive around.
For those who like the quietness of the countryside, we have selected several welcoming B&Bs where you will feel at home and appreciate the calm after a busy day visiting.
FAQ about the Basque Country
What are the 7 Basque provinces?
Ninety percent of the Basque population lives in the four Spanish provinces of  Araba (Álava), Bizkaia (Biscay), Gipuzkoa, and Nafarroa (Upper Navarre). The rest lives in the three French provinces of Lapurdi (Labourd), Nafarroa Beherea (Lower Navarre), and Zuberoa (Soule).
What is the Basque region best known for?
The Basque region is famous for having its own Basque language (Euskara, which many Basque people speak). The Basque Country also has a unique climate due to its position between the Pyrenees mountains and the Atlantic coast. There are many wonderful hiking and photography opportunities in the Pyrenees with its stunning landscapes and panoramic views across to the ocean. There's a fantastic surfing scene on the beaches of the Basque Country, near Biarritz. The region is also well-known for its delicious Basque cuisine and its distinct cultural identity, which you may observe especially in the Basque villages. The Basque architecture is also very distinct.
What is typical French Basque food?
We have written about typical Basque cuisine on our blog - click through to find out more! Some of our favorite dishes include pintxos (pieces of bread loads with delicious ingredients) and Basque fish stew! The Basque Country also has its own unique cheese, ham, black cherry jam and Irouléguy wine.
How do you travel around the Basque Country?
We think the best way to explore the Basque Country is by car. That way you can travel at your own pace, spend extra time in the places you really like, and discover hidden gems away from the well worn tourist trail!