Chateaux of the Loire & Norman History
10 days
Loire Valley & Normandy
Heritage & History
Sceneries
US$ 2,920
Per traveler, including taxes, based on double occupancy.
Book now
From the Loire Valley castles, to the famous Mount Saint Michel village surrounded by waters, the landings beaches and the Norman hinterland…to end the trip at Monet's house in Giverny: you'll have to keep your eyes wide open!
The Loire Valley
You can pick up the rental car in Paris or at the airport and drive 3 hours to the gorgeous Loire Valley. This region and its people will welcome you with its renowned "sweet life", its Renaissance castles and gardens, and its famous gastronomy and wines. You will stay for 3 nights in a very pleasant family house which is located half-day between Blois and Amboise, in the heart of the castles' country. Also a Michelin 2-star restaurant is only 1.5 mile away....a great occasion to plan for an extraordinary dinner !
From there, explore all the marvels of the Loire Valley: the castles of Chambord, Chenonceau or Azay-le-Rideau, the old cities of Chinon and Amboise. Discover the vineyards of the Loire Valley with Vincent who has worked in wine-making for the past 10 years and will take you to his favorite wineries in the area. You will have the opportunity to taste very different wines: red, whites, still or sparkling. You will be able to drink to your heart's delight - Vincent will drive you back to your B&B safely.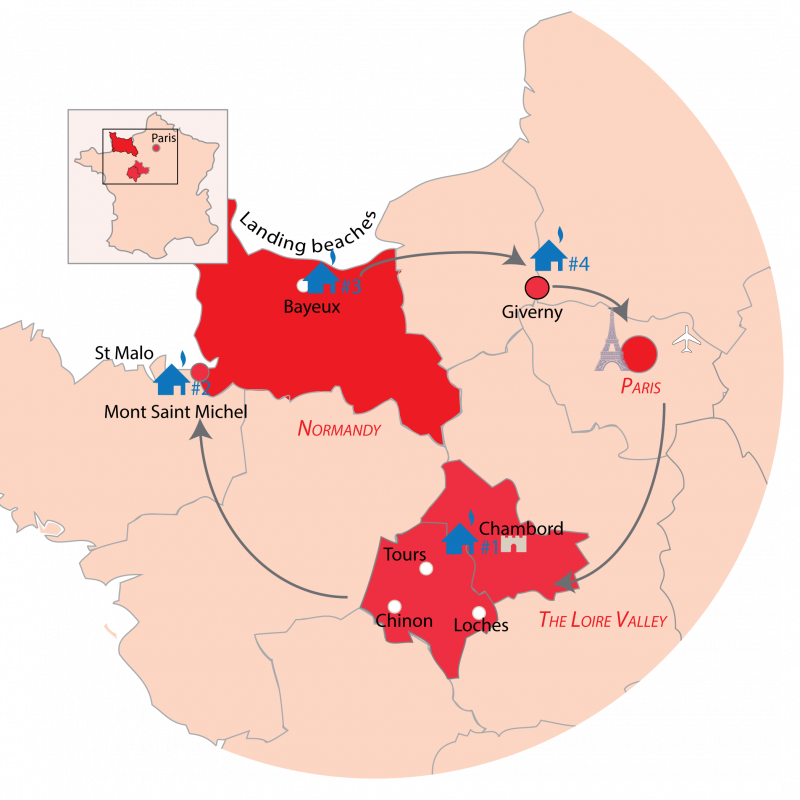 NORMANDY
On your way to Normandy, stop over for 2 nights near Mont Saint Michel: this ancient beautiful abbey sitting on top of a tidal island in the middle of Mont Saint Michel Bay. A true wonder! You'll spend the next two nights  in a former presbytery from the 18th century, located half-way between the famous town of Mont Saint Michel and the lovely port of Saint Malo. One night, enjoy a delicious dinner prepared by your host who is also a Chef. 
For you to avoid the "up and down walk" on the crowded street on Mont Saint Michel, you'll follow a local English speaking private guide who will help you discover this amazing village off the beaten path. 
Located 2 miles from Bayeux, in a peaceful countryside, your third Bed & Breakfast is a beautifully restored water mill where you will be warmly welcomed by your French Hostess. Spend 2 nights there and jump into the local history: from William the Conqueror in the 11th century whose adventures are illustrated in the Bayeux tapestry, to the Battle of Normandy in 1944. Many remains of the WWII landings are still visible everywhere and you can quickly access Omaha and Juno landing beaches as well as the artificial port of Arromanches or the WW Caen Memorial.
Your journey ends in Giverny, 1 hour drive to Paris-CDG airport. This tiny unchanged village takes you back to the 19th century when the great painter Claude Monet created a new art movement: impressionism. Monet's gardens are beautifully maintained exactly as they were when Monet painted them. We include in this itinerary a by-pass ticket that enables you to skip the lines at Monet's house and gardens. In Giverny we have planned for a 2-night-stay in a gorgeous mansion, 2 miles to Giverny town, in the orchards. This will give you enough time to follow Valerie's advice and discover the Seine Valley, Les Andelys and maybe even Versailles at your own pace.
You'll get a bit of everything you'll be looking for in France: culture, scenic roads, lovely towns, gastronomy & history!
This itinerary includes
Activities included in this tour