Sceneries, Wineries & Castles in the Heart of France
13 days
Burgundy & Loire Valley
Wine Tasting
Villages & Markets
Sceneries
US$ 3,380
Per traveler, including taxes, based on double occupancy.
Book now
Explore thoroughly 2 "very French" regions, both famous for their gastronomy, wines; beautiful landscapes and very rich heritage.
Burgundy, from Dijon to Beaune
From Paris, drive about 3 hours to Beaune, Burgundy where you will spend the first 4 nights of your trip. You will reside 100 meters (yards) from the so-famous Hospices, right next to Beaune ramparts, in a toll-house tastefully restored dating from the Middle Ages when people had to pay to enter the city. Enjoy being able to walk everywhere staying in a quiet house nestled in a cool garden. We'll tell you where to go for the best wine tasting in Beaune. After that, you can savor a traditional Burgundy meal or buy a picnic at the market and take a sunbath it in the park close by.
François, a real passionate, will take you for half a day on a 4-wheel drive to tour around Burgundy vineyards, following itineraries that no other tour can do. You will taste wines directly at the winery and ride over dirt roads in Nuits Saint Georges and Vosne Romanée. François is very friendly and you will feel like a relative he wants to show his favorite places.
Apart from the vineyards, we will show you how to exit the beaten track and discover the authentic and charmful Burgundy. Winding roads leading to tiny timeless villages - some of them "Most Beautiful Villages of France" - will give you a real feel for this region. Discover Beaune, a beautiful medieval town that has been completely preserved from modern constructions. You should definitly be there on market day, the local products are truly delicious. Taste some local cheeses, the "Epoisse" at the cheese factory or uncover the mysteries of the French Kings in Dijon.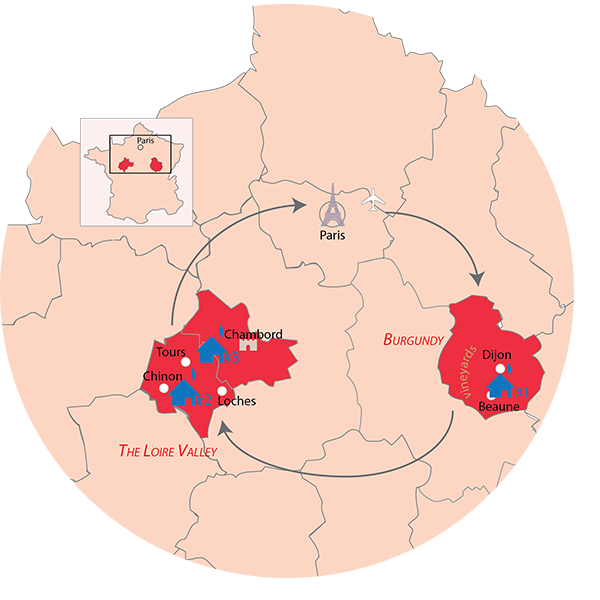 The Loire Valley sweet life
On the 5th day, you will drive 4 hours to the Loire Valley – we will recommend a nice stopover. In the Loire Valley, experience the "sweet life", stopping over in little villages to savor goat cheese or taste wines. Take the time to relax in rose gardens, or to enjoy the traditional cuisine in many small restaurants frequented by the locals.
You will stay for the following 4 nights in the outbuildings of a disappeared monastery dating back to the 14th century. Your charming Hosts know very well this region and will be happy to share some tips with you. One evening, you will share a delicious home-cooked dinner, prepared by Monsieur. Do not miss the aperitif in the underground vaulted cellar!
Located on the south banks of the Vienne River, this charming B&B is within short driving distance of Chinon and Saumur, beautiful, historic cities. Included in this itinerary is a bike rental for a day. You will explore, at your own pace, several villages and castles such as Langeais and Villandry. No worries, the road along the Loire river is totally flat!
For the last 4 nights of your trip, stay in the NE of the Loire region that records all the most famous castles. Located near Amboise and Chenonceau, you will be away from the crowds, in a green valley. At night relax in the lovely garden or having dinner with your hosts and fellow travelers.  We will recommend you how to see the must sees like Chambord castle avoiding the crowds and also recommend some places and restaurants away from the beaten paths.
One day, your hostess will teach you how to cook some regional dishes - which you will then savor around a big table at a convivial dinner. 
Touraine is also famous for its vineyards – Chinon, Bourgueil, Vouvray, Amboise and many more. A local winemaker will take you to her vineyards and explain from the vine growing to the wine making process. She will have you taste her wines from sparkling to still with some local food products. A very French experience!
Onyour last day, you can drive back to Paris (3hrs) ot to CDG airport (3hr30). We will arrange car drop off in the most convenient location based on your next destination. For those who don't want to drive, we can also arrange TGV high speed train. 
Heritage, vineyards, delicious food and markets,
bienvenue en France !
This itinerary includes
Activities included in this tour