Scenic Roads & French Cuisine
13 days
Loire Valley, Bordeaux & Dordogne
Wine Tasting
Villages & Markets
Sceneries
US$ 3,350
Per traveler, including taxes, based on double occupancy.
Book now
Travel through three of the most fascinating regions in France. Let your friendly Hosts introduce you to the French "sweet life" in their charming B&Bs.
The Loire Valley
If you start from Paris drive 3 hours to the Loire Valley where you will spend the first 4 nights of your journey in a lively historical town. Your B&B is right at the foot of the medieval fortress where one day, Joan of Arc met the future King of France. From this B&B, you will enjoy walk to restaurants, wine bars or enjoy a romantic picnic on the river banks.
 You will visit some of the Loire famous castles such as Chambord or Chenonceau but we will also take you to hidden beauties you would not find on your own. You willwander off the beaten path into tiny villages stretched along the Vienne and Loire rivers and get a taste of French gastronomy in restaurants and local markets we have tested for you. 

Discover the vineyards of the Loire Valley with Vincent, a real passionate who will take you, like a friend would do, to several wineries and have you love the Touraine terroirs and its winemakers. Taste very different wines: red, whites, still or sparkling...No worries, Vincent will safely drive you back to your B&B.
Bordeaux region
Carry on your tour in Bordeaux city for 3 nights, in a typical house in the very heart of Bordeaux Unesco city. You will be welcomed by a family, in a peaceful atmosphere.
Built along the banks of the Garonne river, the opulent merchants' homes are very specific to Bordeaux. The rise of colonial trade together with the growth of the wine industry contributed to Gironde's amazing expansion during the 18th century. You will find everything you need: from villages nestled into the Medoc or St Emilion vineyards, to the bustling night life in Bordeaux. Also, bear in mind that Bordeaux's Sainte Catherine Street is the longest shopping street in Europe!
In a famous wine estate, we have planned a special tour for you: after visiting the estate from the cellars, to the vats, passing by the vineyards to understand the different grape variety, you will play the sorcerer's apprentice and make your own Bordeaux wine (your own blend). You'll see that it's not that easy!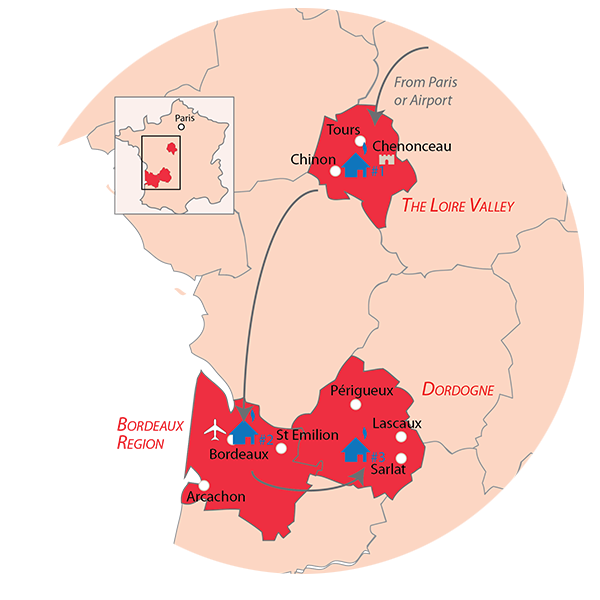 Dordogne
Drive about 2hr30 and continue your sightseeing expedition in the Dordogne region. In Black Perigord you will stay in an old stone Perigord style house for 5 nights. One afternoon, you will enjoy a nice cooking workshop with your hosts - followed by a mouth-watering dinner shared with Nat & her husband and fellow travelers. You are very close to Sarlat and the prehistoric caves and we will be happy to recommend some intimate visits for you, in 20,000 year old caves. If you are interested in history or if you are a JM Auel reader, these are a must!
Visit the old city of Sarlat and feel the buzz of activity on market days. We'll also tell you where to find the most typical goat cheeses - and if you like outdoor activities, you'll be in paradise.
Eventually, you will jump into the middleages history with fortresses hanging on cliffs all along the Dordogne river - one of the most famous castles of the area is only a 30 minute walk from your B&B. Also, 4 of the "most beautiful villages of France" are within a 4 mile drive. 
On your last day, you can return the car in Brive airport, Bordeaux station or airport...or drive to your next destination. 
 Here life is truly "sweet".
This itinerary includes
Activities included in this tour