The Loire Valley & Bordeaux UNESCO sites
13 days
Loire Valley & Bordeaux
Heritage & History
Villages & Markets
US$ 2,980 Per traveler, including taxes, based on double occupancy.
Book now
Uncover every hideaway of the Loire Valley and Bordeaux UNESCO heritage. Taste typical regional food at your Hosts' table and stay at Bed & Breakfasts with unique atmospheres.
The Loire Valley Castles & Gardens
From Paris, drive about 3 hours and spend the first 3 nights in a lovely B&B nestled in a green valley. You are located between Amboise and Chenonceau and will enjoy a warm welcome from your lovely hostess whom is also a great cook. For you to discover the local gastronomy, you will spend a late afternoon cooking with her some Loire recipes - then you will enjoy a convivial dinner at yoru hosts' table. 
From there, explore all the marvels of the Loire Valley: the castles of Chambord and Chenonceau, Chaumont or Villandry gardens and the old city of Amboise. Included in this itinerary is a bike rental for a day. You will explore, at your own pace, several villages and castles such as Langeais and Villandry gardens. No worries, the road along the Loire river is totally flat!
On the 4th day, you will follow the Loire River downstream to your second B&B for 4 nights. Stay in a lively town between Saumur and Tours, across the street from a gorgeous middle ages castle. At night, you can walk to one of the best restaurants of the whole region, relax in the house's patio or at a bistro terrace. Your hosts have restored the house very tastefully and will make you feel at home.
Travel through small villages lost between rolling hills, stop over for wine tastings or to wander about outdoor markets and savor local specialties.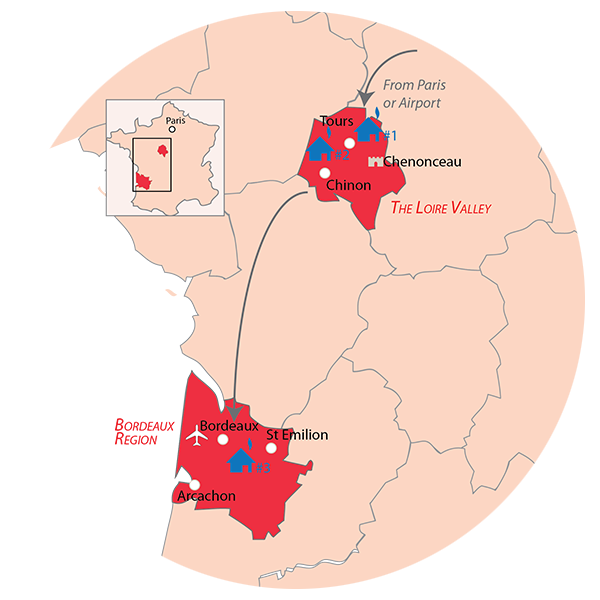 Bordeaux Wines & History
Carry on your tour in the Bordeaux region in a former Wine Estate in the Saint Emilion vineyards for 5 nights. Your hostess will take good care of you, in a peaceful atmosphere. She is an oenologist and will be happy to share her love for wine with you. She can also help you book in last minute some additional wine tasting if you wish to. From there, you are perfectly located to tour the whole region: from Saint Emilion to Bordeaux city, from Medoc vineyards to Arcachon basin. 
In a famous wine estate, we have planned a special private tour for you: after visiting the estate from the cellars, to the vats, passing by the vineyards to understand the different grape variety, you will enjoy a picnic lunch and tasting in a gorgeous setting. 
Built along the banks of the Garonne river the opulent merchants' homes are very specific to Bordeaux. The rise of colonial trade together with the growth of the wine industry contributed to the amazing expansion of the Gironde region during the 18th century. You will find everything you need: from the museums to the bustling night life in Bordeaux. Also, bear in mind that Bordeaux's Sainte Catherine Street is the longest shopping street in Europe!
On your last day you have several options: you can return the rental car in Bordeaux and take a TGV train or a flight to your next destination. You can also return the car in another location/city if you wish to.
This trip promises to be a memorable one!
This itinerary includes
Activities included in this tour