The small hamlet of Chambord proudly sits next to the immense forested estate of Sologne which envelops and hides the largest castle of the Loire Valley.
The Chateau de Chambord is superb and truly a royal construction, imposing by its grandeur and graceful by its architecture.
In our Loire Valley itineraries, we give you the unique opportunity to discover this extravagant castle from every angle possible.
Chambord, le Magnifique !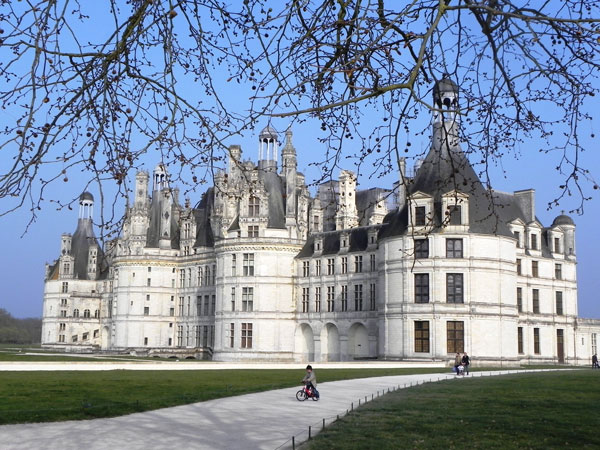 Chambord in winter - ©FJFY
The castle of Chambord comes out of the dreams of a young King, Francois I, to build an immense castle, in an Italian Renaissance style, to show his power and wealth to the entire Europe. Coming back from Italy with Leonardo Da Vinci - that he settled in Le Clos Lucé in Amboise, Francois Ist decided to immortalize himself by building a gigantic chateau representing his passion for architecture and hunting.
Chambord amazing staircase by Leonardo da Vinci
One of the most surprising architectural aspect of the castle is the double helix staircase designed by Leonardo Da Vinci. Its particularity is that it is possible to go up and down the stairs without ever seeing each other.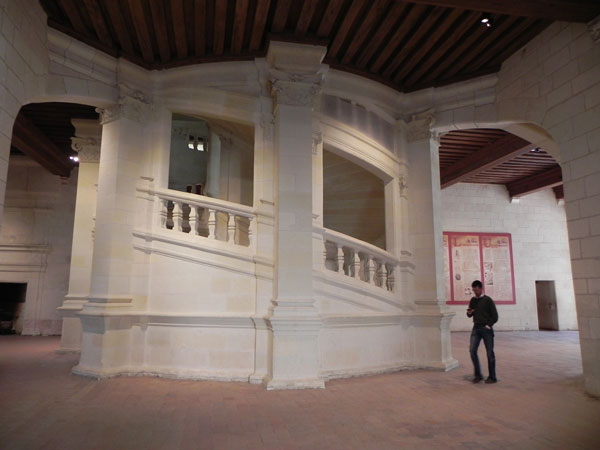 The famous stairs in chambord - ©FJFY
Would you live in Chambord ?
However, this Loire valley castle was unpleasant to live in, almost uninhabitable. It was too big and with an endless number of rooms, stairs and chimneys, the chateau was impossible to heat and you'll feel that if you visit Chambord on a cold day. At that time, the mosquitos would also invade the whole area that used to be marshes.
Over his whole life, Francois I actually only stayed in the Chateau de Chambord for less than 40 days.
Some figures about Chambord castle
- The facades are 156 meters long
- There are 77 stairs in the castle and 282 chimneys ! You can actually get on the roofs to enjoy the views and all the Italian style chimneys
- Not less than 800 sculpted capitals.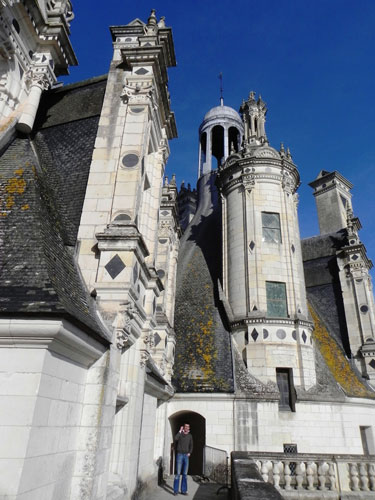 Chambord roofs - ©FJFY
How to enjoy Chambord castle visit
Being the largest and most impressive castle in the Loire valley, you will certainly not be alone in this gigantic monument. From 11am until 4pm it is invaded buy buses coming on day trips from Paris...huge mistake! Don't worry, we will suggest several possibilities so you will enjoy the castle of Chambord without the throngs of tourists.
One of Francois I's passion being la chasse à courre (stag hunting), the Chateau of Chambord is reputed for the hunting parties organized in the surrounding forests. Until President Nicolas Sarkozy abolished the "President Hunting Estates" - which costed a lot to the French taxpayers - Chambord would actually be one of the places French President would come for hunting.
If you wish, we can plan a special visit to see the game: stags, wild boar deers, etc. 
Almost as famous as Chambord is Chenonceau castle in the Loire Valley. The Lady's castle...