Tours of Carcassonne: a medieval city
Our tours of Carcassonne explore the most impressive fortified medieval town in Europe. It is just an hour's drive east from Toulouse in the southern France. This beautiful city is the perfect place for a stopover between the Southwest and the Southeast of France. Carcassonne is also the gateway to Spain with Barcelona just one incredibly scenic TGV ride away.
Historically, the medieval city of Carcassonne is one of France's most important cities. It is situated at the epicenter of numerous historical trade routes. The city has been occupied for over 5,000 years and has been a cultural hub for the past 2,500. In the middle of the 19th century Carcassonne was in such bad repair that it became scheduled for demolition. Fortunately it was saved by the efforts of the local mayor.
How to Get to Carcassonne
If you are coming from abroad, getting to the medieval city of Carcassonne can be a challenge (unless you are coming from Barcelona, in which case you can just get the TGV train). If you are coming from within France then the city is accessible by train or by car.
The closest airport to Carcassonne is Toulouse so this will be the most convenient international airport to fly into. From the airport, you can hop on the 45-minute train from Toulouse Matabiau station to Carcassonne. Alternatively, you can hire a car and drive from Toulouse to Carcassonne, which takes around an hour.
Our self drive tours in Carcassonne are also a great option if you are traveling between the Dordogne and Provence, as Carcassonne is an excellent stopover. Situated almost exactly midway between the two, travellers can spend a day or two in the medieval city of Carcassonne before continuing their journey.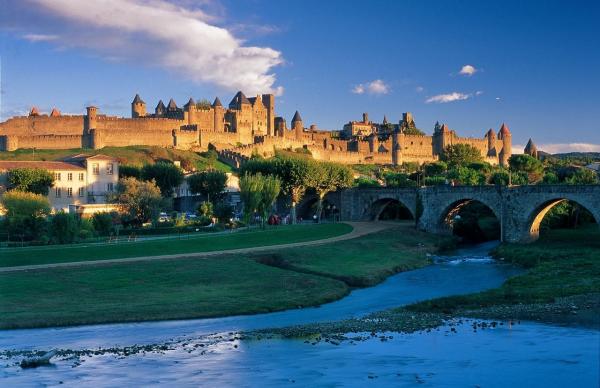 The medieval city of Carcassonne -  ©Paul Palau
The Cathar Country
Sitting at the foot of the dramatic Pyrenees Mountains, not far from the Spanish border, is Cathar Country. Cathar Country, or Pays Cathare, is the region where Cathar history and heritage was most prominent. This area includes Montségur and Carcassonne.
Cathar Country is not just famous for its history – it is one of France's most picturesque regions. Bathed in sunlight, Cathar Country boasts medieval castles hidden behind rugged swathes of natural beauty. You are sure to be left breathless as you explore this part of France. It also offers a romantic setting and we recommend it for wedding anniversary trips or romantic trips.
History of Carcassonne & the Cathar Country
During the 12th century in the South of France, a Christian religion different from Catholicism developed: Catharism. This new belief was based on Christianity but was very critical of Catholicism and spread like wildfire through Occitania. To thwart this new religion, Pope Innocent III decided to start a crusade against the Albigeans. This point in history is responsible for some of the magnificent cliff-hanging fortresses found on the slopes of the Pyrenees.
Take the time while you are here to explore the Perpeytuse and Quéribus fortresses. Sitting atop their own respective mounds, these ruined Cathar castles are staggering in their size and are a must-see.

Quéribus Cathar cliff-hanging fortress - ©Cucugan
Of course, if you're really keen on fortresses then your first port of call should be the Carcassonne fortress, including Carcassonne castle and ramparts. This is the largest fortified medieval city in Europe and never fails to impress travelers visiting Carcassonne. We will include an interesting self-guided walking tour of Carcassonne in your Carcassonne itinerary. This will show you the most important parts of the fortress and share key facts about it. 
The earliest version of the fort dates back to around 500 BC. However, Carcassonne fortress has had a lot of work done since then. The city was most notably restored in 1853 by Eugène Viollet-le-Duc, and later added to the UNESCO World Heritage Sites list in 1997.
Day Trips from Carcassonne
Whilst in Carcassonne, we warmly recommend a day trip to Lourdes, which is less than 3 hours' drive away. Lourdes is one of the most popular Catholic sites on the planet. It receives around 6 million tourists and religious pilgrims every year.
Vineyards of the Minervois
If you're interested in Carcassonne vineyard tours, another fantastic day trip from the medieval city of Carcassonne is a visit to the vineyards of the Minervois. Drive for an hour through beautiful rural France and reward yourself at the end with a glass of world-class wine. Just make sure you have someone else to drive you home!
If you are interested in history, visit the oldest man ever found in France at the Tautavel Museum of Prehistory.
On the way to Tautavel you could stop in at Narbonne and explore the city's stunning old town.
One final day trip option is to head to France's Côte d'Argent (Silver Coast). Here sand meets sea and the whole thing is drenched in sunlight. Be sure to check out the quaint towns of Collioure, Banyuls sur Mer and Port Vendres. To us, you'll find some of the nicest beaches in France.

Collioure on the Côte d'Argent 
Where to Stay in Carcassonne
The great thing about Carcassonne is that it is just as impressive by night as it is by day. For this reason, we have selected accommodation along the walls of the medieval fortress for travelers on our Carcassonne tours. Here you are perfectly positioned to make the most of the city. We always work with premium B&Bs - Chambres d'Hôtes in French - but we only share their names with our travelers. This way they remain hidden gems!
If you would rather stay in the countryside, we have a range of properties along the Canal du Midi. This option offers guests ultimate tranquility and the chance to do some wine tasting with their host.
During the Carcassonne Festival in July month, the city gets really busy and lively.
It is impossible not to fall in love with Carcassonne's medieval charm. Travel back centuries with every step you take and witness the history that reveals itself around every corner. Our self guided tour of Carcassonne will allow you to enjoy the best of this region at your own pace.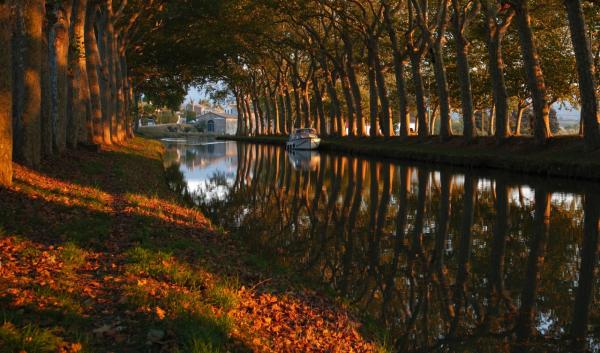 Canal du Midi in Carcassonne - ©Paul Palau
FAQs about Carcassonne
What food is Carcassonne famous for?
When you're visiting Carcassonne, be sure to try cassoulet, a rich, delicious, slow-cooked stew. Foie gras is also popular, as well as foies secs (pork liver). You can also enjoy some very fine wine from the vineyards of the Minervois.
How many days should I spend in Carcassonne?
On our Carcassonne tours, we normally have our travelers spend 2-3 nights in the medieval city of Carcassonne. This gives you enough time to explore the walled city of Carcassonne, and some of the gorgeous surrounding countryside and places of interest, including the Cathar Country.
Was Robin Hood filmed at Carcassonne?
Some scenes from Robin Hood included the walls and towers of the medieval city of Carcassonne for the portrayal of Nottingham and its castle.