Burgundy - from Dijon to Beaune
Burgundy, what an evocative name! Famous for its Pinot Noir and Chardonnay wines, Burgundy houses some of the most celebrated vineyards in the world. Pommard, Meursault, Vosne-Romanée or Nuits Saint Georges are renowned for being among the best wines in the world.
But Burgundy is much more than wine. Cities such as Dijon and Beaune definitely deserve a visit. In Beaune we will make sure that you don't miss the Hospices and have some time for a stroll through the old medieval town.
It is also a beautiful region with stunning countryside landscapes dotted with tiny villages, some of them "Plus Beaux Villages de France". You'll be far from the madding crowds here and you'll get to enjoy a real taste of authentic France.
How to Get to Burgundy
Burgundy is about 3hr30 drive from Paris (center or CDG is about the same). On the way, you may visit Vaux-le-Vicomte palace and it makes a great day. 
This region is perfectly located, half-way between Paris and Provence regions and it makes a formidable step if you can spend at least 3 nights - 2 full days. 
There are also direct TGV trains to Dijon from Paris (about 1hr40) but then in Dijon it is not guaranteed to get an automatic car rental so you may consider it only if you are ok driving a manual stick shift. 
Wine Tasting in Burgundy
The Burgundy wine route is quite touristy and not always the most scenic road. However, we know local guides who will take you where classical tours can't go. We will also provide maps of the most scenic roads in the area, guaranteeing you a much more pleasant excursion than you would have with any old tour. Away from the traditional Burgundy wine tasting tours, you will discover the some of the region's most stunning hidden gems. Your guide will fill you with local knowledge and show you the various wineries in Cote de Beaune and Cote de Nuits.
Burgundy wines are quite expensive, even in France: a decent quality Burgundy wine will cost at least 25 to 30 euros. We can also include more wine regions to your trip.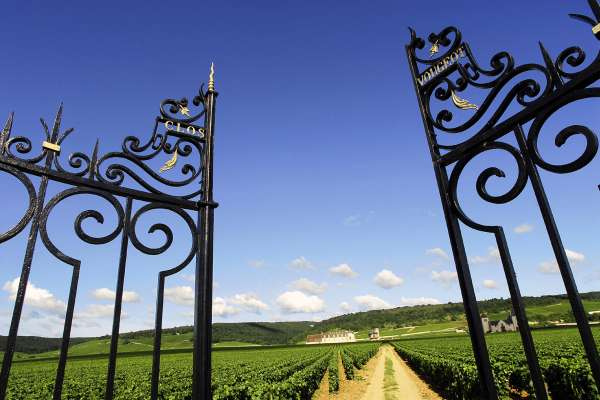 Burgundy vineyards by Alain Doiré
Accommodation in Burgundy
We select premium B&Bs in the very heart of the wine-producing Burgundy. This way, you will always be close to the wineries, Dijon or Beaune towns, allowing you to truly make the most of your time in Burgundy. 
For those you would prefer to stay in the city, we can offer you a magnificent guesthouse just 100 yards from the Beaune hospices, within the surrounding medieval ramparts of the city.
We will give you a selection of our favorite restaurants where you will be able to try local culinary specialities such as truffles, escargots de Bourgogne (Burgundy snails), coq au vin (chicken braised in wine), boeuf bourguignon (beef Burgundy), oeufs en meurette (poached eggs in Burgundy red wine sauce), etc.
We will keep you away from the tourist traps offering the so called "menus bourguignon". 
Burgundy Gastronomy
La Moutarde de Dijon
Dijon, the capital of Burgundy, is famous across the globe for its mustard: moutarde de Dijon. Compared to its twin English version, the mustard produced in Dijon is mixed with vinegar, which gives it a milder taste. With this mustard, you can make a typical salad dressing: Dijon vinaigrette.
Another of Burgundy's gastronomic wonders is its incomparable Boeuf Bourguignon. This dish is a stew prepared with Burgundy red wine sauce, onions, garlic and mushrooms. Originally a peasant meal, Boeuf Bourguignon has become a staple of French Haute de Cuisine.
Burgundy dishes - Treasures of the French cuisine
Other famous French dishes prepared with the local Burgundy wine are the coq au vin (chicken with wine), a braised chicken cooked with red wine, garlic, mushrooms and bacon, as well as the oeufs Meurette which are eggs poached in Bourgogne red wine.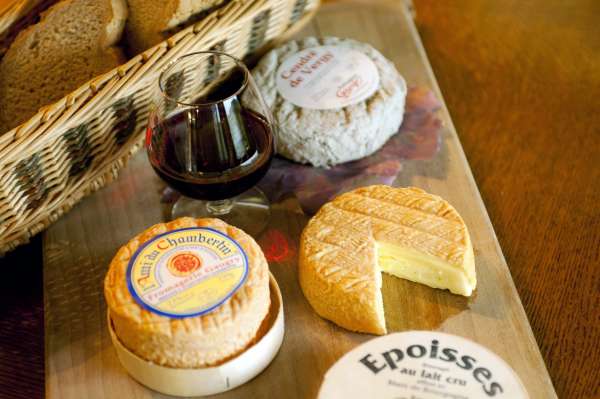 Wine & Cheese in Burgundy by Alain Doiré
Burgundy Truffle
For the treasure hunters, they will enjoy a delicious Burgundy truffle, a rare mushroom. This particular truffle is considered the most qualitative of France and makes the best truffle oil or aperitive called Ratatruffe - the name sounds weird but trust us: it's delicious! You should try our truffle mushroom pasta.
Burgundy Cheeses
When it comes to Burgundy cheeses, visitors are in for a treat. They are typically ripened with local alcohol (like in Normandy) and are a true taste sensation. The most prestigious one is l'Epoisse. We will offer you the chance to visit the Epoisse factory during your trip, where you will be able to taste this miraculous dairy creation, coupled with a delicious Burgundy wine. We can also plan for a trip discovering the best cheeses of France!