Normandy Tours: from World War to Camembert
Not too far from Paris, this verdant, hilly region is teeming with history, from the Vikings' invasion and William the Conqueror through to the World War II Normandy landing beaches. The D Day beaches, Utah, Omaha, Gold, Juno and Sword are a vibrant memoir of the 20th-century history and worth seeing while visiting Normandy. Other important historical sites of the Battle of Normandy such as Sainte Mère Eglise, Pointe du Hoc, Caen Memorial or Military Cemeteries are places to honor and remember the sacrifice of the Allied troops.
Normandy has everything you need for the perfect getaway. 
How to get to Normandy
Normandy is very easy to reach from downtown Paris or Paris Charles de Gaulle airport. Drive out of Paris or CDG Airport and you will reach Monet's house in Giverny in 1 hour, then Rouen in about 1h30. If you plan on staying in Caen or Bayeux (3hr drive from Paris), you can stop over for lunch in the beautiful Honfleur or Deauville areas. 
There are also direct trains from Paris to Normandy - however, hiring automatic rental car in Caen or Bayeux can be difficult.
Normandy from the Loire Valley
If you come from the Loire Valley - or Castle Country as it's known - Mont Saint Michel or the D-Day Landing Beaches are about 3 hour 30 drive. Most travelers drive to Normandy from Paris then to the Loire Valley. However, there is also a lot to be said for doing the journey in reverse: starting in the Loire Valley, then heading to Normandy. Also, if you want to avoid spending the last night of your trip to France in CDG Airport, you can consider staying in Giverny which is only 1 hour drive from CDG, and just heading to the airport the day you fly. 
Map of Normandy
The touristic region of Normandy spreads along the French coast of the English Channel from Rouen (1hr30 drive from Paris) at the Eastern end, all the way to Mont Saint Michel at the Western end. As one of the most visited regions in France, our Normandy driving tour has a lot to offer to independent travelers. A self-guided driving tour of Normandy in France is the best way to get a real feel for this region.
Click on the map to enlarge and read more about Normandy geography and sightseeing. You can also take a look at our other maps of Normandy.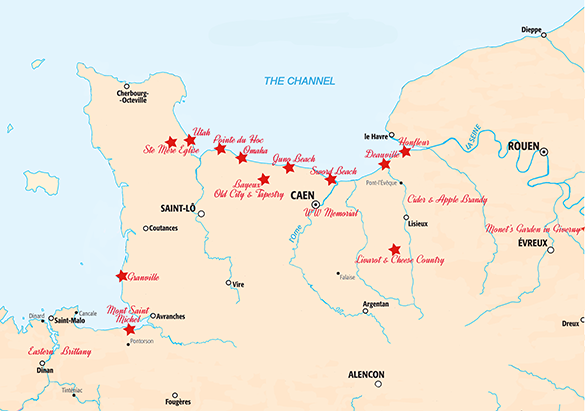 What to do in Normandy
Monet's House & Gardens in Giverny
One of Normandy's main selling points is its culture, a prime example being Giverny and its marvelous gardens and water lilies, home of Claude Monet and a number of other Impressionist painters. We will be happy to include a skip-the-line visit to Monet's house and gardens in your Normandy driving tour.
Despite its international fame, especially in the US, it might surpise you to know that most French people aren't familiar with this place. To us - the Frenchies - Monet is associated with the Musée D'Orsay in Paris, as it's where you will find most of his paintings. Monet's gardens at Giverny are beautiful, especially from May through July, but they can get very crowded.  

Waterlilies in the Japanese garden in Giverny
World War II Sites: Battle of Normandy Tours
Many of our travelers come to Normandy to learn the history of their father, uncle or grand-father who were involved in the D Day landings in 1944. This is always an emotional experience, regardless of whether you have relative who fought or not, and so we do our best to make sure our travelers get as much detailed information as possible about what happened to those brave soldiers. For those who have names, dates or places they want to learn about – we will be happy to craft the itinerary accordingly.
We have selected a very few English-speaking guides who specialize in Normandy D Day tours. They will be happy to take you on a Battle of Normandy tour and bring the history of this area alive and answer all of your questions. To us, this is a must – at least if this is your first visit to Normandy. 
For American travelers, Omaha or Utah Beach as well as Sainte Mere Eglise and Pointe du Hoc are a must see. The American Cemetery in Colleville-sur-Mer – right above Omaha Beach - is also incredibly impressive and illustrates the enormity of the sacrifice the Allies made to free the French people. The German, British and Canadian cemeteries are equally awe-inspiring.
Canadian travelers will get the chance to learn about the Canadian landing at Juno Beach Center, which is very interesting. British people can visit Sword Beach, North of Caen to discover the history of their ancestors. It is also worth checking out the impressive remains of the Arromanches artificial bridge which was built in a night.
Whether you like better a self-guided tour of Normandy beaches or you rather take a battlefields guided tour, we can craft your days in Normandy to make the most of your time. 

©Calvados Toursime - Arromanches Artificial Port
Mont Saint Michel Village & Abbey
A day visiting Unesco World Heritage site and popular tourist attraction Mont Saint Michel is a must, too. This 8th-century abbey sitting atop a tidal island off the Normandy coast is a sight to behold and is definitely worth your time. In your Normandy itinerary, we will tell you the best way to visit Mont St Michel so that you avoid the tourist crowds and learn all the secrets of this mystical place.
Many people visiting Normandy plan a trip to Mont Saint Michel, a small village built on a rock off the Norman coast. It is the most visited site in France and is likely to continue to be thanks to its beauty, history, architecture and the rhythm of the tide as it laps against its shore. The fascination we feel standing in front of this mystical site never ceases. Mont Saint Michel and its bay became a UNESCO World Heritage Site in 1979. Click here to read more about Mont Saint Michel. 

©Ben Bard - Mont Saint Michel Village & Abbey
The Normandy Hinterland
Thinking about Normandy might conjure up images of sandy beaches, but that's not all the spectacular region has to offer. Normandy's hinterland is a beautiful part of the country and well worth taking the time to explore. Its rolling green hills, black and white cows and apple orchards give the area a unique character. Combine that with some of the most beautiful villages in France featuring gorgeous half-timbered houses and cobblestone streets, and you're all set for the perfect Normandy driving tour! 
Make sure you spend some time in the Pays d'Auge, admiring its picturesque villages, such as Beuvron-en-Auge with its beautiful half timbered houses.

©Dieter Basse - Half-Timbered Houses in Normandy
Normandy Beach Resorts : Honfleur to Cabourg
Along the Normandy coast, from Dieppe in the North of Rouen to Honfleur, Deauville and Cabourg, Normandy was - and still is - one of the main getaway destinations for the Parisians.
In the 19th century, famous painters such as Eugène Boudin immortalized these weekends in Deauville or Honfleur through their art. Later Monet and Manet – impressionist painters – also tried to reproduce the very special light that shines down on the Normandy beaches in the morning, at dawn or on a stormy day.
Top tip: if you are planning on driving from Paris CDG airport to Normandy direct on the day of your arrival, make sure you have "moules frites" for lunch in Honfleur port, followed by a stroll along the Deauville boardwalk. This is the perfect way to unwind after your flight and get your first taste of French life!

Bathing Time in Deauville by Eugène Boudin in 1865
Normandy's Old Cities
Many historical sites were bombed during the Invasion of Normandy. However, many sites remain untouched (or were rebuilt after the war). 
Bayeux's old town with its majestic cathedral and millennium old Bayeux Tapestry depicting the Norman conquest of England in 1066 are must-sees. Bayeux city, 5 miles inland behind Arromanches' artificial harbor, is the only big city that remained untouched by WWII and is perfect for strolling around, soaking up the atmosphere of Normandy. 
Those passionate about impressionist painters or Joan of Arc will also enjoy visiting Rouen. 

©Ben Bard - Bayeux Old City
Normandy Gastronomy: if you like apples and dairy products...
The people of Normandy know how to enjoy life! Reputed gastronomes, they love a good home-made meal with a drink. Normandy is affectionately called the "butter land of the gods" because of its important production of some of France's finest dairy products. With its seafood, cheese and apples, Normandy cuisine is one of the best in France. 

FAQ about Normandy
Can I tour Normandy on my own ?
To fully understand the history of the Normandy region, we suggest a self-guided driving tour of Normandy for about 3 to 5 days (or more). Then, for travelers interested in history, we will plan for a Battle of Normandy tour with a local guide. 
Can I visit D-Day beaches?
All the D-Day beaches are open to the public freely. Some travelers may be surprised to see locals bathing in this area but for les Normands, it's part of history, but it's also the place you come with your children and enjoy the nice weather. 
When should I book my Battle of Normandy Tours ?
It depends on the season you are visiting. June, with D-Day anniversary celebrations, gets booked at least 6 months in advance and our best guides are book over a year ahead for all the month of June. 
If you come another month of the year, booking about 4 months ahead gives us flexibility to craft your self-guided driving tour of Normandy and include all your wishes. 
Why You Should avoid Day Trips from Paris to Normandy
Normandy is famous worldwide for playing a vital role in the Second World War. The American landings on Omaha and Utah beaches and the Canadian and British landings in Juno, Gold and Sword beach marked the beginning of the end of a terrible war. Today, thinking about Normandy, we all have these images in mind: military cemeteries, memorials and bombarded cities. A day trip from Paris is simply not enough to truly make the most of this fascinating part of France.
There is so much more to this authentic region, which is why it's worth giving it as much time as you can afford. Here are three great reasons to spend more than a day in Normandy!
Over 1000 years of Normandy history
Of course, the history of Normandy extends far beyond the 20th century. It was first invaded by the Vikings in 845 (find out more aout the Siege of Paris). It bore witness to Joan of Arc's bravery in the early 15th century, when she was burned at the stake. It saw William the Conqueror's endless thirst for greatness, followed by the Hundred Years War (between France and Great Britain) and then World Wars I and II. Too much to see in a day ! You should take your time and enjoy our self-guided tours of Normandy battlefields. 
Normandy cuisine is renowned for its mouth-watering taste, with a particular focus on dairy, alcohol and seafood. Local specialties include butter and other dairy products, as well as Norman cider and Calvados (apple brandy). The apples come from the local orchards that you will spot as you make your way through the Norman hinterland and seaside.
Perhaps one of the best things about Normandy is the people who live there. It's always difficult to generalize on these matters - and neither Guillaume nor Emilie have Norman roots. However, speaking objectively, we know the people of Normandy are joyful, open people who are easy to talk to and eager to welcome you to their region.
Before or After Normandy, where to ?
Normandy is only a 1 hour to 4 hour drive from Paris, depending if you want to reach Giverny or Mont Saint Michel. 
It is also about 2hrs30 to 3hrs drive to the Loire Valley, which makes a Paris, Normandy and Loire Valley wonderful itinerary without driving too much in between the different regions.
Also, Brittany region is right newt to Normandy and we plan to officially add it to our scope in 2022.
We take pride in crafting personalized tours of Normandy that take people to the popular places and attractions but avoid the worst of the tourist crowds. Better than an organized group tour, this self guided tour allows you to explore Normandy by car at your own pace. Scroll down to see a list of tours that include Normandy, or contact us to let us know your wishes and we can craft a tour just for you.
Explore Normandy at your own pace on a self drive tour with France Just For You