Paris, the Loire Valley and Normandy at a slower pace
26 days
Paris, Loire Valley & Normandy
Wine Tasting
Heritage & History
US$ 6,100
Per traveler, including taxes, based on double occupancy.
Book now
This itinerary will take you to 3 of the richest regions of France, at a relaxed pace and away from the beaten tracks.
We recommend flying into and out of Paris on this itinerary.
Paris: Capital of France & City of Lights
Live the Parisian life! Comfortably accommodated for the first 5 nights of your trip in a charming boutique-hotel in a quiet street of the bustling Marais district, you will discover the French capital city's must sees and hidden beauties.
We plan for you to get oriented with a Parisian guide for a half-day, discover Paris most famous buildings along the Seine river and get to learn a lot about French culture and history...having a lot of fun.
Being based less than 10-minute walk from Notre Dame Cathedral, we have prepared for you different itineraries to explore Paris by foot, by boat or using public transportation. We also recommend our favorite restaurants and boulangeries in different districts of the capital city so you'll know where to take a break.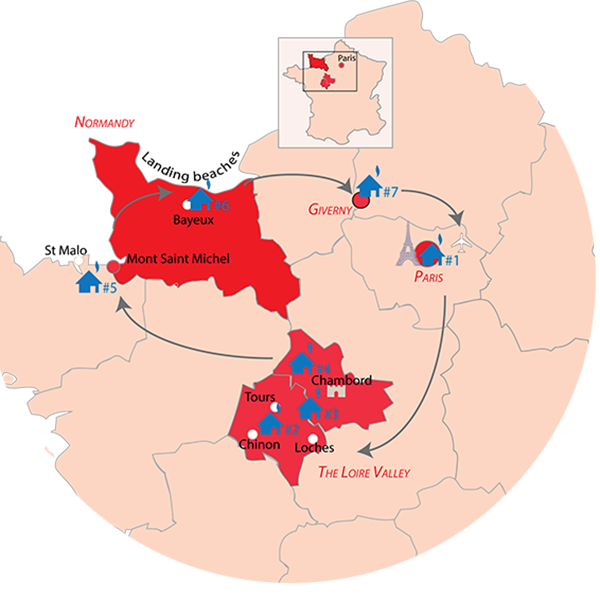 The Loire Valley away from the beaten paths
On the 6th day, you will pick up a rental car by the ring road in Paris so you don't drive across the city. The drive to the Loire Valley is about 3hrs long.
You will spend the following 4 nights of your journey nicely settled in a beautiful historic home nestled in a lively town, by the river. Your host will be happy to make many recommendations about wineries, wine bars or restaurants to experience the Touraine sweet life.
Located on the banks of the Vienne River, you will jump back to the Medieval times and learn about Joan of Arc history. At night, one of the best restaurants in the region is less than a 1-minute-walk.
The Loire Valley: Chambord & Chenonceau area
On the 10th day, you will drive towards the most famous of the Loire castles area.
Spend 3 nights in a welcoming Bed & Breakfasts, between Amboise and Chenonceau: Your hostess is an excellent cook and she will take you on to a fun cooking workshop, followed by a nice dinner shared with fellow travelers. We can have you work on the type of dishes/products you like.
On your way to Normandy, treat yourself with 2 nights in a luxury privately owned castle, 5 miles to Chambord Unesco Renaissance castle.
You will stay in a comfortable room which may have original frescos dating back to 1620 on the walls (for the early birds) and also enjoy a vast park, tennis court and a huge swimming pool. In the evening, enjoy a drink in one of the many "salons" where you will always feel welcome.
From Saint Malo to Mont Saint Michel
On the 15th day, you will reach Normandy which is only a 3hrs drive and we will suggest a nice stop on the way.
Stay in a former presbytery from the 18th century, located half-way between the famous town of Mont Saint Michel and the lovely port of Saint Malo. One night, enjoy a delicious dinner prepared by your host who is also a Chef.
A place you won't want to miss is Mont Saint Michel: this sumptuous abbey standing on a tiny island in the middle of a bay is truly the "8th wonder of the Western world" and is well worth a visit.
We will also take you to the very near Eastern Brittany : it's lovely ports, granite stone towns and delicious crêpes are a real addition to your immersion into the Northern France culture.
In Cancale area, experience the Breton sailormen's life on board of a nice wooden boat. The Captain will tell you many stories and have you discover the finest local products with a gastronomic picnic.
Bayeux, Calvados & Landing Sites area in Normandy
Reside for 5 nights in a peaceful countryside house, located between Bayeux old town and the Landing Beaches. Your hosts travel a lot and will be happy to share many tips with you.
Jump into the local history: from William the Conqueror in the 11th century whose adventures are illustrated in the Bayeux tapestry, to the Battle of Normandy in 1944.
From your B&B, you are within reach of all the D-Day sites and museums: from Sainte Mère Eglise to Ouistreham, Isigny, pointe du Hoc, the artificial port of Arromanches or the Caen Memorial.
Deauville and Honfleur are within driving distance, Honfleur really deserves a visit for its picturesque harbor and Deauville for its famous Grand Casino, its racecourse and luxury cars. This part of Normandy is also famous for its seafood, especially scallops from Port en Bessin and oysters from Asnelles.
The Normandy back country might be less famous but is certainly worth a detour: the typical half-timbered villages, the Cider road, the beautiful English style gardens, the apple brandy traditional manufacturers…and of course the cheeses…a trip to Normandy would not be complete without tasting Camembert or Livarot cheeses!
Last Step: Giverny & Monet's house
You will stay for the last 2 nights of your trip, in a gorgeous mansion, in the orchards, 2 miles to Giverny town. Val, your lovely hostess, will be available to make the most of your stay.
We include here cut-the-line tickets to Monet's house and gardens. Lovely Seine river towns also deserve a visit.
On your last day, you are only a 1hr drive to CDG Airport where we would suggest you return the rental car.
This itinerary includes
Activities included in this tour