Brittany Self-Guided Driving Tours
Are you considering paying a visit to Astérix & Obélix ? Then, you may want to pack for a self-drive trip to Brittany!
This amazing region of France, with a 750-mile-long coastline, has without a doubt, preserved its typicity and traditions.
From the Celtic megaliths spread over all the territory to the lovely fishing ports, from King Arthur to the legendary dwarfs, from Pont Aven painters to the amazing sunset lights over the pink granite coast…Brittany well deserves a visit.
How to Get to Brittany
It is unusual to start a self-drive trip in Brittany. If you do, you may either drive from Paris (or CDG airport) and it takes about 4 hours or train to Rennes or Nantes and then pick up the car at the station. Both are about 2hr30 TGV train from Paris.
We usually plan for our travelers to visit Brittany before or after Normandy or the Loire Valley which are both neighboring regions.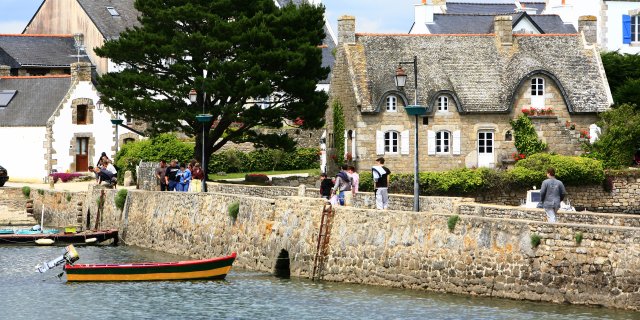 The 4 parts of Brittany
Brittany is divided into 4 "departements" which also match the main regions to visit:
Morbihan (famous for its Gulf) at the South East of Brittany, near Nantes
Finistère at the tip of Brittany,
Cotes d'Armor with the pink granite coast at the North West of Brittany
Ille-et-Vilaine which includes Rennes, St Malo and the Breton part of Mont St Michel at the NorthEast of Brittany
For travelers who have about 1 week to spend in Brittany, we will have them discover all of them, including the Finistère (which means "where the earth ends") at the tip.
Travelers who cannot spend more than a few days will definitely have to choose one or 2 out of the 4 areas and probably have to leave Finistère aside to avoid too much driving. We will be happy to make recommendations based on the rest of your trip and your interests.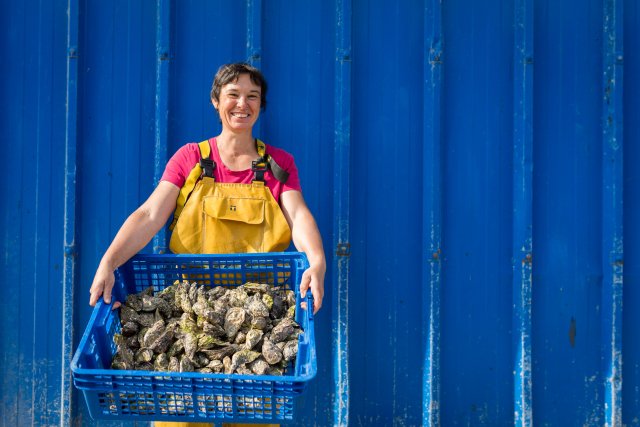 What to do on your self drive tour of Normandy and Brittany
Since Normandy and Brittany are neighboring regions, we recommend visiting both regions if you have time. They have their own particular cultures, traditions and cuisine, and many places of interest.
Here we will focus on Brittany - if you would like more information about Normandy, you may like to browse our self-guided tours of Normandy.
When you're driving down to Brittany from Normandy...
Visit Mont Saint-Michel bay, islet and abbey
There is some debate about whether Mont St Michel is in Brittany or Normandy. Since we are not from either region, we don't like to get involved! However, it's fair to say that the Mont Saint-Michel bay area stretches across the Normandy-Brittany regional border. The bay area is wonderful for walking barefoot along the sand on a warm day, and you may come across some oyster farms too.
We work with private guides who know the bay and Mont Saint-Michel island and village like the back of their hands. They will tell you all about the history and legends of this area and help you explore Mont St-Michel away from the tourist crowds.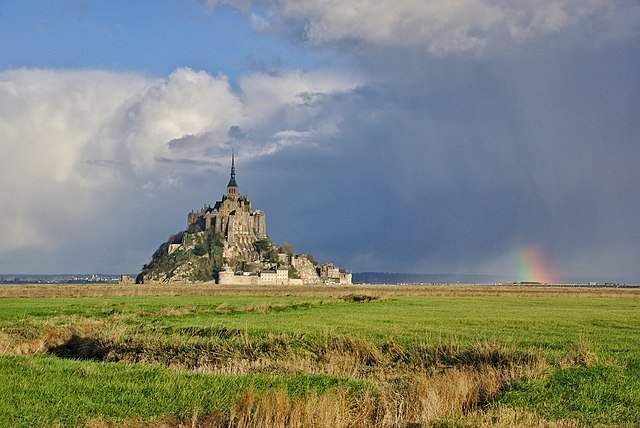 Try Brittany Cuisine
Beautiful Brittany boasts a long list of delicacies that delight residents and tourists alike, which is probably why Brittany culinary tours and wine tasting are popular. While you're in Brittany, try these foods, if you can!
Driving west along the coast from Mont Saint-Michel, you arrive at the beautiful port town of Cancale, famous for its oysters since Roman times. We will tell you where you can enjoy the tastiest oysters!
Brittany really is a paradise for seafood lovers. As well as oysters, you can enjoy exceptional crab, sea bass, cod, mackerel, mussels and prawns. Saint-Malo is renowned for its scallops and Quiberon for its lobsters.
In addition, moules marinières is a popular shellfish dish served throughout Brittany. The shellfish are cooked in white wine, parsley and shallots, and often served with fries and a dry white wine. Cotriade is another delicious seafood dish to try. 
As an alternative to seafood, try the famous galette. This savory buckwheat pancake is served with a choice of fillings, and often accompanied by a glass of Breton cider or apple juice.
For dessert, try kouign amann, a decadent buttery cake. 
As an aperitif, try chouchen, made from water and fermented honey. This liquor dates back to the Celtic times and pairs well with cheese and desserts.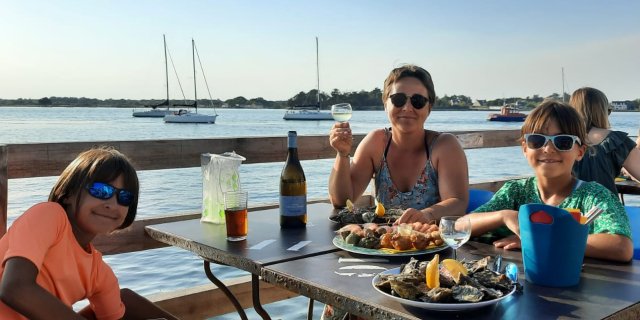 Explore towns and cities in Brittany
Below, we mention Saint-Malo and some of our favorite little villages in Brittany. We have to mention Brittany's capital city, Rennes. There you can admire the medieval half-timbered houses and stroll through the lovely Parc du Thabor and see its rose garden. The Musée des Beaux-Arts has works by Botticelli, Rubens and Picasso on display, and you can learn more about Breton culture in the Musée de Bretagne, inside The Champs Libres cultural center.
We also love the walled town of Vannes, with its medieval gates and narrow cobble-stone streets. The old walled town is characterized by narrow cobbled streets and medieval gates. At its heart, Cathédrale Saint-Pierre de Vannes blends Admire the Romanesque and Gothic style of Saint Pierre Cathedral, as well as the colorful half-timber houses on the Place des Lices. The harbor is a very nice place to have dinner, and you can see the boats that sail through the Morbihan Gulf.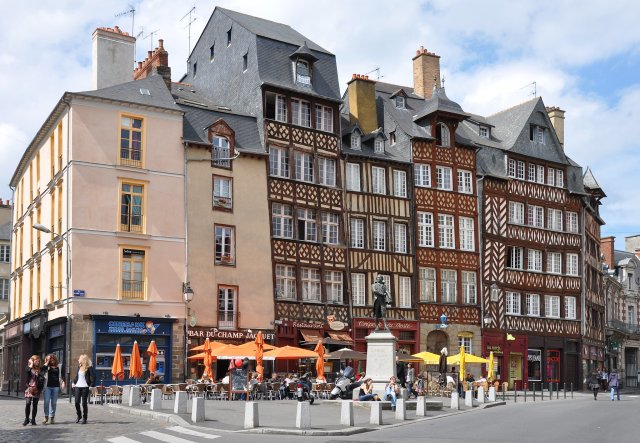 Take a literary tour in Saint-Malo
If you're a fan of the book All the Light We Cannot See by Anthony Doerr (set in Saint-Malo during World War II), we can recommend a self-guided walking tour of Saint-Malo that takes you to many of the places mentioned in the book. We have already done this for some of our travelers!
And even if you haven't read the book, this beautiful walled citadel and the Grande Sillon beach is still well worth a visit. The town has a fascinating history which we will tell you all about in your personalized guidebook. You can also find out more about things to do in Saint-Malo on our blog.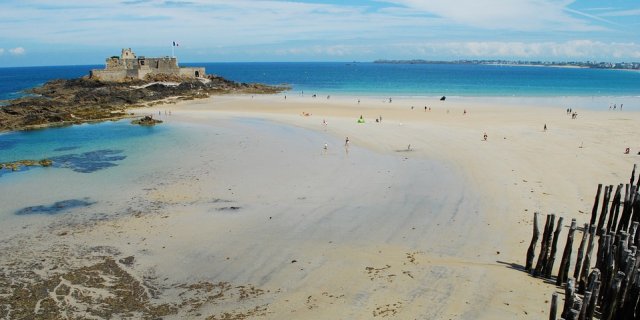 Relax or stroll along the Brittany beaches
Brittany has a stunning coastline along the Emerald Coast and Pink Granite Coast. Brittany's islands also have some lovely sandy beaches, as does the Crozon Peninsula and the Gulf of Morbihan. There are so many beautiful coastal areas in Brittany that have written a whole blog post about the best beaches in Brittany!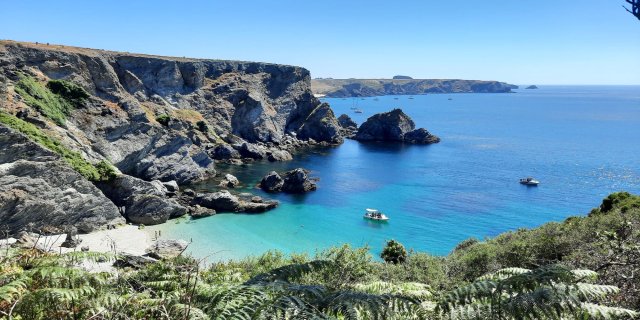 Explore the beautiful towns and villages in Brittany
We will take you off the well worn tourist trail to discover hidden gems that many tourists don't know about - including some of the most beautiful villages in Brittany. 
Locronan in the Finistère region is a beautiful and very old village with many Renaissance houses and a medieval church.
Rochefort-en-Terre will charm you with its cobble-stone streets and half-timbered houses. We think you'll love its gorgeous flowers too, which you'll see all over the village.
Pont-Aven is another lovely village, famous for its association with Paul Gauguin and its biscuits! We will recommend a self-guided walking tour which will take you to the places that Gauguin frequented. We'll also recommend the best place to try the village's famous biscuits.
Drive along the Emerald and Pink Granite Coast
As part of our self-guided Brittany vacation packages, we include all recommended driving routes. These are normally away from the main highways, and offer gorgeous scenery, stops in small villages, and perfect photo opportunities. We also recommend very nice places for hiking along the coast (we love the area around Perros-Guirec and Ploumanac'h) and cycling, if that's your thing.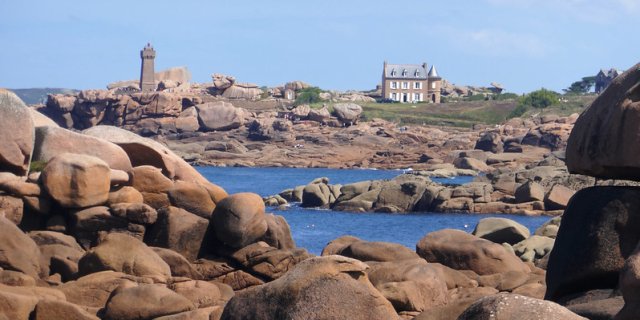 Sail to Brittany's Islands
Brittany has nearly 800 little islands and islets, some of which are just a short boat trip away from the mainland and easy to visit in a day. Our favorites include the Ile-aux-Moines in the Morbihan gulf and Bréhat off the Pink Granite Coast. The islands have some beautiful houses, beaches, and walking and cycling trails.
Discover Brittany's history and unique culture
On a driving tour of Brittany, you'll discover that it has a fascinating history going back thousands of years. When the Celts inhabited this region, it was called Armorica (meaning "place in front of the sea" in Gaulish, the ancient language spoken in Brittany at that time). The megaliths at Carnac are lasting monuments to the ancient culture in Brittany. More recent installations are the granite sculptures in the Vallée des Saints. Hundreds of statues at the Quénéquillec site in Carnoët represent the Christian evangelisation of ancient Armorica.
They're also a reflection of the faith of the Breton people. The main aim of La Vallée des Saints is to pass on the values that the locals hold dear. It's an unusual and fascinating place to visit in Brittany!
Nowadays, Breton, part of the Insular Celtic language family, is spoken by around 200,000 people in Brittany. In some parts, you'll see road signs in both French and Breton. 
Tip when you travel to France :
Never ask or take side on the question: is Mont Saint Michel in Brittany or Normandy? This has been a fight between the 2 regions for centuries…don't get yourself in trouble.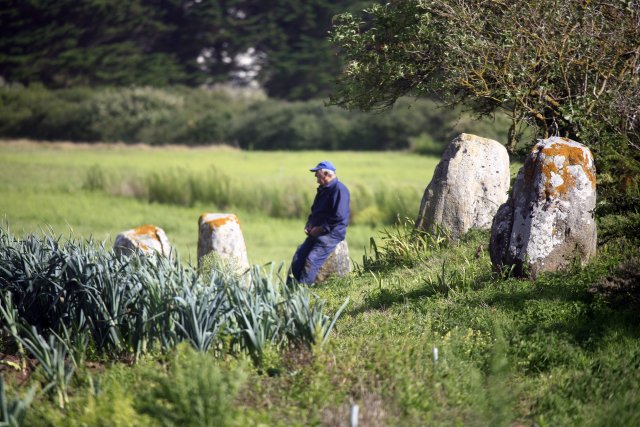 Best Time to Visit Brittany
Breton people often say that in Brittany you have each of the four seasons in one day. And it's very true!
Being surrounded by the Atlantic Ocean, Brittany belongs without hesitation to an oceanic climate area which means that clouds, wind and sun may appear on your weather app for about each of the trip, in any season.
Now, according to us, the best time to visit Brittany is between May and the end of September (trying to avoid mid-July – mid-August school vacation time). In any case, you'll need a windbreaker in Brittany & a rain jacket, but you may wear it more often out of these months of the year.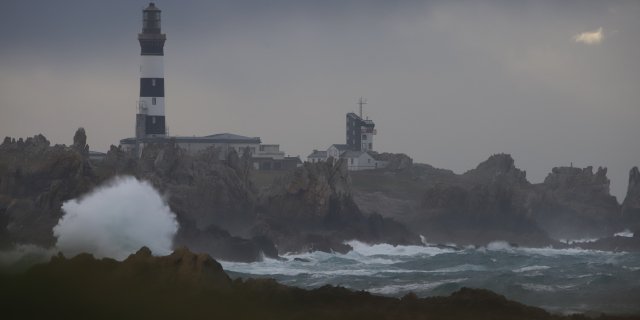 FAQs about Brittany
What Is Brittany Famous For?
To be brief, Brittany is famous in France for its heritage with the 7000-year-old megaliths reminding us of the famous cartoon Asterix & Obelix, its wonderful coastline with unique lighthouses and sailing !! of course. The most famous sailors in France are from Brittany – no wonder why the Route du Rhum starts in St Malo. Also, many travelers enjoy self-guided walking tours of Brittany, with the Nantes-Brest Canal and the coastal path "sentier des douaniers", where you can enjoy a leisurely 1-2 hour walk or a walking vacation lastly several weeks.
Why is Brittany different from France?
Brittany is a region of France with strong regional traditions. For instance, the local festivals called Fest Noz remain a must in almost all the villages of Brittany, even smaller ones, when they tend to disappear in other parts of France.
Also, the Breton language stays alive with lots of schools teaching in both Breton and French.
Is Brittany French or Celtic?
Brittany is a French region but with a Celtic culture and legacy: for instance, many Breton Saints come from Ireland.  
What language is spoken in Brittany?
French is spoken in Brittany. The closer you get to Finistère the more lucky you'll get to hear some Breton regional language which is a Celtic language. You will definitely see it written in all the road signs which are always in French and Breton. English is spoken with foreign travelers, like in any other part of France.
When did Brittany become part of France?
Brittany first became an autonomous kingdom and later a duchy, before becoming part of France in 1532. The treaty of incorporation into France guaranteed that the province would retain its distinct identity and local privileges, and it was governed as a separate nation under the French crown. The union came about thanks to the first and second marriages of Anne - the rightful heir to Brittany - to French kings Charles VIII and Louis XII.
What food is Brittany famous for?
Brittany is famous for its delicious seafood and crepes. Some of the most popular seafood dishes from Brittany include coquilles Saint-Jacques (scallops), moules marinières (mussels in white wine sauce), and Homard à l'Armoricaine (lobster in a spicy tomato-based sauce). The region's long coastline also provides ideal conditions for oyster farming, so you'll enjoy some delicious oysters there.
Brittany has both sweet and savory crepes. The savory galettes are made with buckwheat flour and typically filled with ham, cheese, and eggs. Sweet crepes, known as crêpes sucrées, are made with wheat flour and can be filled with a variety of toppings.
How long do I need in Brittany?
It really depends on your preferences. One of our top Brittany self guided tours, the Best of Brittany tour, takes in a large part of the region and lasts for 13 days. But you could easily spend longer there. However, if you're visiting various parts of France, four or five days will give you a taster of Breton culture, the chance to see some beautiful coastal areas and typical Breton villages. And hopefully this will leave you wanting to return in the future!