From Provence to Paris - Immersion into the "Real France"
26 days
Provence, Basque Country, Dordogne, Loire Valley & Paris
Heritage & History
Villages & Markets
US$ 6,150
Per traveler, including taxes, based on double occupancy.
Book now
This itinerary will take you from South to North over some of the most typical and beautiful French scenic roads.
We recommend flying into Marseille airport.
Provence : from Aix to Avignon
Start your trip with 4 nights in the heights of Aix en Provence, still inside the town of Aix, but in a very quiet setting surrounded by the waters. You will be comfortably settled in a typical "mill house", surrounded by a lush garden with a swimming pool. From the B&B, you will explore the landscapes which inspired so many painters including Cezanne, stroll Aix en Provence little streets and why not spend a day by the sea in Cassis and the surrounding creeks.
One day, enjoy a fun Petanque class in one of the loveliest towns in Provence, with Jean Marc - who was born and raised there. A very Provençal experience!
Then, drive towards North and the Avignon region where you will stay for 2 nights in a gorgeous 18th century castle surrounded by vineyards. This romantic and magical setting includes a peaceful garden, lavishly decorated salons and a very tastefully decorated room which combines antique furniture and all modern conveniences.
You will discover the Roman heritage in Provence: Orange arch, Pont du Gard bridge and enjoy the scenic drives in the Luberon & Vaucluse chains.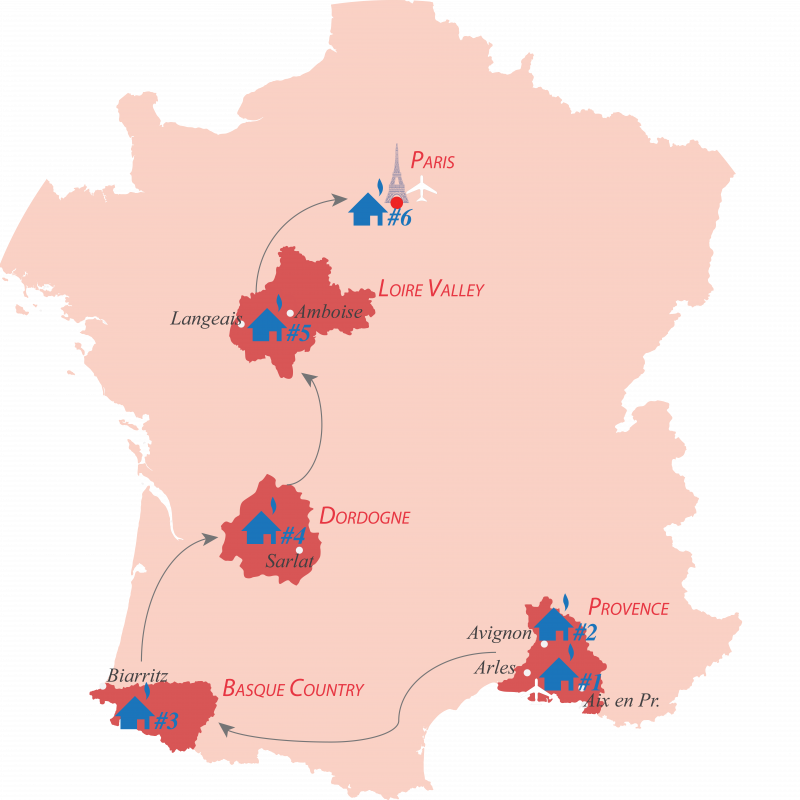 Biarritz & the Basque Country
On the 7th day, you will drive all the way to the South West of France and reach the Atlantic coast. You will stay in a comfortable house in the heart of the Basque Country: 5 miles to the Ocean, between Biarritz and Saint-Jean de Luz lively towns.
We will craft your days so you get a feel of everything the Basque culture has to offer, and there is a lot: taste the local "Bayonne hams" after strolling a valley discovering the traditional and still alive mountain pig farming, get acquainted with the Basque weaving tradition, try to make your own Basque cake or stroll one of the many farmers markets.
Several "most beautiful Villages of France" will be on your scenic drives – and you may witness there some locals playing the Basque Pelote game at the town's fronton. Nature and outdoors lovers will enjoy endless walks and hikes in the Pyrenees foothills.
Dordogne region: prehistory, fortresses & ducks
In Black Perigord you will stay in an old stone Perigord style house for 5 nights. One night you will share a mouth-watering dinner with your hosts: Nat & her husband as well as fellow travelers.
Dordogne is famous for the prehistoric caves in Lascaux and we'll recommend you a much more intimate visit: we plan for you to walk back on the prehistoric men footsteps, in 20,000-year-old painted caves - access is limited to 40 person per day.
There is a lot to do in this region: medieval castles to visit, wonderful food to taste - we'll tell you where to find the most typical goat cheeses - and if you like outdoor activities, you'll be in paradise. Also, visit the old city of Sarlat and feel the buzz of activity on market days.
The Loire Valley: castles & Kings country
Spend the next 5 nights in a lively town between Saumur and Tours, along the Loire River, across the street from a gorgeous middle ages castle. At night, you can walk to one of the best restaurants of the whole region, relax in the house's patio or at a bistro terrace. Your hosts have restored the house very tastefully and will make you feel at home.
Travel through small villages lost between rolling hills, stop over for wine tastings or to wander about outdoor markets and savor local specialties.
Explore all the marvels of the Loire Valley: the castles of Chambord and Chenonceau, Chaumont gardens and the old city of Amboise. Included in this itinerary is a bike rental for a day. You will explore, at your own pace, several villages and castles such as Langeais and Villandry gardens. No worries, the road along the Loire river is totally flat!
Ah…Paris…
On the 22nd day, you will drive back to Paris and return the car by the ring road (to avoid driving inside the city).
Experience living the Parisian life. Comfortably accommodated for 4 nights in a charming boutique-hotel in Saint Germain, by the Luxembourg gardens, you will discover the French capital city's must sees and hidden beauties.
We plan for you to get oriented with a Parisian guide for a half-day, discover Paris most famous buildings along the Seine river and get to learn a lot about French culture and history...having a lot of fun.
Being based 10-minute walk to Notre Dame Cathedral, we have prepared for you different itineraries to explore Paris by foot, by boat or using public transportation. We also recommend our favorite restaurants and boulangeries in different districts of the capital city so you'll know where to take a break.
We will do our utmost for you to have the best time in our country !
This itinerary includes
Activities included in this tour