Region
in Alsace, Burgundy, Loire Valley, Normandy & Paris

France Wine Tasting Tours

France History Tours
From East to West, discover the Northern half of France at your own pace. 
Visit Alsace, Burgundy, the Loire Valley, and Normandy, ending your wonderful adventure in Paris. 
Price
US$ 6 170
Per traveler, including taxes,
based on double occupancy.
Your accommodations
Pictures of the specially selected accommodations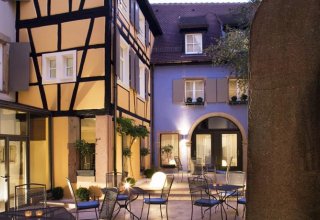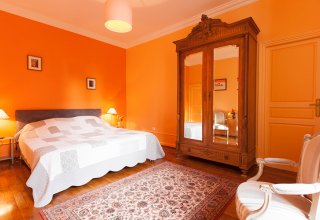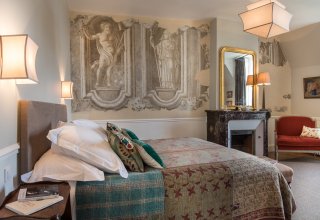 Step by step
Alsace's lovely towns & vineyards
This itinerary starts in Strasbourg, where you will pick up your rental car. If you need transportation to Strasbourg, we will be happy to help. Strasbourg is just a 1hr30 train ride from Paris. 
Spend 4 nights Stay in a 4* Boutique-Hotel in the very center of Colmar in the little Venice District, walking distance to all bar, shops and restaurants. This hotel is in a 16th century building which was renovated mixing new and old materials - resulting as a charming and cozy ambiance. 
Discover the gorgeous town of Colmar, its canal maybe on a barge tour and enjoy a meal in a typical Winstub with a nice beer. 
Another day, drive along the Wine Road, stop in some of the most beautiful villages of France with their typical colorful half-timbered houses and the stork nests . . . enjoy the Alsatian wines and the great views over the Vosges foothills. 
Alsace has also a very rich history : we include cut-the-line tickets to the Haut-Koenigsbourg castle which dates from the Middle Ages and was rebuilt entirely in the early 20th century. This is a fascinating visit. 
Burgundy - La Bourgogne
On Day 5, drive about 2hrs45 from Alsace to Burgundy. 
You will reside for 3 nights in a beautiful mansion, surrounded by a vast park in Côtes de Nuits vineyards. One night you will enjoy a delicious dinner prepared by your lovely hosts.
We will provide you with the detailed itineraries you need to discover the authentic and charming region of Burgundy. This region is much more than its vineyards: winding roads leading to tiny timeless villages - some of them the "Most Beautiful Villages of France" - will give you a real feel for this region. 
Dijon has kept a lot of ancient monuments and houses, yet it is a very lively modern city and full of charm. Taste some local cheese, the "Epoisse" at the cheese factory or stroll around Beaune from the cellars to the ramparts.
Sébastien, a real passionate, will take you for half a day on a 4-wheel drive to tour around Burgundy vineyards, following itineraries that no other tour can do. You will taste wines directly at the winery and ride over dirt roads in Nuits Saint Georges and Vosne Romanée. Sebastien is very friendly and you will feel like a relative he wants to show his favorite places.
The Loire Valley in a Castle
As an introduction to the Loire Valley, the castles' country, treat yourself with 2 nights in a luxury privatly owned castle, 5 miles to Chambord Unesco Renaissance castle. 
You will stay in a comfortable room which may have original frescos dating back to 1620 on the walls (for the early birds) and also enjoy a vast park, tennis court and a huge swimming pool. In the evening, enjoy a drink in one of the many "salons" where you will always feel welcome.
This is the perfect place to discover Chambord castle: the most magnificent and enjoy Blois lovely town along the Loire river.
The Loire Valley in a lovely historical town
You will spend the following 3 nights of your journey comfortably settled in a beautiful historic home nestled in a lively town, by the river. Your host will be happy to make many recommendations about wineries, wine bars or restaurants to experience the Touraine sweet life. 
Located on the banks of the Vienne River, you will jump back to the Medieval times and learn about Joan of Arc history. At night, one of the best restaurants in the area is less than a 1-minute-walk. 
Touraine is famous for its vineyards – Chinon, Bourgueil, Vouvray, Amboise and many more –  you will visit a Chinon winery run by a charming couple who come from generations of winegrowers. Enjoy a commented tasting of the wines with some very local specialties. 
Normandy
On Day 13, you will drive about 3hrs to Bayeux area in Normandy. If you wish, we can plan for you to explore the famous Mont Saint Michel (town surrounded by waters) on the way. 
Reside for 4 nights a peaceful countryside house, located between Bayeux's old town and the Landing Beaches and jump into the local history: from William the Conqueror in the 11th century whose adventures are illustrated in the Bayeux tapestry, to the Battle of Normandy in 1944.
Many remains of the WWII landings are still visible and you can quickly access Omaha, Utah, Gold and Juno landing beaches as well as the artificial port of Arromanches or the Caen Memorial. 
To help you better understand the events of the Battle of Normandy and bring them to life, we have planned for a private guided tour with a specialist in WWII history. You will be shown all the main landing sites and learn in detail about what happened here on D-Day. 
Ah . . . Paris!
On Day 17, drive 3hr back to Paris area and drop the car rental off to end your French journey living the Parisian life! 
Experience the Parisian life comfortably accommodated for 3 nights in a charming 4* boutique-hotel in the Latin Quarter. Nearby you have the Luxembourg Gardens and the Sorbonne University, and you will discover the French capital's must-sees and hidden beauties.
Ideally based a 10-minute walk from Notre Dame Cathedral, you will explore Paris on foot, by boat or using public transportation with different and unique itineraries we have prepared for you.
We also recommend our favorite restaurants and boulangeries in different districts of the city, so you'll know where to take a break.
The Very Best of Upper France !
Activities included
Haut-Koenigsbourg Castle
Enjoy the visit of the Haut-Koenisbourg fortress with cut-the-line tickets to avoid waiting. This is a Middleages marvel rebuilt in the early 20th century.
Burgundy Wine Tasting
Spend a half-day with Seb who will drive you in his 4WD in the back tracks and the dirt roads of Burgundy vineyards. He will take you like a friend would do to several wineries in some of the most famous vineyards in the world. 
A Winery Visit & Tasting in Chinon
Visit a Chinon winery run by a charming couple who come from generations of winegrowers.
Enjoy a commented tasting of the wines with some local-product snacks.
Private Guide on the WWII sites
Spend a half day with a private guide who will customize the itinerary to your wishes and interests. A must do to better understand what happened on D-Day.