The diversity of French Landscapes
13 days
Loire Valley, Dordogne & Provence
Wine Tasting
Villages & Markets
Sceneries
US$ 3,200
Per traveler, including taxes, based on double occupancy.
Book now
Let yourself be carried away by three of the most iconic regions of France. From the Vallée de la Loire's "sweet life" to Dordogne's castles and Provence's colorful landscapes, you'll have a most enjoyable journey!
THE LOIRE VALLEY
Start your itinerary, staying for 4 nights in a delightfully restored house from the 18th century, nestled in a lovely hamlet. Your charming Host knows very well this region and will be happy to share some tips with you. One night, you will share a delicious home-cooked dinner, prepared by Monsieur. Do not miss the aperitif in the underground vaulted cellar - an out-of-time experience!
Located on the south banks of the Vienne River, this charming B&B is within short driving distance of Chinon and Saumur, beautiful, historic cities. Included in this itinerary is a bike rental for a day. You will explore, at your own pace, several villages and castles such as Langeais and Villandry. No worries, the road along the Loire river is totally flat!
In Touraine experience the "sweet life", stopping over in little villages to savour goat cheese or taste amazing wines. Take the time to relax in rose gardens and to enjoy traditional cuisine in many small restaurants frequented by the locals.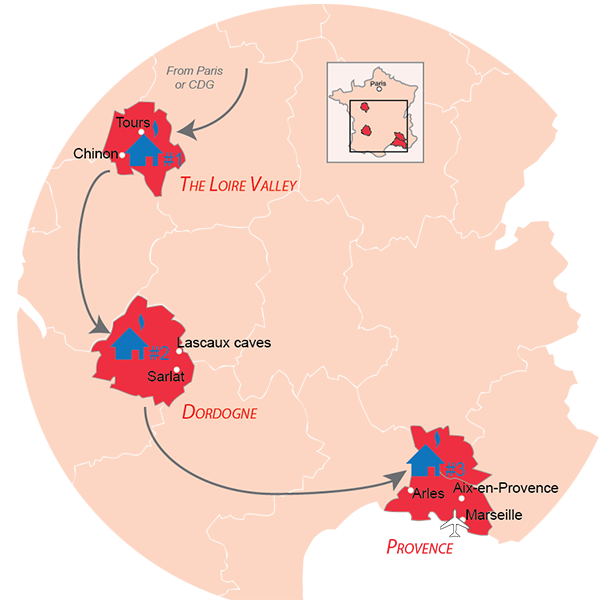 DORDOGNE
Then, jump into history in Dordogne where history is around every corner. In Black Perigord you will stay in an old stone Perigord style house for 4 nights, nestled in a lovely and typical Dordogne town. From there you have several dining options walking distance, you can also relax by the very cute Chapel, along the river.
We'll tell you where to find the most typical goat cheeses - and if you like outdoor activities, you'll be in paradise. Dordogne is famous for the prehistoric caves in Lascaux and we will recommend you much more intimate visits, in 20,000 year old caves. If you are interested in history or if you are a JM Auel reader, these are a must! 
Spend a special day with Bea: a private guide in Dordogne. She will take you back to the prehistoric and medieval times...away from the beaten paths. 
la belle PROVENCE
Your Bed & Breakfast for the last 4 nights lies just outside a lovely village on the slopes of Mont Ventoux. This former mas house belongs to your hostess's family for 4 generations and is surrounded by olive and cherry trees. Mont Ventoux remains the most authentic part of Provence, with little villages such as Vaison la Romaine, Malaucène and Bedoin and dramatic landscapes like "les Dentelles de Montmirail".
Avignon, also referred to as "the City of Popes" is a must see. Explore the palace of the Popes, the well-preserved ramparts and the famous "Avignon Bridge". We'll tell you how to visit them while avoiding the crowds. From there, you can easily tour the salt marshes of the Camargue and visit the Alpilles region, where you will find beautiful Saint Remy de Provence…we will tell you where to buy the best olive oil! If you are interested in history, don't miss the Roman ruins at Arles, Orange and the Pont du Gard.
Mont Ventoux and its dramatic landscapes also deserve a visit, and we have planned a special activity for you in this part of Provence: spend 1,1/2 hours driving a 2-seater dune buggy throughout the vineyards and finish your trip tasting local wines. It's a great way to have fun and explore country paths you would never find by yourself.
La vie est belle, isn't it?
This itinerary includes
Activities included in this tour