In this article, we're sharing a brief history of the time Vincent van Gogh lived in Provence, during the late 1880s. It will help you to understand the background context of van Gogh's paintings. Below, we've listed and tried to bring to life the places you may visit in Arles and Saint Rémy-de-Provence if you've booked one of our Provence tours.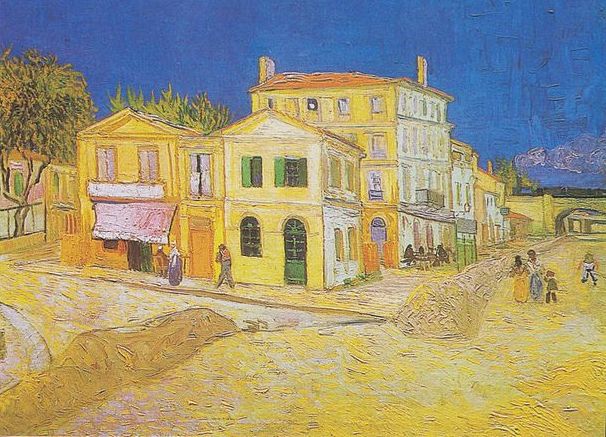 The Yellow House - van Gogh's home in France, which was destroyed by a WWII bomb (Van Gogh Museum, Amsterdam)
Where did van Gogh live in France?
During his time in France, Vincent van Gogh lived in Paris, Arles and Saint-Remy-de-Provence and finally in Auvers-sur-Oise just outside Paris, where he died in 1890. The fact that he spent much of his working life in France leads many to wonder whether he was French. He was in fact Dutch, born in Zundert in the Netherlands in 1853. In 1888, after spending a few years living in Paris, van Gogh decided to move to the South of France. The unique light in Provence fascinated him and the quality of life there suited him.
Although van Gogh completed some of his masterpieces in Arles and St Remy de Provence, he actually only lived there for about two and a half years. He was in Arles for about 18 months before spending about a year in an asylum for the mentally ill in St Remy de Provence. Eventually he discharged himself from the hospital in St Remy and moved to the Auberge Ravoux in Auvers-sur-Oise near Paris. He remained there until his death on 29 July 1890, aged 37. 
Van Gogh's art
In terms of van Gogh's most famous paintings, you won't find them in Provence. Most of them are scattered among some of the world's greatest art galleries and private collections. The Van Gogh Museum in Amsterdam has the most impressive collection. The MoMA and the Met in New York also have a couple of his most famous pieces. And from October 3rd, 2023 to February 4th, 2024, you will be able to see some of his last works of art produced at his final place of residence in Auvers-sur-Oise, at a special landmark exhibition at the Musée d'Orsay in Paris.
Most people come to Provence to see the picturesque landscapes and scenery that inspired van Gogh in France. His paintings show you his interpretation of his surroundings.
But Provence shows you exactly what he would have been looking at as he was painting.
A very popular tourist attraction in Provence is the digital art exhibition space, Carrières de Lumières, near to Les Baux de Provence. Digital images of famous paintings are projected onto the huge walls of the quarries with a delightful musical accompaniment. It is an incredible spectacle and we warmly recommend visiting this attraction. The 2019 show is dedicated to van Gogh. The video clip below gives you an idea of what to expect.
Van Gogh in Arles, Provence
Arles was van Gogh's muse for some of his most renowned paintings and drawings. Nowadays considered among the masterpieces of this period, his abstract artwork was perhaps 'too modern' for the 19th century and unfortunately often not appreciated. In the two years van Gogh spent in Provence, he produced about 200 paintings and 100 drawings, many of which are now in the Van Gogh Museum in Amsterdam and other museums around the world.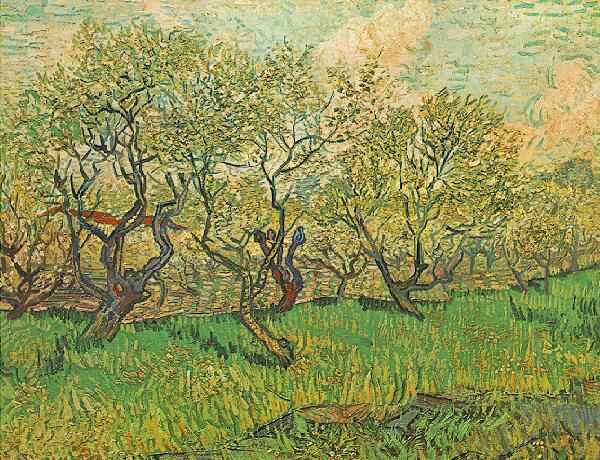 Orchard in Blossom near Arles, Vincent Van Gogh, 1888
On February 20th, 1888, Vincent Van Gogh arrived in Arles. He was tired of the Paris city life and the cold northern climate. Van Gogh headed south in search of warmer weather and the bright light and colors of Provence. It would help to inspire him and develop his new post-impressionist style of painting.
According to his brother Theo, they believed that van Gogh's plan was to travel first to Arles and then move on to Marseille. That plan changed, however. Everything that van Gogh had been looking for, he found in the beautiful countryside of Arles, and he never went to Marseille.
Vincent van Gogh had owned a collection of Japanese prints, and through his reading about Japan became a great admirer of the country and its landscapes. He had hoped to find a similar kind of light, color and harmony in the south of France. He did, and started to paint many Japanese-style paintings of blossoming trees and the Pont de Langlois.
The seasons of Provence came alive in van Gogh's paintings. Some of his work depicted the awakening of spring. Others the hot summer season, the harvests, and Provence's fascinating starry nights.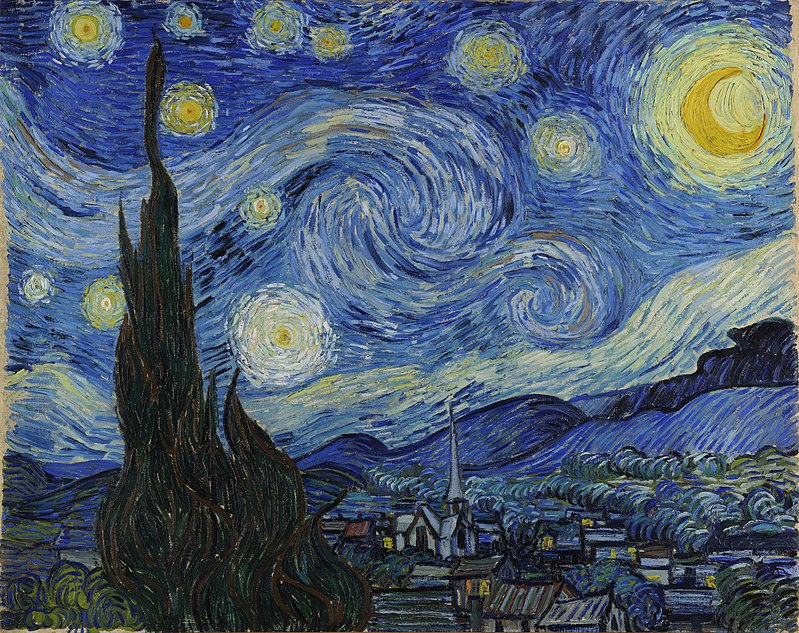 Starry Night by Vincent van Gogh (Museum of Modern Art, New York)
Painting the human figure had always been one of Van Gogh's most important artistic goals. He had a special love for paintings that depicted country people and their occupations. In Arles, he decided that he wanted to modernize this genre, choosing the subject of the sower. He also painted portraits and still-lifes.
In May 1888, van Gogh rented a yellow house, which he depicted in one of his paintings but unfortunately is no longer there today, having been bombed during WWII. He lived in this house and set up an art studio in this idyllic provincial region.
He hoped to establish an artistic collective in the south, and encouraged other painters to join him. On October 23rd of that year, Paul Gauguin arrived in Arles. The two artists lived and painted together for two months. It was a time filled with great mutual inspiration, but unfortunately, their characters and artistic temperaments ultimately clashed.
On 23 December 1888, van Gogh suffered a mental breakdown – probably a first sign of his illness – and during an argument with Gauguin, cut off part of his left ear. Gauguin left, and van Gogh's dream of a studio with other painters was shattered. He stayed a few more months in Arles before voluntarily admitting himself to the Saint Paul de Mausole asylum in Saint Rémy in 1889. 
Van Gogh in St-Remy-de-Provence
After being committed to the Saint Paul de Mausole asylum, van Gogh continued painting until his death. He did almost 150 paintings during his year in St Remy, and you will be able to visit some of the landscapes that he painted.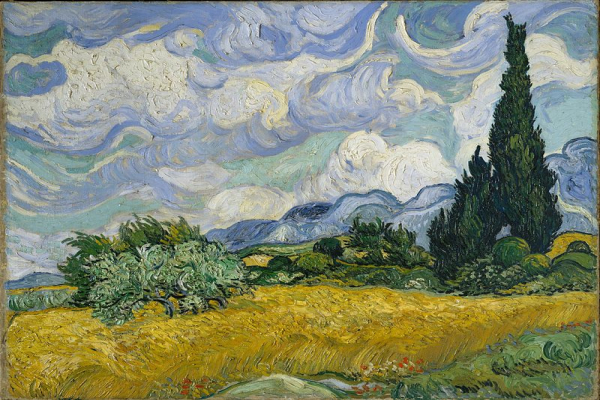 A Wheatfield with Cypresses, a painting inspired by the view from van Gogh's window at Saint-Paul-de-Mausole mental asylum, toward the Alpilles mountains (Metropolitan Museum of Art, New York)
Van Gogh in Provence today
For those interested in the work of Vincent van Gogh in Provence, there are a few beautiful places of interest you'll enjoy visiting in Arles.
The Van Gogh Foundation, Arles
The Van Gogh Foundation in Arles is interesting and shows how van Gogh has influenced the styles of other artists. You won't, however, see much of van Gogh's work – perhaps only a few minor pieces. Check the temporary exhibitions that will be on during your stay in Provence to see if you think it is worth visiting.
This space on the Place Félix Rey was once the central square of the hospital where Vincent Van Gogh was treated at the end of the 19th century, after cutting off part of his ear. This scene was immortalized in several of van Gogh's paintings. In recent years, restoration work has been carried it so that the square looks much as it would have done during van Gogh's time. Today, the building is the town library.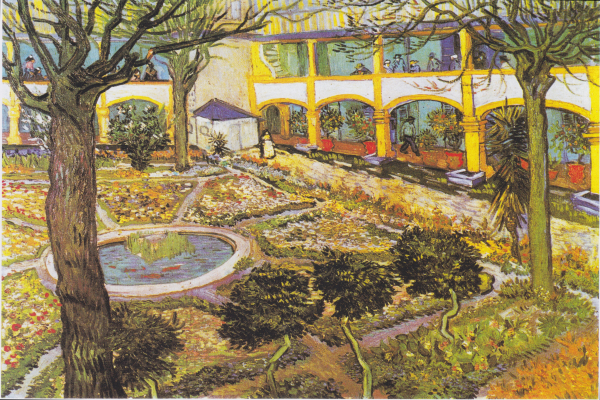 The garden of the hospital in Arles (Oskar Reinhart Collection, Winterthur, Switzerland)
Van Gogh Cafe, Arles
This cafe is a tourist trap nowadays and we only mention it because people may be interested in seeing one of the scenes in van Gogh's paintings.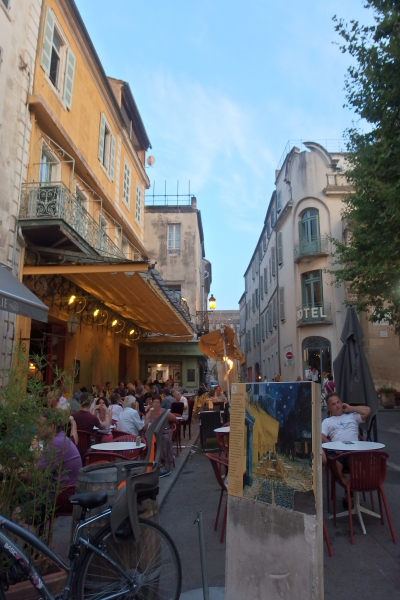 Café terrace on the Place du Forum in Arles in the evening, with van Gogh painting in the foreground
Saint Paul de Mausole asylum, St-Remy-de-Provence
In Saint Remy de Provence, you may visit Saint Paul de Mausole, the asylum (a Romanesque cloister) where he spent the penultimate year of his life. It is still a psychiatric hospital today. There is a museum in one wing of the beautiful Romanesque cloister dedicated to the period when the artist was committed to Saint Paul's. Many visitors find visiting the reconstruction of van Gogh's room a moving experience.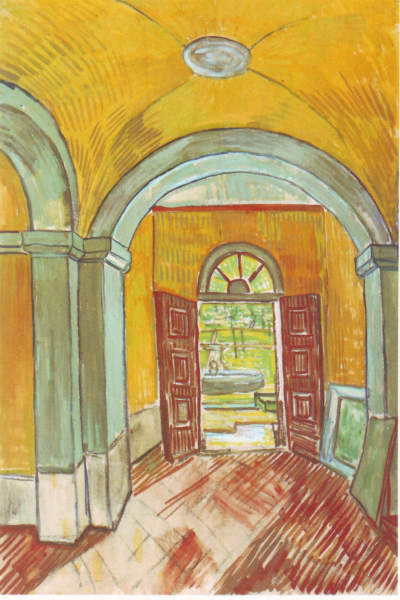 Entrance Hall of Saint-Paul Hospital (Van Gogh Museum, Amsterdam)
 Van Gogh's Field, St-Remy-de-Provence
Outside the psychiatric hospital, you'll find Van Gogh's Field. You are free to stroll through and view twenty large-scale reproductions of Vincent van Gogh's most famous paintings, set in the places where they were produced.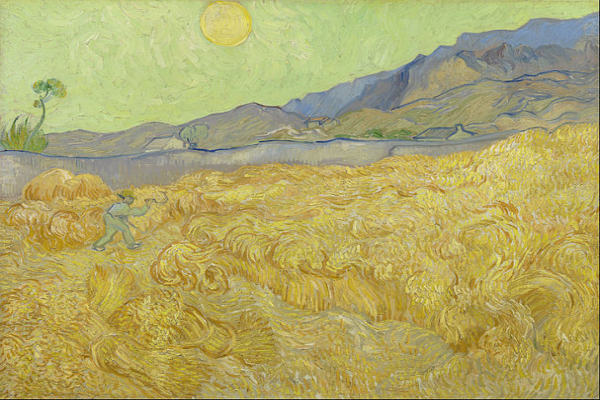 Wheatfield with a reaper, from van Gogh's room at the Saint Paul de Mausole hospital (Van Gogh Museum, Amsterdam)
Cycling tours of van Gogh's landscapes, around St-Remy-de-Provence
Those who enjoy cycling can explore the outskirts of St Remy by bike. The Van Gogh route will take you through the very landscapes that inspired Vincent van Gogh. This route can also be taken on foot or by car.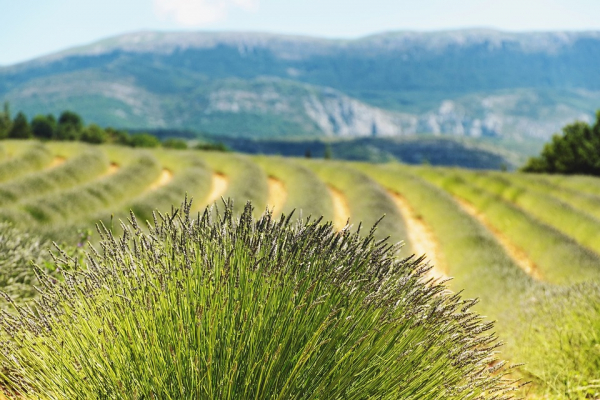 Fields in Provence
Guided tours of St Remy de Provence
The tourism office organizes guided tours of St Remy, including some of the places relating to van Gogh. The tours last 1.5 hours and run on Tuesdays at 10 AM from mid-April through mid-October. The tours must be booked in advance via the contact form on the website or calling 04 90 92 05 22. If you are on one of our tours of Provence, we will take care of advanced bookings for you.
Estrine Museum, St-Remy-de-Provence
The Estrine Museum has a short film about Vincent van Gogh's life and work and the landscapes he painted. There are also some good temporary art exhibitions.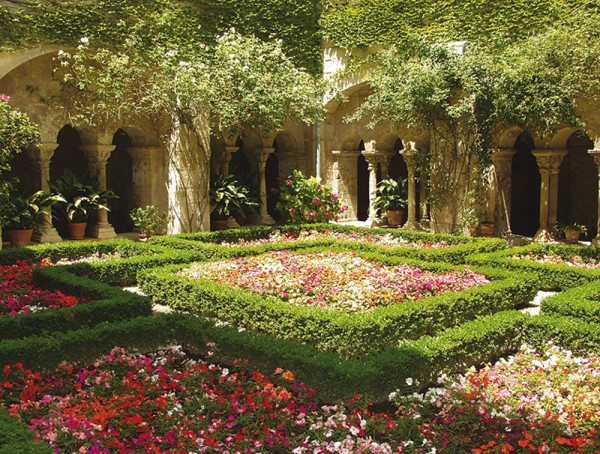 The garden at the former hospital, in Arles
Our Self Drive tours in Provence
If you are interested in walking in van Gogh's footsteps, we will be very happy to include a customized tour of Arles and Saint-Remy-de-Provence in any of our Provence itineraries.