Provence Beauty products
With a perfect warm weather, Provence is also an idyllic place to grow plants. The Provencal region is famous worldwide for its Herbs of Provence and essential oils. Renowned Provencal brands exported their products all over the world such as "L'Occitane en Provence" or "Pré de Provence".
How surprisingly funny it is that a great American brand made in France, such as Pré de Provence, is totally unknown to the French population. Despite its French name, which means "field of Provence", the headquarters of the brand Pré de Provence is set in Seattle.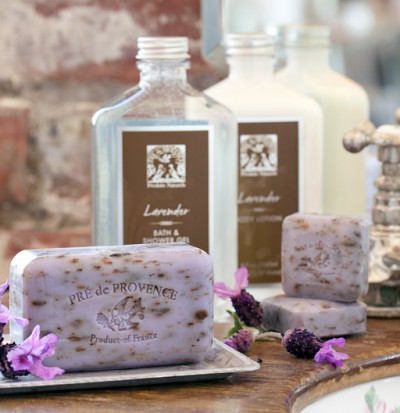 However, l'Occitane en Provence is a French brand based in Manosque, a middle size town in the Eastern part of Provence. Their beauty products enjoy a great success in France but also throughout the world. L'Occitane en Provence exports more and more internationally, implanting stores all over the globe.
If you wish to visit L'Occitane headquarter and factory, we can include it to one of our Provence Self-Drive Itineraries. 
Provence Lavender Fields
The south of France is a region famous of its immensity of lavender fields due to its suitable climate and height. Many Provencal products are made from the lavender, such as essential oil, soap and of course beauty product...that were already used by the Egyptians. The therapeutic virtues of the Lavender essential oil are widely renown: relaxing and antibacterial, it is also a great treatment for older wrinkled skins.
However, be aware of the traps because the quality of the product depends on the quality of the plant, we will guide you to buy the best quality Provencal products. We recommend to walk along the lavender path, far from the Provencal touristic sites, where you will get lose in the sinuous trails in postcard-perfect landscapes.
Lavender fields - ©Benoit Dignac - ADT Vaucluse
For those visiting in July, you will enjoy the festivities of the lavender harvesting. People interested by the transformation of the lavender plants, will visit a small museum with great explanations, a very nice short movie and high quality products.
Best Tours in France including Provence
Emilie & Laura are your Personal Trip Planners