Provence: Colors, Aromas & Sceneries
8 days
Provence
Gourmet Experience
Sceneries
US$ 2,430 Per traveler, including taxes, based on double occupancy.
Book now
Get a feel for all of the wonders of Provence: gorgeous landscapes, fascinating historical sites, and mouth-watering local products.
SOUTHERN PROVENCE from Aix
This itinerary starts with 3 nights in a very typical 'mas house' – a maison de Provence - located in the heights of Aix en Provence, 12 miles from the historic city. There, you will be cordially received by your delightful hostess who speaks English fluently. You will stay in a comfortable room with private bathroom, opening to your terrace where you will enjoy breakfast with a view over the garden, olive trees and vineyards. After a day visiting you will be introduced to the local game: la pétanque or relax around the swimming pool with a glass of rosé wine.
From there, discover the beauty of Southern Provence as you visit picturesque little villages in Luberon or bigger cities such as Marseille or Aix-en-Provence. Tour the salt marshes of the Camargue, take an easy hike in the calanques near Cassis or visit the Alpilles region, where you will find beautiful Saint Remy de Provence and Van Gogh favorite landscapes…we will tell you where to buy the best olive oil or lavender products!
If you are interested in history, don't miss the Roman ruins at Arles, Nîmes or Pont du Gard. We will also take you to smaller sites – less famous and much quieter.
One day, follow a truffle producer in a gorgeous Mediterranean landscape...looking for truffles! You will learn a lot about this famous mushroom and taste several appetizers made of truffle. A very fun experience!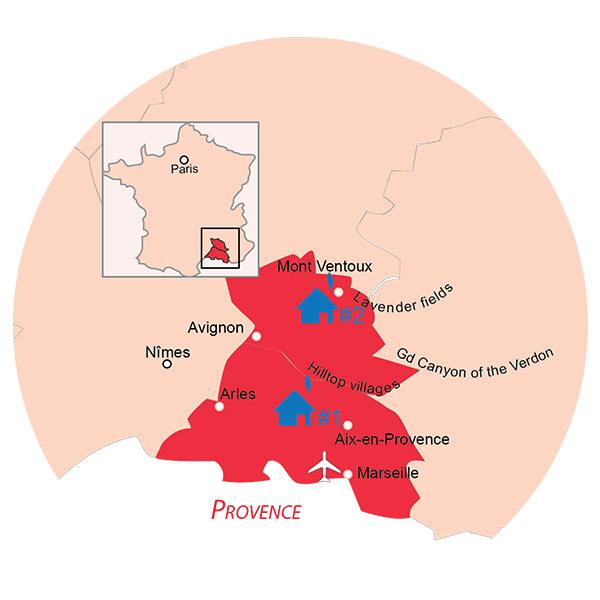 NORTHERN PROVENCE in a peaceful Town
Stay in the heart of a peaceful provençal town near Mount Ventoux for 4 nights. Your lovely hosts will welcome you in the house they entirely remodeled. At night, refresh in the garden with swimming pool or enjoying a dinner cooked by Eric, your host. A very Provençal experience! Mont Ventoux remains the most authentic part of Provence, with little villages such as Vaison la Romaine or Bedoin and dramatic landscapes like "les Dentelles de Montmirail".
So many things to see in less than an hour's drive from your B&B: beautiful Avignon, also referred to as "the City of Popes", where you can visit the palace of the Popes, the well-preserved ramparts and the famous "Avignon Bridge". Strolling hilltop villages on market day, walking on the footsteps of famous painters such as Cézanne or Picasso. We will also tell you about some hidden jewels - villages, off the beaten track – not too crowded…where you will stroll around charming streets or have a drink at a provencal café with locals. We can also recommend a farmer's market and wine cellar for each day of the week!
If you like wine, save half a day to explore the Châteauneuf-du-Pape vineyards. Near your B&B we have planned a special activity for you: Drive your own 2-seater dune buggy throughout the vineyards, following a guide who will explain about the terroir and vine culture and finish your trip tasting local wines. It's a great way to have fun and explore country paths you would never find by yourself.
A week in Provence is always full of surprises!
This itinerary includes
Activities included in this tour