Riviera sceneries, hidden Provence & majestic Paris
13 days
French Riviera, Provence & Paris
Sceneries
Art & Museums
US$ 4,150
Per traveler, including taxes, based on double occupancy.
Book now
From the colors and fragrances of South-East of France, to the beautiful monuments, restaurants and concerts in Paris, this trip will arouse all your senses.
THE FRENCH RIVIERA
We recommend to our travelers to fly into Nice International airport (which is not necessarily more expensive than Paris and will save time and tiredness). You will pick up the rental car at the airport.
For you to enjoy the seaside, we plan for you to stay for 4 nights in a lovely Bed & Breakfast located right in the beating heart of Nice city, in a impressive home which was restored very recently with a lot of taste and art by your lovely hosts. Your room opens on the garden and you will walk everywhere in Nice. The famous Promenade des Anglais and the beach are less than 10 min walk away and you are very central to drive along the French Riviera from Menton, Monaco to Cannes. 
Enjoy a peaceful atmosphere while playing Petanque or having a drink at a table at an outdoor cafe, typical southern French activities.
In one of the most famous perfume houses, be introduced to the perfume making technics and make your own fragrance - which you will keep as a great souvenir!
In the Riviera hinterland, you will have the opportunity to discover some of the most beautiful handicrafts in France, particularly ceramics, sculpture and painting. For art lovers, the many art museums of Nice and its surroundings will amaze you with masterpieces by Chagall, Matisse and Picasso. 
But the Riviera is even more than all this. The "Cote d'Azur" is a marvel of fabulous 19th century villas and sapphire water coves. Wander about the narrow alleyways of the old city of Nice and visit the many famous art museums. Go shopping and enjoy views of the Mediterranean in seaside restaurants from Monte Carlo to Antibes.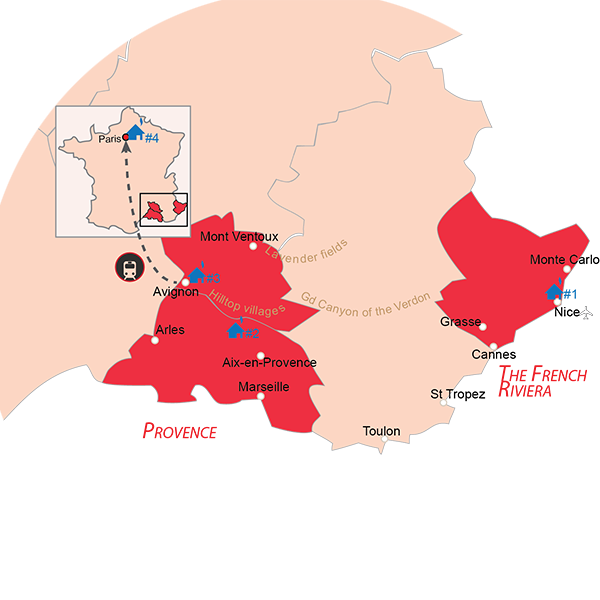 PROVENCE
On the 4th day, you will drive about 2h30 to Southern Provence, near Aix-en-Provence. Stay overnight in a gorgeous fortified castle, in a luxury room with Empire period furniture and a canopy bed. Your delightful Hosts, the owners of the place, will have you join a guided tour of the château, from basement to rooftop. In the morning you will have breakfast in the sumptuous medieval kitchen, with its hanging copperware and monumental fireplace.
From the 5th day, settle in your central base camp to explore Provence region. Stay for 5 nights in a very comfortable B&B, 5 minute drive to Avignon ramparts. This very quiet house is nestled in a nice garden where you will enjoy relaxing by the pool. Your Hostess speaks very good English and she will be happy to give you some advice if you'd like.
So many things to see in less than an hour's drive from your B&B: beautiful Avignon, also referred to as "the City of Popes", where you can visit the palace of the Popes, the well-preserved ramparts and the famous "Avignon Bridge". Strolling hilltop villages on market day, walking on the footsteps of famous painters such as Cézanne or Picasso. We will also tell you about some hidden jewels -  off the beaten track where you will stroll around charming streets or have a drink at a provencal café with locals. We can also recommend a farmer's market and wine cellar for each day of the week!
If you are interested in history, don't miss the Roman ruins at Arles, Orange and the Pont du Gard. We will also take you to smaller sites – less famous and much quieter.
Explore a family owned olive oil mill, with one of the daughters. She will explain the olive oil farming from the tree to the bottle. Then you will enjoy a crash course on cooking some olive oil dishes. A very Provençal experience !
AH PARIS !
On the 10th day, return the car at Avignon train station and take a TGV high speed train to Paris downtown.
End your trip living the Parisian life for 3 nights. Comfortably accommodated in a charming boutique-hotel in the heart of the Latin Quarter, you will discover the French capital city's must sees and hidden beauties.
Being based 10 minute walk to Notre Dame Cathedral, we have prepared for you different itineraries to explore Paris by foot, by boat or using public transportation. We also recommend our favorite restaurants and boulangeries in different districts of the capital city so you'll know where to take a break. One night, you will enjoy a great quality and quite private classical music concert in a very little church - away from the crowds. A unique night in Paris which we hope will remain as a great memory.
You will enjoy the diversity of France!
This itinerary includes
Activities included in this tour