Region
in Paris, Alsace, Burgundy, Lyon & Provence

Heritage & History
Countryside
This itinerary takes you to Eastern France from North to South. After spending a few days in Paris, you will enjoy the Alsace region on the German border and then drive your way south all the way to Provence. 
The best itinerary to discover l'Est de la France !
Price
US$ 6 480
Per traveler, including taxes,
based on double occupancy.
Your accommodations
Pictures of the specially selected accommodations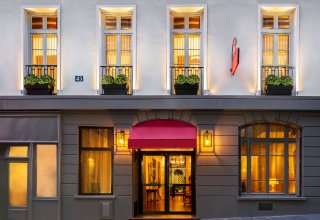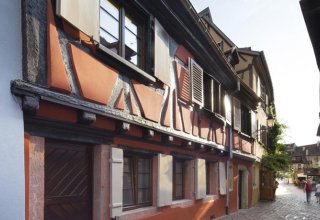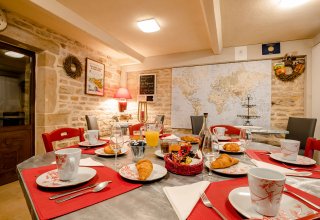 Step by step
Paris, Oh ! Paris !
Start your trip living the Parisian life for 3 nights. Comfortably accommodated in a charming 4* boutique-hotel in the Saint Germain disctrict, you will discover the French capital city's must sees and hidden beauties.
Being based less than 10 minute walk to Notre Dame Cathedral, you can explore Paris by foot, by boat or using public transportation with different and unique itineraries we have prepared for you. We also recommend our favorite restaurants and boulangeries in different districts of the capital city so you'll know where to take a break.
To get oriented in Paris, we plan for you to follow a private Parisian guide for a half-day. We will craft your itinerary with Raf based on what you already know and want to discover. It may also include museums if you wish.
Alsace's lovely towns & vineyards
Your next step is in Alsace is for 4 nights in a 4* Boutique-Hotel in the very center of Colmar in the little Venice District, walking distance to all bar, shops and restaurants. This hotel is in a 16th century building which was renovated mixing new and old materials - resulting as a charming and cozy ambiance. 
Discover the gorgeous town of Colmar, its canal maybe on a barge tour and enjoy a meal in a typical Winstub with a nice beer. 
Another day, drive along the Wine Road, stop in some of the most beautiful villages of France with their typical colorful half-timbered houses and the stork nests . . . enjoy the Alsatian wines and the great views over the Vosges foothills. 
Alsace has also a very rich history : we include cut-the-line tickets to the Haut-Koenigsbourg castle which dates from the Middle Ages and was rebuilt entirely in the early 20th century. This is a fascinating visit. 
Burgundy from Beaune
For 2 nights, you will reside 2 minutes on foot from the famous Hospices, right next to Beaune's ramparts, in a old toll house dating from the Middle Ages when people had to pay to enter the city, which has been tastefully restored.
Enjoy being able to walk everywhere while staying in this quiet B&B nestled in a cool garden. We'll tell you where to go for the best wine tasting in Beaune. After that, you can savor a traditional Burgundy meal or buy a picnic at the market to enjoy in the nearby park.
To discover the Burgundy vineyard trails, we plan for you to spend an afternoon on a bike to discover Burgundy wines. You will make several stops on the way to taste wine at smaller wineries.
The city of Lyon
Spend 2 nights in the very heart of Lyon, in a charming privately owned Boutique-Hotel, located on a quiet street of the most lively part of the city. Laurent and his team take great care of their guests and are always happy to give advice and share tips. 
Discover Lyon's amazing history, enjoy quality design shops and trendy restaurants. Gourmet travelers may even enjoy treating themselves to a star-rated Michelin restaurant or two . . . there are so many options in Lyon !
We include home-crafted walking itineraries of the different districts so you will make the most of your stay and enjoy the different facets of the 3rd largest city in France. 
Provence
On the 12th day, settle in your central base camp to explore Provence. Stay for 4 nights in a welcoming Provencal stone house, a former convent, perfectly located between Avignon and the Luberon. You will stay in a large room and at night, relax in the garden, by the pool or meeting with fellow travelers around the barbecue, with a glass of wine. 
You will enjoy hilltop villages on market day, walking in the footsteps of famous painters such as Cézanne or Picasso. We will also tell you about some hidden jewels, off the beaten track, where you will stroll around charming streets or have a drink at a provencal café with locals. We can also recommend a farmer's market and wine cellar for each day of the week!
Speaking of gastronomy, let a local man who was born and raised in Avignon, take you on a walking tour to discover the Provençal food specialties - a great way to get acquainted with the local culture, from the Pompe à l'huile to the thyme chocolates.
If you are interested in history, don't miss the Roman ruins at Arles, Orange and the Pont du Gard. We will also take you to smaller sites – less famous and much quieter.
Activities included
Paris Private Walking Tour
For a half-day, follow a private guide in the heart of Paris to get oriented and learn more about the history, art, culture or architecture. We will taylor make your program based on your wishes. 
Haut-Koenigsbourg Castle
Enjoy the visit of the Haut-Koenisbourg fortress with cut-the-line tickets to avoid waiting. This is a Middleages marvel rebuilt in the early 20th century.
Burgundy Wine & Bike Tour
Spend an afternoon with a guide who will take you wine tasting in Côte de Beaune famous vineyards...and wineries of course.
Gourmet Experience in Provence
Let a passionate who was born and raised in Provence, take you to his best addresses in the old city to discover Provence food specialties.