Jean-François and I are getting ready to re-plant our vegetable garden, and thinking of all the delicious tomatoes, zucchini and other vegetables and fruits we will enjoy this summer made me hungry for some ratatouille. However, I do enjoy making this tian version which uses the same veggies, but I think looks prettier.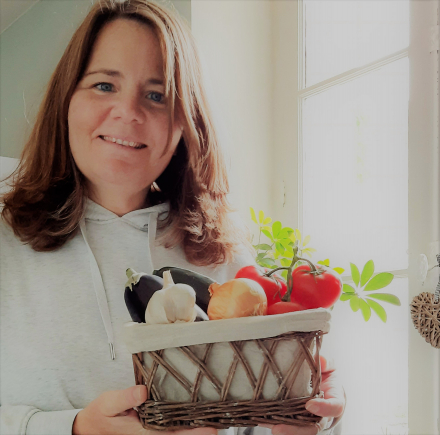 Laura ready to cook the tian, ©Laura Crotet
Instructions
Slice the eggplant into thin rounds. Put them in a bowl and lightly salt them. Let them sit for about 15-20 minutes to give their water, then rinse and pat dry. You can brush a little olive oil on each round, but I do not think this is necessary.
During this time, slide the zucchini, the tomatoes, and the onions into rounds.
Preheat the oven to 360°F.
Rub the bottom of your dish with a garlic clove that you did not cut, then put some olive oil in the dish.
Begin assembling the tian by arranging the sliced vegetables, alternating the colors. If you have a square dish like me, you can do this by lines. If you have a round dish, start on the outside and make a circular arrangement. As I did not want too much on an onion taste, I skipped every other turn for the onion.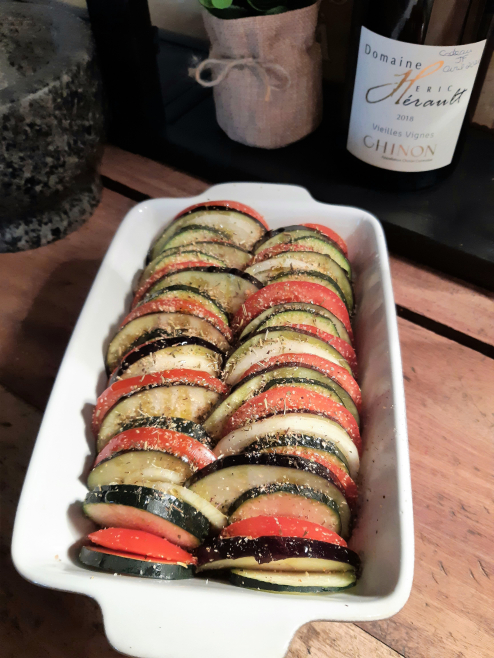 The tian is ready for the oven, ©Laura Crotet
Sprinkle the top with the chopped garlic, herbes de Provence, salt & pepper, then drizzle with olive oil.
Cook in the oven for about 1 hour, until the vegetables are soft and are starting to turn golden on the top.
It is a great side dish for a BBQ, or can be enjoyed as is with a salad, a baked potato, or a crusty baguette (and of course, some rosé from the south of France).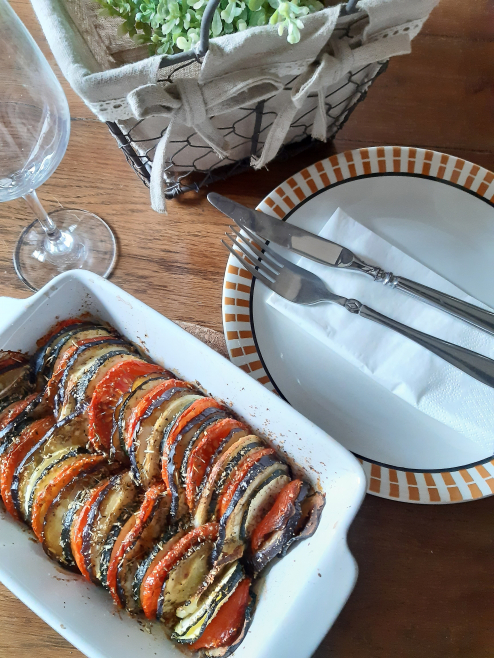 Looks delicious! ©Laura Crotet
- Laura Crotet, France Just For You
If this recipe brings water to your mouth, you may want to check out our recipe for Pistou soup, another Riviera specialty.