Explore the Camargue region in Southern France
Located in the delta of the Rhône River, close to Arles, this vast wetland is home of an impressive wildlife. Birdwatchers will be fascinated by the pink flamingos and countless other bird species. You will see the famous native white horses wandering freely through the lakes and pastures among wild bulls, boars and beavers. Be aware of the local cowboys - the guardians - riding the Camargue horses looking after the inhabitants of the National Park.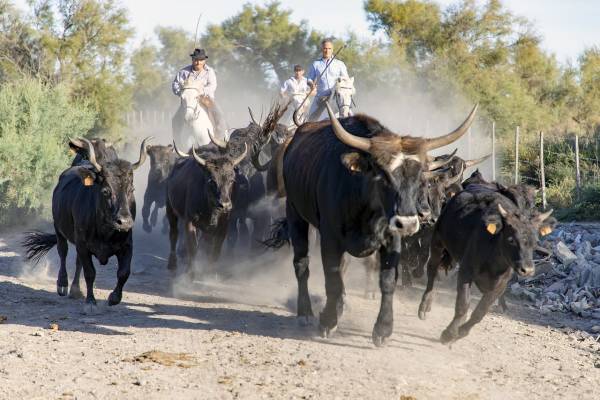 Gardians working with bulls in Camargue - ©Christian Klein Pixabay
The most reckless, they can enjoy a cross through the Camargue and the most discreet will be able to approach and observe the hidden treasure that the Camargue region has to offer. In the lagoons, you will discover the salt marshes and also the famous Camargue rice fields.
Camargue also has a very rich heritage: cultural with the biggest gypsy pilgrimage in Saintes Maries de la Mer, every May...or stone heritage with some fortified ports, along the salt marshes. We will tell you where to take the best picture of the pink colored marshes reflecting the centuries old crenellated walls. The Camargue was declared a UNESCO World Heritage Site for a reason and we will be happy to include this area to your Provence self-drive trip.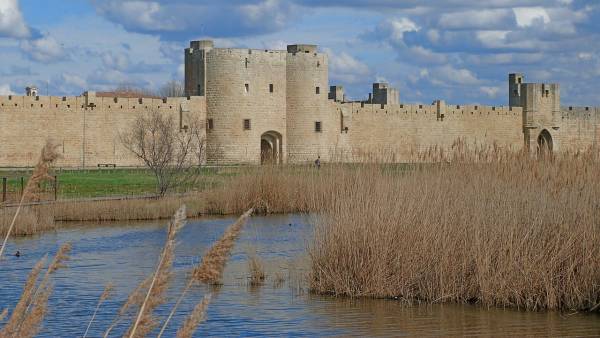 Aigues Mortes fortifications in Camargue - ©Claude Alleva Pixabay
Arles (to be pronounced "Arl")
North of the Camargue, Arles is also a UNESCO World Heritage Site, a medley of ancient Roman ruins, such as the antic theater and the arena, medieval buildings, museums and modern sites. Follow the steps of Vincent Van Gogh, wander the charming streets and squares and observe the Arlésiens. For farmers market lovers, Arles hosts one of the biggest markets in the whole region which is not as touristy as some others so you'll be immersed with locals.There, you will also taste some local speciality such as the Gardiano: a bull stew. We will also recommend simple family restaurants...up to a star rated restaurant for those who want to treat themselves.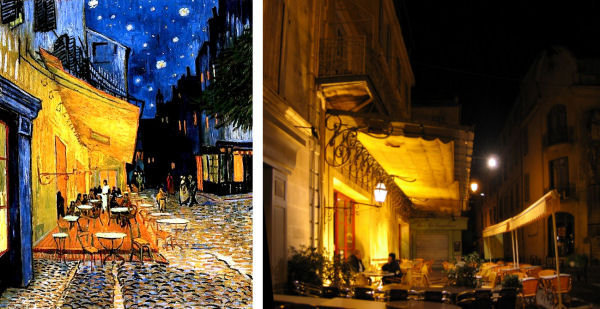 Van Gogh painting Arles city by night