At the time of writing, we're in the midst of the grape harvest! Farmers markets all over France are bustling all year round as locals continue to prefer fresh produce over the grocery store chains. And this is even more true during the fall harvest season, with its abundance of new winter vegetables.
In this post, we spend a week exploring markets in Provence in southern France. As well as farmers' markets, we're including antiques, handicrafts, textiles and other markets that are wonderful for buying authentic French souvenirs.
So make sure you keep this list handy the next time you're visiting France!
Monday: Bédoin
A visit to the Monday market in Bédoin is a perfect way to start your week right all-year round.
This provincial market is open from 7:00 to 13:30, so come early and enjoy your croissant on a bench amongst locals and visitors alike.
Set in gorgeous, tree-studded streets, this market has been praised for its high-quality foods and variety of products, from woven baskets to colorful berries.
Bédoin is a quaint and atmospheric commune, nestled at the base of Mont Ventoux. If you're there in the summer, you may even catch sight of the cyclists zipping up the mountain during the Tour de France.
Bédoin, Provence, taken from the vineyards (Photo: Veronique Pagnier CC-BY SA 3.0)
Tuesday: Aix en Provence, Vaison la Romaine & Gordes
Aix-en-Provence has a wide variety of markets throughout the year, and has something to satisfy even the most particular cravings.
Along with fresh fruits, vegetables, and other French favorites (local cheese and wine, of course!), the big market on Tuesday, Thursday, and Saturday includes a selection of textiles, embroidery, handicrafts, and antiques.
Whether you're looking for vintage additions to your wardrobe, or an embroidered piece for your family home, the big market is your one-stop-shop destination.
The craftsmen in Provence proudly display their earthenware and pottery dishes, each piece possessing a Provencal aura.
At the big market, take part in the age-old tradition of mingling and browsing the stalls, soaking in the way of life of generations past.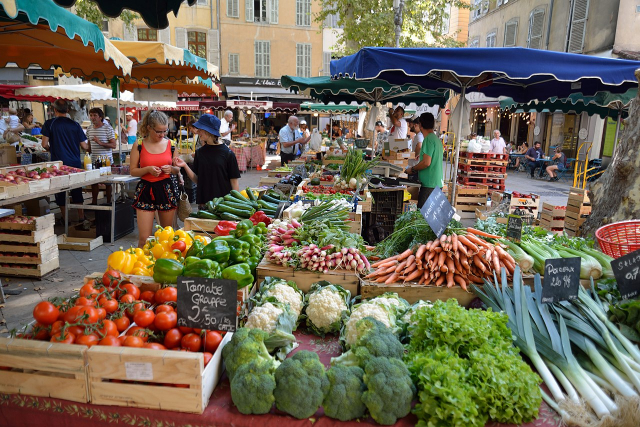 Farmer's market in Aix en Provence (Photo: TMV CC-BY SA 4.0)
Market day in Vaison-la-Romaine is of rich, historical significance, since it has been running on Tuesdays since 1483.
It takes place all across the bustling town center in the morning from 7:30.
You'll find mainly organic and locally-sourced products, and whether your taste-buds crave sweet or savory fare, you'll be enamored by the atmosphere and flavors of Provence.
In the summer there are up to 450 stalls to browse and you may find it hard to resist the colorful textiles, local crafts, and art influenced by the warm atmosphere of Southern France.
If you fancy a walk, the picturesque medieval town across the river offers a new perspective of Vaison-la-Romaine.
Continue up the hill to the castle, where you can take in stunning views of the surrounding area.
Roman Bridge in Vaison-la-Romaine, Provence (Photo: Maarjaara CC by 2.0)
If you have time on a Tuesday, you should also be sure to visit the increasingly popular Gordes market, situated at the foot of the commune's castle.
One reason the market's rise to fame is the colorful display of local goods, each stall more photogenic than the last.
Regional specialties in this market include lavender, soaps, textiles, and clothes. But if you are craving a salty snack, it's also a great place to pick up some local cheese and sausages.
When your senses are sated by the colors, flavors, and scents of Gordes' market, make your way to the nearby Sénanque Abbey, founded in 1148. This idyllic monastery is framed by fields of lavender in full bloom in June and July.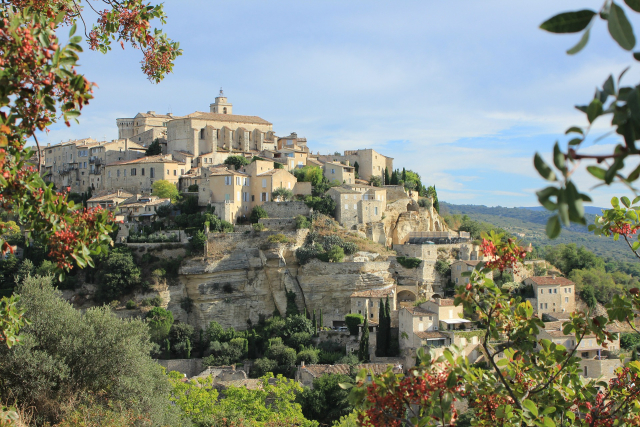 Gordes, Provence (Photo: Pixabay CC0)
Wednesday: Arles, Saint Remy, Cassis
At the market in Arles, you may be tempted to enjoy an impromptu charcuterie board, inspired by the subtle, salty, tangy, and sweet flavors of locally cured meats, cheese, and olives.
Take a walk down the Boulevard Emile Combes to enjoy the enticing smells of spices, dried fruits, and flowers, while you work up your appetite.
After you sample the variety of delicious local products this morning market has to offer, take some of your favorites down to a scenic spot along the river Rhône and enjoy your hand-picked lunch with a crusty baguette. Voila! Lunch is served.
This market also has a plethora of clothes, fabrics and other goods to entice you. And why not pick up a bouquet of sunflowers for a wink to Vincent Van Gogh?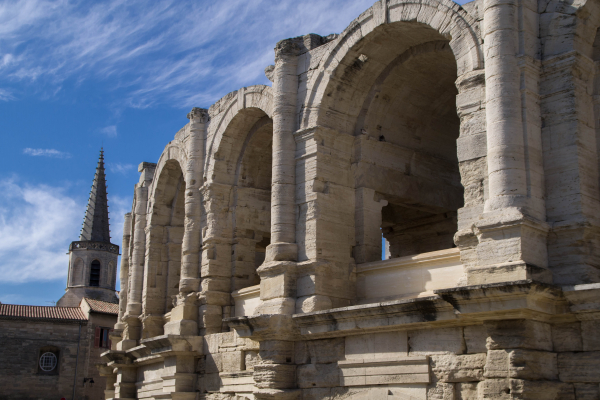 The amphitheater in Arles, Provence (Photo: Pxfuel CC0) 
On Wednesday mornings in Saint-Remy-de-Provence, market stalls are scattered along the streets of the old town center near Avenue de la Résistance.
The town itself has an important place in history, as it is where Van Gogh painted "The Starry Night" in 1889, during his time at the Monastery's psychiatric center.
Nowadays, Provencal artists sit next to their work on market days, offering unique paintings, clothes, and handicrafts.
Visitors can also find locally-grown herbs and spices, freshly baked goods, and oysters.
Luckily if your French is rusty, many of the vendors speak multiple languages and can help with your needs.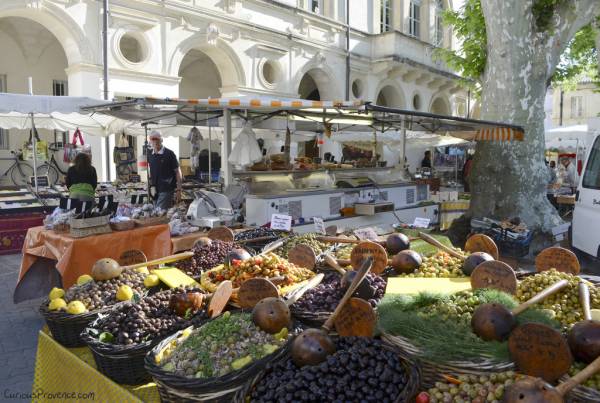 Market day in San Remy de Provence
Cassis is a quaint fishing village situated at the edge of the Calanque Massif, an area of stunning secluded creeks.
This section of Southern France's coastline is characterized by steep, rugged cliffs that drop into the Mediterranean.
Visitors will remember this area for its stunning aquamarine blue sea and deep green shrubs rooted in limestone. You can arrange a boat trip at the harbor to admire the gorgeous coastline and creeks.
In the town square, locals and visitors congregate for the morning market.
Satisfy your sensory cravings with fresh cheese, sun-dried tomatoes, fragrant soaps, and the softness of Italian linen.
If your feet need a rest, grab a seat in the bustling square and soak in the ambience of the market.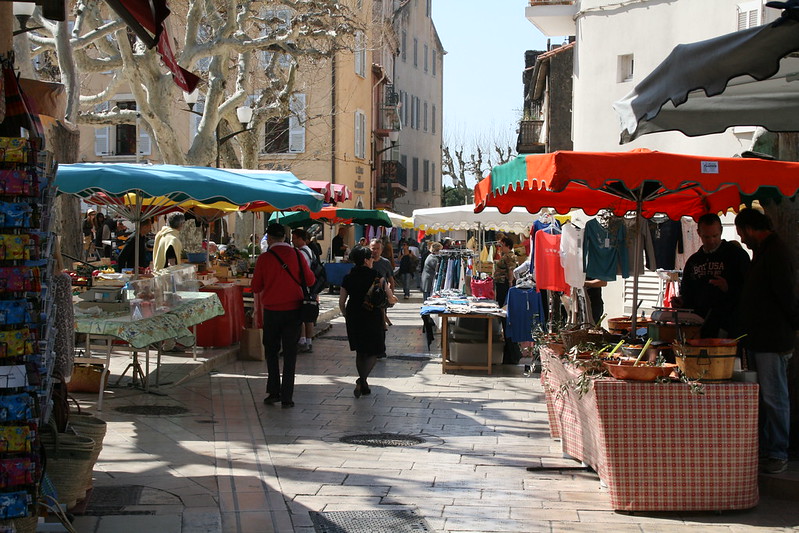 Market in Cassis, Provence (Photo: Kari CC-BY 2.0)
Thursday: Villeneuve-les-Avignon
The Brocante (flea market) is held on a side street in Villeneuve-les-Avignon near the visitors' center.
At this morning market, you'll see some merchants with goods laid out on the pavement, while other vendors have tables.
If you are in search of a unique, vintage piece as a souvenir, this is the market for you.
You can find fine items, such as silver jewelry and porcelain cups, next to furniture and French books.
Unlike the food markets, here you should use your haggling skills and knowledge to try and get the best deal, as the asking price is often higher than average.
If you're craving some seafood, be sure to visit this market again on Saturday for fresh oysters, shrimps, and urchins (if you're lucky), paired with a bottle of crisp and delicious Provencal white wine.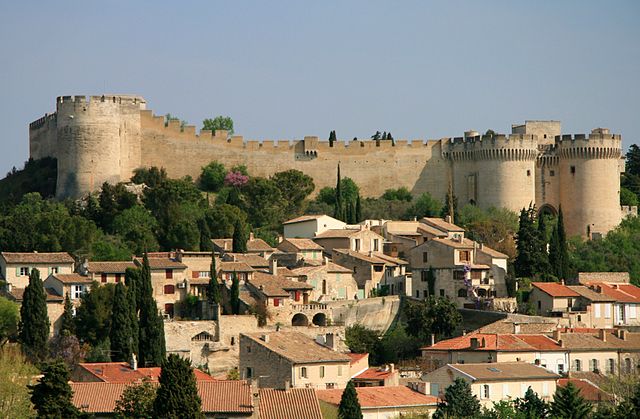 Villeneuve-les-Avignon in Provence (Photo: Luu CC-BY SA 3.0)
Friday: Eygalières
Eygalières is a picturesque, hill-top commune surrounded by the stunning Alpilles.
The area's residences have been restored to maintain historical authenticity, so you might feel you're stepping into the pages of France's history.
You could easily spend a day walking around and admiring the olive groves set into the mountains, along with historical ruins, and the local museum, but don't miss the Friday farmer's market.
Vendors offer an assortment of produce, sweet and savory snacks, and paella made in situ.
Grab some fresh favorites (baguette, cheese, olives, tomatoes, and Provencal olive oil) and find yourself a spot to savor the flavors of Provence while overlooking the Alpilles and the river Durance.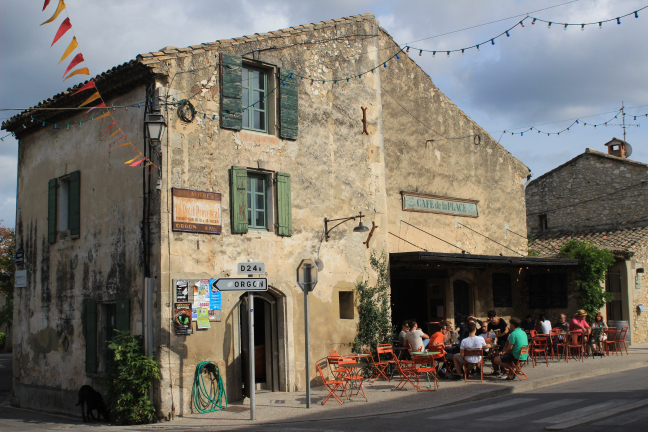 Eygalières, Provence (Photo: Piqsels CC0)
Saturday: Uzès, Apt
As Saturday rolls around and you are trying to choose which weekend market to squeeze into your itinerary, consider Uzès as a top choice.
Before you walk over to the market square, allow the winding, historical streets to take you to La Fougasse, the most highly rated patisserie in Uzès.
The bakery has a well-earned reputation for their delicious goods, such as a croissant so flaky and buttery it could make a grown man shed tears of joy!
The market itself seems to sprawl all over the town center, with stalls sandwiched by storefronts around the Place aux Herbes (the main square).
The vendors in Uzès take incredible pride in their produce and won't hesitate to offer you a generous sample.
This morning market has a reputation for high quality products, so whether you're enticed by some sweet local honey, or salty sea snails, your tastebuds will be pleased.
If you just want to mingle and browse the stalls, there are many highly rated restaurants surrounding the market that have fantastic options for lunch.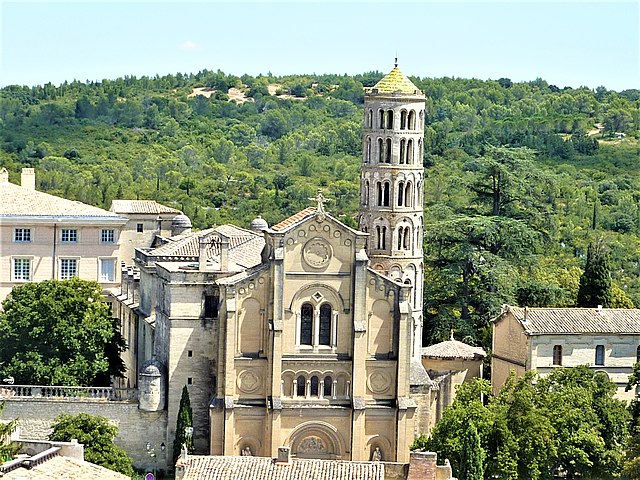 Saint Théodorit Cathedral, Uzès, Provence (Photo: Chris06 CC-BY SA 4.0)
The Saturday market in Apt is lively and atmospheric, visitors often comparing it to the feel of a festival.
There are numerous buskers, stalls, and shopfronts that splay out into the town center.
One could easily sit back and observe the scenes from a cafe along the side, pastry in hand, or fall into step with other jubilant shoppers.
Even when lining up for local specialties, such as goats cheese, candied fruit, and fresh paella, market-goers are awakened by the bustling energy on the streets.
Apt's market is praised as one of the best for gourmands in the Luberon, the name of the surrounding mountainous area.
The town itself is situated at the heart of the Luberon Nature Park, with access to numerous hiking trails.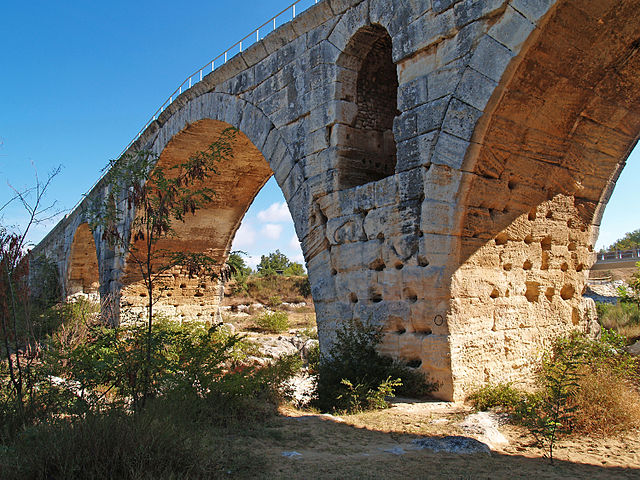 Pont Julien near Apt (Photo: Pierre CC-BY SA 2.0)
Sunday - Isle sur la Sorgue
At the end of the week, you may like to visit the quirky and atmospheric market in Isle sur la Sorgue.
The town center is encircled by an emerald green river which provides a calming soundscape, the backdrop to your antiquing.
Isle sur la Sorgue is known for its selection of unique knick-knacks and even hosts two antique festivals around Easter and in August.
During these festivals, the town is bursting with wacky and wonderful items, art, and antiques.
On regular Sundays, the antique market is located on Avenue des Quatre Hotages, just across the water from the farmer's market.
Let the smell of lavender guide you from one stall to the next, as this market has something for everyone, expect to fill your shopping bag with goodies.
Isle sur la Sorgue is the perfect place to wind-down after a week of travel, so pull up a chair, soak in the green hues of the hills, and breathe in the Provencal ambience - there's nothing else quite like it!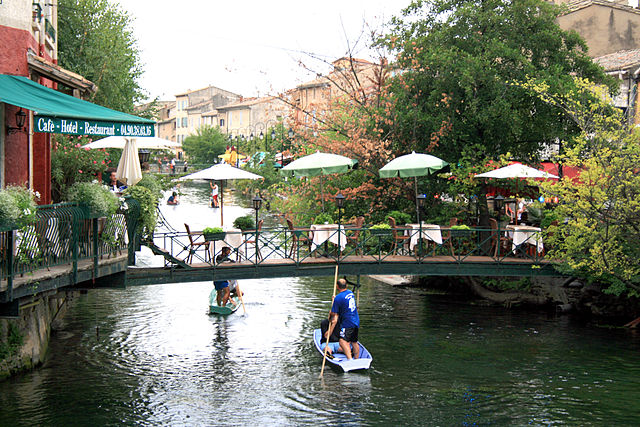 Isle-sur-la-Sorgue, Provence (Photo: Jean-Louis Zimmermann CC-BY SA 2.0)
Have we tempted you to visit Provence?
Contact us and tell us about your dream trip to France!