The city of Nîmes in Provence
Nimes, only 30 minutes away from Avignon or Arles, is also a witness of the French Roman heritage. A bit less touristy than Avignon, Nimes is appreciated for its pleasant weather. The city located along the Via Domitia (Roman way joining Spain and Italy) is home of some of the finest Roman architecture such as the most visited attraction: les Arènes - Nimes arenas. Nimes is also known for its controverted passion for bullfighting – still taking place in the Roman arenas – which are most appreciated by locals and very much criticized by other French people or foreigners.
We have prepared a walking itinerary for you to explore Nîmes at your own pace. We can include a day in Nîmes and the nearby area to any of our Provence itineraries.
Nîmes is also famous for its "Maison Carrée" a jewel-like temple, celebrated for its harmony of proportion. Built in 5 AD, it is dedicated to the adopted sons of Emperor Augustus. It is being said that Napoleon would have taken it as the model for the church of the Madeleine in Paris (near Concorde).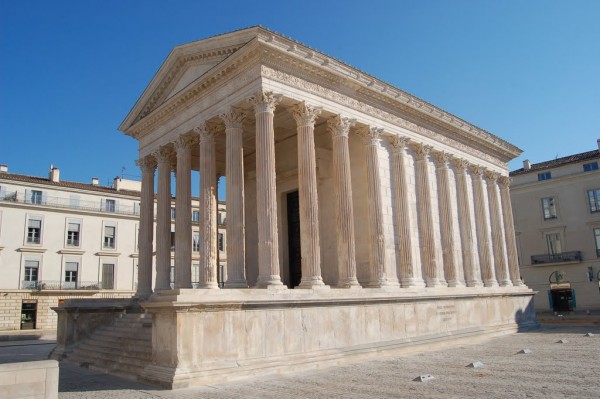 La Maison Carré Temple in Nimes - ©FJFY
Nîmes is also the French city where the "denim" blue jeans where invented: literally denim means "de Nimes" (from Nimes). They are wore by the cowboys in the Camargue. Many Provencal fabric shop can be found in Nimes, along with the famous colorful Provencal tablecloths.
Pont du Gard Roman Bridge
At a 30 minute drive, you will reach the dramatic Pont du Gard, the tallest and best conserved of all Roman aqueducts.
Close to Nimes and Avignon, the Pont du Gard is a three stories Roman aqueduct which was added to the UNESCO world heritage sites in 1985. It was built in 19 BC by the Romans under the commandment of Marcus Vipsanius Agrippa, the son-in-law of Augustus. During ancient times, Romans could transport water through the Roman aqueduct from the springs near Uzès.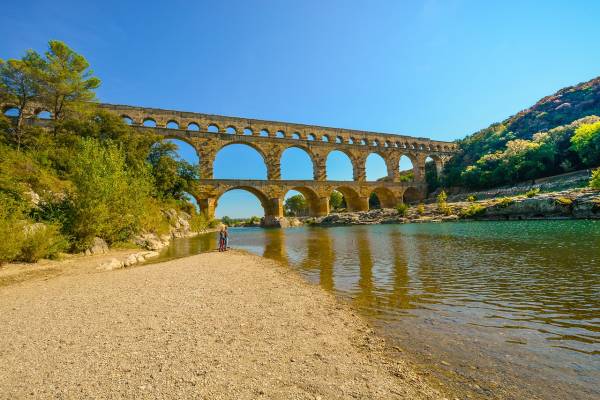 Pont du Gard Roman Bridge - ©Kirk Fisher
The history of the Pont du Gard is fascinating: built without mortar, the ancient aqueduct still thrive over the age, despite multiple flooding and occasional negligence. This masterpiece of Roman engineering is a very popular attraction in Provence and we will tell you where to take the best shots - avoiding parts of the crowds.
We will also recommend you another Roman bridge – much smaller – but totally unknown from the tourists in Provence. 
Discover Provence Heritage on a self-drive trip :
Feel Free to Email Emilie & Laura
Your French vacation is just around the corner.
You can also call us
French direct line :
+33 768 646 676
France is
6hrs ahead of East Coast
9hrs ahead of West Coast
9hrs behind Australia
France Just For You
Émilie, Guillaume Thyebaut & Laura Crotet
5 La Jasnière - 37130 Cinq-Mars-la-Pile - France
Our day tours to the Loire Valley will depart from the town of Langeais (zip: 37130).
Tour Operator registered by the French government n° IM044110021.
Proud member of the French Tour Operator Association: APST.