A Real Taste of France
16 days
Paris, Provence & French Riviera
Heritage & History
Gourmet Experience
Art & Museums
US$ 4,780
Per traveler, including taxes, based on double occupancy.
Book now
PARIS - The city of lights
Start your trip living the Parisian life for 4 nights. Comfortably accommodated in a charming 4* boutique-hotel in Saint Germain district, you will discover the French capital city's must sees and hidden beauties.
Being based less than 10 minute walk to Notre Dame Cathedral, we have prepared for you different itineraries to explore Paris by foot, by boat or using public transportation. We also recommend our favorite restaurants and boulangeries in different districts of the capital city so you'll know where to take a break.
To get oriented in Paris, we plan for you to take a guided tour on a bike, following a Parisian guide. Those who are not interested in biking can also take a walking tour.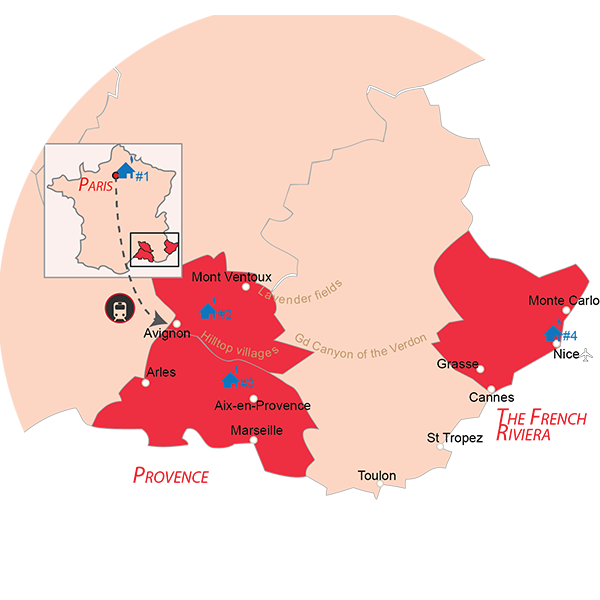 PROVENCE from its heart
On the 5th day, you will take a high speed train for about 2hr30 to Avignon, in the heart of Provence. You will pick up the automatic car at the train station and drive 45 minutes to your first B&B. You will spend 4 nights in a typical Provencal stone house, perfectly located to explore Avignon and Isle sur la Sorgue (famous for its Antiques).Your hostess and her family will welcome you warmly and give you hints and tips about the surrounding area. One night they will cook a nice dinner for you.
 You will stay in a very comfortable room equipped with a small kitchen and you can relax from a long day in a jacuzzi.
So many things to see in less than an hour's drive from your B&B: beautiful Avignon, also referred to as "the City of Popes", where you can visit the palace of the Popes, the well-preserved ramparts and the famous "Avignon Bridge". Strolling hilltop villages on market day, walking on the footsteps of famous painters such as Cézanne or Picasso. We will also tell you about some hidden jewels - villages, off the beaten track where you will stroll around charming streets or have a drink at a provencal café with locals. We can also recommend a farmer's market and wine cellar for each day of the week!
If you are interested in history, don't miss the Roman ruins at Arles, Orange and the Pont du Gard. We will also take you to smaller sites – less famous and much quieter.
You will explore a family owned olive oil mill in the slopes of Luberon, with breathtaking views. In a private tour, you will be explained the whole olive oil farming process from the tree to the bottle.
Aix en Provence Area
On the 9thday, head South to Aix en Provence area where you will spend 3 nights in a very typical "maison de Provence", located about 12 miles in the heights of the city. From this comfortable accommodation, you will explore the whole Southern Provence area: from the Luberon hilltop picturesque towns, to the calanque creeks near Cassis ; from Arles to the Alpilles region including Saint Remy de Provence and Van Gogh preferred landscapes.Your hostess speaks a perfect English and will welcome you very warmly.
You will be introduced to the local game: La Pétanque with Jean-Marc who was born and raised there. You will play in a lovely town and enjoy some rosé wine: a tradition. 
THE RIVIERA from nice, by the sea
On the 12th day, take a 3 hr drive and you will be on the French Riviera. Your last stop will be in Nice, in a gorgeous suite-room located 300 yards to the Promenade des Anglais and the beach. Wander about the narrow alleyways of the old city of Nice and visit the many famous art museums.  You can also go shopping and enjoy views of the Mediterranean in seaside restaurants from Monte Carlo to Antibes.
 In one of the most famous perfume houses, be introduced to the perfume making technics and make your own fragrance - which you will keep as a great souvenir!
 Nature is always within reach, with many hiking trails, biking tours or natural rock climbing opportunities, in spectacular sceneries. To help you interact with the locals, we have planned a pétanque class. You will learn how to play this famous Provençal game. If you like it, you'll be able to play everywhere on the Riviera!
To save time and tiredness, we recommend our travelers to fly out of Nice or Marseille International Airports. if you wish, you can also start the trip in Southern France and end in Paris. 
This is a perfect trip to discover Paris and Provence regions! 
This itinerary includes
Activities included in this tour