France History Tours
Countryside Tours
Spend a memorable day exploring the mythical Mont Saint Michel!
How to get there
This tour starts in Avranches, near Mont Saint Michel. You may take a train or a bus from Paris. 
If you stay in the area, we may also meet you directly in Mt St Michel parking lots. 
Mont Saint Michel is one of the most visited sites in France and many travelers are caught in the crowds. We will plan your day for you to enjoy this unique site at its best. ppen in the morning or in the afternoon.  
Price
US$ 680
Per traveler, including taxes,
based on double occupancy.
Step by step
Walk Bare feet in Mont Saint Michel Bay
In the morning, you will follow a local guide, specialized in nature and bird watching. He will take you, together with his dog, to a walk bare feet to Mont Saint Michel Bay. This quick-sand area is forbidden to travelers without a guide. 
You will walk around the village itself, then to a huge rock called Tombelaine, from which you will get a unique view over Mont Saint Michel village. 
The walk will also be the occasion to introduce you to the area wildlife and very special ecosystem. You will picnic with your guide on top of the rock.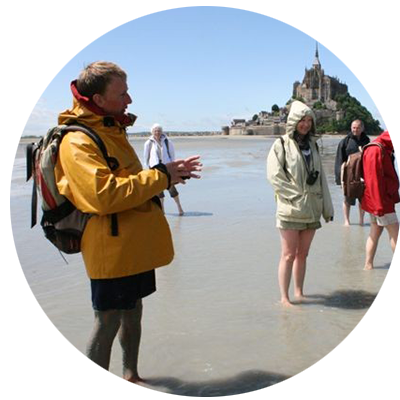 Explore Mont Saint Michel Village & Abbey
In the afternoon, a guide who actually lived on Mont Saint Michel Village (about 200 inhabitants) will take you to the narrowest streets and introduce you to the history and architecture of the town.
Your tour will end at the top of Mt St Michel, inside the Abbey. 
You will learn about St Michael and the daemon and also about several myths about this very special fortified town. 
This is a perfect insider's tour of Mont Saint Michel, avoid most of the group tour crowds. 
This Day Tour includes:
- A Private English Speaking Guide for a 3 hours walk in Mt St Michel Bay
- A Picnic Lunch and Drinks
- A Private English Speaking Guide for a 2 hours tour to the village and the Abbey
It does not include:
- Transportation
The barefoot walk is based on tides to it may ha