Where is Normandy?
Normandy is in the north west of France. It stretches out to the coast, where the River Seine flows into the English Channel, and is bordered by Brittany in the south-west. 
Click on the map of Normandy to enlarge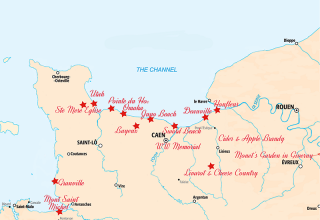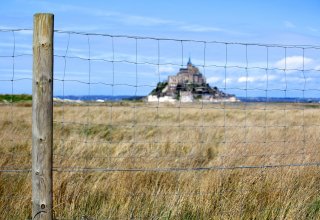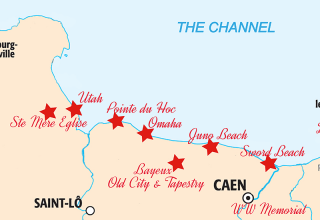 The Normandy Coast: Deauville & Trouville
To reach Normandy from Paris, following the coast east from Honfleur, you will reach Deauville, famous for the American Film Festival and its beachside boardwalk. Deauville is a touristy town and we prefer some of the more typical beach resorts, such as the more laid-back Trouville-sur-Mer just next-door to Deauville. We always recommend the most typical, authentic places to visit to our travelers.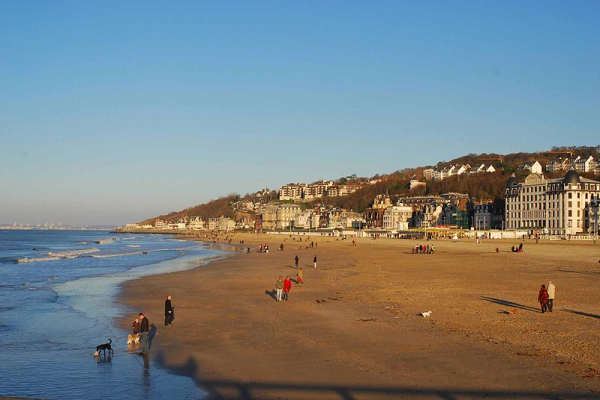 View across the beach at Trouville-sur-Mer - ©Barney, Wikimedia Commons CC0
The Normandy Backcountry
A few miles inland, Pont-l'Évêque is famous for its creamy cheeses, which include the famous Livarot, Pont l'Evêque and Camembert cheeses. The Norman hinterland is covered with apple orchards used to make Normandy's famous apple cider and Calvados apple brandy. To discover Normandy must-sees and hidden beauties, we invite you to take a look at our Normandy self-drive itineraries.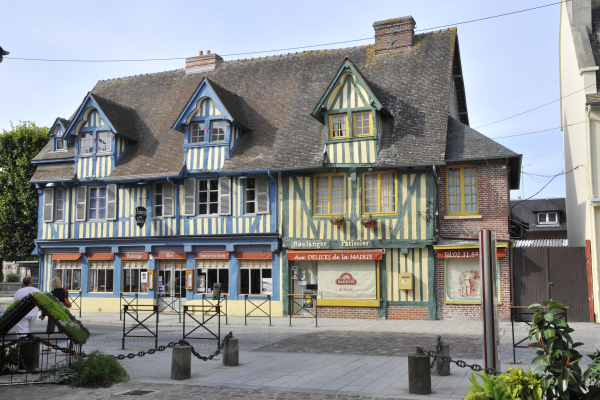 Traditional stores in Pont l'Evêque - ©OT Pontleveque
Towns to visit in Normandy
Caen is the main city in the region. The Caen War Memorial museum is very interesting and deserves a visit. It will be of special interest to history lovers or people who are retracing their ancestors' footsteps. Unfortunately, Caen experienced heavy bombing during World War II, so not much of the old town remains.
However, the neighboring city of Bayeux has a beautiful old town with half-timbered houses and the gorgeous Bayeux Cathedral. This is a great base from which to explore the sites of the World War II Normandy Invasion as well as the Norman backcountry. You should also see the Bayeux Tapestry that depicts the Norman Invasion of Britain, led by William the Conqueror in 1066. The tapestry itself dates back to the 11th century.
An old waterwheel in Bayeux, Normandy - © Barry Skeates
The World War II Normandy landings beaches
On 6 June 1944, allied forces from the USA, Canada, Britain, France and many other countries landed on the beaches of Normandy. The goal of the allied invasion was to liberate France and Europe from Nazi control. Omaha Beach is a 20-minute drive from Bayeux. Most of the main World War II Normandy landing sites - that is, those that were key to the success of Operation Overlord - are about an hour's drive from Bayeux. Right behind Omaha Beach is the US Cemetery in Colleville sur Mer and towards west is the strategic Pointe du Hoc cliff.
If you keep driving west you will get to Utah Beach and Sainte Mere Eglise. The British and Canadian Beaches - Sword Beach and Juno Beach - are located on the eastern part of the coast between Bayeux and Deauville. We have some sample itineraries, if you would like to visit the Normandy beaches on one of our self guided tours.

The war memorial, Les Braves, at Omaha Beach, Normandy. © Dennis Jarvis
From Mont Saint Michel to Brittany
About one hour and a half from Bayeux towards the South-West is one of the most visited places in France. Mont Saint Michel is a town built on a rock in a bay on the border between Normandy and Brittany. Not far from Mont Saint Michel, we recommend a visit to some of Brittany's typical ports. Here you'll find granite-stone houses and gorgeous seaside sceneries. Saint Malo is a must-see, but there are also smaller places such as Cancale where you can really immerse yourself in the ambiance of Brittany.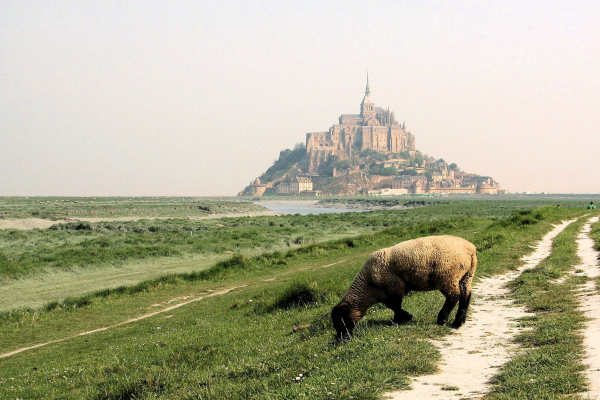 Sheep grazing with Mont St Michel in the distance (Photo: Pexels)
How Far is Normandy from Paris by car ?
Driving from Paris to Normandy is an easy trip. It will take about an hour to drive to Giverny from Paris, a very small town located about 50 miles from Charles De Gaulle airport. This is where Impressionist painter Claude Monet spent the last years of his life, and where he painted his famous Water Lilies collection. The city of Rouen is about an hour and a half's drive from Paris. This city was also part of Monet's life. He painted Rouen Cathedral many times in different lighting. Rouen also hosts the square where Joan of Arc was burned alive in 1431.
You can follow the Seine River from Rouen towards its estuary. To the north of the estuary, you'll find the modern city of Le Havre and its cruise harbor. To the south of the estuary is the lovely port of Honfleur with its half-timbered houses. It will take around two and a half hours to drive from Paris to Le Havre or Honfleur.
If you are in Paris in the summer and would like to spend a day at the beach, you will love Deauville or Trouville-sur-Mer. These are very traditional seaside resorts with 19th century buildings overlooking the seafront and colorful umbrellas providing shade on the beach. You can just about visit Deauville from Paris in a day if you leave early - the journey time is two and a half hours by car or train.
Further afield, heading south west toward Brittany, you'll find Bayeux, the WWII landings beaches and the islet of Mont St Michel. These are probably too far to visit from Paris in a day, so we would recommend spending at least a night or two in this part of Normandy. Driving time from Paris to Bayeux is over three hours depending on the route you take. The fastest route is still around 170 miles from Paris.
Great Self-Drive Trips including Normandy :
France Just For You is rewarded with the 2023 Trip Advisor Certificate of Excellence.
We keep working hard for our travelers to have the best experience in France.
Feel Free to Email Emilie & Laura
Your French vacation is just around the corner.
You can also call us
French direct line :
+33 768 646 676
France is
6hrs ahead of East Coast
9hrs ahead of West Coast
9hrs behind Australia
France Just For You
Émilie, Guillaume Thyebaut & Laura Crotet
5 La Jasnière - 37130 Cinq-Mars-la-Pile - France
Our day tours to the Loire Valley will depart from the town of Langeais (zip: 37130).
Tour Operator registered by the French government n° IM044110021.
Proud member of the French Tour Operator Association: APST.