Paris City & the Norman Countryside
8 days
Paris & Normandy
Heritage & History
Art & Museums
US$ 2,420 Per traveler, including taxes, based on double occupancy.
Book now
Your French journey starts in Paris, one of the most beautiful cities in the world, then you ill enjoy the quietness of the countryside in Normandy. 
Paris
Comfortably accommodated in a charming boutique-hotel in a quiet street of the bustling Marais district, you will discover the French capital city's must sees and hidden beauties. For few days you will be living the Parisian life. Being based less than 10 minute walk from Notre Dame Cathedral, we have prepared for you different itineraries to explore Paris by foot, by boat or using public transportation.
We will also be happy to organize a special program according to you wishes.
NORMANDY
On the third morning, you will pick up the rental car near you hotel. On your way to Normandy, one hour drive from Paris, walk on the footsteps of the impressionist painter Claude Monet. We include in this package a by-pass ticket that enables you to avoid the lines at Monet's house and gardens and discover the places where he lived for 43 years and where he painted some of his most beautiful masterpieces, among them "Haystacks", "Rouen Cathedral" and the "Water Lilies".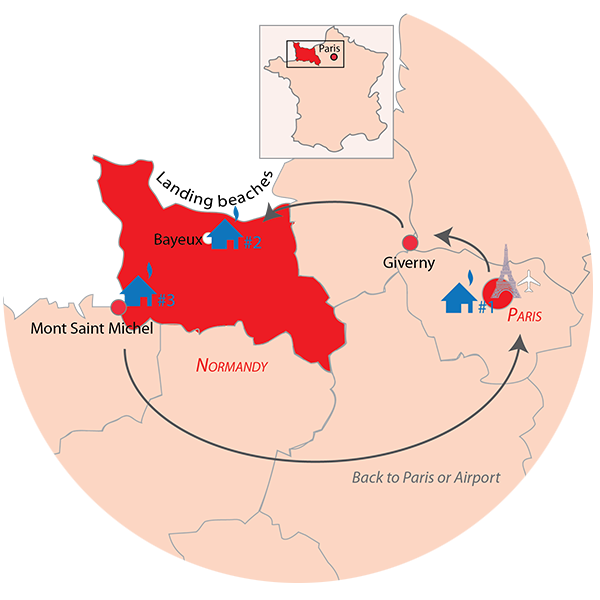 Located 2 miles from Bayeux, in a peaceful countryside, your Bed & Breakfast is a beautifully restored water mill where you will be warmly welcomed by your French Hostess for 3 nights. From there you can visit Bayeux and its famous tapestry, all the landing beaches (from Sainte Mère Eglise to Pointe du Hoc) and Caen, mainly worth a visit for the WWII Memorial. To help you better understand the events of the Battle of Normandy and bring them to life, we have planned a guided tour with a specialist in WWII history. You will be shown all the main landing sites and learn in detail about what happened here on D-Day.
Normandy hinterland might not be advertised abroad but is much worth a detour: the typical half-timbered villages, the Cider road, the beautiful English style gardens, the apple brandy traditional manufactures…and of course the cheeses…a trip to Normandy would not be complete without tasting Camembert or Livarot cheeses! If you like better the seaside, you will visit Honfleur, a picturesque and colorful little harbor. Then you'll come back via Deauville, world-famous for its American Film Festival, its Grand Casino and its racecourse.
A place you won't want to miss is Mont Saint Michel: this sumptuous abbey standing on a tiny island in the middle of a bay is truly the "8th wonder of the Western world" and is well worth a visit. You'll spend the last two nights of your stay in a lovely Bed & Breakfast, across the Bay from Mont Saint Michel. Your welcoming Hosts will be happy to answer your questions or explain your about their region. They have a typical Norman stone house, surrounded by fields where racehorses are being grown up and trained...a local specialty.
What a week !
This itinerary includes
Activities included in this tour