Arromanches Mulberry Port - WWII historical testimony
Arromanches sur Mer is known for its artificial port called "Mulberry" that was constructed during the second world war in 8 days. It reaches 5 miles and was finished just before the Normandy invasion. At that time, it was a technical prowess to be able to build a deep water port in such a short timeframe. It is a proof of the industrial and technological exploit of the war.
Enormous blocks of cement were dragged from England to let them drop near Arromanches so the big war boats could moor and discharge the hundreds of soldiers and war vehicles and weapons it had on their board on the D day.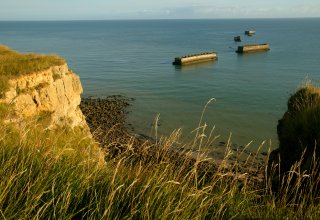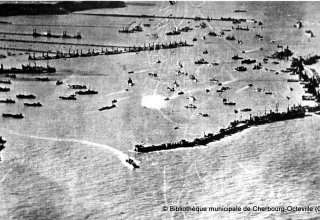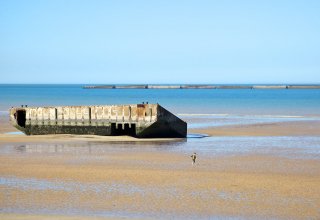 Arromanches 360° movie theater
More recently, an important attraction that we recommend is the 360° movie theater called Arromanches 360, which projects a movie made up of archives about the invasion of Normandy. It is not just a documentary, it is a moving and intense experience so the spectator deeply feels what happened. The dramatic scenes of the Normandy landings on the D day will plunge you right at its heart.
D-Day sites & other visits in Normandy
We have worked on daily itineraries in Normandy so our travelers can discover WWII history as well as this beautiful region's gardens, historical sites, gastronomy and lovely people. As you will see on the internet, there are dozens of landing sites you can visit and you will feel lost to make a choice. 
Based on your country of origin, we have selected few landing sites that we think are very representative of what happened on D-Day so you will feel and understand what happened on the Normandy beaches. 
Check out our tour samples taking you to Bayeux & Arromanches area