How to reach Caen, Normandy from Paris
Caen is less than a 3 hour drive from Paris, it is very easy and you can use the A13 highway if you wish to go directly from Paris to Caen, Normandy.
Now, we recommend stopping on the way in Giverny for Monet's house and gardens, or maybe in Rouen to see the Cathedral and learn about Joan of Arc. 
Also, Etretat cliffs are an option and a short detour while Honfleur and its coast are on the way : So many options !
What to do in Caen, France
Although most of the city of Caen was destroyed during the WWII bombings, it was quickly rebuilt after the war. The modern architecture blends with what little remains of the historical part - its castle, medieval streets, and a few churches. You should not expect to see a charming old city like Bayeux.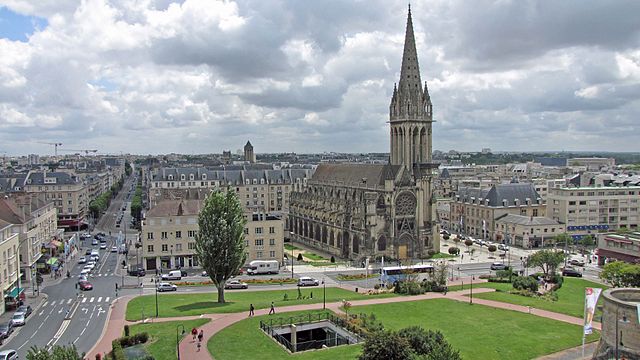 The city of Caen, Normandy, featuring St Peter's Church (Wikipedia C.C. 3.0)
The Memorial Museum, Caen
One of the main tourist attractions is the Caen Memorial Museum, also called 'Museum for Peace' or the 'Mémorial de Caen' in French. It gives visitors a detailed overview of the tragedies of the 20th century, including the two world wars, the Normandy landings, the Cold War through to the collapse of the Berlin Wall. If you only want to see the World War II section of the museum, half a day would be enough. To fully appreciate the whole museum and garden you would need to plan to spend an entire day there. If you're only staying in Normandy for a couple of days, we believe it would be better to take a tour of this part of Normandy with one of our guides instead of spending the whole day in the Caen memorial museum. After touring the museum, you may need a little time to recover. Feel free to take a stroll in the nearby rose garden called La Colline aux Oiseaux (the Birds Hill).
War plane in Caen Memorial Museum (Flickr)
Museum of Normandy 
The Museum of Normandy (Musée de Normandie), in Caen (not to be confused with the Memorial Museum in Caen) is housed in a castle in the center of town. It covers the social and ethnographic history of Normandy, presenting a glimpse into life in Normandy dating from prehistoric times, passing through the Roman era, depicting migration during medieval times and the transformations that took place in rural areas during the industrial revolution. Visitors to the museum can learn about local traditions and customs, landscapes, handicrafts, and local attire. You can find out more about current and upcoming exhibitions and events from the Musée de Normandie website.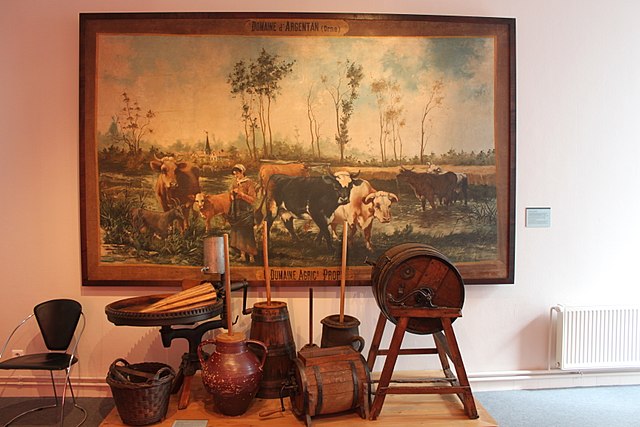 Artefacts depicting past Norman life at the Caen Museum of Normandy
(Christophe.Finot, CC BY-SA 3.0)
Musée des Beaux-Arts de Caen
The Caen Fine Arts Museum is located on the same site as the chateau of William the Conqueror. It houses paintings from a range of eras dating back to the 14th century all the way to the present day. More than 350 works of art offer a full overview of European painting. It is one of the most important museums in France, containing exhibitions of 16th and 17th-century French, Belgian, Dutch and Italian artwork by artists such as Rubens, Perugian, Tintoretto and Poussin. There are also paintings by Romantic and Realist artists such as Delacroix, and by Impressionist artists Monet and his mentor Boudin. Visitors who prefer more modern and contemporary art will be able to admire pieces by Dufy, Soulages and Braque. The museum's prints room is a sight to behold, with approximately 50,000 works in the Mancel Collection. There's also a programme of activities and workshops for visitors of all ages to enjoy. After exploring the museum, make sure you leave enough time for a stroll through the sculpture garden, which includes pieces by Rodin, Alain Kirili, Bourdelle, Huang Yong Ping and Marta Pan.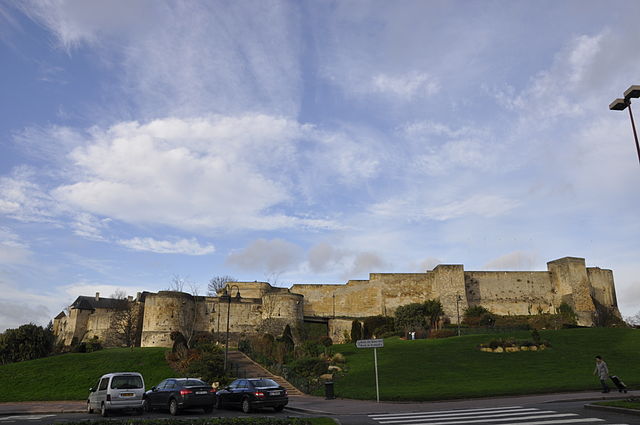 South facade of the Chateau of Caen, which houses the Caen Museum of Fine Arts
(Benoit-Caen C.C. by SA 3.0)
Abbaye aux Hommes
The Abbaye aux Hommes is an architectural masterpiece of medieval art. Also known as St Etienne Abbey, this church was built under William the Conqueror and consecrated in 1077. The majority of the items therein date back to the 11th-13th centuries. The choir was rebuilt in a gothic style in the 13th century and contains the tomb of William the Conquerer, who was the Duke of Normandy and King William I of England. The original monastery was constructed in the 11th century but was destroyed during the religious wars of the 16th century. It was then rebuilt in the 18th century around a classical Italian-style cloister. The turreted Romanesque abbey with cloisters is used nowadays as the City Hall.
Abbaye aux Hommes, Caen (Mattana CC by SA 2.0)
La Colline aux Oiseaux
If you're tired of walking around museums and the weather is nice outside, visit Bird Hill or 'La Colline aux Oiseaux in the north-west of Caen. This park will delight garden lovers and offers a lovely panoramic view of the city of Caen. This former quarry became a rubbish dump between 1923 and 1973, until it was transformed into a vast landscaped park. During this time it has gradually expanded as more and more land was donated to the site, resulting in what is there today. It was inaugurated in 1994 to mark the 50th anniversary of the D-Day landings, which took place in June 1944. Admission is free and there are play areas for children, picnic areas, a rose garden, a maze, a Norman farm and mini golf. Refreshments are available from the Creperie restaurant.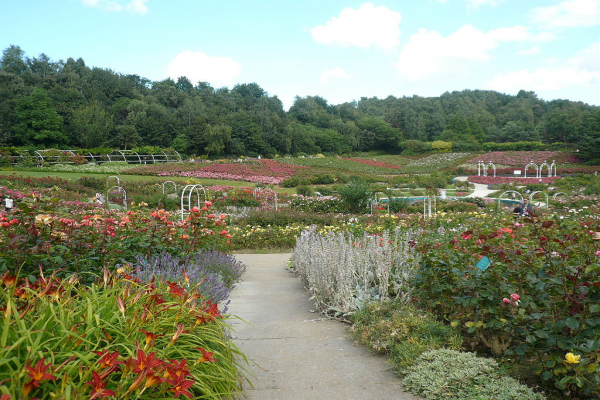 The rose garden and hill at La Colline aux Oiseaux park in Caen (Stefi123 CC by SA 3.0)
Parc Festyland, Caen 
If you're traveling with children, this theme park is a great option if they're asking for a break from museums. Festyland includes rides, a petting zoo and a go-kart track.
Things to do near Caen 
If you'll be visiting Caen for a few days, here are some suggestions of other places nearby that you may like to include in your itinerary.
The D-Day beaches are a short drive away from Caen. The famous Pegasus Bridge is only 15 minutes away, with Omaha beach and the American Cemetery at Colleville-sur-Mer being about 40 minutes' drive from Caen. It's well worth organizing a guided tour of the beaches, to help you learn about the history of the place and put everything you are seeing into context. It makes for a far more moving and impactful experience.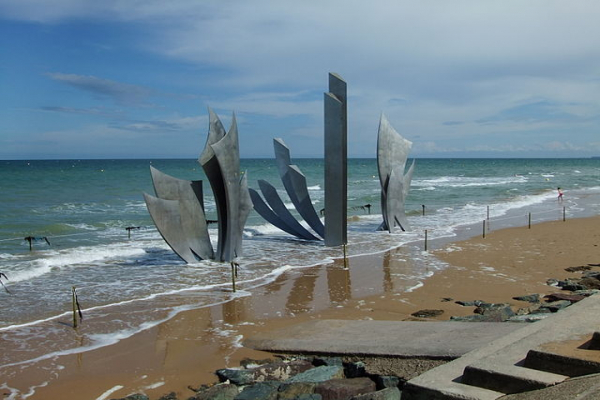 WWII War monument at Omaha Beach (Woolfer CC by SA 3.0)
The coastal towns of Deauville, Trouville, Honfleur and Le Havre are all within an hour to an hour and a half drive from Caen.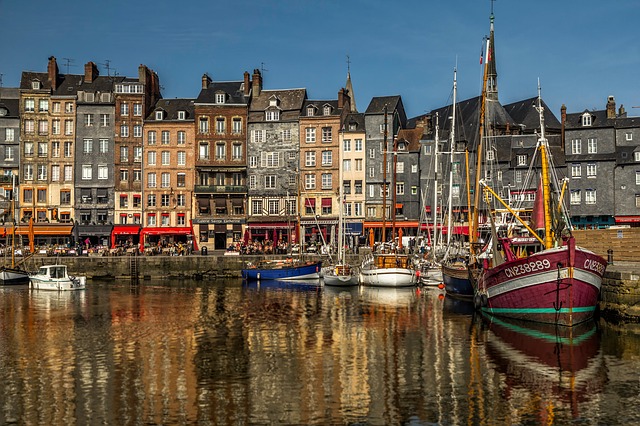 Honfleur harbor (Pixabay)
Tours of Normandy and Caen
You may peruse our Normandy tours on our tours page, and remember that any of our tours can be tailored to your preferences. If you are particularly interested in World War II history, you may be interested in our World War II History Tour. As well as planning a 4-day tour that takes in all of the most important sites of the Second World War, we can also conduct research into your own family history, and find out more about your relatives who may have fought in France.
We have selected the best tour guides with perfect English and a profound knowledge of the events of the Second World War in Normandy. In one day, half a day or over several days, they will take you on a guided tour to the important World War II landmarks and make you "feel" what happened during the invasion of Normandy. If you have an ancestor or relative linked to the Normandy landings, please inform us in advance so your guide can do some research about them prior to your tour.
Check out our self-drive itineraries which will take you to the World War II Normandy landing sites