Omaha beach is sadly famous for the most devastating but glorious moment of the Normandy invasion, which marked the beginning of the end of World War II.
This very long sandy beach stretches as far as the eye can see, and remains a silent homage to D-Day and its victims. Omaha beach is key to understanding the US invasion of Normandy. However, if you are not very well informed about this historical event, you'll definitely benefit from the expert knowledge of a local guide. This is why we work with private guides who speak English fluently and have grown up in the area. They will have you factually live and understand what happened on D-Day.
In this article we give you a brief summary of some of the events of the Battle of Normandy and key places to visit near Omaha Beach on your self guided driving tour of Normandy.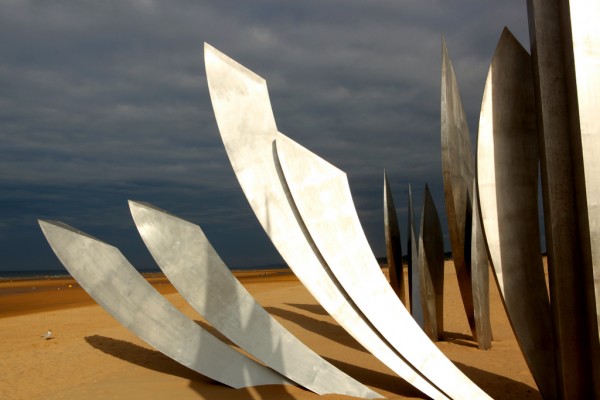 Monument to the Brave Men - sculpture on Omaha Beach - ©FJFY
Historical Background
Omaha Beach was one of the D-Day landings beaches invaded on June 6, 1944 by allied troops as part of Operation Overlord. It was part of the American sector, with units of the United States 29th and 1st infantry divisions landing there. It is on this American sector that the number of allied casualties was highest, with around 2,000 soldiers killed or wounded during the invasion. Many soldiers drowned during the approach from ships offshore or were killed by defending fire from German troops surrounding the beach.
Ranger Battalions in Omaha beach, Normandy
Both the Second and Fifth Ranger Battalions joined the assault waves on Omaha Beach on D-Day. Under the leadership of Lieutenant Colonel Max F. Schneider, the Fifth Ranger Battalion, formed at Camp Forrest in Tennessee on September 1st, 1943, arrived in Great Britain in January 1944. On the morning of June 6th, it landed with the 116th Infantry Regiment of the 29th Division. Along with Lt. Col. James E. Rudder's A, B, and C Companies from the Second Ranger Battalion - formed in Tennessee on April 1st, 1943 and who had specialized in amphibious and mountain warfare skills as part of their D-Day training - they played a crucial role in the troops' advance inland.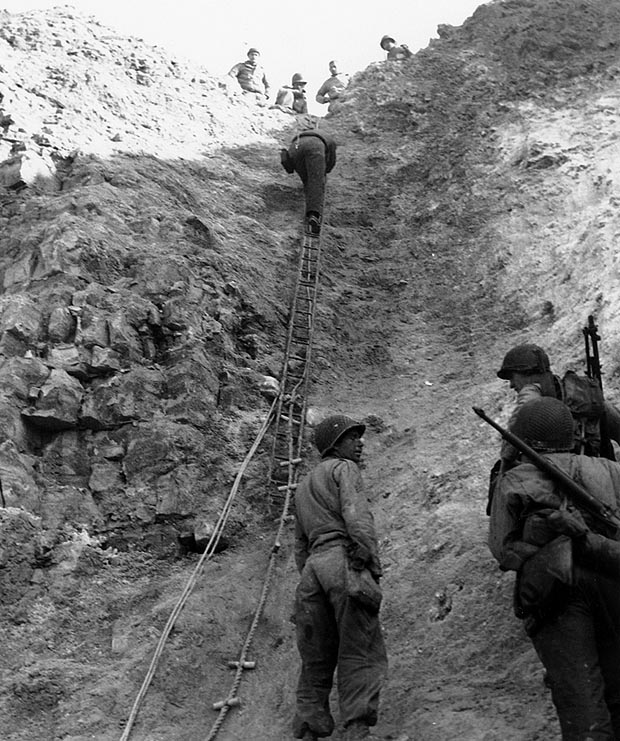 Rangers at Pointe du Hoc, Omaha Beach. Photo: Official U.S. Navy Photograph
Visiting Omaha Beach
Omaha Beach has an impressive war memorial monument and a museum with artillery equipment from the battle. The American cemetery of Colleville sur Mer, right behind Omaha Beach, reminds us of the importance of the Battle of Normandy. The nearby town of Bayeux has a larger and even more impressive War Museum, with more information about the history of the battle, photo, artillery and other war exhibits. It's worth a visit if you have time.
If you plan to travel to Omaha Beach alone (i.e. without a tour group or tour guide) you can take a bus to the beach from Bayeux (see below on How to get to Omaha Beach). Please note that the buses are infrequent and don't run at all times of year, so you will need to check these before you travel. You can also drive to the beach and park right in front of the beach at the end of Avenue de la Libération, where there is free parking.
If you plan to visit with a private tour guide (highly recommended) you can ask for them to meet you in Bayeux or at the beach. On our tours of the Normandy landings beaches and WWII battle sites, we normally arrange for our guide to meet you in the morning at your B&B accommodation so that you can travel to the beaches together by car.
There are many tour companies that offer trips to the Normandy landings beaches (often day trips from Paris) for small groups. We don't, however, recommend doing this, for several reasons. First, it is about a 3-hour trip from Paris to Omaha Beach each way, which means you would spend most of the day traveling and would not have much time for the beach. You also would not have time to visit other places of interest nearby, such as museums in Bayeux or Caen and you would be very restricted with regards the time you could spend in the places you do have time to visit. Second, even on a small group tour (which ultimately could be up to 20 people) you won't have much individual time with the guide to ask all the questions you want to ask. Finally, it won't be possible to tailor a small group tour to your specific interests.
On our self-drive tours of Normandy, you tell us which places you would most like to visit or tell us your interests and background, and we will craft a tour that we think you will love. If you had an ancestor who fought in the war, we can also do research into your WWII family history and help you to retrace their footsteps and visit the exact places that they would have been to during the war.
Omaha Beach Museum
The Memorial Museum of Omaha beach is located where the American naval landing took place. This will be interesting for people who would like to learn about the type of equipment that was used by soldiers landing on Omaha Beach. It is an important showcase of uniforms, vehicles, personal objects, arms and weapons, including tanks and machine guns.
Understandably, the museum very much focuses on the American effort during the Battle of Normandy. There are many other museums and monuments along the coast to visit, including the including the Musée du Débarquement at Arromanches, which includes the artificial harbour that was built especially for the invasion. Also the Juno Beach Center at the Canadian landings site, the Gold Beach museum at the British landings site, and the Utah Beach museum at the other American landings site. For a much wider and in-depth coverage of the Battle of Normandy, a visit to the Battle of Normandy museum in Bayeux is a must, as well as the WWII section of the Caen Memorial.
The Omaha Beach Memorial Museum's opening times vary according to the time of year. Check the website before planning your visit. The museum closes for the winter between late November through early February. 
American cemetery of Colleville sur Mer
The Normandy American Cemetery and Memorial is a World War II cemetery and memorial in Colleville-sur-Mer just behind Omaha Beach, which honors US troops who died in Europe during World War II. It covers more than 172 acres and contains 9,388 graves. It receives one million visitors a year. The memorial includes maps and details of the Normandy landings and military operations. A visit to one of the war cemeteries can be a moving and emotional experience even for those who do not have a family connection with World War II. 
The cemetery and visitors' center is open every day from 9am - 6pm. There are some interesting exhibits, including personal stories from men and women who fought and contributed to the Allied operations during the Battle of Normandy. A moving film "On Their Shoulders" follows the stories of three American soldiers who gave their lives as they fought for the liberation of Europe.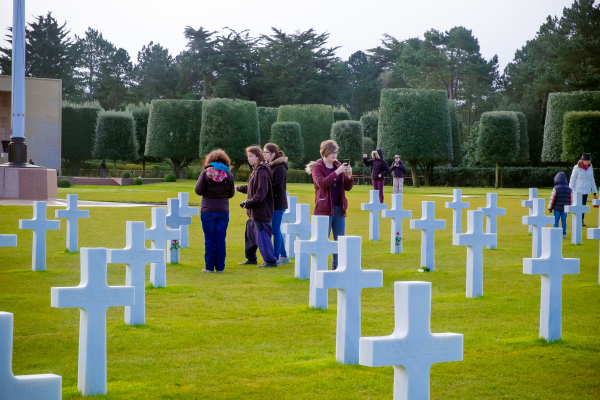 American Cemetery. Photo: CC BY 2.0 (pxhere.com)
Pointe du Hoc
About 15 minutes' drive west of Omaha beach is the Pointe du Hoc, an overhanging cliff overlooking the English Channel. During the war, it was fortified by the Germans and used as an observation post. From there, the Nazis had a perfect view of the ocean from which the Western Allies would invade Normandy on D-Day. 
During the Battle of Normandy, the plan was to capture this vantage point from the Germans, as it posed a dangerous threat to the success of Operation Overlord. It was an onerous and dangerous task for the American troops at Omaha Beach, and the Nazis did not give it up easily.
To commemorate of this epic battle, a granite needle stands as a memorial at the edge of the Pointe du Hoc, which to this day remains full of craters left by the bombardments during the Battle of Normandy.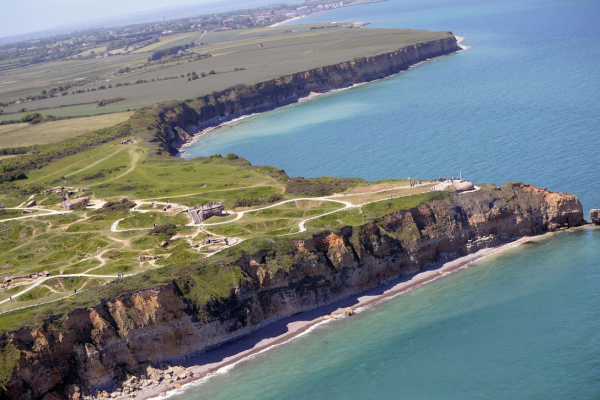 Aerial view of Pointe du Hoc. U.S. Air Force photo by Tech. Sgt. Stacia Zachary
How to get to Omaha Beach
You may drive from Bayeux if you have a car - the journey only takes 25 minutes. If you do not have a car, you may hire a taxi to take you around the region. There are some prices listed here, to give you an idea. If you would like to take a bus from Bayeux to the D-Day landings sites, the number 70 goes to Omaha beach, the American cemetery and Pointe Du Hoc. The 74 goes to Arromanches beach, the location of the Mulberry harbors. Visit this page and click on "VOS HORAIRES PAR LIGNE", then select 'Ligne 70' or Ligne 74' from the drop-down list to check the current bus timetables. Please note from the bus timetable that buses are few and far between, so you'll need to plan exactly which buses you will take to and from the sites in advance. Buses do not run during heavy snow, so check the bus website beforehand if there's a chance it will snow while you're in Normandy.
If you would like to find out more about our tours of Normandy, visit our tours page or contact us with your questions.
Self-drive itineraries which include a visit to Omaha Beach:
Feel Free to Email Emilie & Laura
Your French vacation is just around the corner.
You can also call us
French direct line :
+33 768 646 676
France is
6hrs ahead of East Coast
9hrs ahead of West Coast
9hrs behind Australia
France Just For You
Émilie, Guillaume Thyebaut & Laura Crotet
5 La Jasnière - 37130 Cinq-Mars-la-Pile - France
Our day tours to the Loire Valley will depart from the town of Langeais (zip: 37130).
Tour Operator registered by the French government n° IM044110021.
Proud member of the French Tour Operator Association: APST.