Normandy's Seaside & Hinterland
8 days
Normandy
Heritage & History
Villages & Markets
US$ 2,150 Per traveler, including taxes, based on double occupancy.
Book now
GIVERNY
A journey in Normandy has to start in Giverny. Only 1 hour drive from Paris, this tiny unchanged village takes you back to the 19th century when the great painter Claude Monet created a new art movement: impressionism.
In Giverny you will visit the house where he lived for 43 years and where he painted some of his most beautiful masterpieces, among them "Haystacks", "Rouen Cathedral" and the "Water Lilies". These gardens are beautifully kept in the exact shape as they were when Monet painted them. We include in this package a by-pass ticket that enables you to avoid the lines at Monet's house and gardens. 

You will reside in a house that has been beautifully restored and decorated in the style of the 19th century between Giverny and Les Andelys with Richard Lionhearted fortress. Your lovely hostess Nath prepares amazing breakfasts and is native from Giverny – which she knows inside out.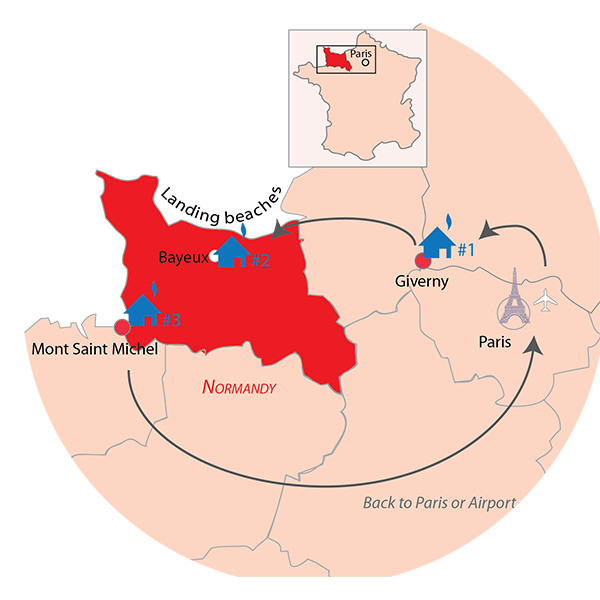 BAYEUX & the LANDING SITES
The second leg of your journey takes you to a 19th century manor located very near to Bayeux. You will be warmly welcomed by Corinne & Vince. We have planned a Table d'Hôtes dinner for you, together with your Hosts and other guests. You will experience a local custom called the "trou normand", having a glass of Calvados (apple brandy) between the starter and the main course. It is meant to renew your appetite to make sure you finish the whole dinner! From there you can visit Bayeux and its famous tapestry, all the landing beaches (from Sainte Mère Eglise to Pointe du Hoc) and Caen, mainly worth a visit for the WWII Memorial.
Normandy back country might not be advertised abroad but is much worth a detour: the typical half-timbered villages, the Cider road, the beautiful English style gardens, the apple brandy traditional manufactures…and of course the cheeses…a trip to Normandy would not be complete without tasting Camembert or Livarot cheeses! After this, you'll visit Honfleur, a picturesque and colorful little harbor. Then you'll come back via Deauville, world-famous for its American Film Festival, its Grand Casino and its racecourse.
MONT SAINT MICHEL
A place you won't want to miss is Mont Saint Michel: this sumptuous abbey standing on a tiny island in the middle of a bay is truly the "8th wonder of the Western world" and is well worth a visit. You'll spend the last 3nights of your stay in a lovely Bed & Breakfast, across the Bay from Mont Saint Michel. Your welcoming Hosts will be happy to answer your questions or explain your about their region. They have a typical Norman stone house, surrounded by fields where racehorses are being grown up and trained...a local specialty.
For you to avoid the "up and down walk" on the crowded street on Mont Saint Michel, you'll follow a local English speaking private guide who will help you discover this amazing village and abbey off the beaten path. 
You will also spend a day in the very near & typical Brittany: Saint Malo, Dinan will give you a great taste of this special region of France. 
What a week!

This itinerary includes
Activities included in this tour