Region
in Normandy, Paris & Brittany

Heritage & History
Countryside
This itinerary will uncover the treasures of the North-West of France, at a very relaxed pace...so you really have the time to meet with locals. 
Price
US$ 7 650
Per traveler, including taxes,
based on double occupancy.
Your accommodations
Pictures of the specially selected accommodations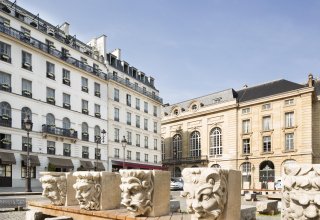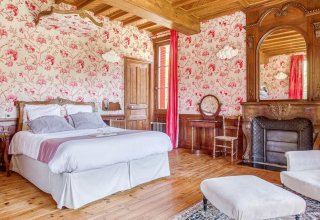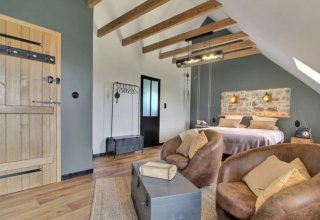 Step by step
Parisian Life for 5 days !
Live the Parisian life! Comfortably accommodated for the first 5 nights of your trip in a charming 4* boutique-hotel in the heart of the Latin Quarter with an amazing, very typical, Parisian view from your room, you will discover the French capital city's must sees and hidden beauties.
We will craft your days based on what you already know and what you wish to discover.
Being based less than 10-minute walk from Notre Dame Cathedral, you can explore Paris by foot, by boat or using public transportation with unique and interesting itineraries we have prepared for you.
We also recommend our favorite restaurants and boulangeries in different districts of the city so you'll know where to take a break.
One night, enjoy listening to a classical music concert in one of the oldest Churches in Paris. It will be a great evening!
Southern Brittany very unique coastline
On the 6th day, pick up the rental car near Paris ring road (to avoid driving across Paris) and drive to Southern Brittany
You will reach the Morbihan Gulf where you will spend the next 3 nights in a manor home, part dating from the 17th century, situated in a lovely park with ancient trees & a short walk to the beach at the end of the domain.
 Enjoy stepping back in time in this typical Celtic architecture. Your hosts will welcome you into their home, which has been in the family for over 150 years.
Visit old towns like Vannes, enjoy outings on the water or exploring some of the Gulf's islands. 
Explore Carnac megaliths following a local guide, on a segway: a great way to visit the entire site which spreads over 4 hectares.
Tip of Brittany : where the earth ends
On the way to Finistère you will discover the little Pont Aven town on Vincent Van Gogh's footsteps and learn about the local painters...tasting delicious biscuits !
Your next step for 2 nights is at the tip of Brittany, "where the world ends" : Finistère, in a lovely and comfortable maison de maître. Your young and charming hosts have lovingly furnished the house, with their guests' comfort in mind.
From here, you are perfectly located to explore the charming village of Locronan, the unique scenery of the Presqu'île de Crozon and breathtaking walks along the ocean.
Explore the Pink Granite Coast: Brittany condensed
Continue the exploration of Brittany with 4 nights in the Pink Granite Coast area which is famous for its gorgeous coastline.
Stay in a medieval town, very typical of Brittany, enjoying the view over the Cathedral from your room.
Your lovely hosts have renovated and furnished this medieval town house, keeping all it's "old stone charm" and adding their own touch with antiques and many objects acquired during their many travels. 
Walk along the Pink Granite "chaos of rocks" Coast, visit Perros-Guirec, and spend a day on Bréhat island. We will tell you where to enjoy walks along the coast, see bird colonies, visit a cider farm and explore the ruins of an off-the-beaten path abbey. 
Amazing Mont Saint Michel
Spend the next 3 nights in a 19th century typical stone Normandy home surrounded by a lovely garden, located 20 minutes from the famous Mont Saint Michel.
Here, you will enjoy a peaceful environment - away from the touristy crowds, in a home decorated around nostalgic roses, engravings, and Indonesian furniture.
The property is surrounded by a lovely garden where you can relax, and it is walking distance from several restaurants. 
A place you won't want to miss is Mont Saint Michel: this sumptuous abbey standing on a tiny island in the middle of a bay is truly the "8th wonder of the Western world" and is well worth a visit. We plan that you take a private guided tour to Mont Saint Michel village & abbey to really appreciate the site.
We will also take you to Saint Malo, Dinan and Cancale area:  its lovely ports, granite stone towns and delicious crêpes are a real addition to your immersion into the Northern France culture. 
Bayeux area : WWII Sites, William the Conqueror & lovely towns
On Day 18th, you will reach Bayeux area and spend 4 nights in a lovely house, located in downtown Bayeux, a few minutes walk to the Cathedral, the tapestry, the restaurants and shops. 
From here, you are within reach of all the D-Day sites and museums: from Sainte Mère Eglise to Ouistreham, Isigny, Pointe du Hoc, the artificial port of Arromanches or the Caen Memorial. 
Deauville is within driving distance and the Normandy countryside might be less famous but is certainly worth a detour: the typical half-timbered villages, the Cider road, the beautiful English style gardens, the apple brandy traditional manufacturers . . . and of course the cheeses.
A trip to Normandy would not be complete without tasting Camembert or Livarot cheese! To get familiar with Norman gastronomy, we have planned for you a cooking class with Brigitte. She will welcome you in her home where you'll prepare a 3 course meal that you will savor for lunch. A fun experience!
Honfleur Lovely Port
The next 2 nights of your trip will be in the historical district of Honfleur, enjoying a very warm welcome from your hostesses. 
From Honfleur, drive to Etretat Cliffs and try to find Arsène Lupin treasure or go see Rouen Cathedral which Monet painted at every hour of the day. 
Giverny, Home of the Impressionnists
Your journey ends in Giverny. This tiny unchanged village takes you back to the 19th century when the great painter Claude Monet created a new art movement: impressionism.
Monet's gardens are beautifully maintained, exactly as they were when Monet painted them. 
In Giverny, we have planned a 2-night-stay in a historical domain from the 13th century, which has been beautifully restored, only few minutes' walk to Monet's house & gardens. This will give you enough time to discover the Seine river valley.
From Giverny you are only a 1 hour drive to CDG Airport or Paris so it's an easy reach. You can return the car where this is the most convenient to you.
Activities included
Classical Music Concert in Paris
Enjoy listening to a classical music concert in one of the oldest Churches in Paris. It will be a great evening!
Carnac Segway Tour
Get on a guided Segway ride to explore Carnac 6000 years old menhirs.
Mont Saint Michel Private Tour
Discover this unique village and its Abbey with a local guide who will explain you about its history and traditions. She will take you to many small streets to see places that tourist usually don't see.
Norman cooking Class
Spend a morning with Brigitte who will teach you how to make a real norman meal. Then you'll enjoy the lunch in her welcoming dining room or in the terrace.