World War II History Tour
4 days
Normandy & Paris
Heritage & History
US$ 1,950
Per traveler, including taxes, based on double occupancy.
Book now
If you are interested in WWII history and/or have a family member who fought in the Battle of Normandy, this tour is just for you.
We can plan a general itinerary based on what we think you would be most interested in, or you can tell us. For example, North Americans may like to visit the American and Canadian beaches of Omaha, Utah and Juno, and the American and Canadian war cemeteries.
If you have a family connection, we will plan an itinerary that follows the route they took with their battalion during the Battle of Normandy.
WWII Family History Tour
What is truly unique about this tour is that if you have an ancestor who fought in the war, we can carry out some genealogical research on your behalf and plan a tour of the exact places they would have been to during their time in Normandy.
These soldiers played a crucial role in the liberation of France, so it is an immense honor for us to help travelers walk in their ancestors' footsteps. We charge no extra fee for personalizing the tour in this way.
Just tell us everything you can about your ancestor, and we will take care of the research and the planning.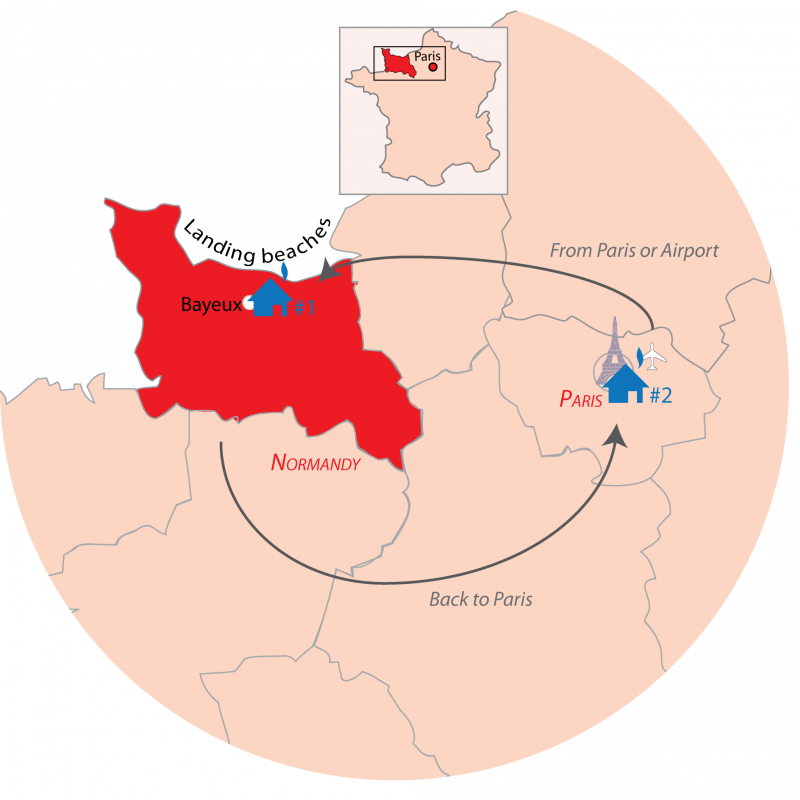 Private Tour of the WWII Battle Sites and places of interest
Our preferred private guides in Normandy know the region very well and are experts in WWII history. One day is normally enough to visit the landing beaches.
Then you'll need a day to visit the places of interest that are further inland, and a day for Bayeux and Caen (key cities in the region).
We also include a day in Paris so that you can enjoy a walking tour of key places in the city during the Liberation of Paris and a visit to the war museum. This tour gives travelers an excellent overview of the great military operation of Operation Overlord.
Your Trip to the WWII Sites In Normandy
From Paris or Paris airport, we will organize the car rental pick up at your most convenient location.
You will begin your tour in the lovely town of Bayeux, which was not damaged by the WWII bombing. You will visit the Battle of Normandy Museum to gain some insight into the events of the war and learn about the places you will be visiting on your private tour.
Your Bayeux itinerary will include a self-guided walking tour through the town so you will learn more about what happened during the liberation of Bayeux. We'll also recommend some very nice shops and restaurants.Even if not part of the WWII history, you will also enjoy visiting Bayeux Cathedral and famous Tapestry. 
In the afternoon, you will visit Caen, a city that suffered serious damage during the bombing of WWII. You will see the Caen memorial and experience the 360° movie theater, where you will feel how it was to be in Caen during the bombing.
Your first B&B for 3 nights is a peaceful countryside house, conveniently located between Bayeux old town and the Landing Beaches. From there you are within reach of all the D-Day sites and museums: from Sainte Mère Eglise to Ouistreham, Isigny, pointe du Hoc, the artificial port of Arromanches or the Caen Memorial. 
The second day will be entirely on the Landing beaches. 
Your expert private guide will meet you at your accommodation, and together you will drive to the Normandy landings beaches. If we have researched your WWII family history, this is where the most personalized part of your tour begins. If not, you will visit beaches where your nation's troops landed, or those that are of greatest interest to you.
On the family history tour, you will travel to the beach where your relative landed with his battalion on June 6th 1944 (or later) – Gold Beach, Sword Beach, Utah Beach or Omaha Beach. Your guide will explain everything you see, leaving you with a clear understanding of exactly what happened on the day of the Allied invasion.
You will also visit Arromanches-sur-Mer, where there is another 360° circular movie theater located on the remains of one of the two artificial Mulberry harbors set up by the Allies during the war. This short movie shows footage from around the world telling the story of the 100-day Battle of Normandy, and is a very moving experience.
After the beaches, you'll visit the military cemeteries, either to visit a relative's grave if he died in battle, or to see where those who gave their lives now rest.
There will also be time to visit other places of interest along the coast. For example, Dieppe in Upper Normandy will be of particular interest to Canadian travellers due to the failed landing there, during which many Canadian troops lost their lives. Many soldiers were buried in the military cemeteries in Dieppe and Rouen. As some of these places are a few hours' drive from the main landings beaches, we may suggest adding an extra day to your itinerary. This way you can enjoy visiting each place as a leisurely pace. 
The third day takes you inland to follow the progession of the allied forces
You will following the route that your ancestor or a selected battalion would have taken following their entry via the beaches of Normandy.
If you are exploring your own family history, we will prepare an itinerary that includes visits to places your relative would have passed through, such as the Pegasus Bridge or the town of Sainte-Mère-Église, which was taken during the first days of the Allied invasion. Your ancestor might have told you some stories about places they remembered from their time in Normandy, such as farms or manors where they stayed with their battalions. In this case, we will also try to include these in your itinerary.
Many of the buildings in these rural villages have changed very little since the war. You will move on to inland areas that were in key strategic positions as the Allied troops continued to push the German forces back. These may include Saint-Lô, where American bombardments destroyed 95% of the town during the Battle of Normandy, or Falaise, where two thirds of the town was destroyed, 10,000 German soldiers were killed and 50,000 taken as prisoners of war as the town was taken by Canadian and Polish troops in August 1944.
Last Day in Paris 
You will finish your WWII history tour in Paris, which was liberated from the German occupiers on 25 August 1944. We include a privately guided walking tour for a half-day in Paris.
This will include a walk along the Champs-Élysées avenue from the Arc de Triomphe to the Place de la Concorde, following in the footsteps of the French 2nd Armored Division during their victory parade on 26 August 1944.
You will then  visit the Musée de l'Armée - Invalides, which has an interesting section about World War II. This concludes your WWII history tour of France.
Spend you last night in a charming boutique-hotel in the Latin Quarter, by the Luxembourg gardens & Sorbonne university, perectly located to discover the French capital city.
This tour can also be incorporated into any of our itineraries that include Normandy and Northern France.
This itinerary includes
Activities included in this tour