In this post, we explore one of France's pride gourmet foods - cheese! We have listed some of our favorites, along with the regions they come from and some delicious pairings.
But first, here is an amusing anecdote from our Senior Trip Planner Laura's mother, Judy, about a cheesy faux-pas in a French restaurant while she was visiting France: 
My husband and I were on a driving tour of France on one of our first trips to Europe. One evening we had dinner at a nice restaurant to celebrate our anniversary. The meal was wonderful and went perfectly until the end.
The waiter arrived holding a very large platter of a wide variety of different cheeses, which he presented to me. Several seconds passed, he did nothing, said nothing, just looked at me. So I reached for a knife to serve myself some of this delicious cheese before me.
The next few seconds felt like hours as everything happened in slow motion. The waiter pulled back with a look of shock on his face, and I felt as though the whole room was aghast. A gentleman near us told me to point to the cheeses I wanted. The waiter would slice and serve them, arranging them on the plate from mild to strong, which is also the order in which they should be eaten. My faux pas was quickly forgotten while we enjoyed some delicious French cheese!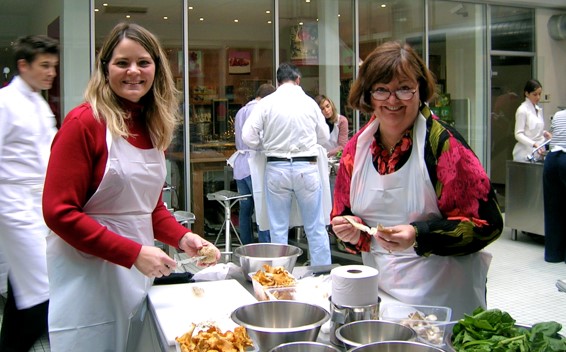 France Just For You Trip Planner and her mom Judy (Photo: Laura Crotet)
Brie
Our cheesy collection begins with the worldwide favorite, a creamy, subtle, yet memorable addition to charcuterie boards in every home: Brie. 
In Northern France, the Brie region has long been sectioned into new communes and renamed, yet maintains a geographical significance that gives the cheese from this area AOC status.
AOC stands for "appellation d'origine contrôlée", which means that the cheese has a specific set of characteristics based on farming practices, environmental particularities, and other traits unique to the region.
Brie de Meaux comes from - you guessed it - the town of Meaux, Île-de-France just north of Paris. This type of brie is the most famous, gaining worldwide recognition for its nutty, fruity, mushroomy complexities, and historically for being the cheese of royalty.
Brie in France is typically made from unpasteurized cow's milk, and matured in cellars for at least 4 weeks. Pair your wheel of Brie de Meaux with a full-bodied red wine or some champagne for the full flavor experience.
We love the slightly more pungent cousin of Brie de Meaux, named Brie de Melun, which originated in Aube, Yonne, and the Brie region. Brie de Melun needs up to 8 weeks to mature, which gives it notable reddish streaks in the moldy rind. 
Don't shy away from the beloved moldy rind! It's an essential part of the tasting experience when sampling Brie, and should be eaten along with its creamy interior.
Try a lighter red wine with Brie de Melun, to complement - but not overpower - the musty and fruity subtleties of this cheese.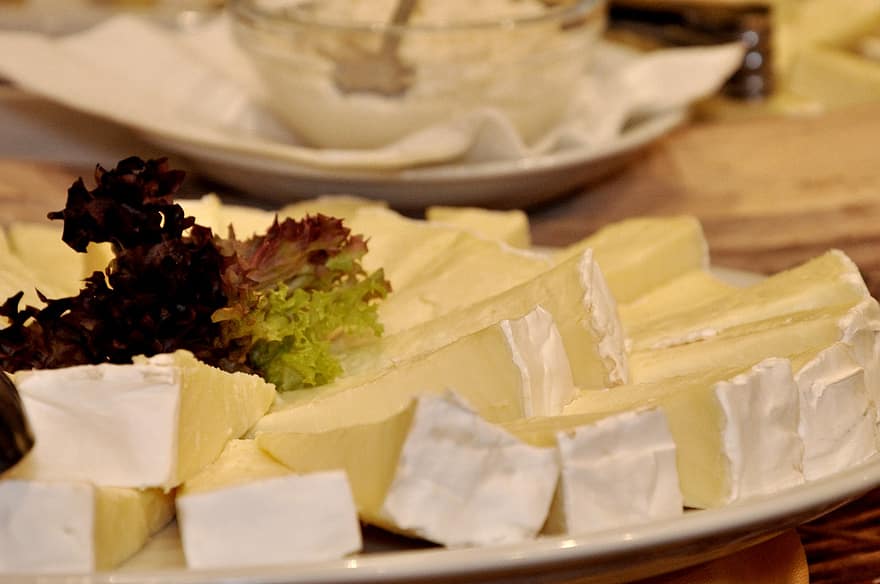 Brie cheese (Photo: Pikist CC0)
Camembert
An equally renowned French favorite, easily found in supermarkets around the world, is the soft, cow's milk Camembert. Camembert de Normandie has a rich history to complement its flavor.
In 1791, a local farmer named Marie Harel was visited by a traveling priest. The priest came from the Brie region and shared with her the recipe for Camembert, which was used by her daughters and granddaughters after she passed. Eventually it developed into the cheese variety we know today.
Camembert de Normandie is also an AOC cheese but many cheese-makers around the world have taken to producing replicas; so it's possible that the Camembert you find in your local grocery store may be an imitation. To test your Camembert, squeeze the cheese gently - it should feel soft, but not spongy. 
Similar to Brie, the exterior is a moldy, white rind that envelops its gooey, buttery interior. Consider a fruity pairing, with hard ciders, apples, and even some desserts on the list of complementary flavors.
And we warmly recommend our delicious and comforting oven-baked camembert recipe.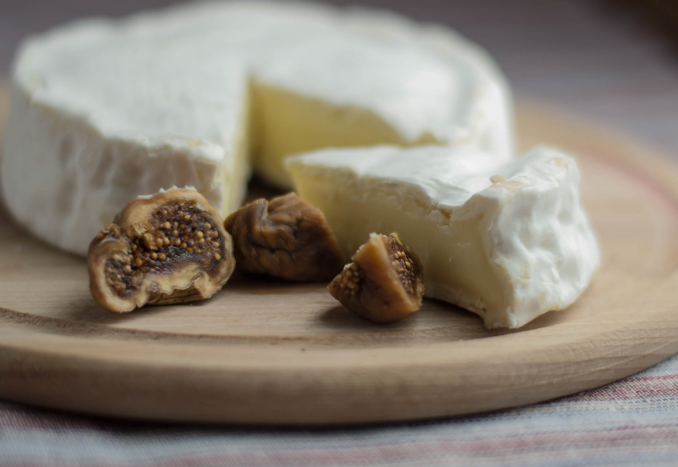 Camembert cheese served with figs (Photo: Pxfuel CC0)
Pont l'Évêque
Pont l'Évêque is one of the oldest cheeses in France, and has been documented since the 12th century in Normandy. It's made from cow's milk in the Pays d'Auge region of Normandy, only to be consumed after 14 days of maturation.
What makes Pont l'Évêque so unique is the coastal environment, providing mild weather and damp pastures for the cows to graze.
This cheese is formed into a square, unpressed, with a consistency that's not sticky or runny. It's a popular dessert cheese and the earthy flavor pairs beautifully with cider, a sweet white wine such as a Chenin Blanc, or if you prefer red, a Syrah.
Make sure to let it sit at room temperature for some time before tasting, to experience the fullness of its creamy flavor.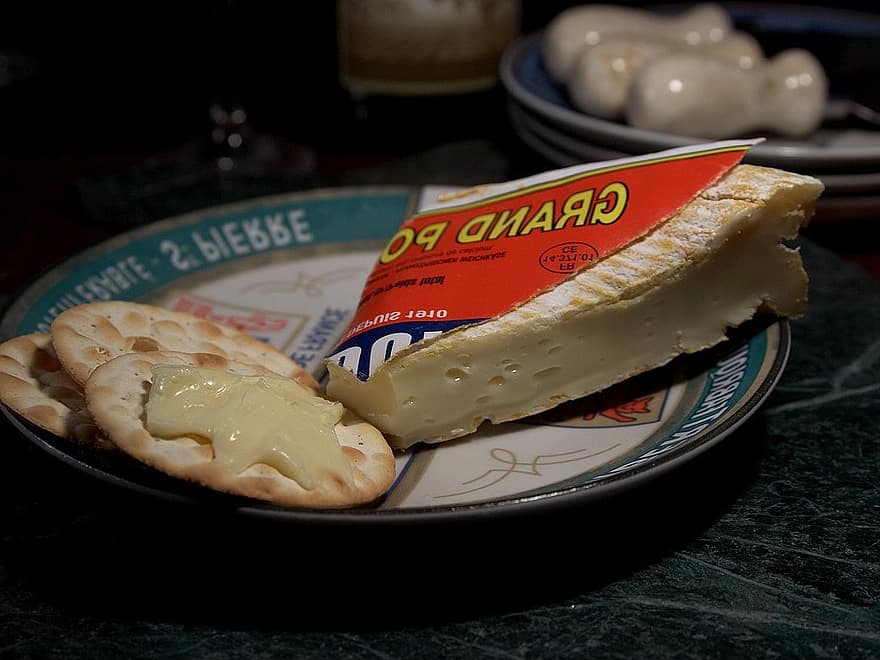 Pont l'Évêque cheese, from Pont l'Évêque in Normandy (Photo: Pikist CC0)
Sainte-Maure-de-Touraine
Rooted in the historical Carolingian Dynasty of the 8th Century, Sainte-Maure-de-Touraine is a goat's cheese after our own hearts. It originated in the Indre-et-Loire, the area around the Indre river, and is now produced throughout the Centre-Val de Loire region.
It's formed into a cylindrical shape, with a long wooden straw placed in the centre. This helps keep the cheese together during the production process and while serving.
Sainte-Maure-de-Touraine is best enjoyed as an aperitif or after a meal, with a dry white wine like Sancerre or a light red Cabernet Sauvignon. Expect a blue/black mold on the rind, creamy interior, and a slightly nutty and salty flavor with a lemony finish.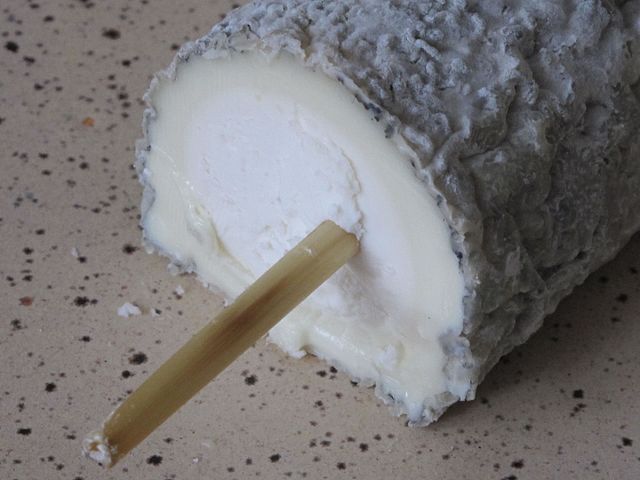 Sainte-Maure de Touraine cheese (Photo: Tangopaso CC0)
Époisses de Bourgogne
The softest cow milk cheese on our list, Époisses from Burgundy is famous for its stink! So much so that it has been banned on public transport in France, so pack it tightly if you want to take your chances.
The fromagerie run by the Berthaut family is responsible for most of the production of Époisses in France, and they have done a spectacular job of it since the mid-20th century.
During its 4 weeks or more of maturation, the cheese is washed with a mixture of water and Marc de Bourgogne brandy, resulting in a soft, brick red rind.
Those who are adventurous enough for this pungent cheese may also try it with a beer or glass of red or white Burgundy wine. And don't forget a crusty baguette! This is an unforgettable gourmet experience we recommend if you're on one of our tours of Burgundy!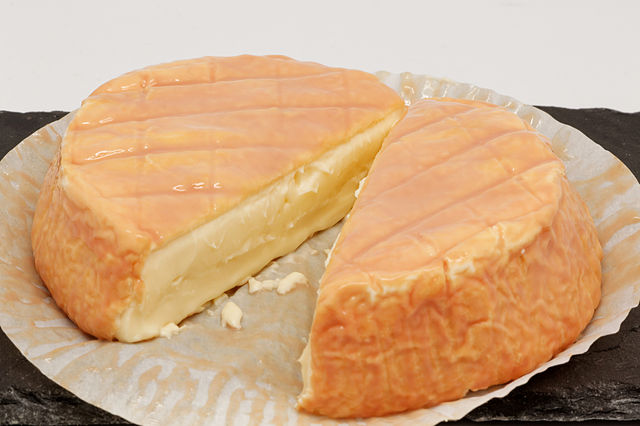 Époisses de Bourgogne (Photo: Coyau CC BY-SA 3.0)
Ossau-Iraty
This sheep's milk cheese is unique to the Pyrenees-Atlantique region in southwestern France, which you can visit on one of our Basque Country tours. Ossau-Iraty is produced using "old-world" methods, and three specific breeds of sheep.
It's aged for 60 to 120 days, depending on the size of the wheel and the desired outcome. This process forms a hard, rusty-grey rind that isn't usually eaten.
The texture of this cheese is firm, but creamy, with slightly granular pockets. Its nutty, toasted-wheat, yet grassy and sweet flavor palate can be paired with almost anything. It is very delicious to add a small spoonful of black cherry jelly with this cheese. We love it with a full-bodied Cabernet Sauvignon; or if you prefer white wine, a glass of Basque Irouléguy wine - delicious every time.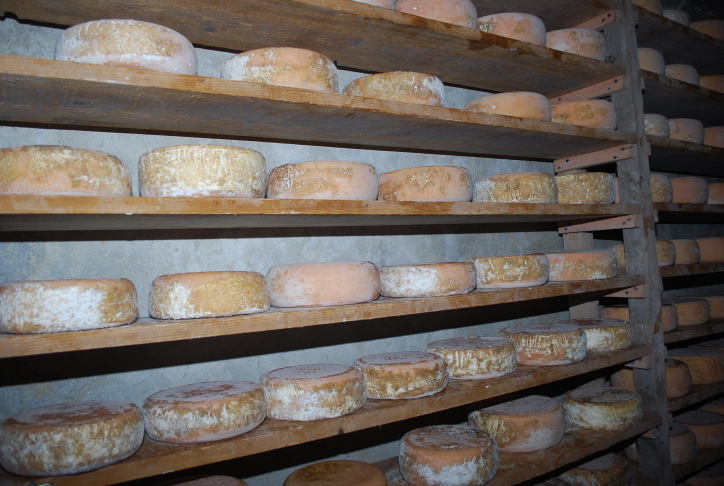 Ossau-Iraty cheese from the Basque Country (Photo: Jean Michel Etchecolonea CC BY-SA 3.0)
Rocamadour
Rocamadour is a raw goat's milk cheese that is produced in small batches, the wheels usually made into only 35g rounds. It's named after the town in the region of Lot, in southwestern France.
This cheese can mature for around 15 days, or much longer, depending on the desired outcome for the flavor. When matured for a shorter time, Rocamadour tastes fresh, nutty, and creamy, with a naturally soft rind. It's typically eaten with hot toast or in salad, with a glass of white wine.
When left for longer periods, even up to a few months, the cheese develops a stronger, sharper flavor and is usually eaten as is, paired nicely with a full-bodied red wine.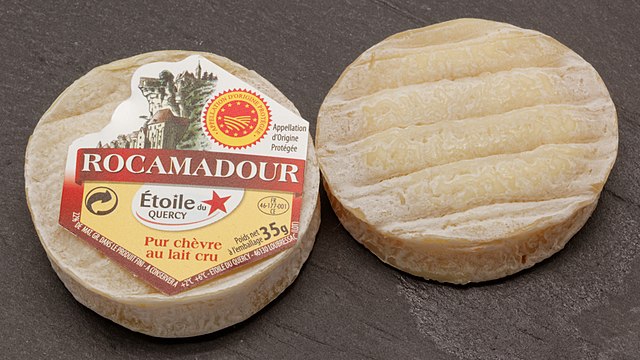 Rocamadour cheese (Photo: Coyau CC BY-SA 3.0)
Roquefort
Last on our list, but certainly not the least well-known, is the popular and well-liked Roquefort, a blue cheese made from full-fatsheep's milk.
Legend has it that Roquefort was created because it was forgotten. A youth was eating his lunch when he saw a beautiful girl from a distance. He left his bread and sheep's milk cheese in a nearby cave, and went looking for the girl. When he returned a few months later, his plain cheese had been transformed by Penicillium roqueforti into what we know as Roquefort!  
Nowadays the cheese is produced in southern France, solely with milk from the Lacaune breed of sheep. It is then aged for at least 4 months in the natural limestone Combalou caves overlooking the town of Roquefort-sur-Soulzon. Roquefort has been aged in these caves, as decreed by King Charles VI, since 1411, and nowhere else.
The result is a complex mix of flavors, from salty, to tangy, balanced by the creamy, crumbly interior streaked with blue mold. This cheese is very moist and aromatic, so allow the sensory experience to wash over you as you sink into a slice, paired with a robust red or slightly sweet dessert wine.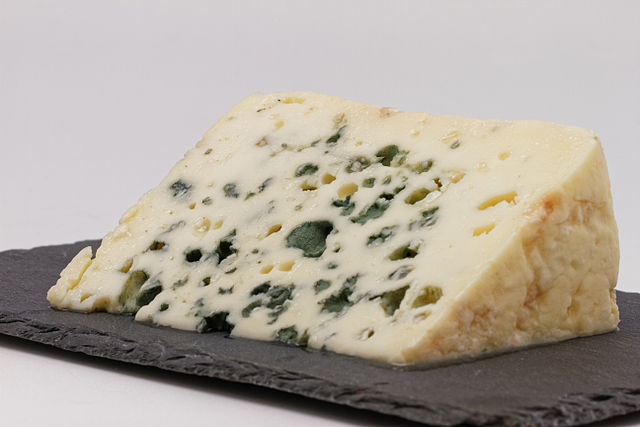 Roquefort cheese (Photo: Thesupermat CC BY-SA 4.0)
If you're curious about the kinds of gourmet experiences we can plan for you on a driving tour of France, please contact us with your wish-list and we will be in touch!