Whenever someone contacts us for advice on the best places to travel in France, it's difficult to know where to begin! We're French locals and expert trip planners who love exploring our country. So we know all the hidden gems and special places in France that most tourists don't know about. We love sending our travelers away from the typical tourist traps to discover lesser-known local places.
We save our best-kept secrets for the travelers who book onto our tours. But we hope this blog post will be a starting point for those who are interested in finding out more about France!
Paris
We're not Parisians, so although Paris isn't our favorite place, the city of lights does have its beauty and a unique charm...it is an important place to visit in France.
We particularly like Montmartre neighborhood, and its views across Paris from the Sacré Coeur basilica. If you're a fan of French cinema, you might recognise some of the places from the famous film Amélie, including the Deux Moulins café on the Rue Lepic. 
The cobblestone street of Rue de L'Abreuvoir is particularly charming, with its traditional ivy-covered houses, which turn red, yellow and orange in the fall. Where Rue de L'Abreuvoir meets Rue des Saules, you'll find a photogenic pink building, La Maison Rose restaurant, which serves quite nice French-Italian inspired cuisine.
Montmartre has also been home to many artists. This self-guided walking tour of Montmartre takes you to many of the places they would have frequented, including the Moulin Rouge and Au Agile Lapin cabarets. 
Our favorite district in Paris is Le Marais. It's full of charm and antiquity, with many winding streets and cobblestone alleys dating back to before the French Revolution. Le Marais therefore gives you a sense of what medieval Paris may have felt like.
Formerly, it was Paris's Jewish Quarter, so you'll find a number of kosher restaurants and bakeries among the neighbourhood's trendy boutiques, shopping galleries and bars.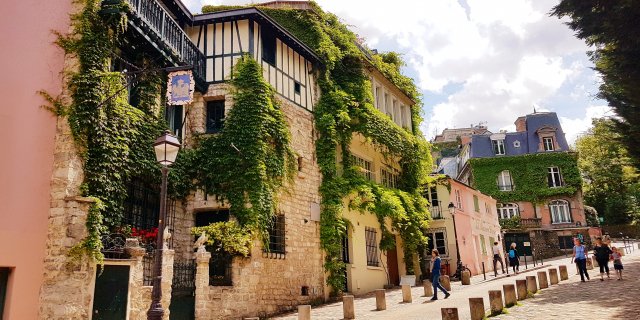 Provence
Provence is another favorite among our travelers, and unarguably one of the best places to visit in France. You'll understand why once you've seen its endless lavender fields of the Luberon, tasted the delicious Rosé wine and lovely Mediterranean cuisine,  strolled along the precious coastline, and admired the stunning landscapes for yourself.
Cassis is a colorful port town on the Mediterranean, with an old harbor and some lovely beaches. The prettiest beaches are in the well-known calanques, or creeks, just outside of town.
The towns of St-Remy-de-Provence and Arles are well-known for their association with Dutch artist Vincent van Gogh. He lived in both towns towards the end of his life, and painted many of his most famous landscape paintings in this part of Provence. 
In the Massif des Alpilles Natural Park, you'll discover the true beauty of St Remy de Provence. There are some lovely cycling and hiking routes, and if you follow the Van Gogh Trail you'll see the kinds of spectacular landscapes that captured Van Gogh's heart and imagination. 
Arles is a UNESCO world heritage site dating back to the 7th century BC, with many beautifully preserved Roman sites still standing. What makes Arles unique is that the Roman Arena and Theater have been integrated among the houses and other buildings in the town. If you book a walking tour of Arles at the tourist office, you can visit the thermal baths of Constantine, the Roman Amphitheater, the Forum and the Republic Square. It's a wonderful way to explore Arles and discover its Roman history. 
Aix-en-Provence is a very walkable city, with plenty of cafes, boutiques, and local markets to explore. Art lovers can visit Paul Cezanne's art studio, which hasn't changed since he died more than 100 years ago. Then you can visit the scenic Montagne Sainte-Victoire, a mountain 15 miles east of Aix that featured in many of Cezanne's paintings. You can see some of his oil paintings at the Musée Granet.
We also love the city of Avignon, which is ideal to explore on foot and has a great cultural scene. It's an ideal jumping-off point for exploring the rest of Provence. Famous for its medieval architecture, imposing medieval ramparts surround this energetic city. The Palais des Papes (Palace of the Popes) was once home to the Popes of the past, who resided in Avignon for more than 100 years until 1403. In July, the famous Festival d'Avignon attracts crowds of artists and spectators, and the entire city transforms into a stage! 
Provence is definitely a cool place to visit in France!
French Riviera
Once the playground of the stars, the French Riviera (or Côte d'Azur) remains a popular summer vacation destination. It can get very crowded in Nice and Cannes, and in famous resort towns like Antibes. Luckily, we know about many hidden gems in the French Riviera that are away from the big tourist crowds. 
One of our favorites is Menton, a lovely little town memorable for its vibrant colors. It's not far from the Italian border, and foodies tend to gravitate towards this town because of its fine French-Italian cuisine. It is more affordable than its glamorous neighbors on the Côte d'Azur, and its beautiful setting makes it just as desirable. 
You may like to see the beautiful pond of giant water lilies at the Val Rahmeh-Menton Botanical Garden. Then enjoy a stroll along the Promenade du Soleil and admire both the Mediterranean sea and views of the colorful town, the Alps and Nice. 
Then take a bottle of wine to Les Sablettes beach, relax, and take in the atmosphere – the ideal plan to start a romantic evening!
Up in the hills, just half an hour's drive from Cannes, is the charming village of Mougins, which is popular with art-lovers. Explore the many little independent art galleries, which include work by both local artists and by more famous names such as Picasso, Dalí and Cézanne. Then enjoy stunning views over the Mediterranean before heading to the Place de Mougins restaurant for some exquisite Saint Pierre fish washed down with rosé wine.
Normandy 
Undoubtedly, Normandy hides some of the most important places in France.
If you're a fan of impressionist art, a visit to Monet's Garden in Giverny is a perfect complement to the famous masterpieces by Monet you can see in the museums in Paris. (For security reasons, none of Monet's masterpieces are homed in Giverny). Monet's garden is stunning from April through October. The ever-changing colors of flowers blossoming one after the other throughout the year were what inspired Monet's paintings, particularly his water lilies. You can see the garden in full bloom in May and June.
If you're interested in history, architecture, and legends, you'll find one of France's most mystical attractions just off the Normandy coast is: a 1,000-year-old Romanesque abbey on the islet of Mont St Michel. There are various myths and legends associated with the history of Mont Saint Michel, some involving dragons and demons! Once a place of pilgrimage, it is now a popular tourist attraction.
When you book a tour with France Just For You, we'll help you discover the hidden alleys and nooks of the islet, and its fascinating history, away from the tourist crowds. We also know the best spot on the coast to capture the perfect photo of the islet.
History buffs will be particularly interested in Normandy's WWII battle sites, memorials, war cemeteries and museums dedicated to remembering one of Europe's darkest times.
The Normandy beaches - particularly Utah, Omaha, Juno, Gold and Sword – are of great historical importance. It was there that on D-Day, on June 6th 1944, the Allies landed there and began the liberation of France, and later the rest of north-western Europe. We know the best local expert guides who will guide you through the history of some of the key sites.
If you're interested in war history especially, you may also like to visit the World War I battlefields of Argonne, Verdun, St Mihiel and the Somme. These sites are included in our special World War History Tour of France.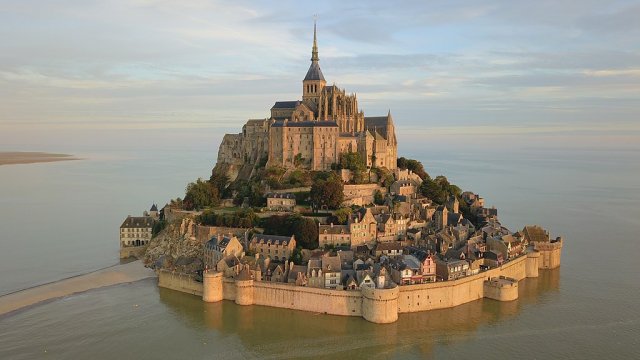 Bordeaux
The lively city of Bordeaux is the largest urban UNESCO world heritage site in the world. Each of the city's neighborhoods has its own interesting history and architecture, and the center is very walkable. In 3 miles, you can see attractions such as the Maison des Vins de Bordeaux in the Maison Gobineau, where you can enjoy a wine-tasting, the Grand Theater and the Grosse Cloche (the big bell) to name but a few. 
Rue Saint Catherine is the longest shopping avenue in Europe, running from the Place de la Comédie (or Triangle d'Or) to the Place de la Victoire. There you'll find both high-end boutiques and the Capuchins market. Duck into La Toque Cuivrée to try a Bordeaux delicacy, a canelé. This is a rum and vanilla flavored pastry with custard inside and a caramelized crust.
Around the city of Bordeaux along the left bank of the Garonne River are well-renowned Bordeaux vineyards, including Médoc, St Emilion, Margaux and Sauterne. We warmly recommend a tour of the Bordeaux region if you're a wine-lover!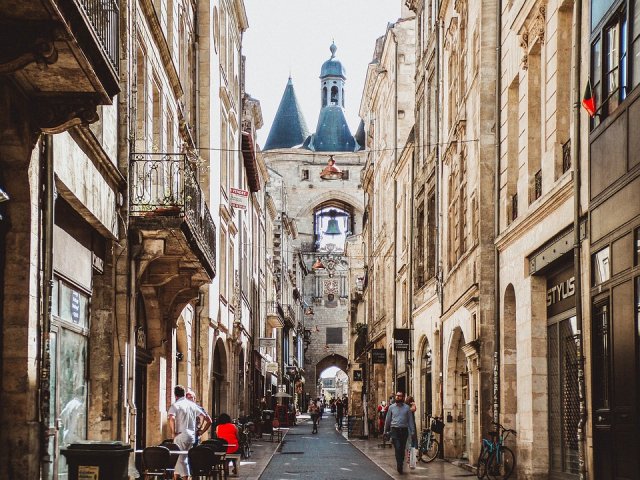 Loire Valley
If you want to experience 'the good life' in France, head to the Loire Valley. Its mild climate, the delicious local food and wine, and the warm, welcoming nature of the local people will make you feel right at home.
The Loire Valley is known for its centuries' old chateaux, many of which have beautiful formal gardens, offering beauty, peace and the ideal picnic spots! Some of our favorite Chateaux include the Chateau de Chambord, Chenonceau, Azay le Rideaux and a few hidden gems, like the Chateau de l'Islette, that most tourists don't know about! 
If you enjoy cycling there are also some excellent biking trails in the Loire Valley.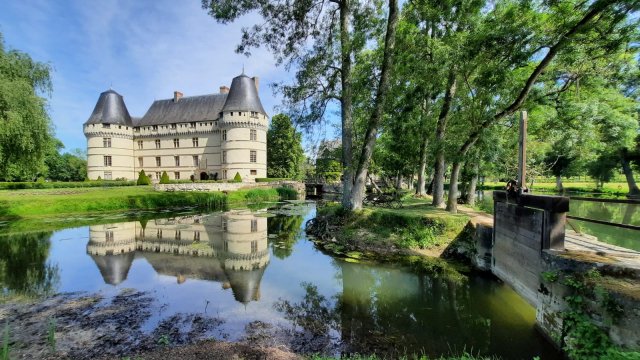 Champagne
Taittinger, Dom Perignon, Laurent Perrier, Mumm, Veuve Clicquot, Ruinart, Moët & Chandon... Clearly the Champagne region needs little introduction!
Stay in the vineyards of Champagne or in the regional capital Reims to see where the famous bubbly is made. Reims is a nice historic town whose majestic Cathedral played an important role in French history, as it was where most of the Kings of France were crowned. The city center is small enough that you can walk to the major tourist sites. 
If you're interested in war history, you may like to visit Musée de la Reddition (Museum of the Surrender), where on May 7th, 1945 the Germans signed the declaration of unconditional surrender, marking the end of World War II. You can visit the map room where the signing took place, and see exhibits of uniforms, war relics, press reports and artefacts from this time.
Burgundy
Famous for its Chardonnay and Pinot Noir wines, Burgundy is home to world-famous vineyards such as Meursault, Pommard, Vosne-Romanée and Nuits Saint Georges.
Beyond its wine, it's worth visiting Dijon (especially the mustard shops!) and enjoying a stroll through the old medieval town of Beaune and seeing the exquisite building of les Hospices.
The gorgeous landscapes of wider region of Burgundy are lovely to drive through. If you're on a tour with us, we'll recommend stops at some of the most beautiful villages in France, where you can get a taste of the 'real' France away from the tourist crowds.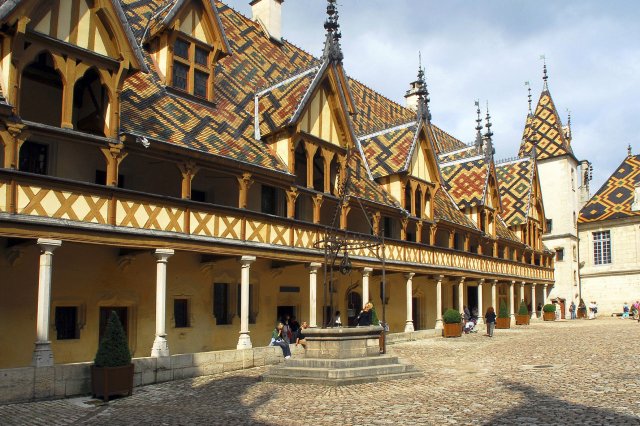 Dordogne
The limestone plateaux and ancient rivers that flow through the luxuriant valleys of Dordogne are the ideal setting for a journey through French history, from prehistoric caves to the medieval town of Sarlat.
Taste local delicacies like duck and goose, and we can even arrange for you to go truffle hunting with a local guide and his dog! 
We also recommend a trip along a stunning section of the Dordogne river on a traditional canoe, so you can enjoy wonderful views of the cliff-top medieval castles above you.
Dordogne caves, fortresses and natural wonders are cool places to visit in France !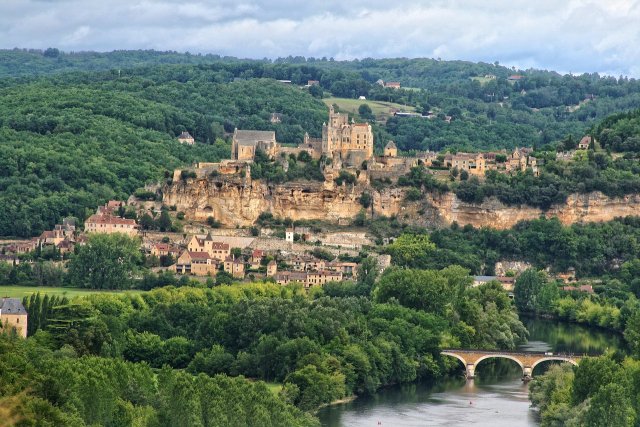 Strasbourg
Alsace is popular among explorers for its quaint villages and towns and its scenic wine route. The Vosges mountains provide a beautiful backdrop and are just half an hour drive away – ideal for hiking. 
The great heritage of the capital of Alsace, and the fact that it's the seat of the European parliament, means Strasbourg has both an international and old world vibe. 
Many tourists visit in December to enjoy the best Christmas markets in France, but there's plenty to see at other times of year too. Climb the 332 stairs up the spire of the Cathedral Notre Dame de Strasbourg for views of the old town, the Vosges mountains and Germany's Black Forest. You can also see the medieval astronomical clock sound every day at 12.30pm. 
The oldest part of Strasbourg (also called 'La Petite France') is a Unesco World Heritage site, located on the Grand Ile. Admire the flower boxes on the half-timbered houses of the quaint streets of the old town. Then stop for a local pizza 'Flammekueche' to recharge before you keep exploring!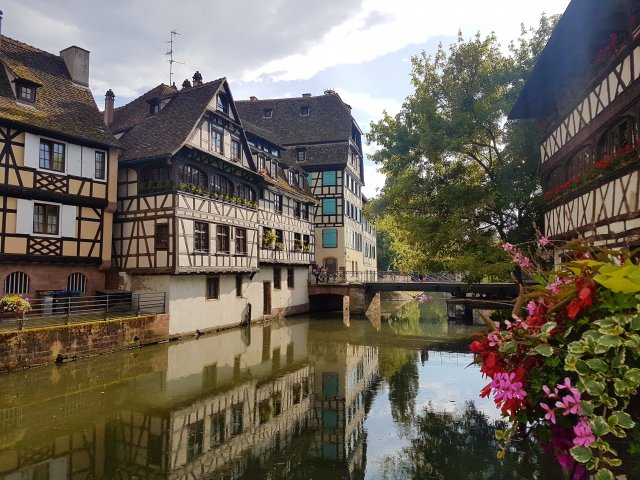 Colmar 
Many travelers have compared Strasbourg's sister city, Colmar, to being like something out of a fairytale – especially at Christmas. Its canals are surrounded by colorful half-timbered houses and flowerboxes. The lively cafés and wine bars are ideal when you want to take a break and do some people-watching. 
We recommend a stroll through the picturesque Little Venice neighborhood. Then find everything you need for a picnic at the covered market, which dates back to the mid 19th century. There are also a few museums, including the Bartholdi Museum, formerly the house of August Bartholdi, sculptor of the Statue of Liberty in New York. There's a replica in Colmar, though it's not quite the same as the real thing!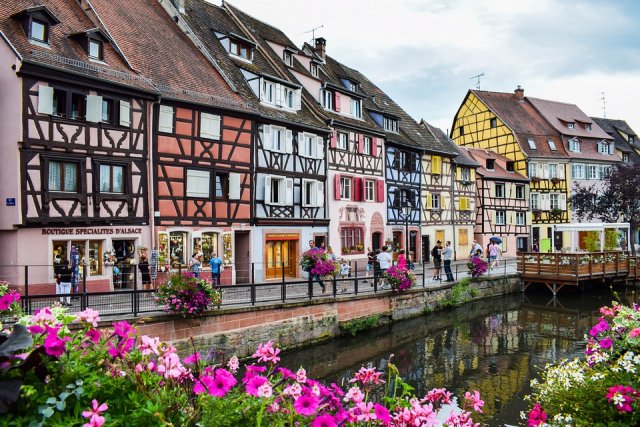 Carcassonne
History buffs are often attracted to the lovely fortified medieval town of Carcassonne by the fascinating cathar history. Historically, it's one of France's most important cities, as it lies at the center of many historical trade routes. 
In the middle of the 19th century, Carcassonne was in such a bad state of repair that the decision was taken to demolish it. Luckily, thanks to the efforts of the local mayor, it was saved and restored, and we're still able to enjoy this beautiful town today.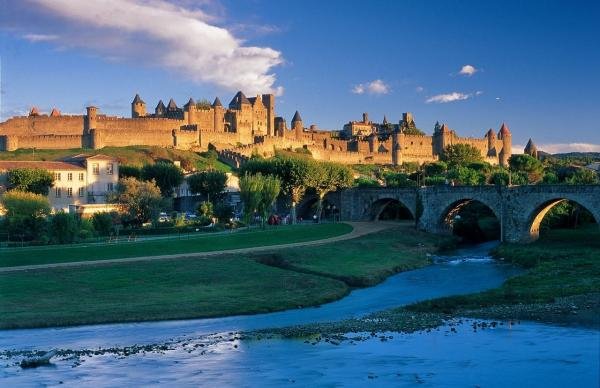 Basque Country
The French Basque Country is one of the best places to visit in France if you want to experience and immerse yourself in a unique culture. A trip to one of the beautiful villages, such as Espelette, famous for its peppers, is a great way to do this. You'll be able to see the traditional Basque houses, and enjoy boutiques and handicraft markets selling homemade chocolate and many other delights.
The formerly glamorous turned hippy town of Biarritz has a great beach and surfing opportunities. Or if you enjoy hiking, head up to the Pyrenees mountains and marvel at the stunning landscape and views.
The beautiful town of Saint-Jean-de-Luz is also worth visiting, with its golden, sandy beach. It's also one of the best areas in France for golf, with several excellent golf courses.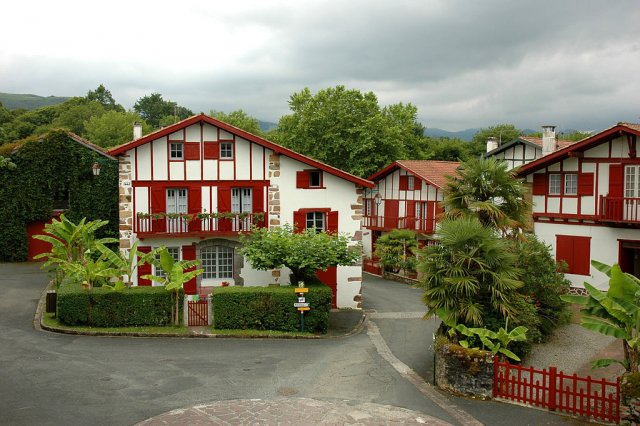 If you'd like to explore these places at your own pace on a customized self-drive tour of France (just for you!), we warmly invite you to browse our self-drive tours page for inspiration. Of course, you can contact us if you have questions or once you're ready to book!