Since we specialize in planning custom tours of France for our travelers, we always suggest the most scenic driving routes. Our Provence tours are no exception!
Most people fall in love with this sunny region of France, its stunning landscapes and the violet expanse of lavender fields.
There are also many beautiful villages to visit, world-renowned vineyards and wonderfully-preserved Roman ruins. The history, landscapes and the topography of this region make it a fascinating place to explore by car, so in this post we will share with you some of our favorite driving routes.
Driving in Provence
The best way to experience France, in our view, is to take your time and explore at your own pace. The warm climate and the winding roads of Provence help to set this slower pace.
The first thing to know about driving in Provence is that the most scenic roads tend to be very narrow. We therefore recommend driving slowly and using the horn in the curves. Be willing to let the locals overtake you - they drive very fast and this will allow you to properly take in the scenery. If you ever feel like you can't pass a car that's coming towards you, just slow down and stop at the side of the road. The locals are used to these roads and will pass by without much difficulty.
Now that we've discussed some of the logistical challenges, here are some fantastic driving routes for you to explore on a trip to Provence!
Route des crêtes - Le Ciotat to Cassis
If you're looking for a scenic road full of spectacular views of the turquoise Mediterranean, you'll love the Route des Crêtes. This runs along the D141 road, above the sea between La Ciotat and Cassis.
The landscape is dry and rocky, with views of white cliffs that stand majestically over the sea. Ahead of you are the Calanques, beautiful little hidden creeks with a range of lovely hiking or climbing routes for all abilities. Beyond you'll reach the city of Marseille.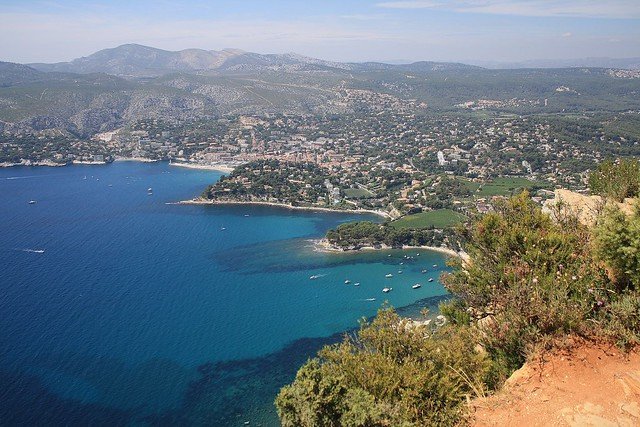 Wine route from Chateauneuf du Pape to Bandol
Wine-lovers will love this route from Chateauneuf du Pape to Bandol. If you want to taste and drink wine to your heart's content, we recommend hiring a private wine guide who will drive you from place to place. They will be able to tell you all about the area, drive along the prettiest routes, and you won't need to worry about how much you drink. 
From Chateauneuf du Pape, you can head south-east to Gigondas and Vacqueyras. From there, you can drive to Beaumes de Venise, where you can taste some sweet wines. In the Luberon, you'll get to try rosé wines and in May, June, and July you'll see the rolling violet fields of lavender, before ending by the Mediterranean coast with Bandol's famous rosé!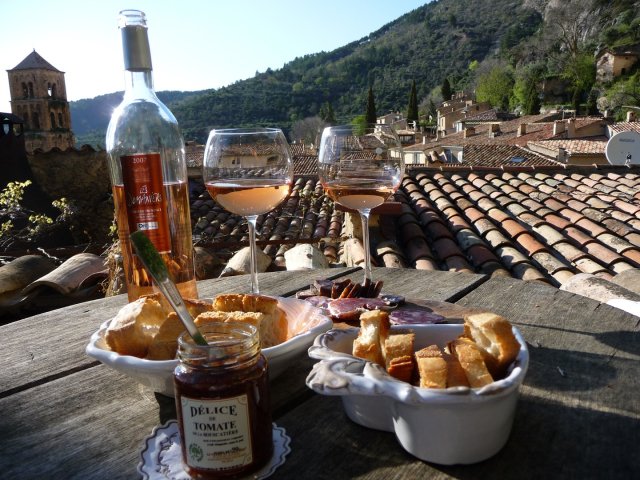 The road crossing the Luberon mountain chain
If you want to explore the beautiful Luberon valley by car, Avignon is a good jumping off point. If you're traveling with us, we'll recommend some lovely photo stops, picnic spots, pretty villages and scenic walks, and you'll be free to explore and your own pace. 
The roads are well signposted and in a good condition, so you don't need to feel concerned about driving in this region. Our only caution is to drive carefully in the village streets, which can be very narrow! These streets will be easier to navigate if you've hired a smaller-medium-sized car.
Here are some places we love in the Luberon:
Stop in Rousillon and take in the vibrant pastel-colored houses. There's a short walk you can do along the Ochre Trail in Roussillon, the site of a former ochre mine, with spectacular scenery.
Head up to Gordes for stunning panoramic views on the way up. After taking some stunning photos from the village, continue to the stunning Sénanque Abbey, a 12th-century Cistercian monastery with gorgeous lavender fields in the summer.
See the hilltop sculptures by Cardin's castle in Lacoste, then discover the rich history and heritage of the village of Ménerbes. 
Between Ménerbes and L'isle-sur-la-Sorgue you can stop at the Olive Oil Museum in Oppède and enjoy a tasting with some local olive oil. 
L'isle-sur-la-Sorgue is well-known for its Sunday antiques market and waterwheels.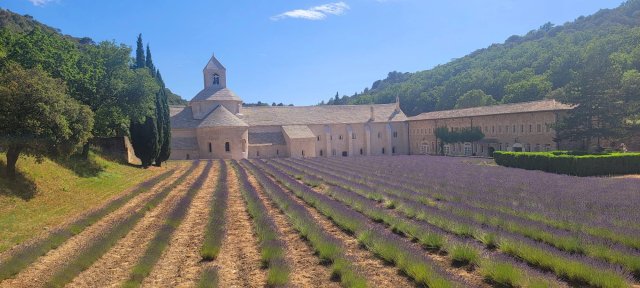 Valensole plateau for Lavender lovers
The Valensole Plateau covers over 300 square miles in the south of Provence. Valensole is famous for its lavender fields, stunning Provençal landscapes and hiking and cycling opportunities.
The best time to visit Valensole is just before the lavender harvest, when the fields are in full purple bloom. The harvest is usually during the second week of July - so aim to visit in late June/early July. This is one of the best places to buy lavender products. 
The most popular fields of Valensole are located along the D6 road (Route de Riez), the D8 (close to Brunet), the D56 (also called the Route de Puimoisson), and the D953 (Route de Riez).
There are some beautiful fields near the lavender distillery, Lavandes Angelvin, and by the D8 road between Valensole and Puimoisson. One field has a stone cabin in the middle of the fields, with mountains in the background. This makes for a stunning photo when the fields are in full bloom. There's another similar field with a small stone building in the fields near Puimoisson, along the D56 (the Route de Moustiers).
Valensole is easy to reach from the city of Aix-en-Provence (the closest) or Avignon. If you're driving through this area, it's well worth driving along the scenic route by the Verdon Gorge too.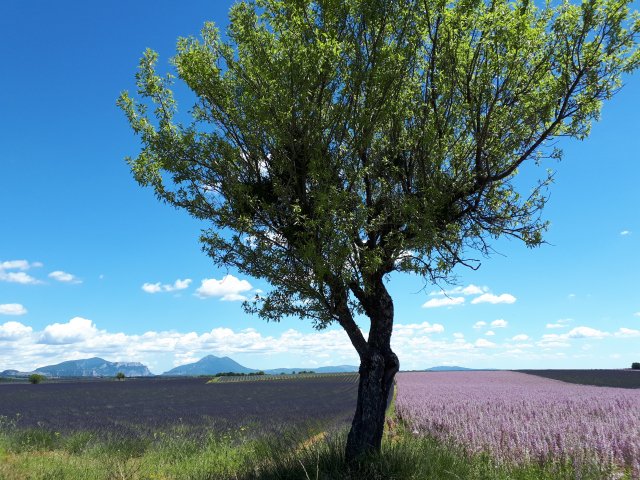 Lavender road through Sault
The Sault lavender fields are spread across three departments – Vaucluse, Alpes-de Haute-Provence, and Drôme. The colors, scents and sounds of this stunning part of rural Provence is truly a treat for all the senses! 
The Valensole plateau and the Luberon valley are the first places most people think of when we talk about lavender fields in Provence. And we agree that these are well worth visiting if you're looking for breath-taking scenery and gorgeous hilltop villages. 
The Sault plateau is similar, though it is more popular with tourists who visit Provence later in the summer (after July), as the lavender in this part of Provence blooms a bit later than in other parts. 
You might say the Sault plateau is a bit less 'manicured' than the Luberon and Valensole. But it's still worth a visit in late summer or early fall. 
You may prefer to explore the Sault plateau without a fixed plan, as the lavender fields in Sault are close together - you can't miss them! This gives you the flexibility to stop whenever you feel like it, or when you see a particularly stunning view from your car window. But if you book a self drive tour of Provence with France Just For You - don't worry; we will suggest a specific driving route for you to follow. This will take you to our favorite lavender fields AND some beautiful sunflower fields. 
If you're based in Avignon, we can recommend a scenic drive through the Nesque canyon on the way to Sault. 
If you're visiting Provence in mid-August, try to visit Sault during its annual lavender festival on August 15th.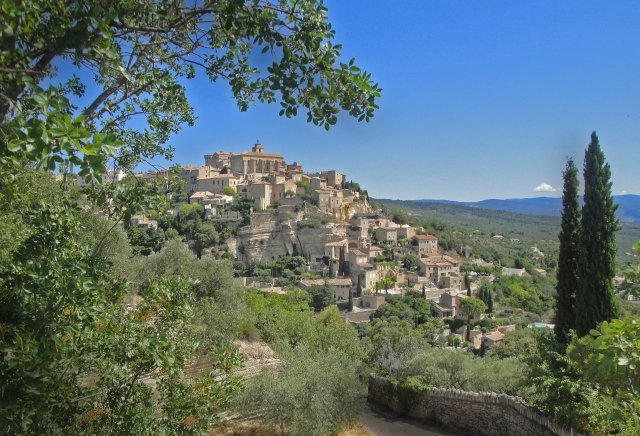 Mont Ventoux: to the top or around
One of the most scenic driving routes in France is the road to the summit and around Mont Ventoux in Provence, up to 6000+ feet above sea level. In winter, this road is closed if the conditions are extremely windy (wind speeds of up to 200 miles/hr have been recorded there). But during pleasant weather, you will enjoy absolutely spectacular panoramic views across Provence from Mont Ventoux, the highest mountain in the region. 
Toward the top, on the D974 road, the landscape is quite barren, with few trees and greenery due to the abundance of limestone. It's an interesting landscape. If you enjoy driving, it's an excellent driving route as there's a combination of long stretches of road and hairpin bends as you drive up. You may even drive through some low clouds as you approach the peak. 
Keep in mind that the last section of the routes up to the summit are normally closed from late November through mid-April or May. But it's still worth driving up to the Mont Serein ski station from Malaucène if you want to explore scenic roads in Provence during the winter months.
During peak season you'll find that the routes up to Mont Ventoux are popular with cyclists (as it's a usual step on the Tour de France). Be careful though, this is for very advanced cyclists only. The road can be very busy, and tricky if you're driving. We recommend visiting early or late in the season, or take the opportunity to visit at sunrise or sunset, when the roads are less busy with cyclists and the views are absolutely stunning.
Instead of driving up to the top of Mont Ventoux, you also have the option of driving all around it until it joins the lavender road in Sault. If you're on one of our tours, we will explain how to do this, traveling through Sault, Brantes, Malaucène and Bédoin!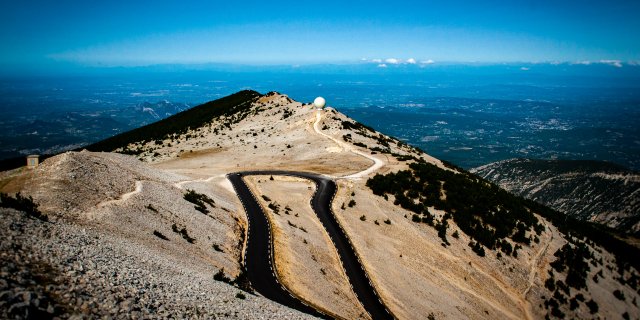 The Art-Lovers Road Trip through the South of France
Some of our travelers are especially interested in art, and the artists who have lived in France. So here are some places in the south of France with some artistic connections and beautiful scenery, much of which continues to inspire artists today.
Mougins
Around half an hour from Nice and Cannes lies the lovely hilltop village of Mougins, which is popular with art-lovers. There are lots of independent art galleries to explore, displaying work by local artists as well as the big names - Dalí, Picasso, and Cézanne, among others. There are plenty of places to pick up some authentic local handicrafts too. The stunning views across to the Mediterranean make it easy to understand why many artists have been so inspired by the south of France.
Marseille
France's second largest city is also known for its art scene, with its Musée des Beaux Arts, the stunning exterior of the MUCEM (the Museum of Civilizations of Europe and the Mediterranean) and great views of the refurbished Vieux Port. You can stop off and enjoy a walking tour of Marseille - why not get inspired by our post on the best things to see and do in Marseille? - before continuing your road trip through Provence. 
Aix-en-Provence
Laid-back Aix-en-Provence is 20 miles north of Marseille, and you'll see the spirit of one of its most famous historical residents, Paul Cézanne, everywhere. If you enjoy hiking, we warmly recommend climbing one of his favorite places, Mont Sainte-Victoire, and enjoying some stunning scenery. Or simply enjoying a walking tour and following the Cézanne trail in town, starting from the tourist office. You'll get to see his art studio, his house and the Musée Granet.
St Rémy de Provence
An hour's drive west of Aix, you can discover the beautiful landscapes that inspired one of Europe's other famous names - Vincent van Gogh. Venture into the Massif des Alpilles Natural Park by car, on foot, or by bike - there are some fantastic cycling trails around St Remy. Admire the magnificent scenery of the Van Gogh trail, and see the spectacular views that Vincent van Gogh depicted in some of his masterpieces.
Arles
Van Gogh also lived in Arles for a year and a half - get a map from the tourist office, which will direct you to some of the famous places in town that he frequented and painted. Much of the local scenery that inspired him remains unchanged, so you'll almost get to see Arles through his eyes. 
Arles also has some fantastic, well-preserved Roman ruins that are worth visiting, including the Roman Amphitheater, the thermal baths of Constantine and the Republic Square. 
Albi
On the way to Toulouse, you may like to discover the birthplace of one of the greats of the Belle Époque - Henri de Toulouse-Lautrec (born 1864). The Musée Toulouse-Lautrec is located in a 13th-century former bishop's palace, the Palais de la Berbie, next door to Sainte-Cecile Cathedral. This brick cathedral was founded in 1282 and has an absolutely stunning interior - not to be missed!
Toulouse
As you approach your final stop, you'll drive through the pleasant Tarn region. a pleasant hour's drive south-west through the fertile Tarn region. In the heart of the 'pink city' of Toulouse is the Romanesque Basilique St-Sernin, which dates back to 1215. The church's ceiling inspired another famous European artist, Salvador Dali, as he painted 'Santiago el Grande'.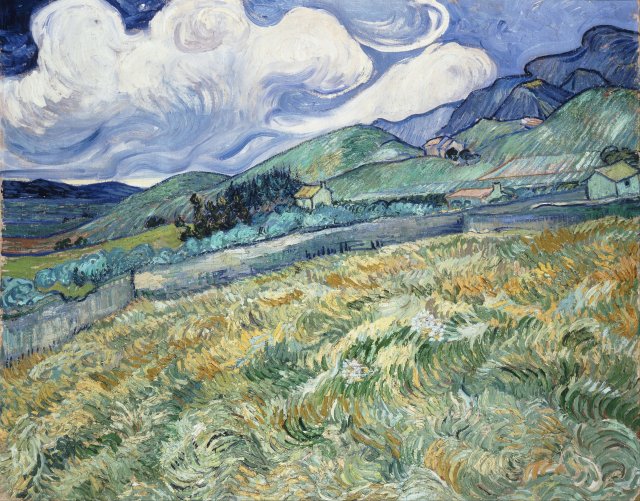 We hope that some of these scenic driving routes through Provence have left you feeling inspired to visit it in person! Here is the link to our Provence driving itineraries, which are all completely customizable according to your preferences.