The Best Christmas Markets in France
France is known for its heritage, culture, and traditions. The Christmas holiday period in France is no different with a large number of traditional events happening all over the country. One of the main Christmas traditions in France are the French Christmas markets. The majority of cities, towns, and even small villages hold traditional Christmas markets for locals and tourists to visit. The best Christmas markets in France are in the regions of Alsace and Provence.
First, here's a bit about the history of the Christmas markets and how this links to the legends of Saint Nicholas.
The Tradition of Saint Nicholas
French Christmas markets can be traced back to the traditions and legends of Saint Nicholas. These traditions are now strongest in eastern and northern Alsace, Lorraine, and Nord-Pas-de-Calais. Christmas traditions in France often begin on December 6th when families gather to get ready for the holiday period. Together they retell traditional Christmas stories and sometimes exchange gifts to mark the Feast of Saint Nicholas. This is more common in northern France. December 6th is also referred to as Saint Nicholas Day, which involves traditional music and parades with colorful floats and celebrations.
On the eve of Saints Nicholas Day, children often put their shoes close to the chimney and sing songs to Saint Nicholas before going to sleep. In the morning, children return to look at their shoes and find them filled with special sweet treats and gifts.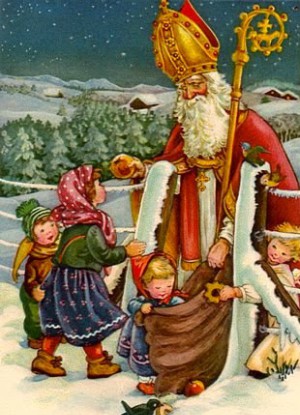 Saint Nicholas with children
Alsace Christmas Markets
Two of the biggest French Christmas markets are in Colmar and Strasbourg which are both located in the Alsace region.
Strasbourg Christmas market
Strasbourg holds one of the oldest Christmas markets in France, originating before 1570. The market runs annually from around the 24th November until early January. The market has over 300 individual stores which contain everything from Christmas trees to food stalls and much more.
The main market is held in the main square in Old Town, and the market has been self-proclaimed the 'Capital of Christmas', and since then it is often referred to as this or 'Christkindelsmärik'. The market has illuminations, beautiful chalets, bredele cakes and vin chaud (hot wine). The market and town feel as if there is magic in the air, which captures the spiritual and cultural beliefs of Christmas.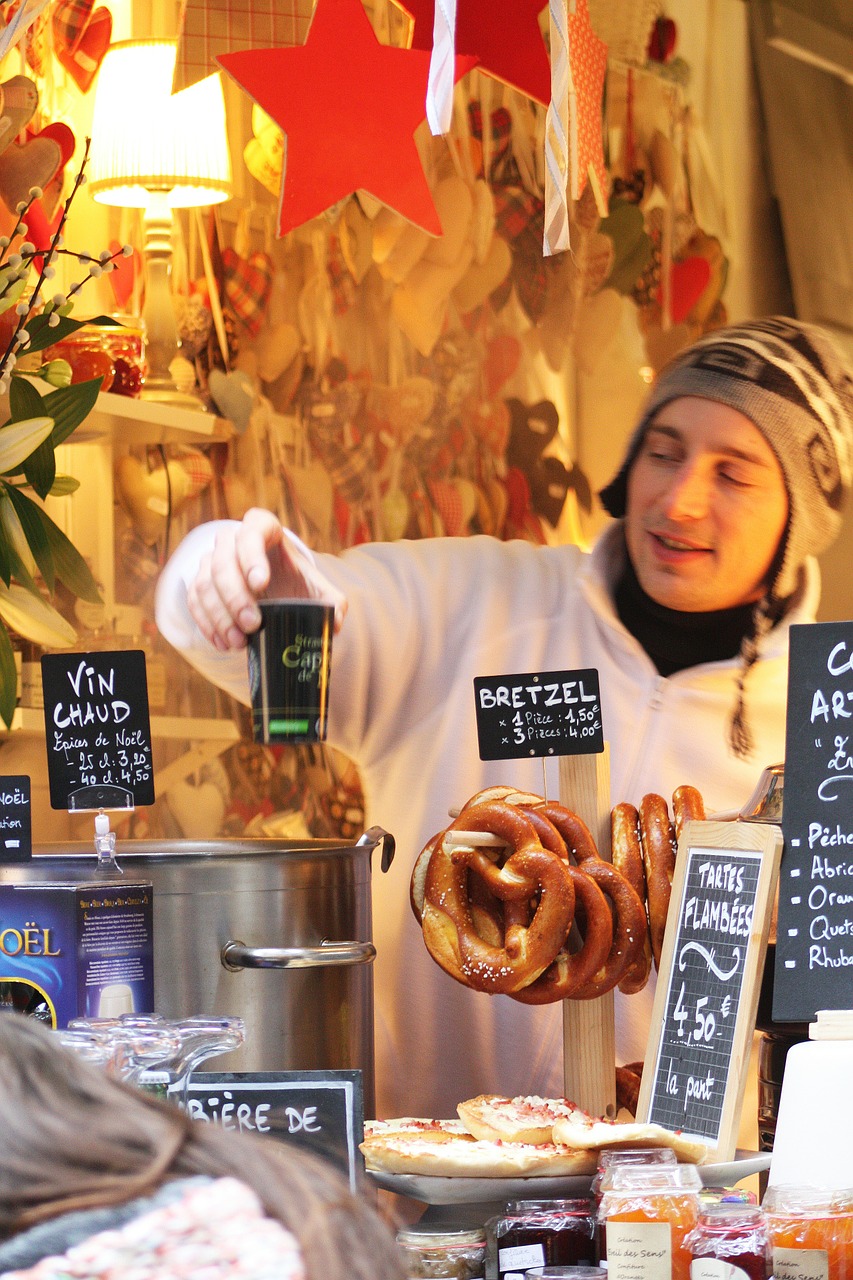 Pretzels and Vin Chaud (mulled wine) - ©Patrick Blaise - Pixabay
The town of Colmar is a rich and medieval town, with renaissance architecture, and its traditional French Christmas market has been nominated for the Best Christmas Market in 2018. The market area flows around the traditional heritage of the town, with 5 separate market areas, with over 180 stalls. The whole town resembles a fairytale during this period which enhances the town's heritage, and showcases its architectural treasures and the picturesque Little Venice neighborhood. Each and every day during this period there are events for everyone to enjoy, including concerts and an ice rink.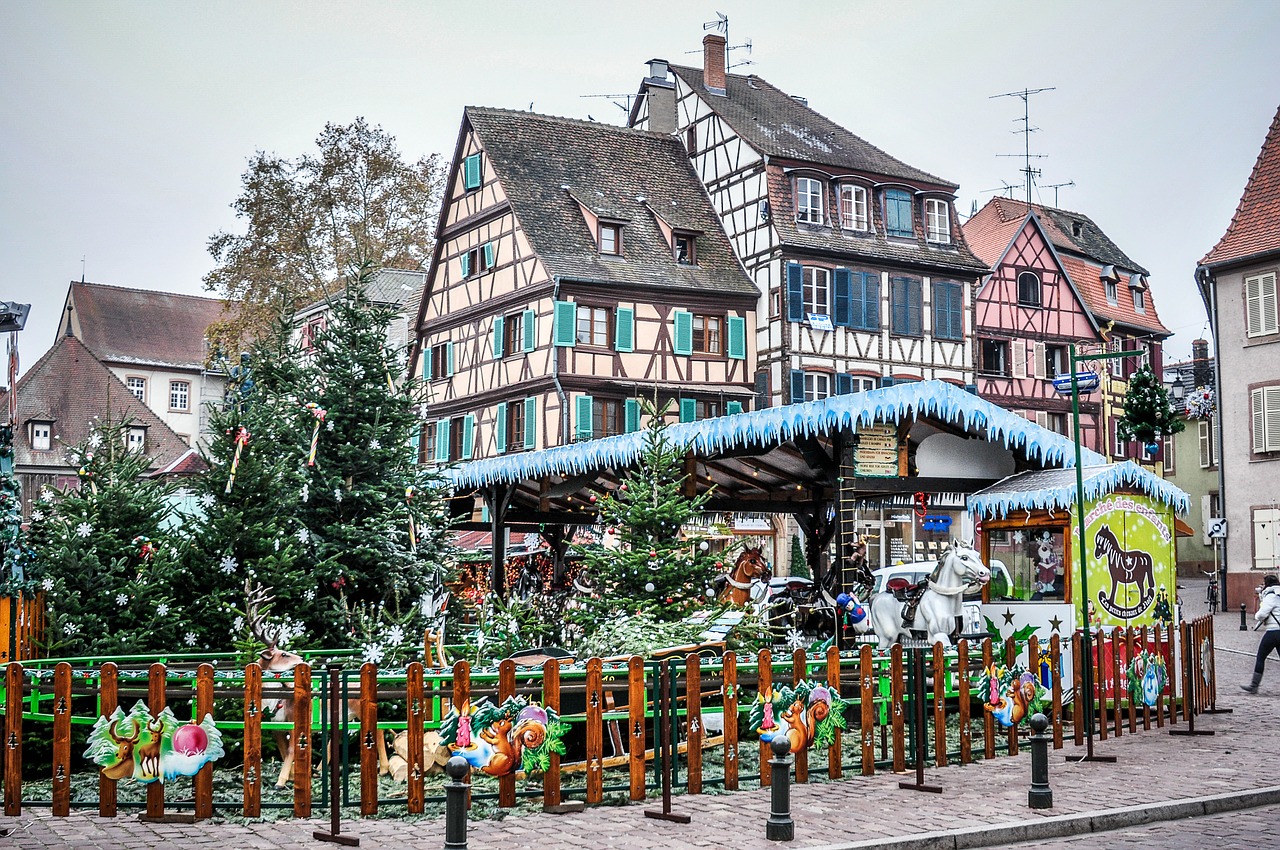 Colmar Christmas Market - ©Silberfuchs - Pixabay
We have selected a great boutique-hotel in the very heart of Colmar, where you will enjoy the city walking. 

There are bus shuttle services for people concerned about driving in the snow – but if you want to get away from the main crowds to smaller Alsatian towns such as Turckheim (famous for its Advent calendar), Riquewihr (busy but well worth the detour), Hunawihr or Eguisheim you'll need to drive. So why not visit one of these two traditional markets to get into the spirit of Christmas and discover what French Christmas markets are all about.
Be careful when you plan your trip: big city Christmas markets run until early January but the more traditional markets in small towns will end on Christmas Day. 
Alsacian Winstub restaurants - ©CDT Alsace
The "fashion" of Christmas Markets
There are now Christmas markets all over France and Europe. To us, the most typical areas to celebrate Christmas in France for foreign travelers remain Alsace and also Provence (with the santons, 13 desserts, cribs tradition). We'll tell you more about Provence Christmas traditions very soon!
To enjoy the Alsace Christmas markets from their "heart", you need to book accommodation about one year in advance. 
Merry Christmas to all !