November isn't our favorite month to visit France because the weather isn't great, the days are much shorter, and it's still a bit early to start enjoying the Christmas festivities and traditions in France.  
But if you happen to be visiting France in November, we would recommend focusing on France's cities. You'll have plenty of indoor activities and places to visit, and if the weather's dry, you can explore on a walking tour of the city. All of our self-guided itineraries of France give you different options of things to do each day. In the winter, you can choose some of your activities for the day based on the weather.
Of course, visiting museums and galleries are always a good option, and France has many! Food tours and wine-tastings also take place inside. The advantage of visiting France in November is that there will be far fewer tourists. And since the harvest will be coming to an end, you'll have some fantastic wines to try (with wine festivals and events to celebrate!). And we mustn't forget that France's winter truffle hunting season begins in November!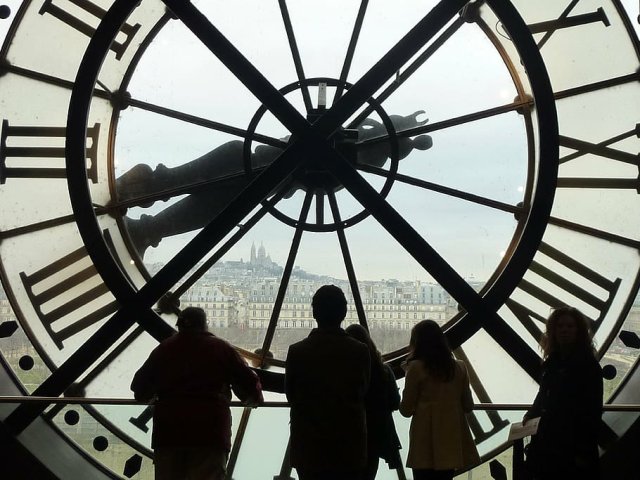 France Weather in November 
Although the weather in France can be variable all year round, in November it tends to be greyer, colder, and wetter. There are also fewer hours of daylight. By the end of November, the sun rises after 8am and sets before 5pm in Paris (although you might not actually see much of the sun!).
The warmest part of France in November is the south of France, where temperatures range between 9-16°C (48-61°F). In Northern and Central France the average temperature is normally under 10°C (50°F) in November, and it's normally a few degrees warmer (but wetter!) on the Atlantic coast. Even Nice on the French Riviera receives an average of 12.7 days of rainfall in November.
So if you're traveling to France at this time of year, bring a warm, waterproof overcoat and footwear, and an umbrella! Bringing layers is a good idea if you'll be exploring both the North and the South of France, as you may be lucky enough to enjoy some milder temperatures in the south.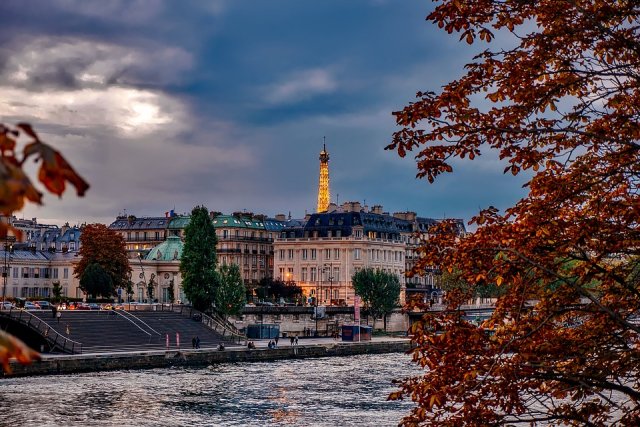 Festivals and Events in France in November
Here we've listed some of the festivals and events you can enjoy in France in November. If you book a driving tour of France with France Just For You, we'll let you know what will be happening in the regions you're visiting.
Beaujolais Nouveau Festival - a celebration of new Beaujolais wine
Following the grape harvest, on the third Thursday of November at 12:01 am, there's a party in the streets of Lyon to celebrate the new Beaujolais wine of the year, 'Beaujolais Nouveau'. The festival includes music, street parties and fireworks.
Dijon International Food Fair
During the first two weeks of November, Dijon hosts around 600 exhibitors and more than 200,000 visitors to its annual gastronomic fair. There are hundreds of food stalls with both amateur and professional chefs offering a range of delicious things to try. There are also cooking demonstrations for anyone looking for some cooking tips. 
The Dijon International Food Fair has been running since 1921. The idea was to revive and explore the traditional culinary and gourmet traditions of Burgundy through the region's wine and the cuisine of its past Dukes. If you're in Dijon we warmly recommend also visiting the Cité International de la Gastronomie et du Vin (the International City of Gastronomy and Wine - more info below). 
Lyon International Chocolate Trade Show
The Salon du Chocolat de Lyon is the biggest chocolate event of its kind in the world. It's been running yearly since 2011, and if you're a chocolate-lover and will be in Lyon, France in November, this is a must-do! 
This 3-day event brings together the finest chocolate makers from all over France. It's something that all the family can enjoy, and includes recipe demonstrations, chocolate exhibitions, pastry workshops and a chocolate dress show!
All Saints Day (La Toussaint) 
Every November 1st is a public holiday to commemorate the dead. If you're in France on this day, some venues may be closed.
Armistice Day (Armistice de la Première Guerre Mondiale)
November 11th marks the anniversary of the end of World War I, when the Armistice Agreement was signed between the countries that were at war. Many schools and businesses close to mark this solemn occasion.
If you are visiting the regions of Verdun or the Somme at this time, you may plan to go to a war cemetery. France Just For You can arrange for you to visit key WWI sites with a private guide, who can explain the history and the events that took place. On Armistice Day, war cemeteries will be busier, with families visiting their ancestors' graves. There will also be special events at key French battlefields.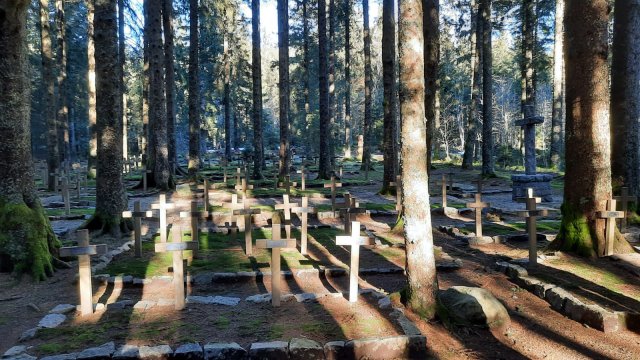 Best Places to visit in France in November
Paris
Since the weather is often cold and wet in November, and there are fewer tourists than at other times of the year, this is a good time to enjoy Paris's museums and most popular tourist attractions. 
Take the opportunity to visit the Louvre museum. If you book with France Just For You, we'll recommend a whistle-stop tour that takes in the most famous pieces, or sections that you tell us you're interested in. Otherwise, check the Louvre website and plan which exhibitions you want to see beforehand. You can easily spend more than a day visiting the whole museum, and you may prefer to just spend a couple of hours seeing the exhibitions and masterpieces that are most interesting to you. 
Other museums that are worth visiting are:
Musée d'Orsay, which used to be a train station - get a photo by the huge glass clock!
Centre Pompidou - a museum of contemporary art in an incredible industrial-style building
Musée de l'Armée - see weapons and uniforms from French military conflicts - check out Napolean's tomb
Panthéon - an 18th century monument in the Latin Quarter and place of rest for notable French citizens, including Emile Zola, Pierre and Marie Curie and Victor Hugo
Musée Marmottan Monet and Musée de l'Orangerie - where you can see some of his famous water lily paintings.
Since November is outside of peak season in France, it's also a good time to go up the Eiffel Tower and Arc de Triomphe, when there are fewer visitors. Just remember to bring a warm coat - it can get very cold and windy at the top!
The South of France
It will probably be too cold to really enjoy the beach in the south of France. However, sunny weather and warmer temperatures mean that it will still be a nice time to explore the cities, as well as the hilltop villages. You may still catch some of the pretty fall colors, as fall tends to start a bit later in Provence and the French Riviera. 
Some of our favorite villages and towns include Mougins, Gordes and Menton.
If you're visiting the French Riviera, be sure to visit the most famous art museums. We love the Chagall Museum in Nice and the Picasso Museum in Antibes. There are also plenty of high-end boutiques and restaurants, if you want to experience some of the glamor of this region.
Lyon
Lyon is well-known for its exceptional gastronomy. On a chilly day, warm up with a delicious coq au vin, try the city's famous sausage, the rosette de Lyon, and wash it down with your preferred glass of wine - perhaps one from the Northern Rhône Valley.
For the best views over Lyon, climb up the Colline de Fourvière. Upon this hill is the Basilica Notre-Dame de Fourvière, with an extravagant interior and a Museum of Sacred Art, which are worth a look. You may also like to visit the Roman ruins nearby, which mark the first Roman settlement in Lyon. You can see other Roman artefacts at the nearby Gallo-Roman museum.
The Museum of Fine Arts, located in a 17th century abbey, is also well worth a visit. You can admire masterpieces by the greats, including Picasso, Caneletto, Degas, Cézanne and Renoir. There's also an exhibition of hundreds of artefacts from Ancient Egypt, including the gates to the Temple of Medamud, dating back to the 3rd century BC.
Alsace
If you're in France in late November, you can soak up the Christmas spirit in Alsace! This region is known for having the best Christmas markets in France. In Colmar, there are five separate market areas and nearly 200 stalls. The atmosphere is like a fairy tale, with lights, decorations and the aromas of mulled wine. You'll be able to enjoy daily concerts and other events, and there's an ice rink.
The towns of Colmar and Strasbourg get extremely busy as we head into the Christmas period. Most of the hotels and accommodations get booked up a year in advance. If you'd like to escape these busy areas and explore some smaller Alsatian towns off the beaten track, we love Turckheim (famous for its Advent calendar), Hunawihr, Eguisheim and Riquewihr (busy but worth the detour). Keep in mind that you'll need to drive to these towns.
If you're traveling too early for the Christmas markets, Alsace is still worth visiting. The medieval town of Colmar has stunning Renaissance architecture, and you won't be able to put your camera away in the gorgeous Little Venice neighborhood.
Best Things to do in France in November
As well as the activities we suggest in the places above, here are some other experiences you can enjoy in France in the month of November.
Experience the Christmas spirit in France
As we mentioned above, if you're in France in late November, you'll be able to experience the Christmas season in France, as the Christmas lights will be up and some of the Christmas markets will be open. 
We particularly like the Christmas spirit in Avignon, Provence (especially for the Nativity scenes); Amien, the Somme (for its music and light show at the city's cathedral every evening of the Christmas market); Reims, Champagne (enjoy a glass of Champagne on the Big Wheel!), and Colmar (a fairytale come alive). The atmosphere in Paris is also nice - be sure to visit the Galeries Lafayette. The decorations are beautiful and they always have a very special Christmas tree.
Hunt for Winter Truffles
The gourmets among you shouldn't miss the opportunity to hunt the elusive black winter truffle. Black winter truffles are mostly found in the Périgord, in the Dordogne region of France. They are more aromatic than summer truffles and are harvested from November to March, peaking in January. If you'll be visiting France in the winter, we would be happy to include a truffle hunt in one of our tours of Dordogne or Provence. We know the truffle hunters we work with personally and know you'll have an unforgettable experience with them.
You may also like to read this blog post, where we mention a few of our favorite truffle hunting experiences in France.
Hike to the Castles of the Cathar
South of the medieval fortified city of Carcassonne in southwestern France is what feels like a country of castles. Dating back to the Cathars, who occupied this area between the 11th and 13th centuries, many of these fortresses can be difficult to reach - so bring your hiking shoes! The Cathars were finally vanquished by the Albigensian crusades, led by the notoriously brutal Simon de Montfort.
The Château de Quéribus is what you might call the last bastion of Cathar resistance. Spectacularly located on a ridge above a sheer-drop cliff, with the village of Cucugnan below, it marked the French-Spanish border until the 17th century.
If you visit, you can enjoy fantastic views across to Canigou and Perpignan, including the last of the fall colors.
Visit the Cité International de la Gastronomie et du Vin in Dijon 
The International City of Gastronomy and Wine opened in Dijon, the capital of Burgundy, in May 2022. There's a wide selection of top restaurants offering fine cuisine and counters serving smaller traditional dishes. Then there's the gastronomic village. Part exhibition, part market, you'll find food and drink producers from all over France demonstrating, talking and cooking.
Wine-lovers will love the bar at the Cité - with 3,000 bottles of wine from across fine and 250 of those sold by the glass, you can buy a charge card and help yourself! Glasses cost from a few euros to… a whole lot more!
FAQ about traveling to France in November
How hot is France in November?
Nowhere in France will have hot weather in November, though the highest temperatures will be in the south, where it may reach the mid teens °C, or around 60°F. You can get more details on the temperatures in each French region on our FAQ about the French weather.
Where is the warmest in France in November?
The warmest regions of France in October are in the south - Provence, the French Riviera and Languedoc-Roussillon.
Is November a good month to visit France?
November is not the best month to visit France, because in much of France the weather is cold and wet. But if it's the only time you can travel, you'll be able to enjoy the last of the fall colors in early November, the beginning of the Christmas season in late November, and the museums and other indoor attractions with smaller tourist crowds than at other times of the year. 
If you prefer a warmer climate, consider coming earlier in the fall or in late spring/early summer. Contact us if you need any advice and we'll get back to you! You can browse our sample self-drive tours of France here - remember that all our tours are customizable according to your preferences.
We hope we have given you some ideas for your next trip to France, and inspired you to come on a custom self-drive tour of France with France Just For You! You may browse our sample tours of France or reach out to trip planners, Emilie and Laura, with any questions you may have.
---
Considering visiting France in a different month? Check out our other guides below: