January is not the best time to visit most parts of France, because the weather is very cold and wet and the days are short. The sun rises in Paris at around 9am and sets at around 5pm. This means it's not a great time to enjoy outdoor activities in France.
However, if you visit in the first week of January, you may still catch some of the French Christmas markets. Some stay open till January 6th, though the Christmas markets in the smaller towns will end on Christmas Eve. 
Another nice activity to enjoy in France in January is skiing. We don't plan ski tours, but we will recommend some of our favorite places to go skiing in France.
And if your main reason for visiting France is to visit museums and art galleries, and enjoy some fantastic French cuisine at our many restaurants, it may not matter what the weather is like outside. In this case, January may be a good time to visit France, as there will be far fewer tourists at this time of year.
In this post, we'll talk about the weather in different parts of France in January, the best places to visit and the best things to do in France during this cold month.
We warmly invite you to get inspired by our France tour packages. We can customize any itinerary to suit your preferences.
France Weather in January
January and February are the coldest months across the whole of France. January can have up to 17 days of rain or snow in Paris. But in the south of France, in places like Nice or Aix-en-Provence, this drops to around 9 days of rain, on average.
If you're planning to visit Northern France, such as Lille or Paris, the average temperature is around 43°F (6°C). The weather in the north is generally cold and cloudy, with around 60 hours of sunshine across the whole month (compared to 224 hours in July!).
It will be slightly less cold if you're visiting the south of France, with the average temperature in Nice in January being around 51°F (11°C). Nice gets around 140 hours of sunshine in January (more than twice the number of hours in the north!). So although there will be some rainy days in the south of France in January, you'll also enjoy more sunshine.
For more information about the weather in France, visit our FAQ page!
If you're looking for some winter sun, you may like to browse our tours of the French Riviera!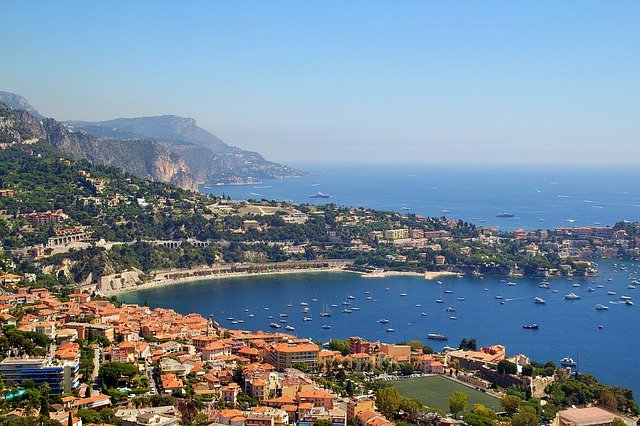 Festivals and Events in France in January
Angoulême comics festival
The Angoulême International Comics Festival, or Festival International de la Bande Dessinée d'Angoulême in French, is one of the largest and most prestigious comics festivals in the world. The festival takes place annually in the city of Angoulême in southwest France, usually in late January or early February.
The festival features exhibitions, book signings, conferences, and workshops, as well as a competition for the best comics and graphic novels. The festival attracts top comics artists, writers, and publishers from around the world, as well as thousands of fans and enthusiasts.
The festival also offers a "Prix du meilleur album" (Best Album Award), one of the most prestigious prizes in the comic world. The award is given to the best graphic novel or comic book released in the French language over the past year.
The Cosplay Parade is another highlight of the festival, where fans dress up as their favorite comics characters and march through the streets of Angoulême. The festival also hosts a marketplace where vendors sell comics, graphic novels, and related merchandise.
Albi Jazz Festival
The Albi Jazz Festival takes place every year in Albi, southern France, with a diverse lineup of local and international jazz musicians.
Since it was founded a few decades ago, it's become one of the most well-respected jazz festivals in France. The festival's program usually includes a range of jazz styles, including traditional, bebop, swing, and fusion.
In addition to the concerts, the festival also offers workshops, masterclasses, and other educational events for jazz enthusiasts of all levels.
It's definitely worth checking out if you happen to be in the area during the festival season.
L'Alpe d'Huez Film Festival
The Festival de l'Alpe d'Huez is an annual film festival that takes place in the ski resort town of Alpe d'Huez in France. The festival is dedicated to showcasing comedies and light-hearted films and typically takes place in mid to late January.
The festival was first established in 1997 and has become a popular event with film industry professionals and movie fans alike. The festival's program typically includes a mix of French and international comedies, including both feature-length films and short films.
The festival's main competition is the Grand Prix, which is awarded to the best comedy feature film of the year. Other awards include the Jury Prize, the Audience Award, and the Best Short Film Award.
The main screening rooms of the Festival at the Palais des Sports & des Congrès in 2023 were:
Grande Salle du Palais (around 1000 places)
Salle Ciné Isère (around 300 places)
Salle Philippe de Broca (around 200 places)
Salle Belledonne (around 100 places)
The screenings are open to the general public and will close when at capacity.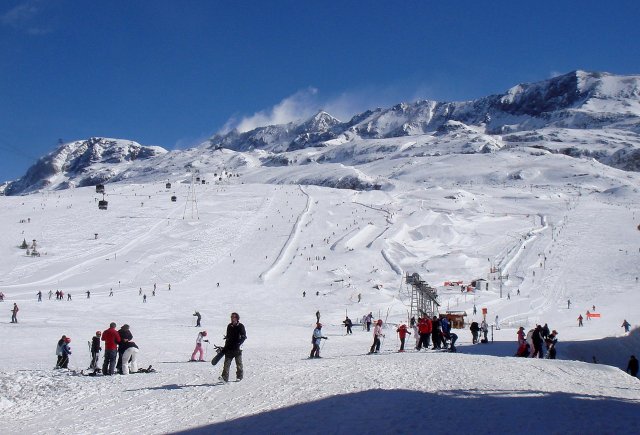 Best Places to visit in France in January
The French Riviera
One of the sunniest parts of France all year round, one might argue that there's never a bad time to visit the French Riviera! (except perhaps in August, when the area is heaving not just with international tourists, but also with French people on their summer vacations). 
You won't be swimming in the Mediterranean in January (unless you enjoy cold water swimming) but there are plenty of other things to do.
Enjoy shopping in Nice's luxury boutiques, strolling along the Promenade des Anglais, or exploring the lovely old town. 
The pink Villa Ephrussi de Rothschild and its expansive themed gardens on the peninsula of Saint-Jean-Cap-Ferrat is always a beautiful place to visit. The estate once belonged to the Rothschild family in the late 19th and early 20th century - a prominent and very rich banking family. Its gardens have been named one of France's 'Remarkable Gardens', and though not all the flowers will be in bloom in January, it is still very nice to visit. The gardens also have stunning panoramic views across the Mediterranean.
One of our favorite coastal towns on the French Riviera is Menton, for its gorgeous pastel-colored seafront buildings and beach. Being so close to the Italian border, you will notice both French and Italian influences on the town and the cuisine in Menton. In fact, Italy is only a few minutes' drive from Menton, so it's a great place to stop off if you're on your way to Italy or if you've just arrived from Italy.
Get inspired by our tours of the south of France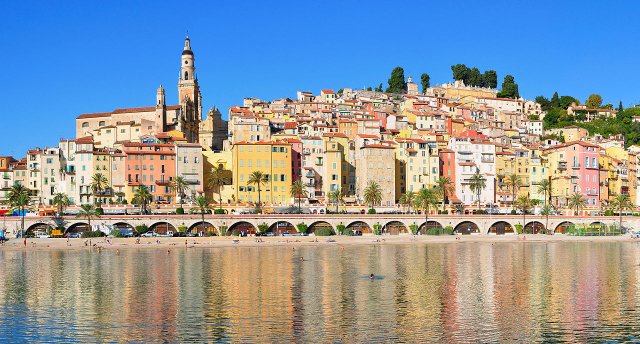 Provence
If you like the idea of doing a driving tour of Provence, this southern region receives around 150 hours of sunshine, even in January. So this is your best bet, along with the French Riviera, if you want to spend time outside in France in January. 
Take the opportunity to visit some of Provence's well-preserved Roman sites without the huge tourist crowds of the peak season.
In Arles you can visit the Roman arena and amphitheater, as well as underground galleries. In fact, Arles and its Roman and Romanesque sites are UNESCO World Heritage sites, some of which date back to the 1st century BC. 
The Roman Theater in Orange dates back to 25 A.D and is one of the world's best preserved Roman sites in France. You'll see remnants of Augustine architecture and be able to admire its stunning 330 ft facade.
Finally, the Pont du Gard Roman aqueduct, which once carried spring water to local Roman towns, is an absolute must-see in Provence. Built without mortar, it's undeniably an astonishing feat of Roman engineering. This is a very popular tourist attraction that attracts quite large numbers of people in the late spring and summer in particular. For this reason, January may be a great time to visit it, when the area will be much quieter.
In terms of towns and villages to visit in Provence in January, we recommend Aix-en-Provence (admire some of Paul Cezanne's landscapes), Avignon and Cassis, as well as the lovely hilltop village of Gordes, Vaison-la-Romaine and St-Paul-de-Vence.
You can also visit the southern city of Marseille if you have time - here are some of the best things to do in Marseille.
If you would like to explore Provence by car at your own pace, with an itinerary crafted specifically to your tastes, we invite you to take a look at our Provence tours.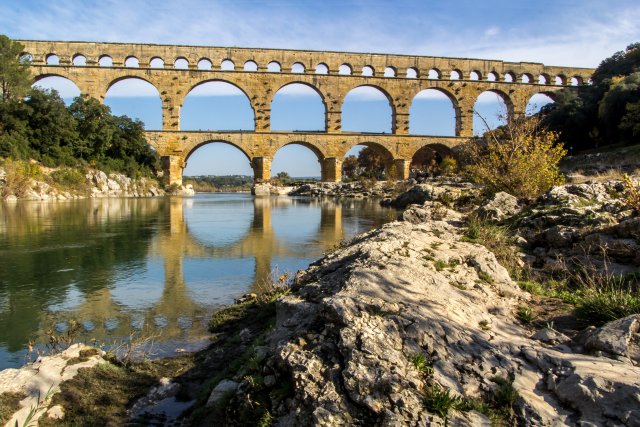 Carcassonne
The medieval city of Carcassonne is a UNESCO World Heritage site and still very nice to explore on a cold day if you wrap up warm. Carcassonne castle and the ramparts are open to visitors all year round and you can enjoy beautiful views of the surrounding countryside from the castle towers. You can also take a stroll around the city walls to see the city and surrounding area from another perspective.
If you like gothic-style architecture, walk over to the Basilica of Saint-Nazaire, a beautiful gothic cathedral in the heart of the medieval city of Carcassonne. It features a stunning stained-glass rose window and has an impressive organ. This 12-century church is also good to duck into if it starts raining.
If you're in Carcassonne in early January you may just catch the end of the Christmas market and the ice-skating rink at Place Carnot (outside of the walled city).
Check out our tours of Carcassonne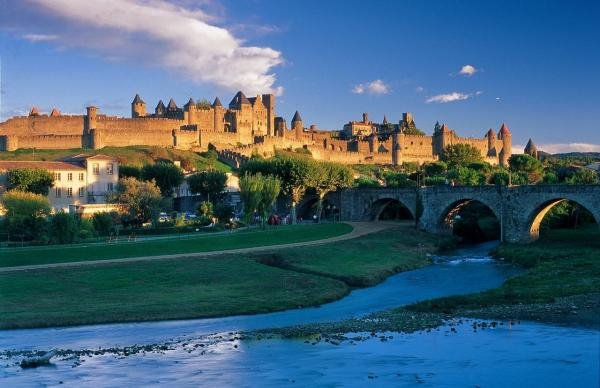 Best Things to do in France in January
Go skiing in the French Alps
If you're visiting France in January, you might be planning to head for the Alps and go skiing. We don't include ski trips in our tours, but we know some nice resorts and locations. 
January is the ideal time to go skiing, and you're almost guaranteed snow. One of our favorite resorts is the well-known Les Arcs in the Alps, which covers an expansive area. This means you'll have many different slopes to choose from.
There are also many different restaurants to choose from, which keeps the prices down. One of our favorites at Les Arcs is the Bulle Café (we love the seafood and pizza). We also recommend self-service restaurant l'Altiport. And for a great night out, La Folie Douce club ("Sweet Madness"!) is a lot of fun!
If you get tired of skiing, this area is great for hiking in snowshoes. After a chilly hike, warm up with a hot lemon drink or mulled wine from La Crèche at Col de la Chal. We love the views here, although the food isn't the best. 
A smaller ski resort that is great to visit in January is La Joue du Loup. Again, snow is almost guaranteed from mid-January through early March and it's great for families, with mostly wooden chalets surrounded by pine trees. It feels a bit more authentic (less touristy!) than other ski resorts.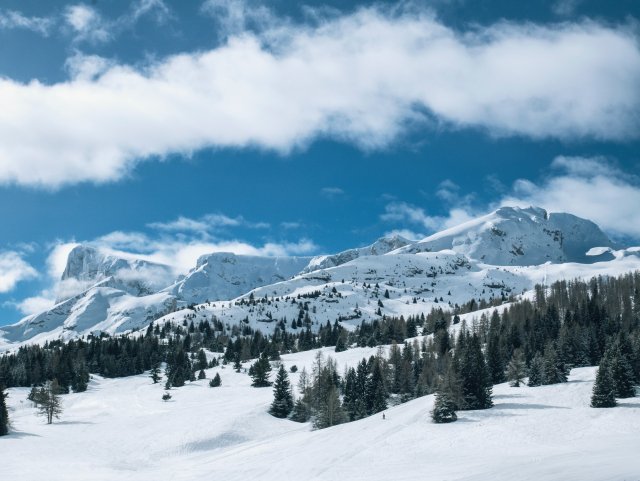 Visit the best museums and art galleries across France
Once the Christmas vacations are over, France is much quieter, so this can be an ideal time to visit the most popular museums without the long lines and tourist crowds. 
If you're visiting Paris, you'll definitely want to visit the Louvre and the Musée d'Orsay. We recommend visiting the museum websites to check out the permanent collections and exhibitions and decide which ones you want to see in advance. Otherwise you could spend an entire day getting lost in one of these vast museums (or maybe that's your plan!). We also love the Orangerie Museum, which hosts some of Monet's largest water lily paintings. These cover entire walls from floor to ceiling, and are an absolute must-see if you like Claude Monet.
If you prefer contemporary art, the Centre Pompidou should definitely be on your list. And if you want something a bit different (and you're not claustrophobic!), check out the Paris Catacombs! 
The Palace of Versailles will also be far less crowded in January.
In the rest of France, you may like to visit:
If you love visiting museums, you make like to browse our self-guided tours including Paris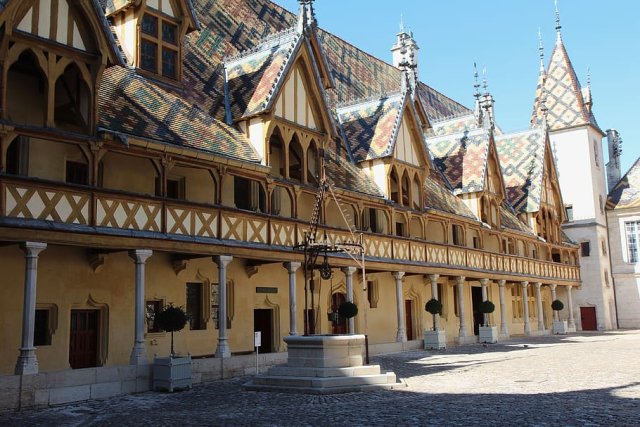 Do a private French cooking class
If you enjoy cooking and are visiting France in January, this is the ideal time to learn how to cook some delicious French dishes with local professionals! 
We know local French chefs across France, and some of the B&B hosts that we work with, who offer private cooking classes.
If you're visiting Normandy, you might learn how to cook some fine seafood fishes, enjoy a gourmet cheese platter, and wash it all down with some famous Calvados apple brandy or cider. 
In Provence and Dordogne, you can also learn how to prepare a dish of your choice in the home of a local chef, or with your B&B hosts. You'll then enjoy your meal with the chef/hosts and their family. A very French experience!
Other fantastic gastronomic experiences you can enjoy in France in January include a trip to the City of Wine in Bordeaux or the International Cité of Gastronomy and Wine in Dijon.
All our Gourmet Food Tours of France include a strong gourmet element, as well as helping you discover more about France's heritage and culture.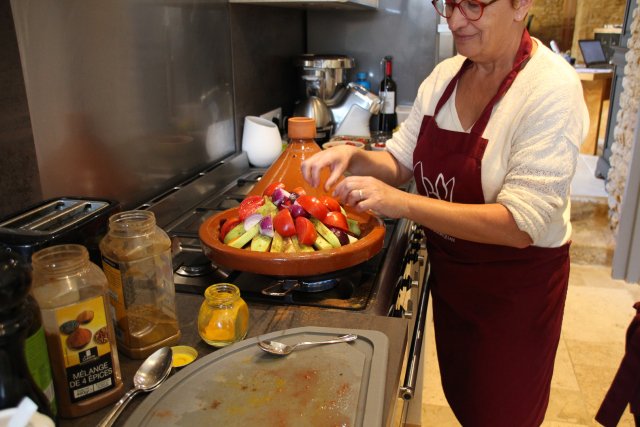 FAQs about visiting France in January
Is January a good time to visit France?
If you want to experience the museums and cities without the tourist crowds or to go skiing, it can be a good time to visit France. It's not the best time to go if you enjoy outdoor activities like hiking (unless you go snow-hiking), going to the beach or walking tours, as the weather is very cold and wet in much of France.
How cold is France in January?
In most of France the temperatures will be below 12°C/54°F, except in the French Riviera and Provence, where the temperature can be around 15°C/59°F (though normally a couple of degrees lower than this). 
In Paris, the temperature tends to range between 3-8°C/38-47°F, and in parts of northern and eastern France it may drop to freezing (0°C/32°F). In the mountains, temperatures will generally be below freezing.
Is January a good time to visit Paris?
The weather will be cold and wet in January, so wrap up warm and bring waterproof clothing. However, if you come at the very beginning of the month, you'll still be able to see the Christmas lights and Christmas markets, which normally finish around January 6th. There will also be fewer tourists in Paris in January, so if you want to take advantage and visit the most popular museums without the crowds, this could be a good time to do it.
If you want to visit France in January and explore at your own pace on a custom self guided tour of France, browse our self drive France itineraries or contact us with your France bucket list - we would love to help!
---
Considering visiting France in a different month? Check out our other guides below: